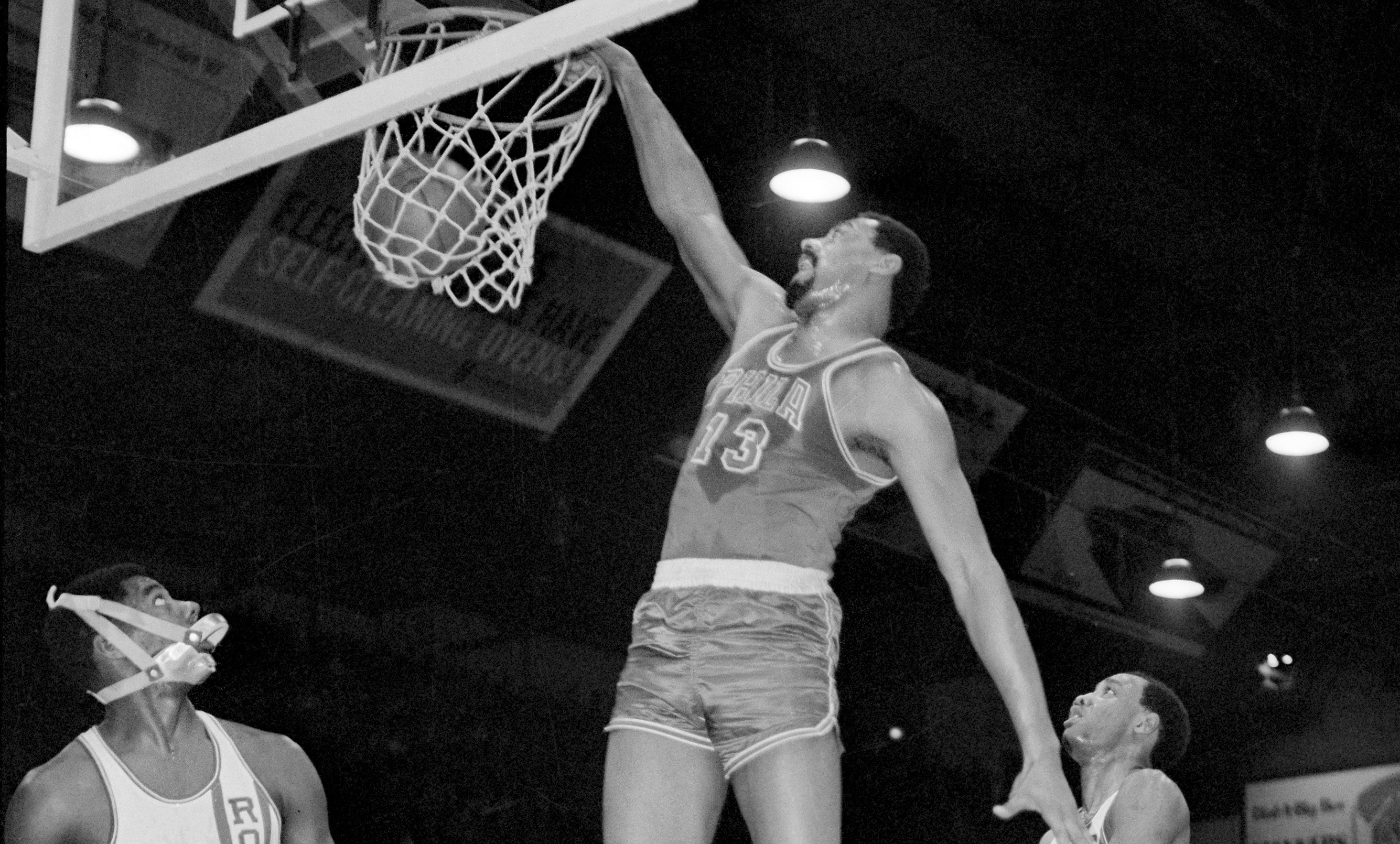 Many Know About Wilt Chamberlain's 100-Point Game but Don't Recall His Gem on Feb. 24, 1967
Wilt Chamberlain's 100-point game is a classic that many remember, but what about his outing on Feb. 24, 1967?
Wilt Chamberlain had a career full of highlights, led by his famous 100-point game against the New York Knicks on March 2, 1962. He's a four-time MVP and one of just three players (Bill Russell and Larry Bird the others) to win the award three straight times.
In addition to being a 13-time All-Star, leading the league in scoring seven times, leading the league in rebounding in 11 seasons, winning two championships, and winning Rookie of the Year, Chamberlain put together some masterful performances. One of those came against the Baltimore Bullets on Feb. 24, 1967.
Wilt Chamberlain went 18-for-18 from the floor in registering an impressive triple-double against the Bullets
There wasn't a whole lot Wilt Chamberlain couldn't do on the basketball court. He led the NBA in scoring in his first six seasons. He also was the league's top rebounder in his first four years. In his third NBA season, he averaged — yes, averaged — 50.4 points and 25.7 rebounds.
While his 100-point outburst is always the game many remember, his game against the Baltimore Bullets in February 1967 shouldn't go unnoticed.
Chamberlain made all 18 of his shots from the floor in a 149-118 Philadelphia victory. He finished with 42 points, 30 rebounds, and 10 assists for one of his 78 career triple-doubles.
The 18-for-18 performance came during a remarkable stretch for Chamberlain. It was fresh off an 11-for-11 effort in a 123-122 win over the St. Louis Hawks. In that game, Chamberlain collected 22 points and added 26 rebounds.
Chamberlain made 35 consecutive field goals during a four-game stretch. His streak came to an end on Feb. 28, when he made 11 of 14 shots from the field in a 127-107 win over the Cincinnati Royals.
Could Chamberlain be considered the NBA GOAT?
The knock on Wilt Chamberlain is that he won just two championships in his 14 years in the NBA. While he statistically dominated against Boston Celtics center Bill Russell, Russell walked away with 11 championships, a significant factor in any GOAT debate.
We stated our case as to why Chamberlain is the NBA's GOAT. He certainly was the better all-around player than Russell. Chamberlain wasn't surrounded by the Hall of Fame talent Russell had. It's no knock against the Celtics legend, but if Chamberlain replaced Russell in the Celtics lineup, it's likely he'd have much more than his two championship rings.
Some considered Chamberlain lazy and selfish, but that would be hard to believe. During the season in which he put up more than 50 points per game, he also averaged 48.5 minutes per contest, even though games are 48 minutes long. He played every minute that season except for the latter part of one game in which he drew an ejection after picking up two technical fouls. No lazy player averages the most minutes in an NBA season.
Chamberlain also never fouled out of a game, another remarkable feat. He also eclipsed the 50-point scoring mark 118 times. He reached 70 six times.
Statistically, nobody is better than Chamberlain. Rings are the result of team performance, and Chamberlain just didn't have the supporting cast of many in the GOAT debate.