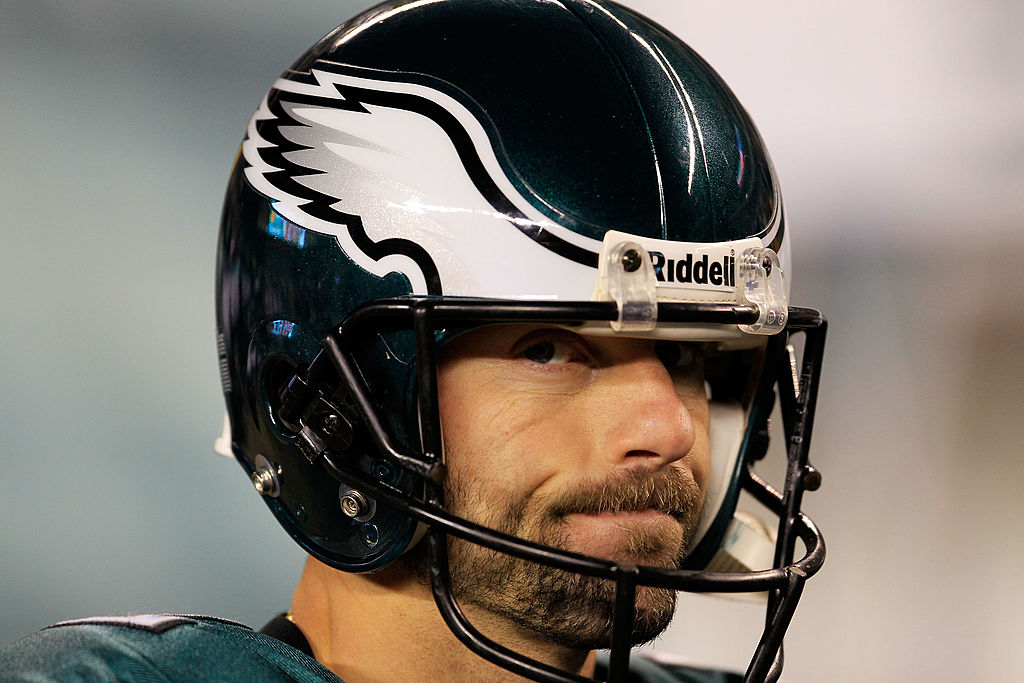 Former Eagle David Akers Gets Real About 'Losing a Lifetime of Money' in Scam
David Akers earned over $14 million as an NFL kicker, but he recently revealed he lost a 'lifetime of money' in a Ponzi scheme in 2009.
David Akers was one of the best kickers in the NFL for over a decade, and he was paid like it. Akers made enough money with the Philadelphia Eagles and three other teams to last him a lifetime, but he lost nearly all of it in a Ponzi scheme before he even retired from football. Akers' story serves as a warning to young professional athletes to be safe with your money and be careful who you trust.
David Akers' NFL career
David Akers played 16 years in the NFL. He spent the majority of his career with the Eagles, but he actually started his journey with the Redskins. Akers played his rookie season in Washington where he missed his only two field goal attempts during the 1998 season.
By 2000, Akers won the starting job in Philly and had his breakout year as a pro. He went 29 of 33 on his field goal attempts with a long of 51 yards. The next season, he made his first Pro Bowl and was even named a First-Team All-Pro.
After 12 years with the Eagles, Akers finished his career with short stints in San Francisco and Detroit. He was named a First-Team All-Pro in his first season with the 49ers. Akers was 37 years old at the time.
Over the course of his career, Akers made six Pro Bowls and was named to two First-Team All-Pro teams. He made 80.9% of his career field goal attempts and 98.8% of his extra point tries. Akers was even more impressive in the playoffs, making 82.9% of his field goals and missing just one extra point in 24 playoff games.
Akers is still the all-time leading scorer in Eagles history with 1,323 points.
David Akers made over $14 million in the NFL
David Akers made over $14 million over the course of his 16-year NFL career, according to Spotrac. Making almost a million dollars per year to kick a football is a pretty sweet deal, and it gave Akers enough money to last him a lifetime.
Unfortunately, most of his money disappeared by 2009. Akers was just 35 at the time, and he still had a few years left in the tank. Despite building toward a comfortable retirement his whole career, one poor financial decision cost Akers everything.
Akers lost a 'lifetime of money' in $70 million Ponzi scheme
David Akers recently appeared on the Pat McAfee show and spoke about losing millions in a $70 million Ponzi scheme. Akers explained that he, along with multiple teammates, invested in a company called Triton Financial during their careers.
Akers said he did his due diligence before trusting Triton with his money, but it all came crashing down in 2009. Kurt Barton, the founder and CEO of Triton, was found guilty of wire fraud, money laundering, and a plethora of other financial crimes shortly after. He was sentenced to 17 years in federal prison.
In all, Triton cost Akers and his teammates over $70 million in investments.
In the candid interview, Akers said the experience made him much smarter with his money afterward. He only trusts himself to save and invest his wealth now. Akers also said you have to be able to laugh at yourself sometimes. Even though it was a dark time for him, Akers rebounded financially and can thankfully find humor in the experience today.
Akers' story is proof that even financially intelligent athletes can lose it all if they aren't careful. The kicker never spent his millions on a mansion or fancy cars, but he still lost a 'lifetime of money' by trusting the wrong people.
All stats courtesy of Pro-Football-Reference