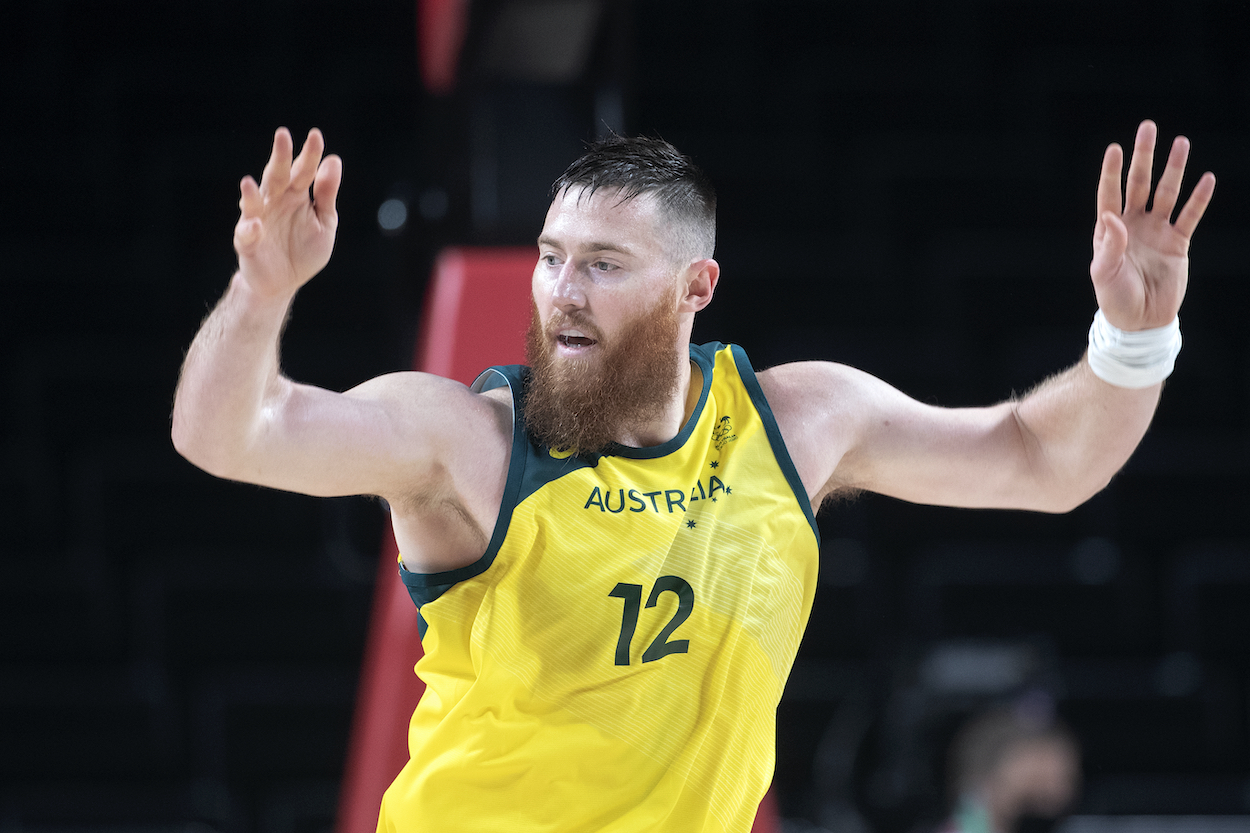 Former NBA Champion Aron Baynes Is Attempting a Comeback After a Terrifying Accident That Nearly Left Him Paralyzed
Aron Baynes isn't giving up on an NBA comeback even after a terrifying accident at the Olympics that nearly left him paralyzed.
Aron Baynes has played nine seasons in the NBA, and he won a championship with the San Antonio Spurs in 2014. Last year, the veteran center traveled to Tokyo to play for his home country of Australia in the 2020 Summer Olympics, and he was involved in a terrifying accident that nearly left him paralyzed and could've ended his basketball career.
But six months later, Baynes is working harder than he ever has in an attempt to make it back to the NBA.
Aron Baynes was involved in a terryfying accident at the Olympics
Earlier this week, Brian Windhorst of ESPN told the story of the mysterious injury Baynes suffered during the 2020 Tokyo Olympics.
During a group stage basketball game between Australia and Italy, Baynes left the bench after the third quarter to hit the bathroom. But as the fourth quarter started to wind down, he still hadn't returned to the court.
A team staffer went back to the bathroom to look for Baynes, and he found the center lying on the ground with blood all over his uniform and two puncture wounds on his arm, presumably from the two towel hooks on the wall.
A team of medical officials lifted Baynes onto a stretcher, but as he tried to stand up to go to the bathroom, he fell to the floor again. Medics thought he had suffered a concussion from the bathroom fall, but it turned out to be much worse.
Baynes nearly ended up paralyzed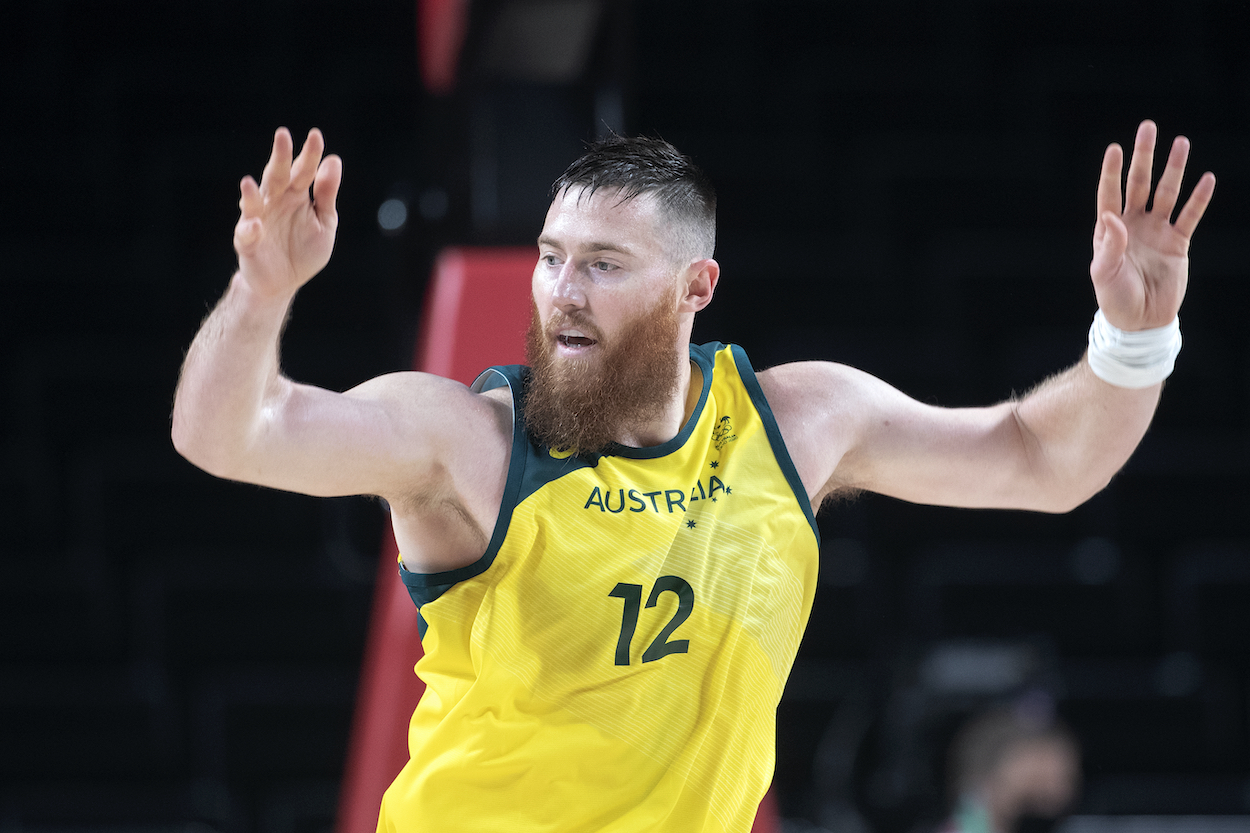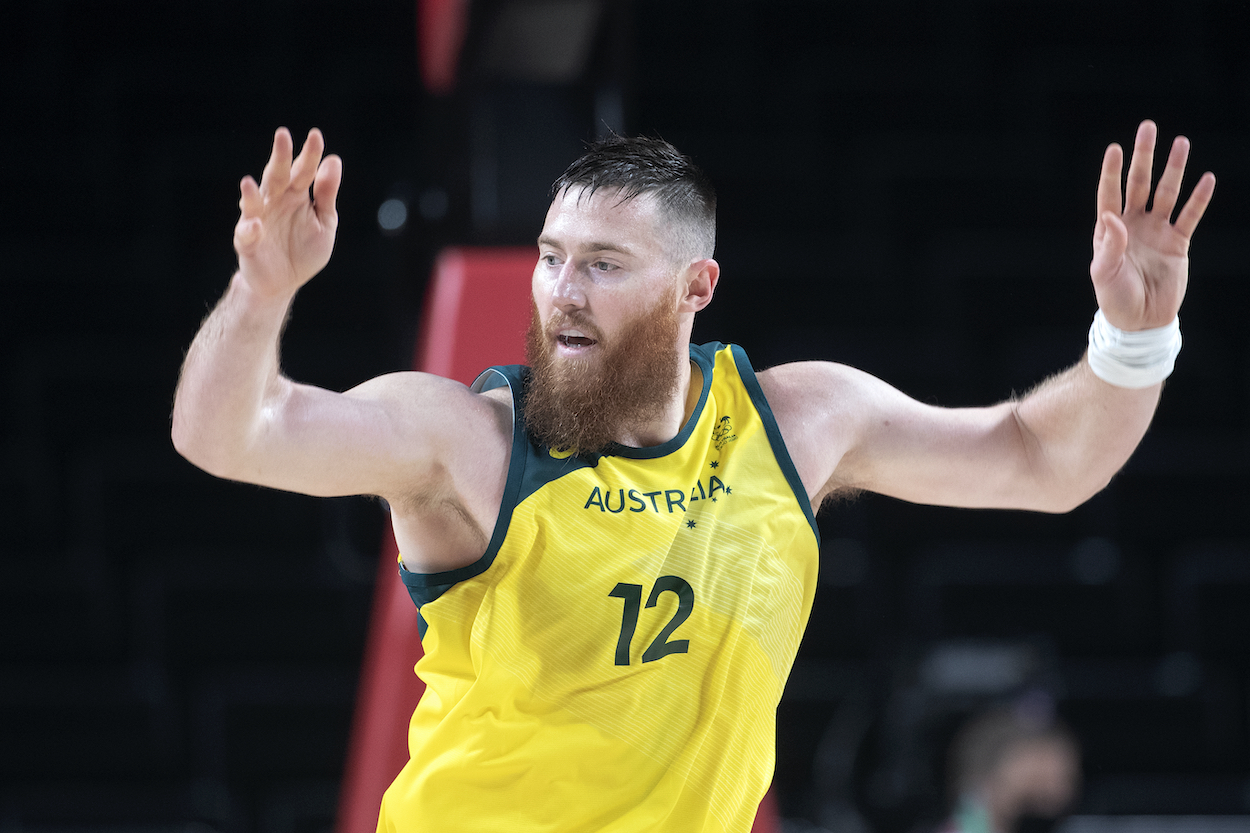 Less than an hour after Baynes was stretchered out of the bathroom, he started to lose feeling in his legs and left arm. He was taken to a local hospital and underwent an MRI that showed he had "internal bleeding that was putting pressure on his spinal cord."
Baynes had a hard time communicating with the Japanese nurses and doctors at the hospital, so he called up an Australian neurosurgeon and put together a treatment plan. But for nearly two weeks, he wasn't even able to stand on his own.
"The loneliest time in my life was laying in that hospital, going in and out of consciousness, going over my life plan and my goals and just crying," Baynes told Windhorst. "My uncle Don had an accident 10 years ago. He's a quadriplegic. My family's had first-hand experience with this going down. I was so scared."
Baynes was finally able to stand after 11 days in the hospital. Shortly after, he could finally stack one cup on top of another. On his flight back to Australia, Baynes had to be strapped down and anesthetized for eight hours. When he got back home, he still couldn't walk by himself.
Not giving up on the NBA
Baynes spent the next few months undergoing physical therapy in Australia. He eventually built up the strength to walk on his own, and now he can run without any issues.
"If you saw me now, you wouldn't know anything happened," Baynes said. "There's been a lot of progress in the last six months."
Despite his terrifying health scare, Baynes says his goal is still to play in the NBA again.
"It looks so much more fun now. That's how I grew up playing and I really want to get back to it," he said. "I've got the want to get there and every single day I expect a lot out of everyone around me.
"I don't know what the path will look like, but I'm going to give it one hell of a crack."
If you plan on doubting Baynes after the last six months he's endured, you might want to think again.
Like Sportscasting on Facebook. Follow us on Twitter @sportscasting19.