Former NBA Player Latrell Sprewell Laughed at $21 Million and Went Broke Shortly After
Latrell Sprewell had a nice NBA career. But his legacy for many fans involves the moment when he turned down $21 million. His basketball career went into a tailspin after that. Now, his story serves as a cautionary tale for pro athletes in every sport to be careful with their finances. 
Latrell Sprewell was a bright young NBA star in the early '90s
It started out so well for Latrell Sprewell. The All-Star led the Golden State Warriors to a rare postseason berth in the '90s alongside a rookie Chris Webber. Webber famously forced a trade after that season. This sudden reversion toward mediocrity (the Warriors didn't make the playoffs again until 2007) set the template for the rest of Sprewell's frustrating career. The good times never lasted as long as they should've. 
His talent was never in question, but his impulsiveness ended his NBA tenure far sooner than expected. After choking P.J. Carlesimo during an argument in practice; Sprewell's contract was voided. The NBA suspended him for a year and he instantly became one of the most hated athletes in America. 
He revived his career with the Knicks. However, he was fined $250,000 for reporting to training camp with a broken hand he forgot to tell them about. After five years in the Big Apple, Sprewell was traded to the Minnesota Timberwolves after the 2002-03 season. 
He redeemed himself in Minnesota and then threw it all away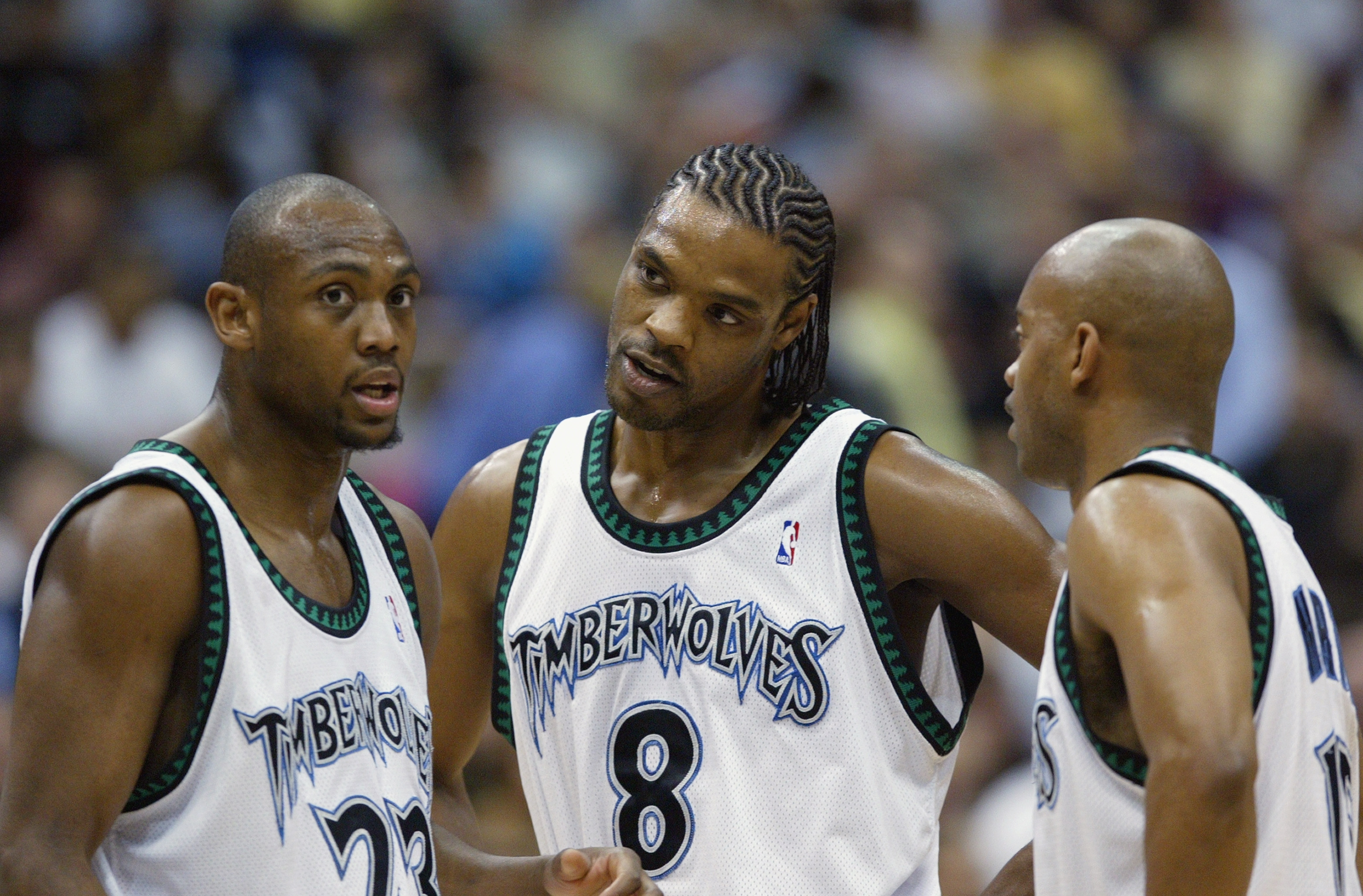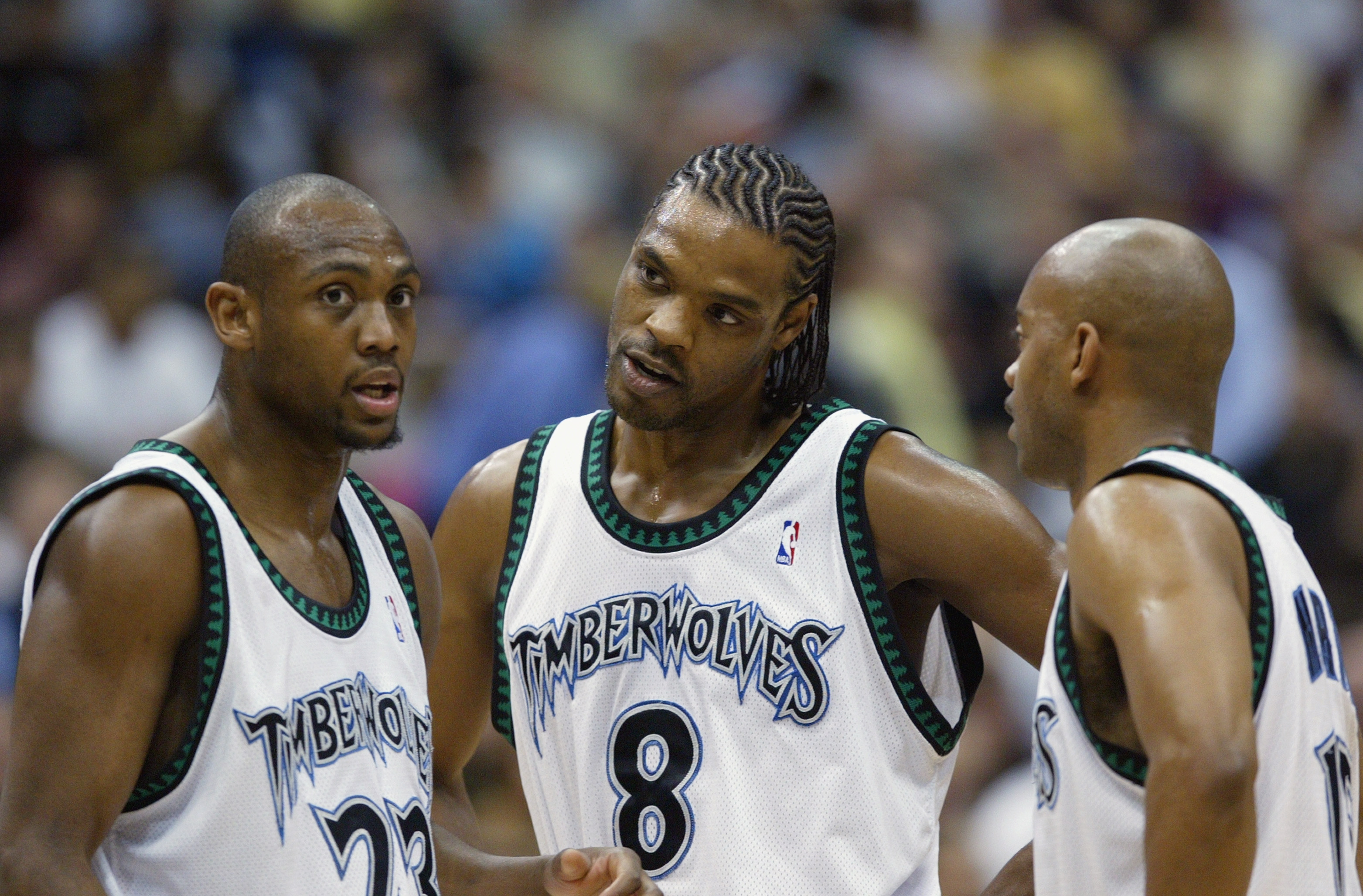 Sprewell formed an entertaining trio with Kevin Garnett and Sam Cassell to lead the team to the best season in franchise history. He averaged 17 points a game as they won 58 games and earned the top seed in the Western Conference. Unfortunately for them, their excellence didn't quite translate into a championship. The Timberwolves lost to the Lakers in the Conference Finals in six games. 
There was still optimism about the next few years for the franchise. But Sprewell did his part to extinguish that hope as soon as possible. Before the 2004-05 season, Minnesota offered him a three-year contract extension worth $21 million. Sprewell was earning $14.6 million in the last year of a contract he got from the Knicks.
You could understand the decrease in pay being a slight blow to the ego. But Sprewell expressed this emotion in the most out-of-touch way possible. According to Black Wealth Channel, he turned down the contract and explained his decision by saying, "Why would I want to help them win a title? They're not doing anything for me. I'm at risk. I have a lot of risk here. I got my family to feed."
To the surprise of no one besides Sprewell, the quote enraged fans, and the surrounding furor affected his play. He had his worst scoring year in the league, and the Timberwolves failed to make the playoffs. 
Despite his big mouth, Sprewell entered free agency expecting a deal from someone who'd align with his warped perception of himself. That contract never materialized. He never played in the NBA again. 
How Latrell Sprewell lost his millions
Sprewell would come to regret turning down those contracts. According to SF Gate, By the end of 2007, he was sued by his long-term partner for $200 million, while also alleging that he abused her, had his yacht, named "Milwaukee's Best" repossessed, defaulted on his $1.5 million mortgage and Milwaukee went after him for $3 million in back taxes. Sprewell made over $100 million in his career and his current net worth is a mere $50,000, reports Celebrity Net Worth. 
He appears to be at peace with some of his mistakes since he made — or at least willing to pretend to get paid for a commercial, details Twin Cities. But his tribulations now serve as one of many examples of how players can go broke after well-paying careers. 
Modern players are much more attentive to their finances, both during and after their careers. The player empowerment era has emboldened them to look after their own interests rather than the desires of their teams more intensely before. And the increased level of awareness around how influential their money can be when they use their platform wisely.
Players still say dumb things from time to time. But it's fair to be shocked if anyone misreads the room as badly as Sprewell did anytime soon.