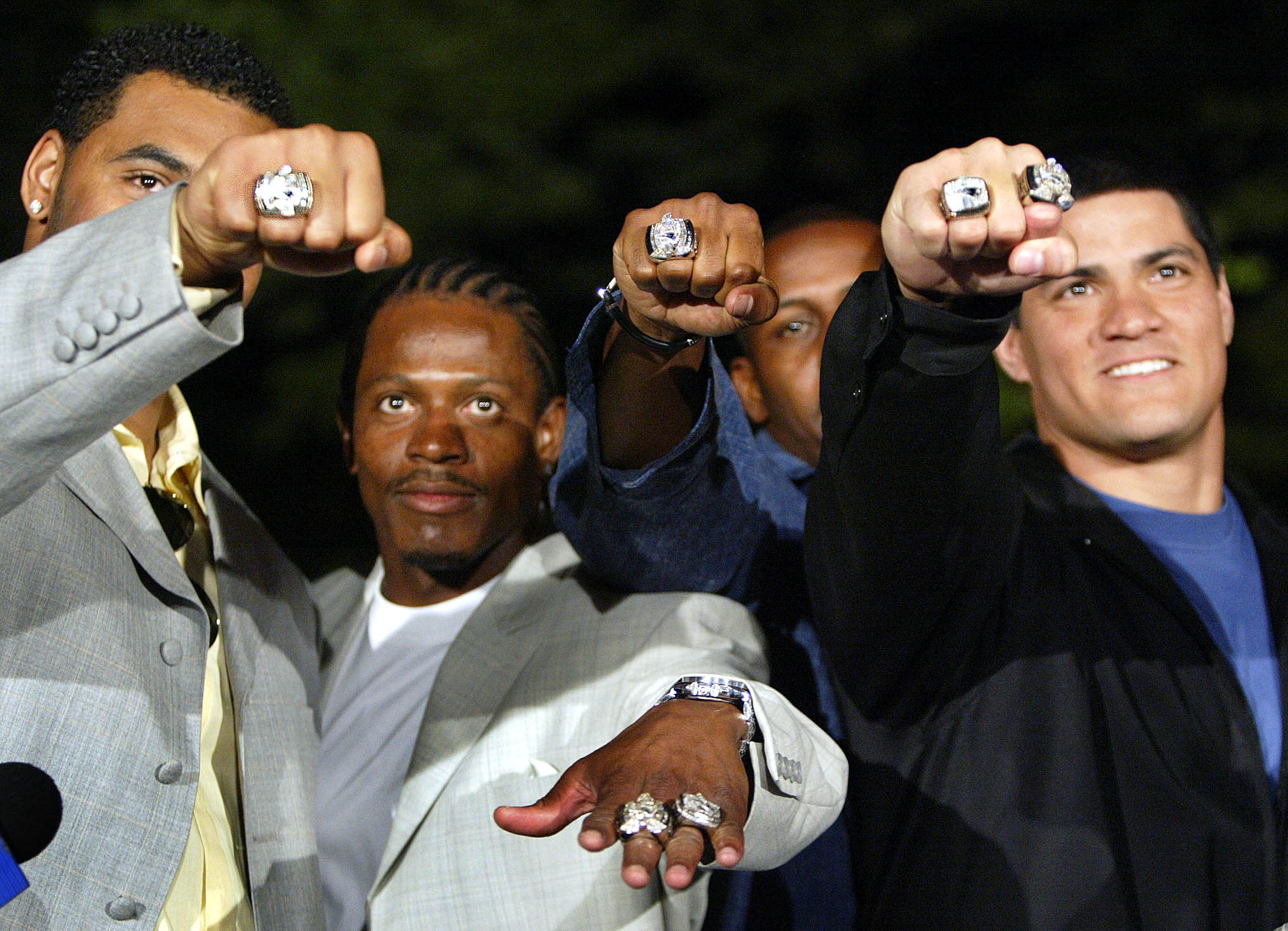 Former New England Patriots Star's Son Allegedly Steals $300K Worth of Items, Including 2 Super Bowl Rings, From His Father
Vince Wilfork allegedly had two Super Bowl rings and more stolen from him by his son.
The son of former New England Patriots star Vince Wilfork was arrested in May and charged with theft of property greater than $300,000 after stealing from his father. The items allegedly stolen by D'Aundre Holmes-Wilfork included two Super Bowl rings, two AFC Championship rings, and a college football ring. Police believe he sold the items prior to his arrest.
Vince Wilfork won a pair of Super Bowls with the New England Patriots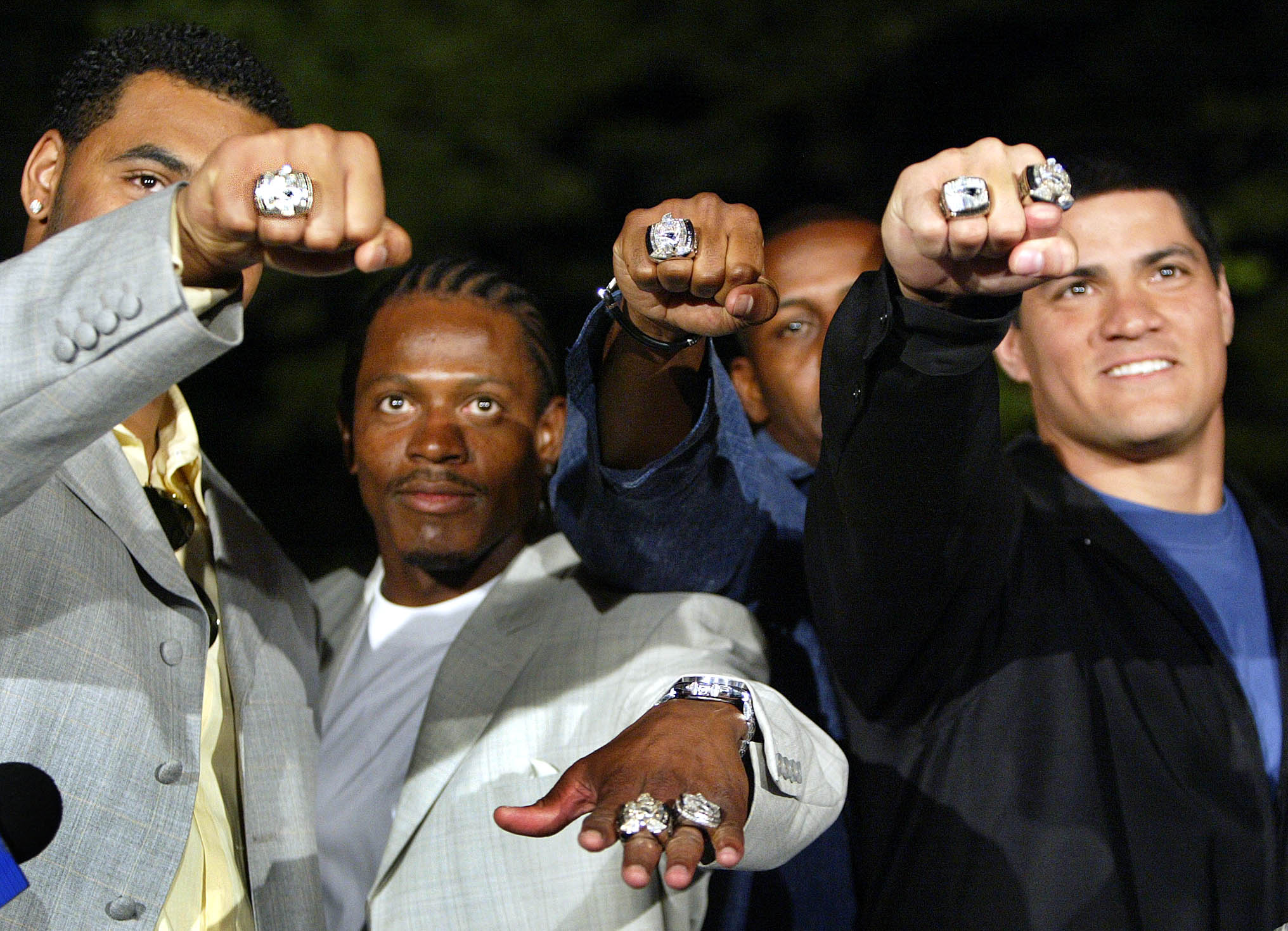 Wilfork was a defensive force for the Patriots during their dynasty. He anchored the Patriots' defensive line as his 6-foot-2, 325-pound frame clogged the middle. He was known as one of the game's biggest run stoppers. Wilfork made his first Pro Bowl in 2007 while in his fourth NFL season after being drafted in the first round of the 2004 NFL draft.
From 2009-2012, Wilfork made the Pro Bowl four straight times. In 2011, he even finished the season with two interceptions. He spent 11 seasons with the Patriots before finishing his career with the Houston Texans.
Wilfork is considered one of the best defensive tackles in NFL history. He finished his career with 560 tackles and 16 sacks. After spending two years in Houston, he announced his retirement, signing a one-day contract with the Patriots.
Vince Wilfork's son charged with stealing both of his father's Super Bowl rings and more
According to The Galveston Daily News, D'Aundre Holmes-Wilfork, 23, was arrested May 22 and charged with theft of property greater than $300,000. On Monday, the Galveston County District Attorney's Office released a police complaint about the charges involving Holmes-Wilfork.
The report stated that on May 10, Wilfork reported several expensive items missing. Among those items were the two Super Bowl rings he won with the Patriots. Also included were two AFC Championship rings and a college football championship ring he won as a member of the Miami Hurricanes. The complaint also stated he was missing expensive earrings, necklaces, and bracelets.
The complaint stated Wilfork first noticed the items were missing in May 2020 while he was packing up his house for a move. He didn't report it immediately because he wasn't sure if he packed the items somewhere else or if he had them stored in his second home in Florida.
A New England Patriots fan alerted Wilfork of the situation
The Galveston Daily News reported that earlier this year, Wilfork received a message regarding the incident. The message came from a Patriots fan who told him someone was posting information about his Super Bowl rings online. That information took place in an online sports memorabilia group. Wilfork was eventually able to get in touch with the person claiming to own the rings.
That person said he purchased the Super Bowl rings from Holmes-Wilfork in May 2020. He paid $62,000 for them. According to the complaint, the rings were returned to a local police department after being reported stolen.
Police arrested Holmes-Wilfork on May 22. According to Pro Football Talk, Holmes-Wilfork has been released on a $300,000 bond.