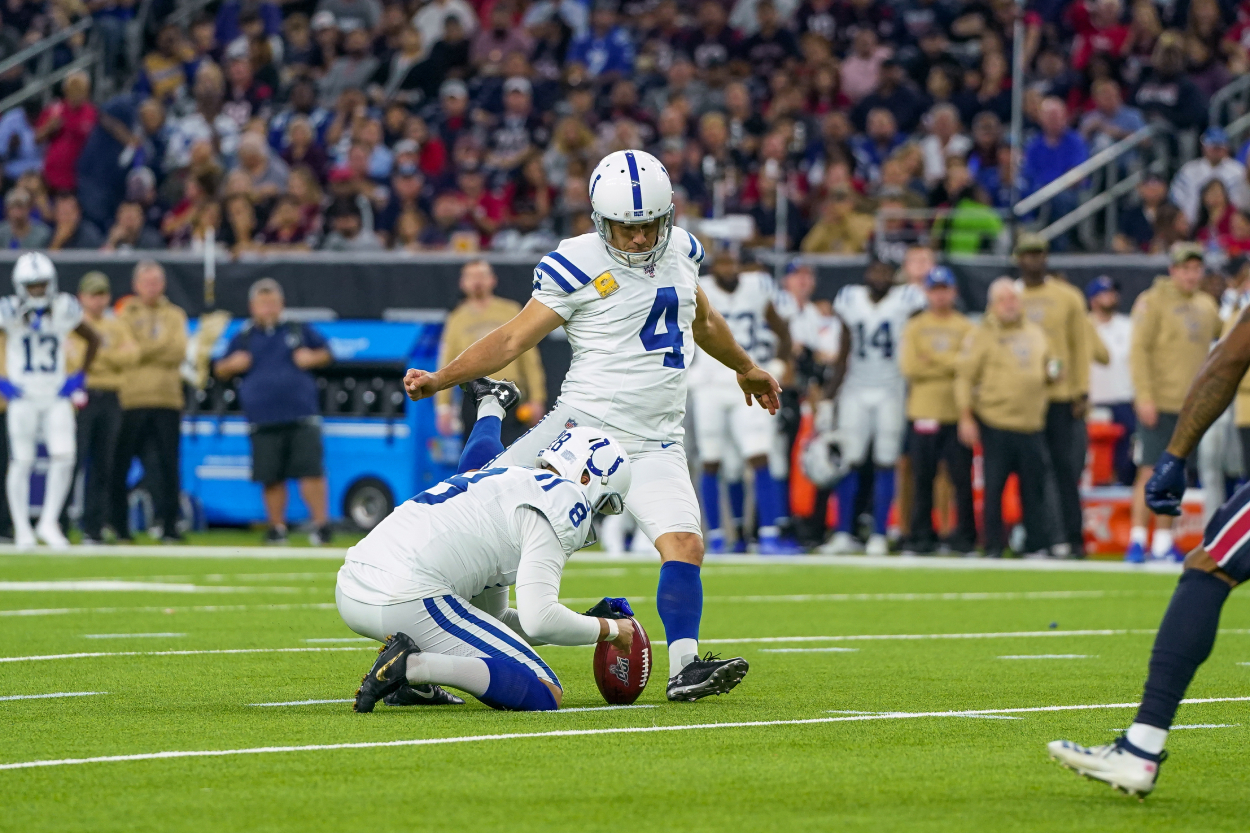 Adam Vinatieri Didn't Have a Name Early in His Career With the New England Patriots
Adam Vinatieri wasn't acknowledged by name early in his career with the New England Patriots.
Who was that guy in the No. 4 jersey with the New England Patriots in 1996? Back then, nobody really knew, and those higher-ups with the Patriots never acknowledged him by name early in his career. After 24 seasons in the NFL, Adam Vinatieri hinted Wednesday on The Pat McAfee Show that he's retiring from the NFL.
Adam Vinatieri was as clutch a kicker as there was in the NFL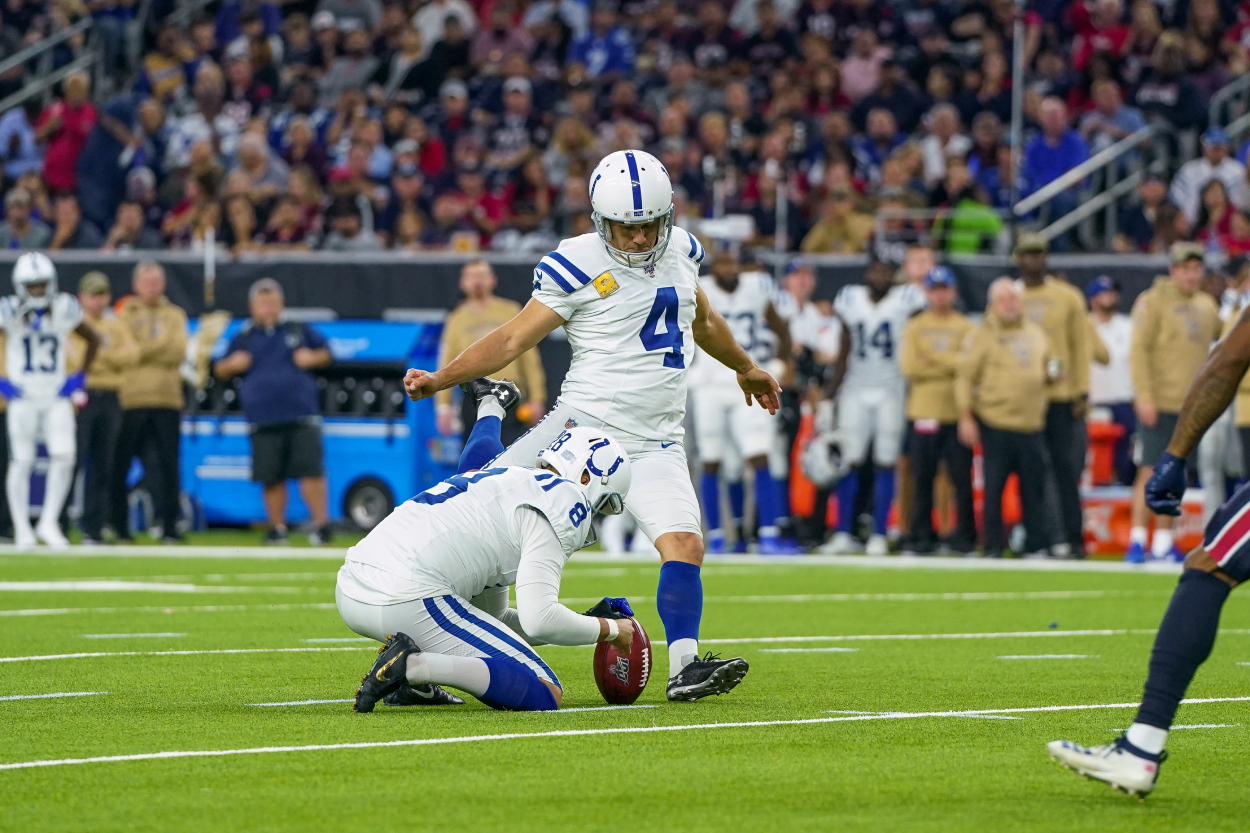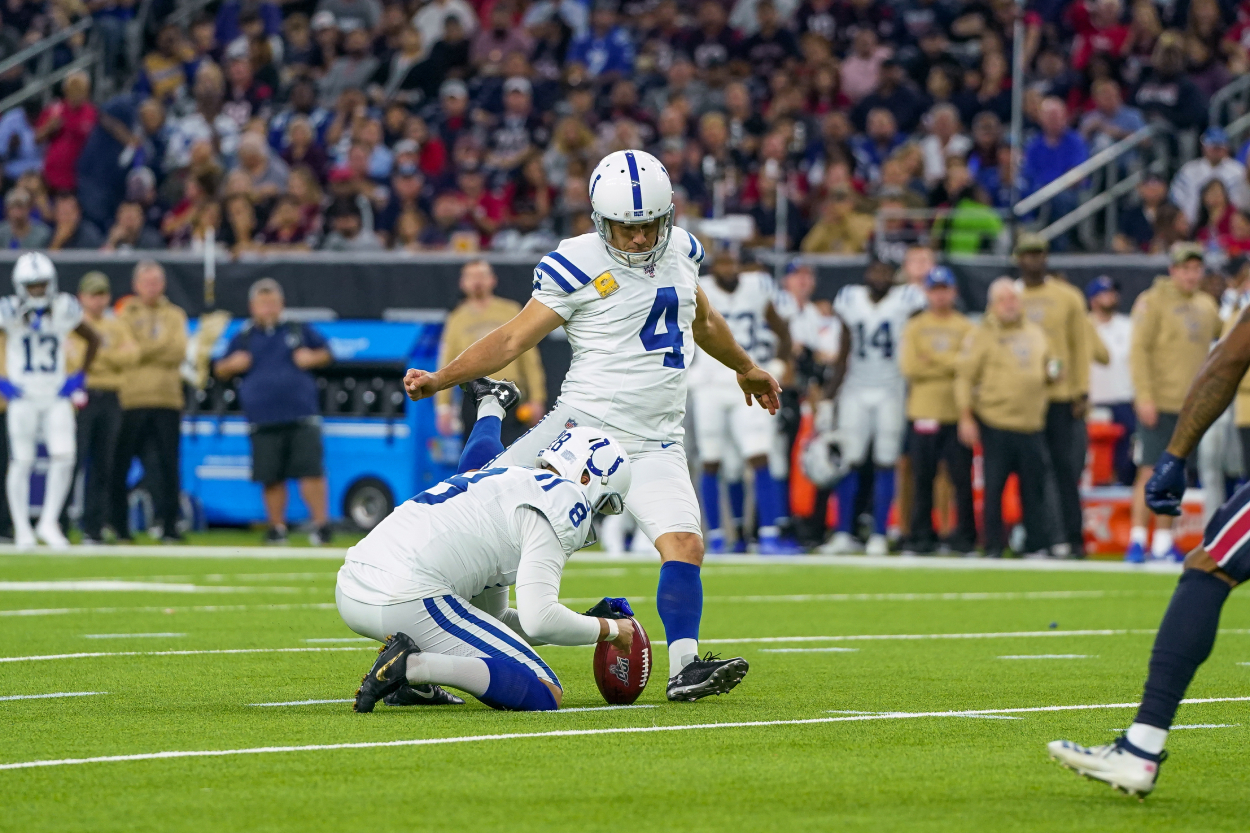 Without Vinatieri, there would be no major upset against the St. Louis Rams in Super Bowl 36. Tom Brady might only have five Super Bowl rings if not for the man many are calling the GOAT of kickers. Vinatieri's kick against the Oakland Raiders in the 2001 playoffs in blizzard-like conditions goes down as the most clutch kick ever, according to Bill Belichick.
"Adam Vinatieri is the greatest kicker of all-time who made the greatest kick of all-time in the 2001 divisional playoffs," Belichick said in a statement. "His consistency, mental toughness, and performance under pressure was legendary."
 Weeks after that Oakland kick, he booted the game-winning field goal as the Pats upset the two-touchdown favorite Rams in the Super Bowl. He also have the game-winning kick in Super Bowl 38 in a 32-29 win over the Carolina Panthers.
In an Instagram post, Brady posted a nice tribute to the kicker. "When you look up clutch in the dictionary it should have your picture," Brady wrote. "An incredible teammate with an incredible work ethic. Honored to have played with the (GOAT)."
Did Adam Vinatieri officially announce his retirement to Pat McAfee?
Vinatieri was a guest on The Pat McAfee Show on Wednesday. The two are friends and former teammates with the Indianapolis Colts. The two were talking retirement when Vinatieri asked McAfee if he should break the news on his show.
"Do you want it to be live on your show that Vinny's officially done?" he asked McAfee. "Is that what you want?"
"I don't want that," McAfee said, "but if it's going to happen, happy it's happening here. Don't feel obligated. Don't feel forced."
"Put it this way," the kicker said. "Today is Wednesday. By Friday, if paperwork goes in, you heard it here first."
Vinatieri didn't have a name early in his career with the Patriots
When Vinatieri was a rookie out of South Dakota State with the Patriots in 1996, he had veteran kicker Matt Bahr in front of him. Bahr was a favorite of head coach Bill Parcells. Vinatieri said Parcells made things tough on him in camp.
"(Parcells) tried to make it as difficult as he could on me," he said. "He challenged me pretty much every day. There was a lot of times where the team was going to do no conditioning or maybe double conditioning depending on (whether he made a 50-yard kick). He would stand in my kicking spot or he would purposefully get in my way when we were doing stuff. In a weird way, I really appreciated that because it just added extra pressure in training camp."
Vinatieri also said it took a while before the coaching staff even acknowledged him by name. "For the longest time I didn't have a name," Vinatieri said. "Belichick would either call me, 'Hey 4 or hey (expletive).' It took probably about a full year before either he learned my name, or maybe before I earned enough respect from him to call me by my name."