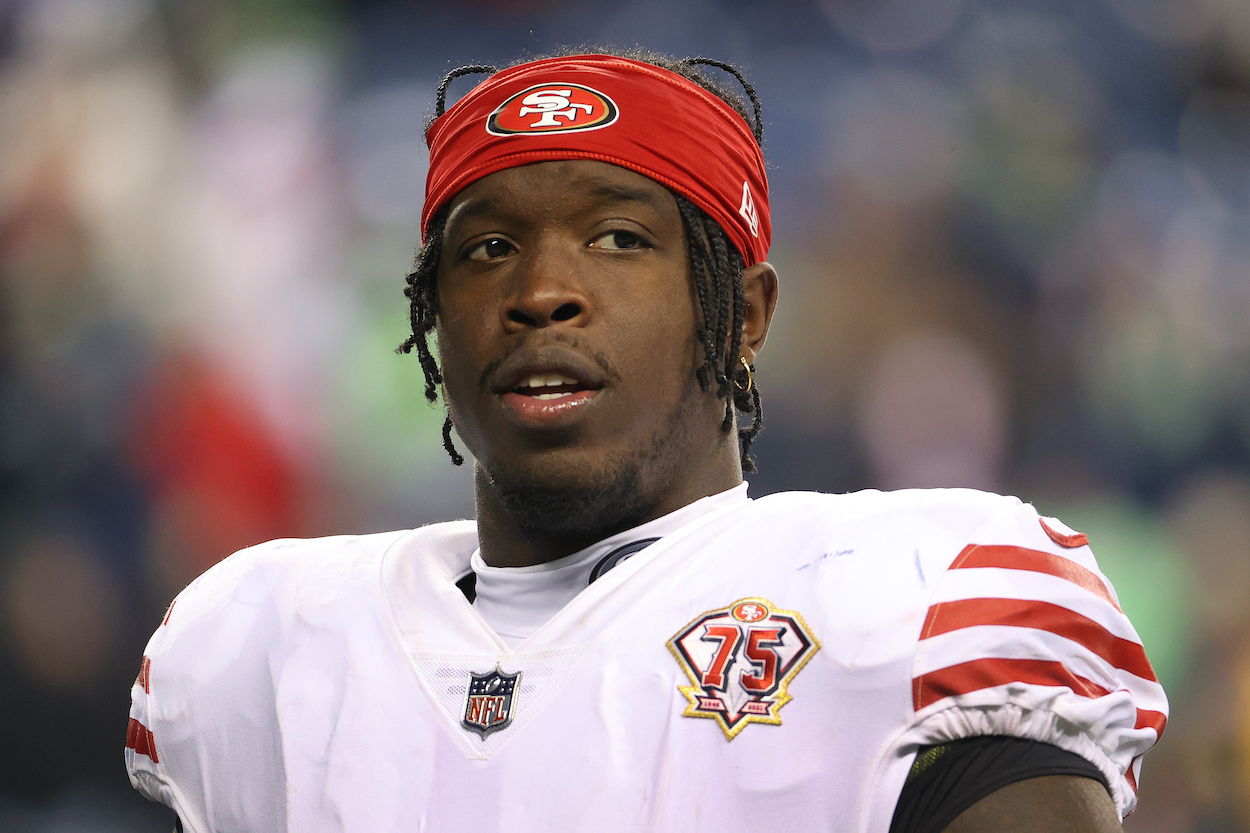 Former NFL DB Darius Butler Can (Almost) Relate to San Francisco 49ers Jaquiski Tartt After Dropping a Potential Game-Winning Interception: 'I Can Remember Vividly Every Interception I Dropped'
Jaquiski Tartt dropped an INT that could have sent the San Francisco 49ers to the Super Bowl and former NFL DBs like Darius Butler feel his pain.
Any NFL player who's played defensive back can surely relate to what it feels like to drop an interception. However, as former DB Darius Butler recently noted, few can truly understand what it feels like to drop one with a trip to the Super Bowl on the line like the San Francisco 49ers Jaquiski Tartt did in the 2021 NFL playoffs. 
Jaquiski Tartt dropped a Matthew Stafford pass that might have won the NFC Championship Game for the San Francisco 49ers
The San Francisco 49ers led the Los Angeles Rams 17-14 with 9:55 to go in the fourth quarter of the NFC Championship Game. On first down from his own 14-yard line, Rams QB Matthew Stafford play-action faked, dropped back, and uncorked a deep ball. 
The ball was short and equidistant between Rams receivers Odell Beckham Jr. and Van Jefferson. Running right under the flight of the ball was 49ers safety Jaquiski Tartt. 
With 10 feet of space on either side and a good 20-yards of open field in front of him, Tarrt did the unthinkable and dropped the ball. 
Now, he was on his own 35-yard line when this happened, and there were still nine-plus minutes to go in the game. If he fell right there and Jimmy Garoppolo and the 49ers went three-and-out, the Rams could have got the ball back with plenty of time to win the game, like they did. 
However, thanks to some head-scratching challenge decisions from Sean McVay, the Rams had no timeouts. Also, if Tartt got some return yards and/or the Niners O got a few first downs, milked the clock, and scored, that INT could have won the game. 
Instead, Stafford recovered and got his team a field goal on the drive that Tartt's drop extended and led another FG drive after that to take a 20-17 lead, which would eventually become the final score. 
The moment is one that Tartt, nor his teammates and fans, will soon forget. For former NFL defensive backs, it was one they know all too well. 
Former NFL DB Darius Butler felt his fellow DB's pain
After the game, a shocked Jaquiski Tartt stepped up to the microphones and said all the right things. He also took to Twitter to take responsibility, writing, "No excuses!! I deserve all the criticism my way! Opportunity I dream of I came up short!!! Let my brothers down!! It Still won't define me as a person/player. Only will get stronger and better… #Believdat"
His teammates also rallied around him and minimized the importance of the miscue.
One group of people who could empathize with the safety are former NFL DB, like Darius Butler. The former New England Patriots, Carolina Panthers, and Indianapolis Colts player — who played both corner and safety in his career — joined the Pat McAfee Show and discussed the incident: 
That was a chance to go to the Super Bowl, obviously. And, honestly, those are the toughest ones to catch. The ones that seem like they're in the air forever. Nobody's around. … Tartt, man, that really sucks. I can remember vividly every interception I dropped. Never on that type of stage. So, I can imagine what he's going through. 

Darius Butler on Jaquiski Tartt's drop
Butler said that he could see Tartt still shaking his head, thinking about the drop several plays later. It truly was the nightmare scenario for an NFL DB, and now Tartt will have the entire offseason to dwell on that moment. 
Who is Jaquiski Tartt?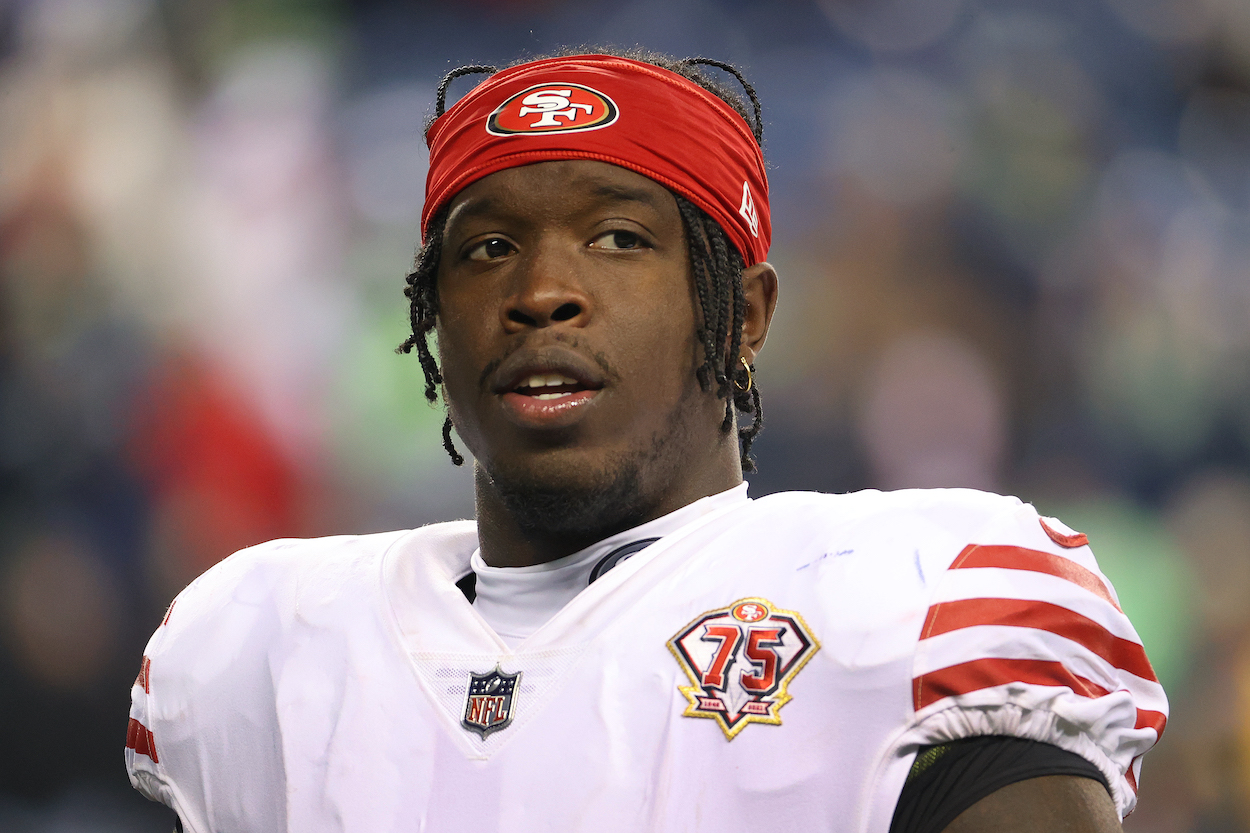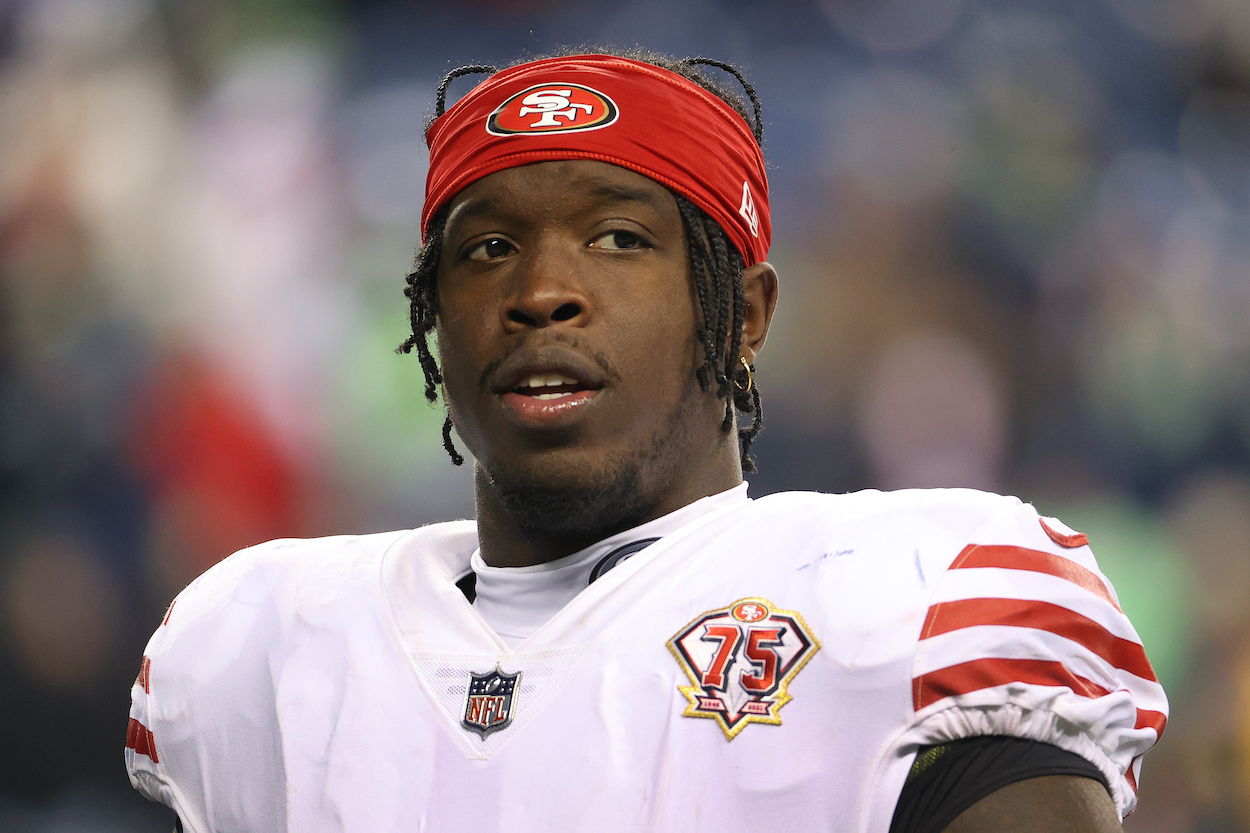 It's amazing how one play can turn a relatively unknown player into a household name when it happens under the bright lights of the NFL playoffs. 
That's exactly what happened to Jaquiski Tartt on Sunday, though. 
Tartt is a seven-year NFL veteran who's played his entire career with the San Francisco 49ers. The team drafted him in the second round (No. 46) in the 2015 NFL Draft out of the small FCS Samford Bulldogs program. 
The Alabama native has played in 80 games for the Niners and started 64. In his career, he has 367 tackles, 21 tackles for a loss, two forced fumbles, two fumble recoveries, four sacks, and four interceptions. 
Overall, Tartt is a solid starting safety. The biggest issue for him is health. He's only played as many as 15 games twice in his career and has posted seasons of nine games or less three times. 
The 29-year old safety, who turns 30 on Feb 18, 2022, is an unrestricted free agent this offseason. 
All stats courtesy of Pro Football Reference