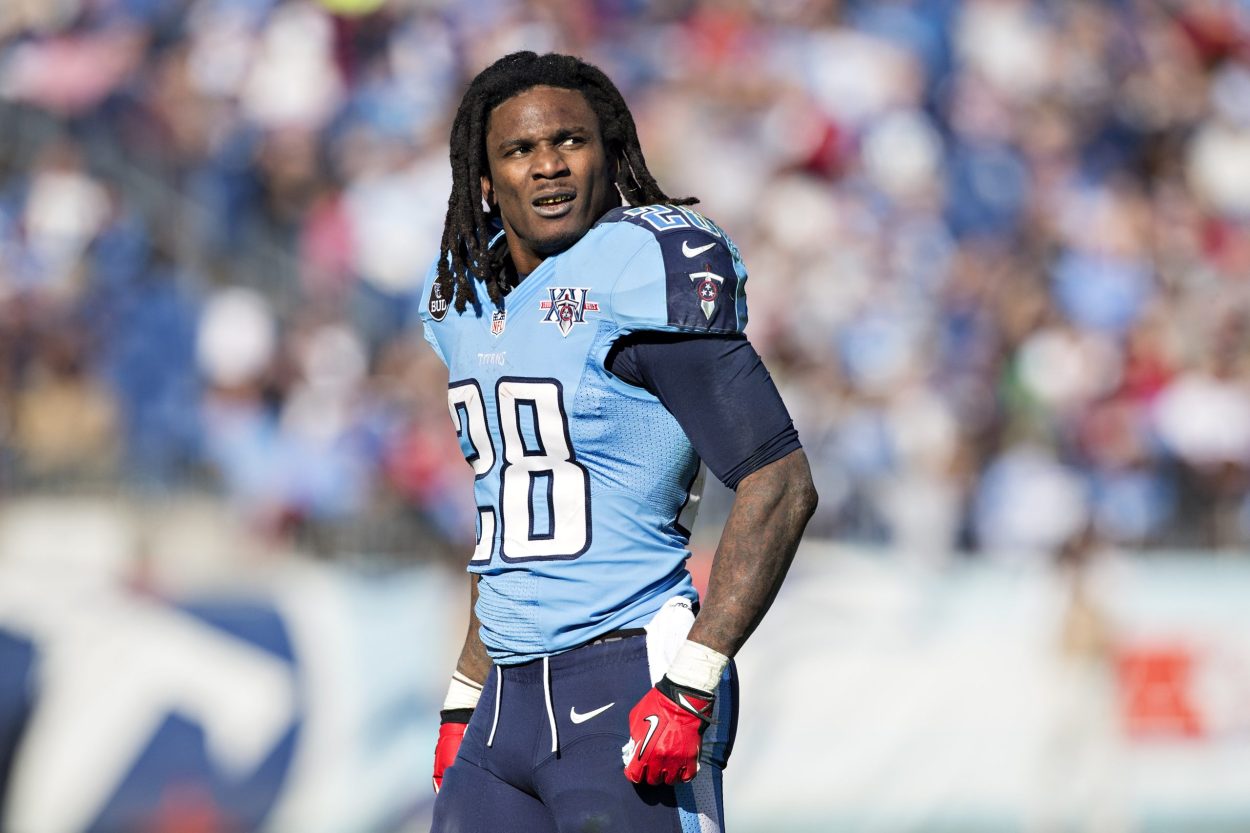 Former Pro Bowl RB Chris Johnson Opens up on Drive-by Shooting That Almost Ended His Career
Often, people see professional athletes as invincible. However, Chris Johnson almost lost everything in 2015.
Chris Johnson was one of the NFL's best running backs at one point in time. He played 10 years in the league, most notably for the Tennessee Titans. He finished his career with 9,651 rushing yards, 2,255 receiving yards, and 64 total touchdowns in 130 games.
The East Carolina product put together an impressive six-year stretch that vaulted him to the top of the league. However, his entire world nearly came crashing down in a 2015 shooting. As a passenger in a vehicle, Johnson almost lost his career — and even more.
In March 2022, the three-time Pro Bowler recalled that life-changing moment and revealed what he learned from the situation.
Chris Johnson recalled getting shot in 2015
Former All-Pro running back Chris Johnson will never forget the events of Mar. 8, 2015.
Most recently a member of the New York Jets, Johnson was leaving a concert in Orlando, Florida, when a gunman opened fire on the car in which he was a passenger. The NFL star suffered a gunshot wound to his shoulder, and his friend was killed in the shooting.
Johnson survived, but he acknowledges that things could've played out differently for him, as well. In a March 2022 interview on the I Am Athlete podcast, he opened up on the events of that night.
"One of my best friends, my brother, was gonna go away and do some time," Johnson said. "He raps, and he was doing a concert. We go to the concert, we leave, and we're gonna go get something to eat. We're at the red light. It just happened so quick. You just hear windows shattering. One of my friends is in the back seat, and my other friend is driving.
"I look left, and one of my friends is leaning on the horn. He's gone. I called my homeboy in the back seat, and he's talking to me. We go to the hospital. I break my collarbone, shoulder bone when I got shot. Three weeks after I get shot, a nerve starts messing with me."
Chris Johnson became concerned that his injuries could end his football career.
"My hand goes out," he added. "It's so painful, I can't use it. If I touch something, it's burning. So now, I can't use my hand. My right hand is my dominant hand. So I'm like, 'Damn, my career is over with.'"
The former Titans RB gave advice to young players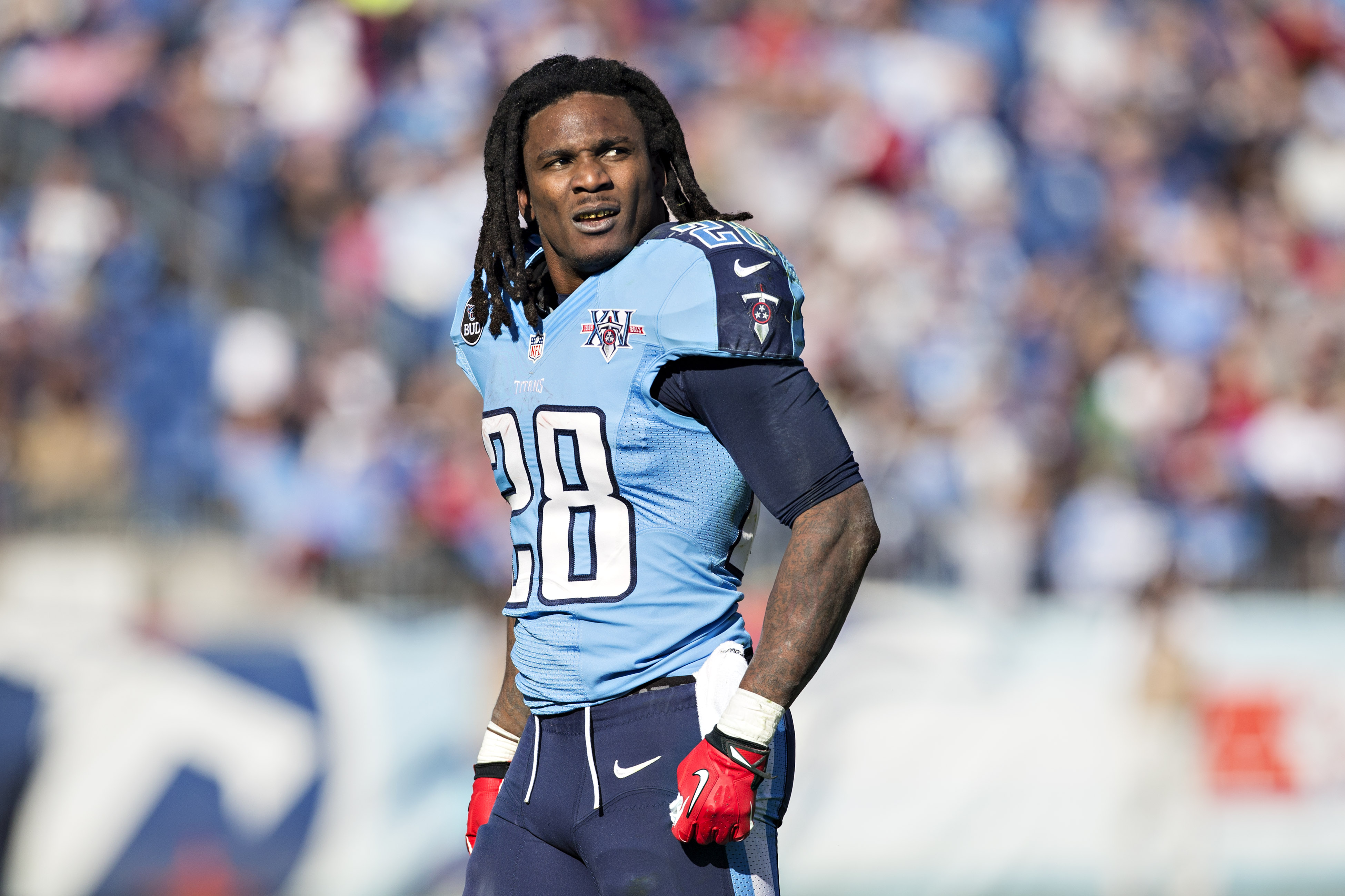 Fortunately for Chris Johnson, he recovered from his injuries and got back to playing football. He credited Fox Sports' Jay Glazer with helping him get back into playing shape during the recovery.
Football aside, the former Titans All-Pro running back was lucky to be alive. I Am Athlete host Brandon Marshall asked Johnson how the shooting and losing his friend changed him.
"The whole narrative that, 'Oh, he done got rich and famous, and he forgot about the hood,'" Johnson said. "Man, I used to come home and be in the hood a lot. If I go back and do it, I wouldn't be there because the same thing that happened in that car could've happened in the hood. Even today, I don't go around there."
Johnson suggests his story should be a lesson to the younger generation to be aware of the situations they put themselves in.
"I done did all this work for me to be able to make it out the hood," he added. "What am I hanging in the hood for?"
Chris Johnson has since become a business owner, running a coffee shop in Florida. He shared some additional advice for young people: "You got to be a leader, and you got to continue the hard work. If you don't continue to put the hard work into it, it's going to fail, and that's with anything you do."
Johnson never returned to his Pro Bowl form
It's easy to forget how good Chris Johnson was, especially given how his career ended. However, the Orlando, Florida, native took the league by storm in his early days with the Tennessee Titans.
The 2008 first-round pick eclipsed the 1,000-yard mark in each of his first six NFL seasons. He won the rushing title in 2009, racking up 2,006 yards and 14 touchdowns to earn the "CJ2K" nickname. Johnson also caught 50 passes for 503 yards and another two scores. He currently holds the record for most scrimmage yards in a single season (2,509).
Johnson won NFL Offensive Player of the Year in 2009, went to three Pro Bowls, and earned first-team All-Pro honors once. Unfortunately, he didn't enjoy the same success when he left Tennessee.
The 5-foot-11, 195-pound running back played for the New York Jets in 2014. Then, he spent his last three years with the Arizona Cardinals. Johnson rushed for just 1,686 yards and five touchdowns during that span.
While Johnson's prime didn't last as long as he hoped, he's at peace with how things played out.
"Coming back from that experience and doing what I did, playing three more years. That's why I say I'm good," he explained. "I'm good with it. I'm full."
All stats courtesy of Pro Football Reference