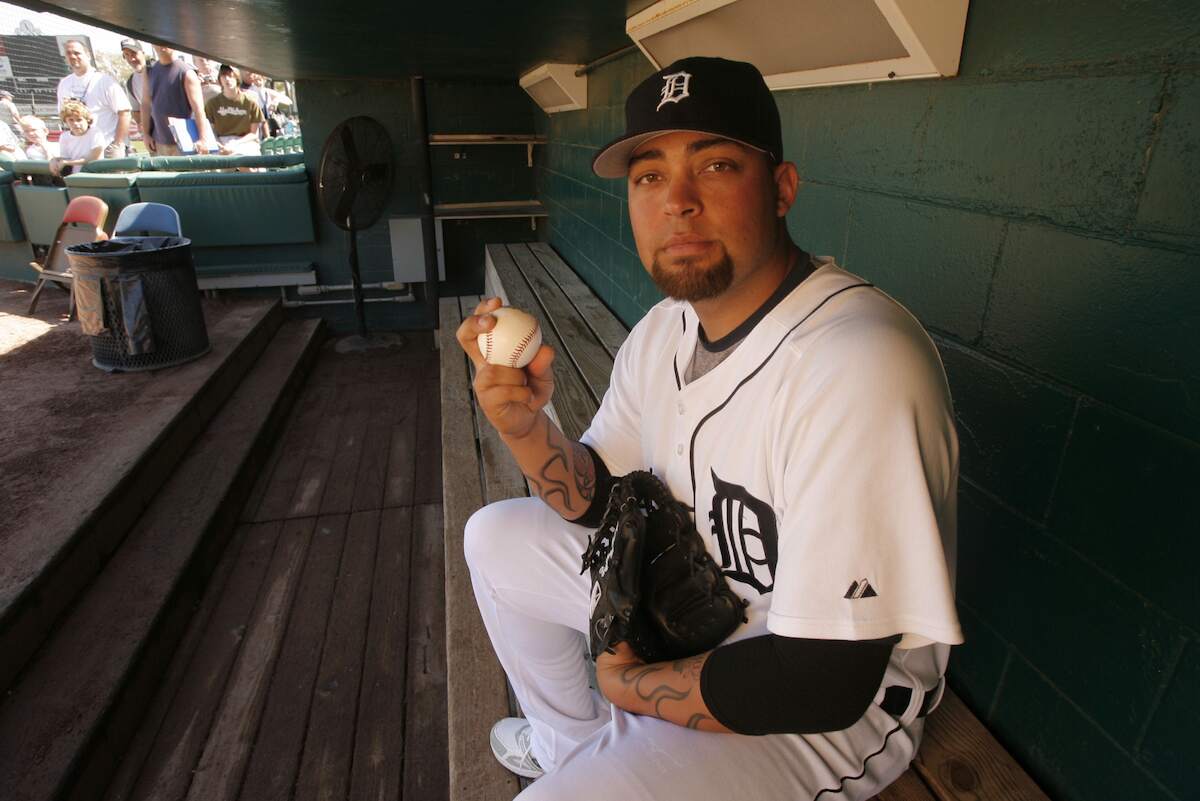 Former Tigers Pitcher Joel Zumaya Once Missed the ALCS Because of a 'Guitar Hero' Injury
Joel Zumaya took the MLB by storm with the Tigers in 2006. However, he missed part of the ALCS because he got hurt playing 'Guitar Hero.'
Being able to help your team get to the World Series is a pitcher's dream. Joel Zumaya had the opportunity to do that with the Detroit Tigers in 2006. However, Zumaya, a hard-throwing reliever, ultimately had to miss part of the ALCS that year due to injury. How did he injure himself? The cause of his injury was the once-popular video game, Guitar Hero.
Joel Zumaya was a successful reliever in his short MLB career
The Detroit Tigers drafted Joel Zumaya in the 11th round of the 2002 MLB Draft out of high school. He made his debut with the Tigers in 2006 and took the MLB by storm that year. He appeared in 62 games with Detroit in 2006. Zumaya also ultimately had a 6-3 record that season and a 1.94 ERA to go with 97 strikeouts.
However, injuries ultimately derailed his career. Zumaya only appeared in 28 games in 2007 and had a 4.28 ERA. He pitched in 21 games in 2008 with the Tigers and had a 3.47 ERA before recording a 4.94 ERA in 29 games in 2009. His last season in the majors was in 2010, as he had a 2.58 ERA in 31 games.
According to The Detroit News, Zumaya was no longer in baseball by 2012 as he didn't want to have a seventh surgery.
The Detroit Tigers were excellent in 2006
Zumaya was not the only player who became a star for the Tigers in 2006. That entire team was stacked.
Justin Verlander won the AL Rookie of the Year award that season, as he went 17-9 on the mound in 30 starts and had a 3.63 ERA. They also had two other starting pitchers who had ERAs under 4.00. Nate Robertson went 13-13 with a 3.84 ERA, while Kenny Rogers went 17-8 with a 3.84 ERA.
At the plate, Detroit had six guys with 19 or more home runs. Curtis Granderson had 19 home runs and 68 RBIs, while Carlos Guillen had 19 home runs, 85 RBIs, 100 runs scored, and a .320 batting average. Magglio Ordonez also had 24 home runs and 104 RBIs that year, while Craig Monroe had 28 home runs, Brandon Inge had 27, and Marcus Thames had 26.
All that talent led to the Tigers going 95-67. They defeated the New York Yankees 3-1 in the ALDS before sweeping the Oakland Athletics in the ALCS to reach the World Series.
However, once they got to the World Series, the St. Louis Cardinals defeated them in five games.
Joel Zumaya missed part of the ALCS because of 'Guitar Hero'
After not allowing a run in two ALDS appearances, Zumaya appeared in one game in the ALCS. However, according to ESPN, he missed part of the series due to an injury he sustained while playing the popular video game Guitar Hero.
"My hand just flared up on me, the right hand, the thumb, I couldn't grip the baseball," Zumaya said on a 97.1 The Ticket podcast in 2019, according to The Detroit News. "I couldn't throw the baseball."
He continued: "The Guitar Hero had just come out, and I fell in love with the game, dude. I'm a rock-and-roll fan. It's a killer game. … 'Hell, I'm gonna buy this.' … Guess I got hurt, dude."
Guitar Hero's makers ended up taking care of Zumaya, though. "They treated me very well," he said, per The Detroit News.
In a later version, the video game also had a disclaimer. "No pitchers were harmed in the making of this game. Except for one. Joel Zumaya. He had it coming," it read, per The Detroit News. Hopefully, since he was playing the game so much, Zumaya at least got to expert mode.
It really is too bad that injuries derailed his career, though. Joel Zumaya was a dynamite pitcher who had the potential to become a dominant reliever in the majors.
Stats courtesy of Baseball Reference