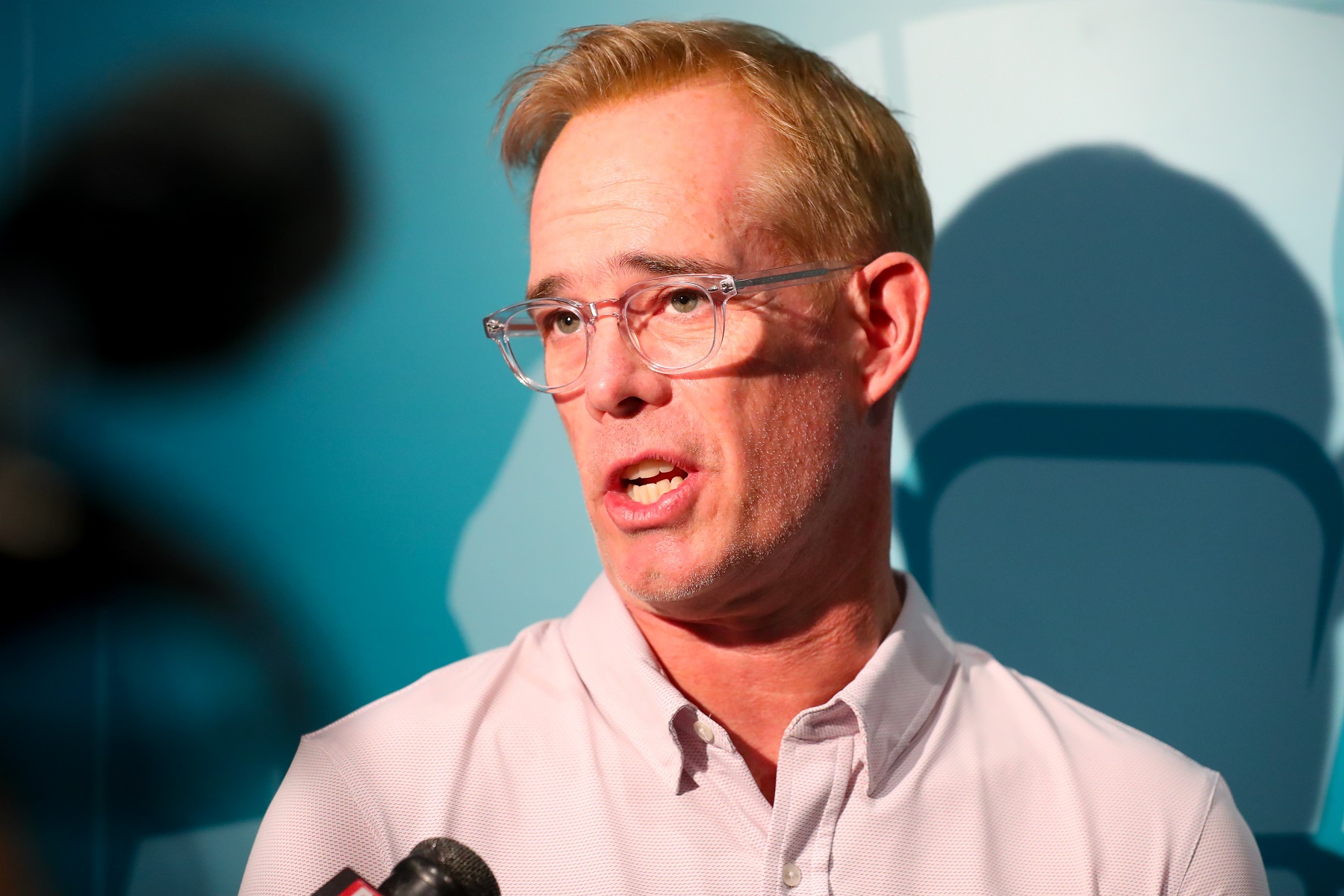 Fox's Joe Buck Takes Aim and Fires Cheap Shot at Raiders Defense in Latest Inflammatory Remarks
Joe Buck is known for drawing the ire of fanbases. On Thursday night, Buck didn't hesitate and even bragged about firing a direct shot at the Raiders defense and upsetting Raiders Nation.
Fox Sports lead announcer Joe Buck isn't shy about offering his thoughts during an NFL broadcast. It's his job. He also understands that he's likely to offend some segment of his viewing audience. This season he's done it on more than a few occasions. On Thursday night, Buck was at it again and this time he had the Las Vegas Raiders and their fanbase in his sights as he blasted the team's defense for its ineffective play this season. 
Joe Buck jinxed Justin Tucker and heard about it
Just last week, on a rare Tuesday night game, Joe Buck and the Fox Sports NFL crew broadcast from Baltimore as the Ravens hosted the Dallas Cowboys. In the second quarter, when Baltimore kicker Justin Tucker walked out on to the field for a 36-yard field goal attempt, he hoped to extend his NFL-record streak of 70 consecutive field goals made within 40 yards. 
Right before Tucker attempted the kick, Joe Buck and booth partner Troy Aikman talked about the kicker's impressive career and the record on the line. 
"I'm just gonna say he is (going to make it). There's no announcer's jinx, come on," Buck said mere moments before the kick. Tucker then pulled the kick left. "Aaaaand he yanked it. No good. Who gets blamed for that?" Buck asked, while unfortunately knowing the answer.
The blowback was immediate as many on the Twittersphere squarely pointed the finger at Joe Buck. The next day, he offered a carefully thought out response to Sports Illustrated. 
"There are few things I relish more than affecting the outcome of kicks, no-hitters, wins and losses from the broadcast booth. It's fun. It's power that cannot fall into the wrong hands," Buck joked. "Think about it—had I not said what I said, Justin would have made the kick. There is zero doubt. I have sent a letter of apology to Tucker, the Ravens, their fans and Kim Jung Un (just to be safe). I'm most fun at parties. All I have to do is say it and the opposite happens."
Joe Buck fires shot at Raiders defense
A little more than a week after Joe Buck's comments on Justin Tucker upset a lot of Ravens fans, the veteran broadcaster managed to raise the ire of the Las Vegas Raiders fanbase. 
Late in the first quarter of the game with the LA Chargers, Las Vegas Raiders quarterback Derek Carr suffered an apparent groin injury and immediately headed to the locker room. When Marcus Mariota did not start warming up on the sideline, Troy Aikman noticed it up in the booth and started commenting about it on the air. Almost as if he had heard Aikman, Mariota picked up a ball on the bench. 
"I was going to say he had not grabbed a football. He had not warmed up," Aikman noted. "There was no indication that he was even thinking that he might be coming into the game." 
Joe Buck then did his best Joe Buck.
"Well, he's watched their (Raiders) defense all year, and he knew he had time," Joe Buck said as Aikman chuckled in the background. "Oh, cheap shot," Buck continued. "Why rush it, right? Shot fired."
Latest comments get immediate reaction
Unsurprisingly, Twitter came to life with those responding to Joe Buck's comments on the Raiders defense. 
"Oof, Joe Buck with the low blow on the Raiders defense," wrote The Athletic's Jimmy Durkin. "I mean, he's not wrong, but …"
That's the thing—Buck is right. The Las Vegas Raiders defense has not been good this season. Through 13 games, the defense has played poorly and is ranked 30th in the NFL at 30.1 points allowed per game, only better than the New York Jets and Dallas Cowboys. When your team is mentioned in the same sentence as the Jets and Cowboys in 2020, that's not good.
Despite the accuracy of his statements, Joe Buck will certainly find himself in the crosshairs of Raiders Nation in the coming days. Another game. Another group of upset fans. Just another day at the office for Joe Buck. 
Like Sportscasting on Facebook. Follow us on Twitter @sportscasting19.