Fresh off His Clash Win, Martin Truex Jr. Doesn't Stand a Chance of Ending His Daytona 500 Futility
When Hall of Fame baseball manager Earl Weaver opined momentum was the next day's starting pitcher, he might as well have been talking about Martin Truex Jr. taking his cuts against any NASCAR Cup Series superspeedway.
MTJ may be coming off a triumphant weekend in the Busch Light Clash, but he has less success on superspeedways than a player does at blackjack tables by hitting on 18.
Truex has been winless in his last 44 points races. Clash victory aside, there's no reason to believe the situation will improve next weekend at the Daytona 500.
Martin Truex Jr. is coming off a good week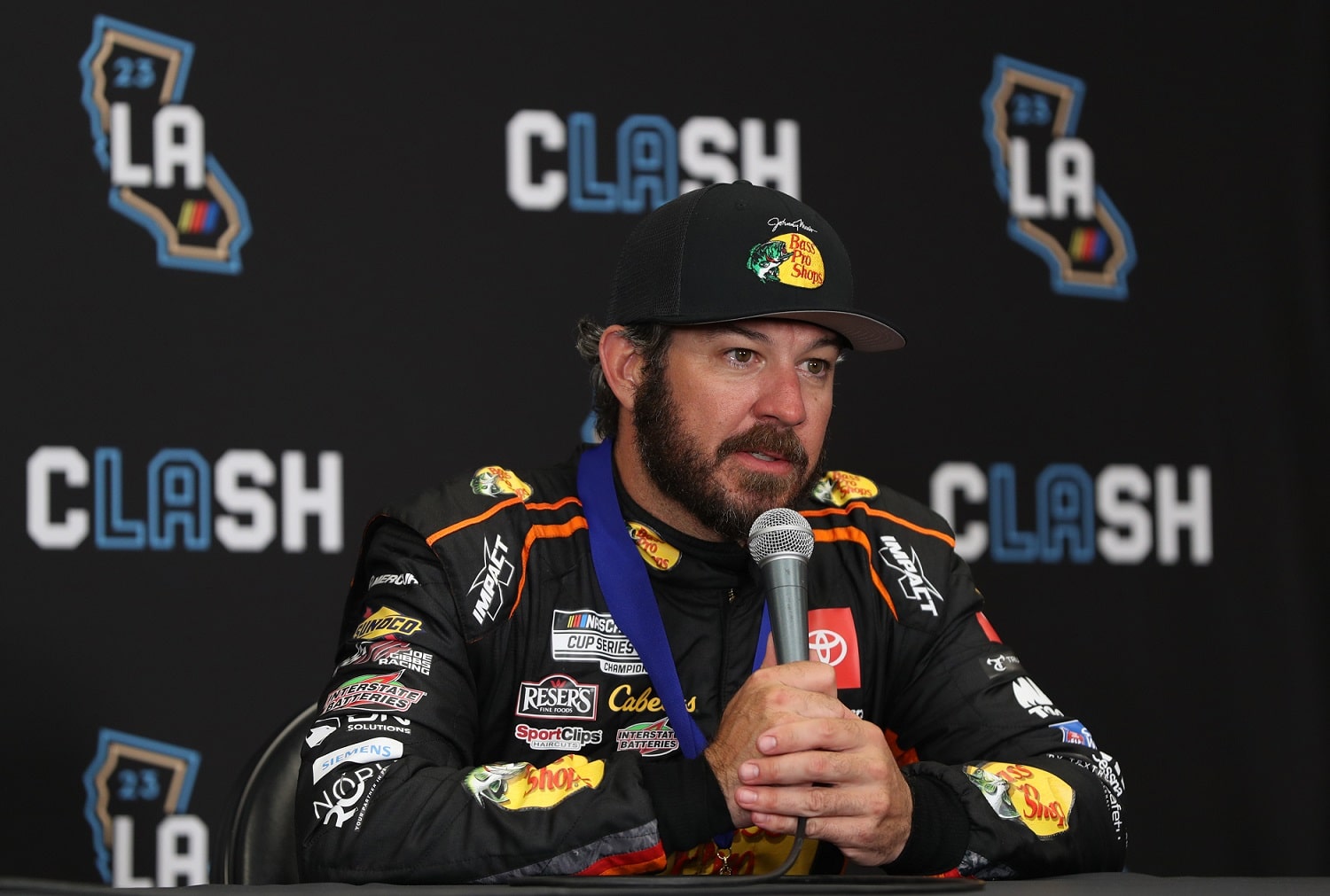 The Busch Light Clash is meaningless in the grand scheme of NASCAR beyond giving Cup Series drivers an opportunity to make season-long enemies before the real racing begins. Still, winning the exhibition at the Los Angeles Coliseum was a positive for Martin Truex Jr. in light of how his career had been going of late.
Truex, 42, reached the Championship 4 in four of the previous five seasons and won the series title in 2017, but he didn't qualify for the 2022 playoffs despite a solid body of work. The introduction of the Next Gen car ushered in parity resulting in a playoff-era record for regular-season winners.
So, despite hanging in the top 10 in points all season long, Truex missed the playoffs because he went winless in a season for the first time since 2014, his first year at Furniture Row Racing.
Truex figures to be competitive in his fifth season at Joe Gibbs Racing, and the win at the Busch Light Clash was a reminder the driver and the team can pull pieces together and win when it counts … just not at the Daytona 500.
Martin Truex Jr. is 0-for-71 at Daytona and Talladega
Though Martin Truex Jr. has won 14 Cup Series points races since, his last win on an oval longer than a 1.5-mile intermediate was midway through 2018 at Pocono. His average finish at Daytona and Talladega since has been 19.9 – and that's even with a pair of top-10 results last season.
Truex is winless in an astonishing 71 combined starts at the two superspeedways. What's more, he has finished in the top 10 just six times at Daytona and nine times at Talladega. Throw in Atlanta, which started behaving like a superspeedway last season after renovations, and the drought on trips to Victory Lane is 73 races.
That's more than a trend. It's an indication that Truex and the big tracks mix about as well as motor oil and water.
One crew chief has a theory on the No. 19 Toyota's issues at Daytona
Superspeedway racing is a different animal. The safest place to be is out in front in order to avoid getting caught up in "The Big One," but that's also where demands on the car are the greatest.
Veteran crew chief Drew Blickensderfer, who's entering his second season atop Aric Almirola's pit box, sees a mindset that differentiates Martin Truex Jr. from Almirola, Ricky Stenhouse Jr., and Brad Keselowski, all of whom are also aiming for their first Daytona 500 victory.
"You see Ricky and Brad and Aric run good at (superspeedways) because they like coming to the plate races," Blickensderfer said on NASCAR Race Hub. "Martin, I'm not sure of sometimes. He kind of dreads going to those — he's always been on the short end of the stick, and I think a lot of it goes into your mentality when you come."
Said Fox Sports analyst Clint Bowyer: "You have to figure out a way to do it differently. The old 'same old, same old,' that's clearly not working. Let's do something different if you're if you're a guy like Martin Truex Jr. Kyle Busch is the same way. Don't you think that cat ain't hungry in that '8' car?"
Got a question or observation about racing? Sportscasting's John Moriello does a mailbag column each Friday. Write to him at [email protected]