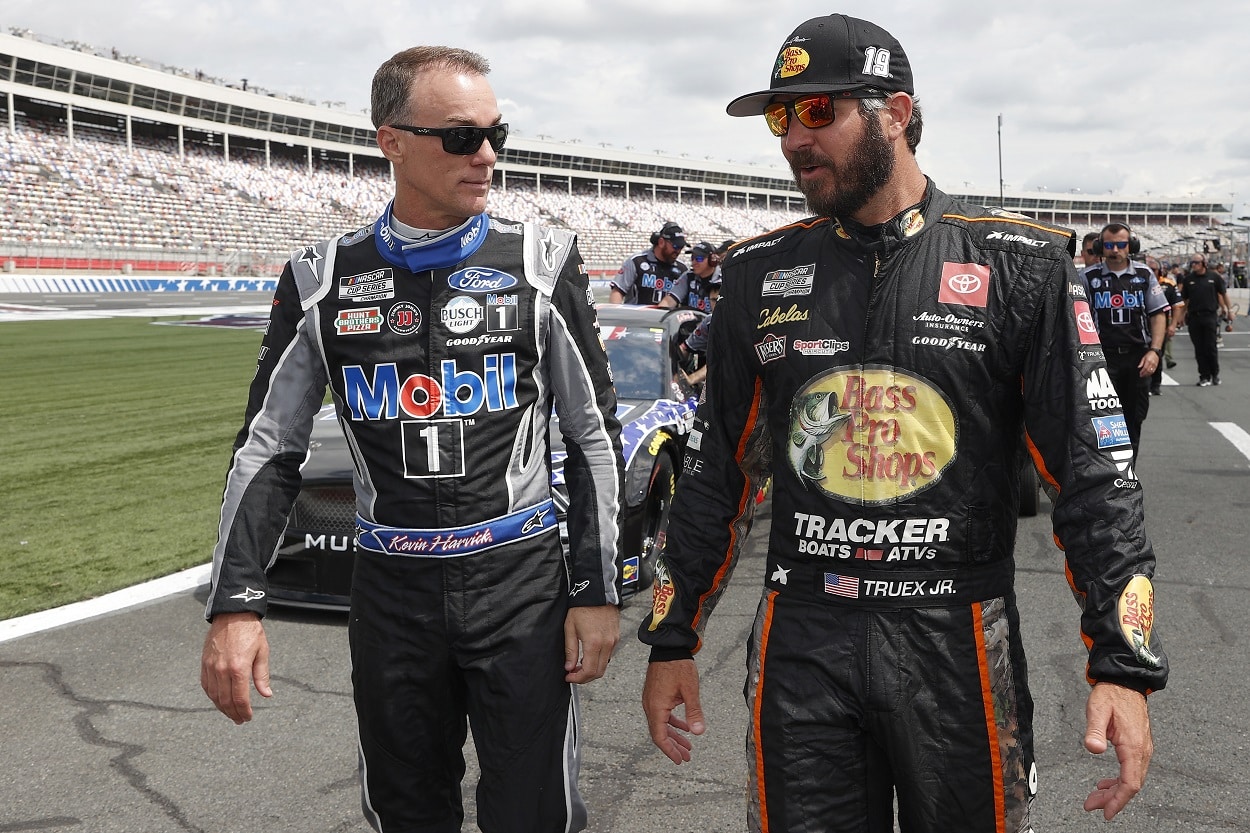 Kevin Harvick vs. Martin Truex Jr. Could Be an Intriguing Subplot to the 2023 NASCAR Cup Series Season
Kevin Harvick vs. Martin Truex Jr. could be an interesting subplot for the 2023 NASCAR Cup Series season.
Martin Truex Jr. and Kevin Harvick have been mainstays in the NASCAR Cup Series for the better part of two decades and two of the best in the sport, particularly across the last seven years. So 2023 should be one to savor as the two veterans race head-to-head for the final time.
That also begs the question: which one will go out on top?
Martin Truex Jr. had a late-career surge after nearly a decade of mediocrity
Truex ran his first Cup Series race in 2004 but did not grab hold of a full-time ride until 2006, when he piloted the No. 1 car for Dale Earnhardt Inc. He won his first career Cup Series race the following season at Dover Motor Speedway but then had to wait another six years before returning to Victory Lane.
Victories in 2013 at Sonoma Raceway and in 2015 at Pocono Raceway helped keep him afloat until he broke through in 2016 during his second season with Furniture Row Racing. Truex won four races and a career-high five pole awards, which set the stage for his pinnacle season a year later.
Truex won a series-high eight races in 2017 en route to his first and only Cup Series championship to date. It was a remarkable story with the single-car FRR operation that worked out of Denver rather than North Carolina, where nearly every other team is based.
The organization shut down after another four-win season in 2018 in which Truex finished runner-up to Joey Logano in a bid to defend his title, so Truex and crew chief Cole Pearn moved over to Joe Gibbs Racing for 2019 and did not miss a beat. They won a series-high seven races and again finished second in the points standings, this time to teammate Kyle Busch.
Truex finished second or higher in the points standings four out of five years from 2017-21 before a winless 2022 campaign during which he reportedly strongly considered retirement.
He missed the playoffs entirely for the first time since 2014 despite leading 572 laps, which ranked 10th in the series.
Ironically, while Truex trudged through 2014 with one of the worst seasons of his career in his debut campaign with FRR, Harvick had one of his best.
Kevin Harvick's career got a boost when he moved to Stewart-Haas Racing
Harvick was a 13-year veteran of the Cup Series by the time he opened the 2014 season, but his 14th year in the series was also his first with Stewart-Haas Racing. Harvick had spent his entire career to that point in the No. 29 car for Richard Childress Racing. He had won 23 races and finished as high as third in the points standings three times, but the move to SHR took his career to another level.
Harvick and crew chief Rodney Childers paired up on the No. 4 team and had immediate success. They won the second race of the 2014 season at Phoenix Raceway, the first of five wins on the year. They also led the series with eight poles and won the final two races of the season to clinch Harvick's first and only career Cup Series championship.
Harvick has been a dominant force in the series ever since. He had an eight-win season in 2018 and nine wins in 2020. He also finished inside the top five in the points standings an incredible five straight seasons from 2017-21, although he went winless in 2021 for the first time in 12 years.
His 2022 season turned out to be even worse despite back-to-back victories in August at Michigan International Speedway and Richmond Raceway that at least secured his place in the 16-driver playoff field.
Harvick led 93 of his 119 laps as the leader on the season in those two victories, and his laps led total was the lowest of his 22-year Cup Series career to go with a 14.3 average finishing position that was his worst since 2009.
Harvick has announced retirement plans, while Truex's are still pending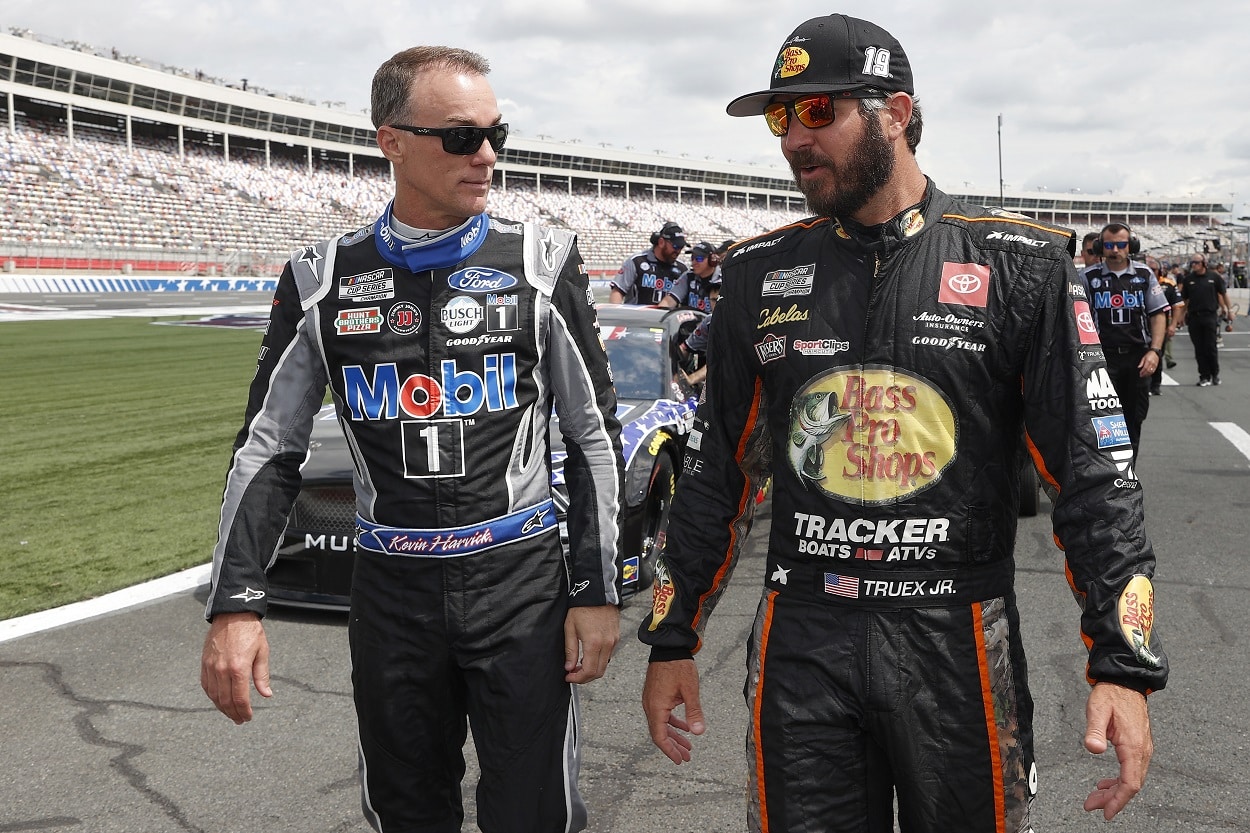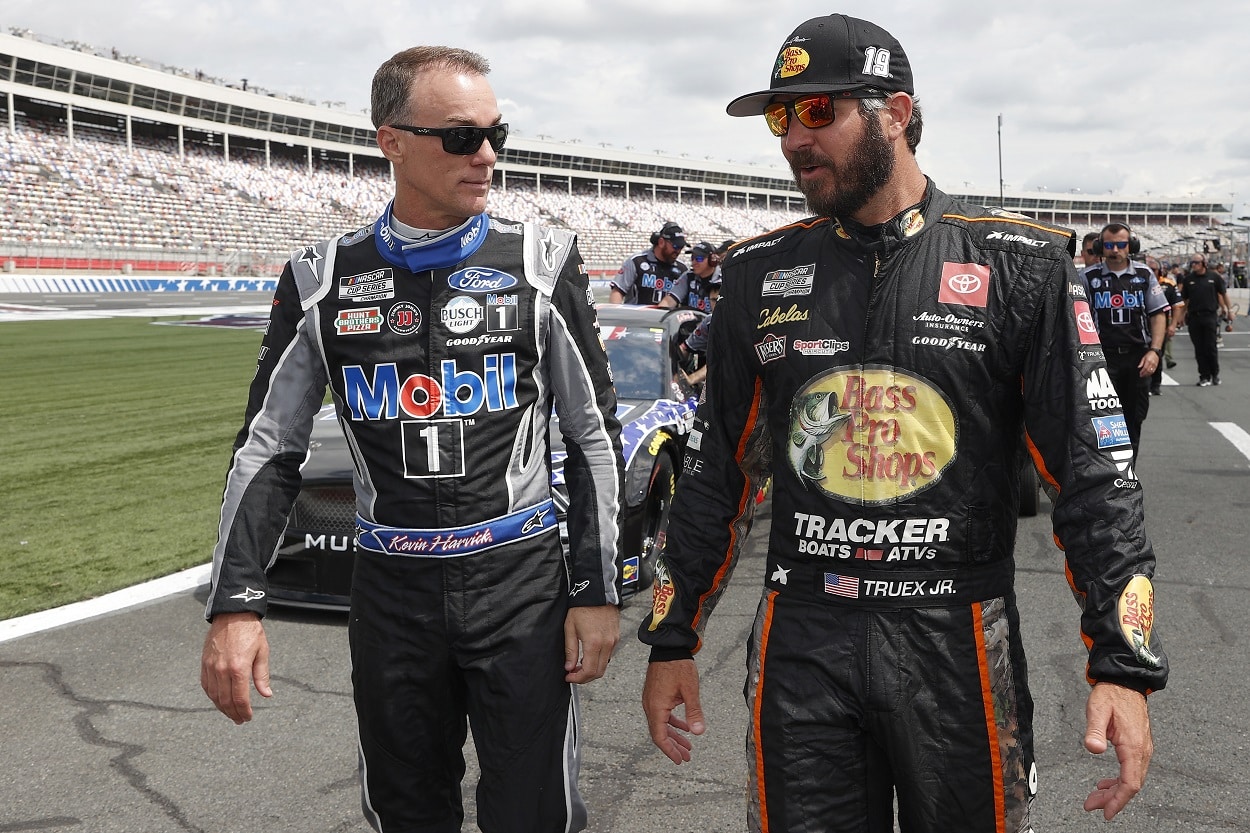 Harvick announced in January that this would be his final season as a full-time driver. Truex has said he will again wait until later in the season to make such a decision, but this may be the end of the road for both drivers.
Both still drive for two of the top organizations in the sport, so the quality of their equipment shouldn't be in question, and it would be shocking if they weren't at least strong contenders to make the playoffs.
Harvick holds the advantage in all-time wins with 60 to Truex's 31, but Harvick has only a 29-28 margin in wins during the last seven seasons. Truex also had a significant edge in laps led in 2022 and finished seventh in the non-playoff standings, while Harvick was 11th.
The 2023 NASCAR Cup Series season holds a lot of intrigue for many reasons, and the Truex-Harvick contest could be something to relish in what might be the final year for both decorated drivers.