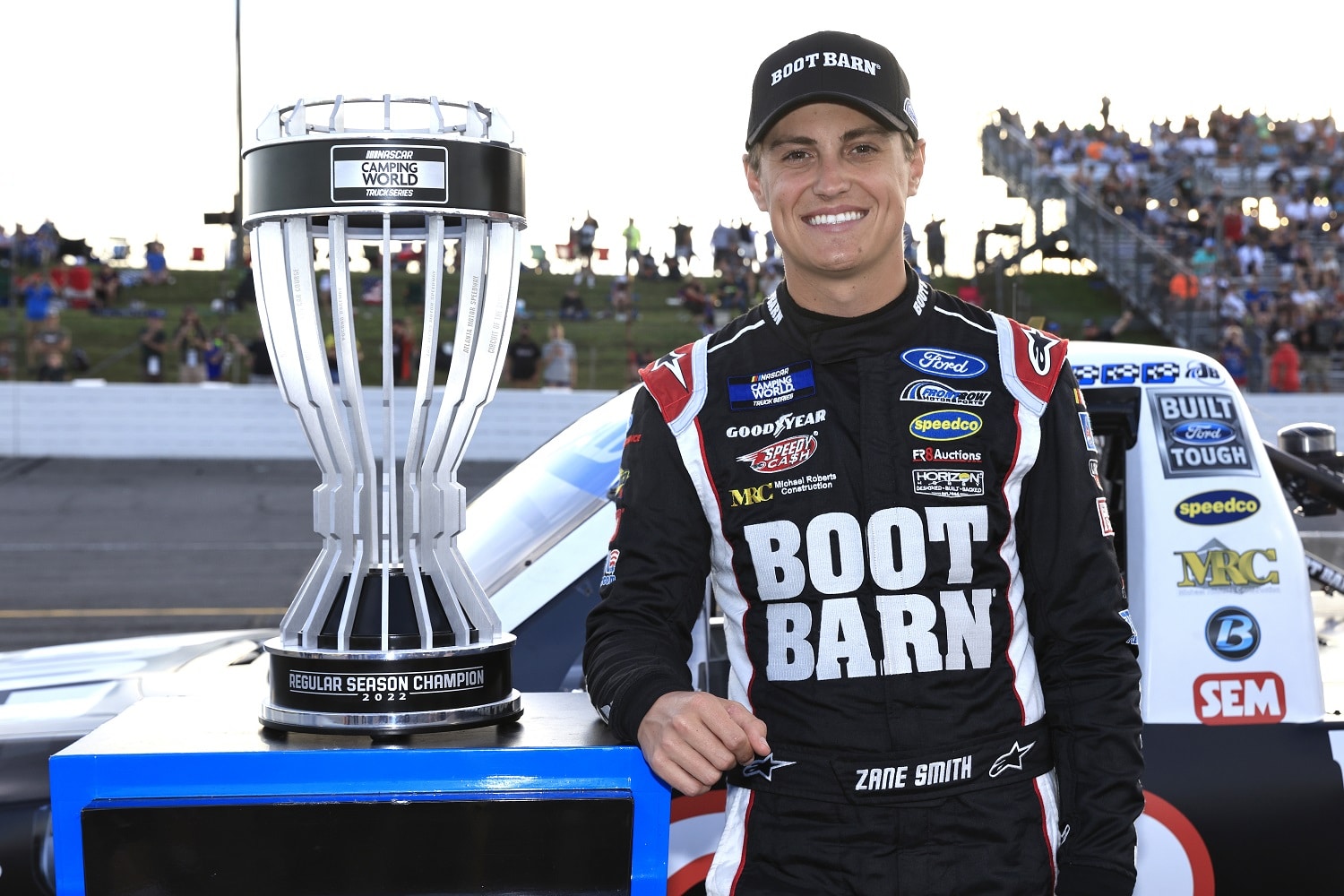 Front Row Buys Some Time to Figure Out How to Keep Future Cup Series Driver Zane Smith
Zane Smith will remain primarily a truck series driver in 2023, but Front Row Motorsports has promised to enter him in the Daytona 500 and some other Cup Series races.
How do you keep emerging star Zane Smith down in the truck series when he's already tasted the NASCAR Cup Series? If you're Front Row Racing, you promise him everything you've got available for now and start figuring out how to give more ASAP.
Smith has agreed to drive in the Camping World Truck Series again in 2023 even though he has so little left to prove. The team bought some goodwill by finding him new worlds to conquer, but they need to start thinking bigger soon.
Zane Smith will drive in all three NASCAR series in 2023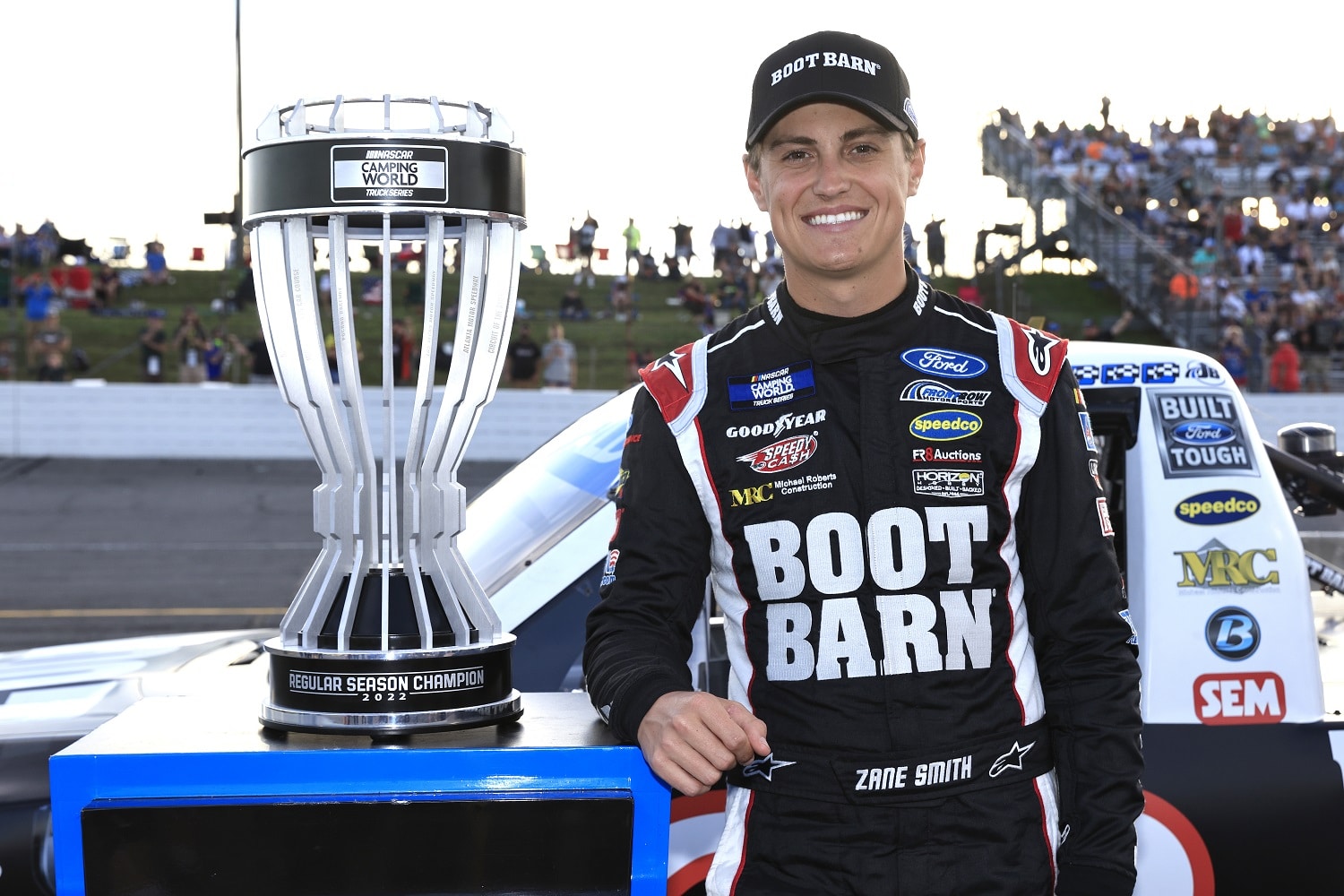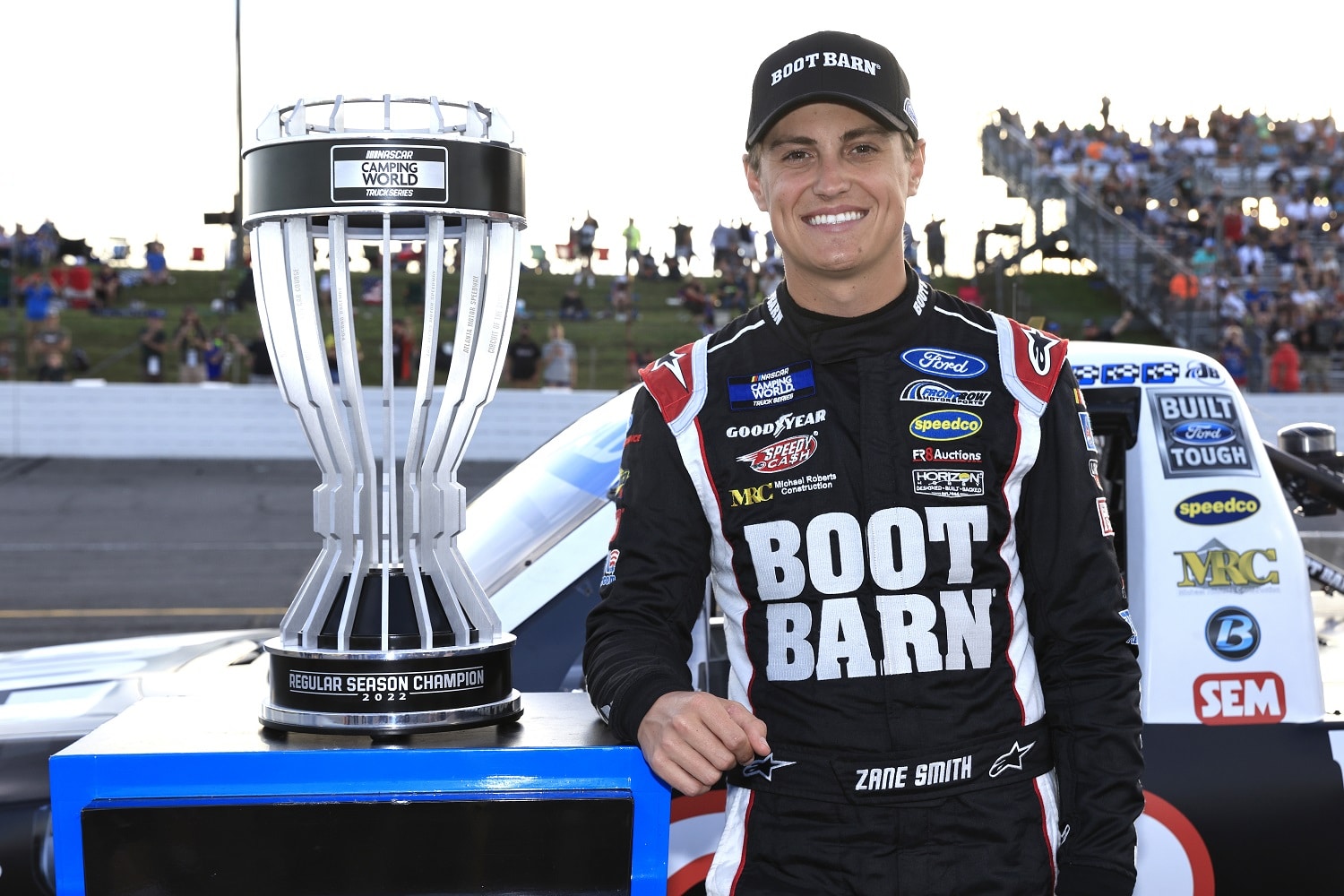 He was a bit of a longshot to score a full-time NASCAR Cup Series ride in 2023 because the job market in the top series is always tight, but Zane Smith will land at least a few shots driving against the best.
Smith will take on a second truck series season for Front Row Motorsports next year, with the team also committing to having him race in the Daytona 500 and other Cup Series events. Additionally, FRM will seek out opportunities to place Smith in Xfinity cars with other teams since it doesn't have a program of its own.
"We will be strategic as what (Cup) races we select to enter," team general manager Jerry Freeze said in the announcement. "We want to allow Zane to highlight what many have seen him do this year at the elite level. We will announce those races later once the 2023 schedules are announced."
The Cup Series races require a third, unchartered car if 2021 Daytona 500 winner Michael McDowell and rookie Todd Gilliland return. That's an expensive proposition for the team but also a show of good faith.
Smith's one appearance in the Cup Series came this summer at Gateway, where he finished 17th as an emergency replacement for Christopher Buescher after the RFK Racing veteran tested positive for COVID-19.
Zane Smith could be cruising toward a series championship
Zane Smith has won three truck series races and scored seven other top-five finishes this year. Another top-five result was stripped away via disqualification over an equipment issue. Two races into the playoffs, he stands second to Chandler Smith and is comfortably positioned to transfer into the next round after Kansas on Sept. 9.
Zane Smith finished second in the truck series the previous two seasons. Ideally, he wins this time. But there is so little left for him to prove after six victories and 43 appearances in the top 10 in 64 starts that he doesn't need a championship to confirm his ability.
Naturally, he's looking for bigger challenges. Racing in the Daytona 500 and a few other Cup Series events would be a great start, but it will be important for Front Row Motorsports to find him a place in the Xfinity Series, too.  There are only 23 truck races per year; the Xfinity Series has more races, and its cars are more similar to those he wants to drive full-time than are the trucks.
The primary issue will be the availability of top-notch equipment. Top teams like JR Motorsports and Kaulig Racing have full complements of drivers, and their extra cars are valuable in arrangements with Cup Series teams and other partners.
The driver is saying all the right things
If Zane Smith, 23, is disappointed about not going to one of the next levels full-time, he's masking it.
"Front Row Motorsports has a lot of great momentum now, not only with their Truck Series program, but also with their Cup Series program," he said in the team statement. "While I'm 100 percent focused now on the Truck Series playoffs and racing to win a championship for our partners, I'm excited for what the future holds next season as I get the opportunity to also compete at the next level and continue to grow as a race car driver."
FRM has bought some time for now, but the team will need a better plan for 2024 if it intends to hang on to one of the sport's better young prospects.
All stats courtesy of Racing Reference.
Like Sportscasting on Facebook. Follow us on Twitter @sportscasting19 and subscribe to our YouTube channel.
Got a question or observation about racing? Sportscasting's John Moriello does a mailbag column each Friday. Write to him at [email protected].