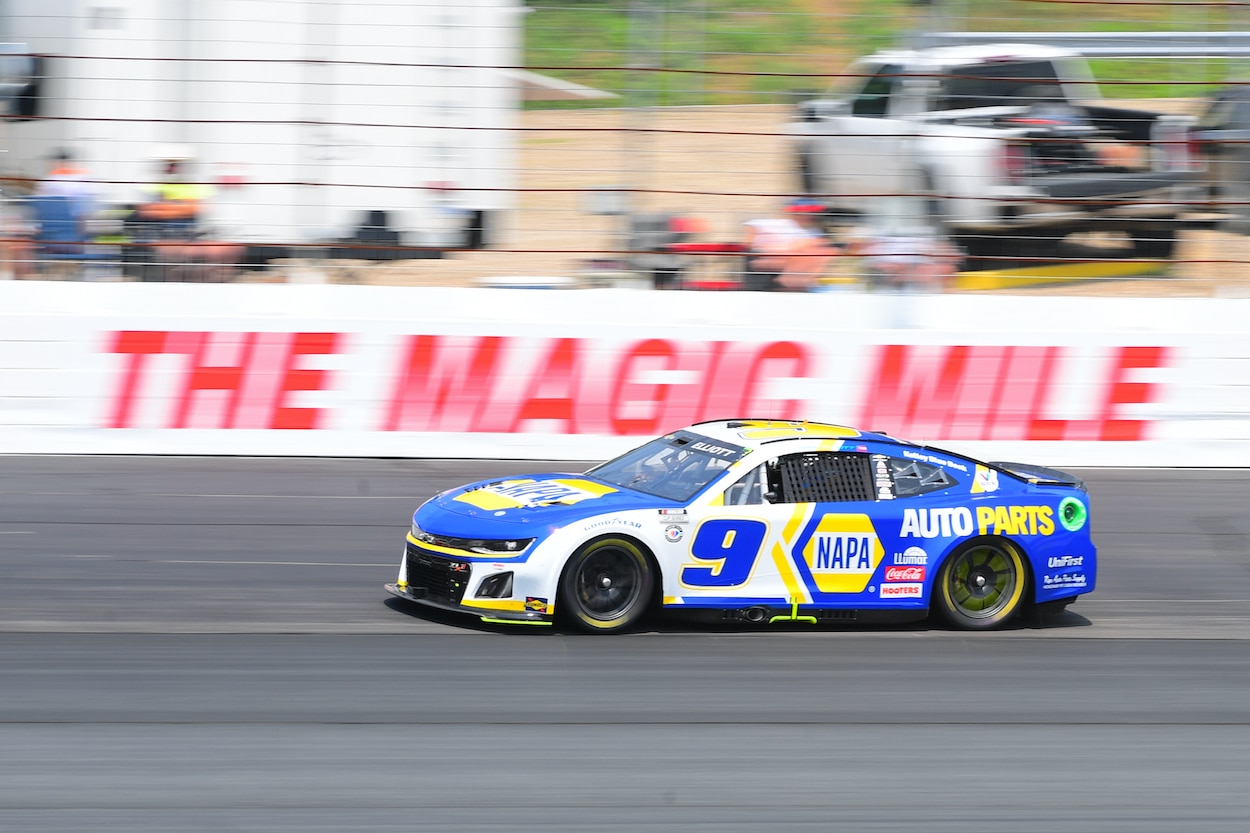 Frustrated Chase Elliott Doesn't Sugarcoat His Feelings and Sums Up His 2023 Season in Three Words
Chase Elliott didn't attempt to hide his frustration this past weekend at New Hampshire and summed up his race and season in just a few words.
Chase Elliott making the NASCAR Cup Series playoffs in 2023 is unsurprisingly a big topic of conversation these days. The 2020 champion has had a memorable season thus far but for all the wrong reasons.
On Monday at New Hampshire Motor Speedway, the No. 9 team had another lackluster performance, the second in as many weeks, finishing 12th. During the race, with things not going his way, the Hendrick Motorsports driver keyed up his radio and didn't sugarcoat what he was thinking, and in the process summarized his race and season in just a few words.
Chase Elliott struggles at New Hampshire
Heading into the race at New Hampshire, there were still some pundits, including Dale Earnhardt Jr., who suggested that Chase Elliott had a chance to point his way into the playoffs. 
Things didn't get off to a great start for the weekend when he qualified 18th. Once the green flag finally waved on Monday after the rain delay, the 27-year-old driver could not move forward. He finished Stage 1 in the same position he started. 
Unfortunately, Stage 2 wasn't any better. In fact, it was worse, and by the end of the stage, Elliott had fallen back to 23rd.
However, a pit strategy call on the subsequent break kept the No. 9 car out on the track, and he moved inside the top 10. Despite that much-needed track position, he still fell back and finished 12th. 
Elliott doesn't sugarcoat feelings and expresses frustration
With Elliott struggling from the beginning of the weekend in qualifying, it's understandable that frustration — a common theme for him and his team for much of the season — would become part of the equation during the race. And it did.
This week, the driver made an unpleasant appearance on NASCAR Race Hub's Radioactive segment because of his conversation on the team radio, where he expressed those frustrations.
"I don't feel like it's any better," the driver said to his crew chief Alan Gustafson. "Just same s***."
2023 has been a season to forget
While describing his specific race situation in New Hampshire, Elliott's words could easily be applied to the rest of his 2023 season. He's had the same expletive going on all season. It's been a Murphy's Law kind of thing, where anything that can go wrong will go wrong. 
It was one thing for him to miss six races due to a snowboarding accident, which set him back in a big way in the points standings. But then add in another missed race due to a suspension from NASCAR after deliberately wrecking Denny Hamlin at Charlotte. Oh yeah, an incident where Elliott also wrecked himself. 
When not missing races or getting in wrecks, the No. 9 team just hasn't performed near the expected standard, or anywhere close to the same vicinity of teammates William Byron (4 wins) and Kyle Larson (2 wins). 
The way things have gone this year, it could be more of the same. And his fans might expect more uncomfortable appearances from their driver on Radioactive in the future.
To stay up to date on the latest happenings in NASCAR, including breaking stories you can't find anywhere else, follow Kyle on YouTube and Twitter.