Gary Payton Humiliated a Former NBA Head Coach With a Ruthless Line of Trash Talk Mocking His Height: 'Sit Down, You Smurf'
Whenever you played against Gary Payton in the 1990s and 2000s, you had to be ready to get your feelings hurt.
"The Glove" was a ruthless trash talker who never found a line he wouldn't cross. Opposing NBA players either had to dish the heat back or try to ignore it completely, or else they were going to be in for a long night. But Payton's trash talk didn't stop at just the players on the court. He even went after opposing coaches on the bench.
Just ask former Minnesota Timberwolves head man, Sidney Lowe.
Gary Payton was a trash talking savant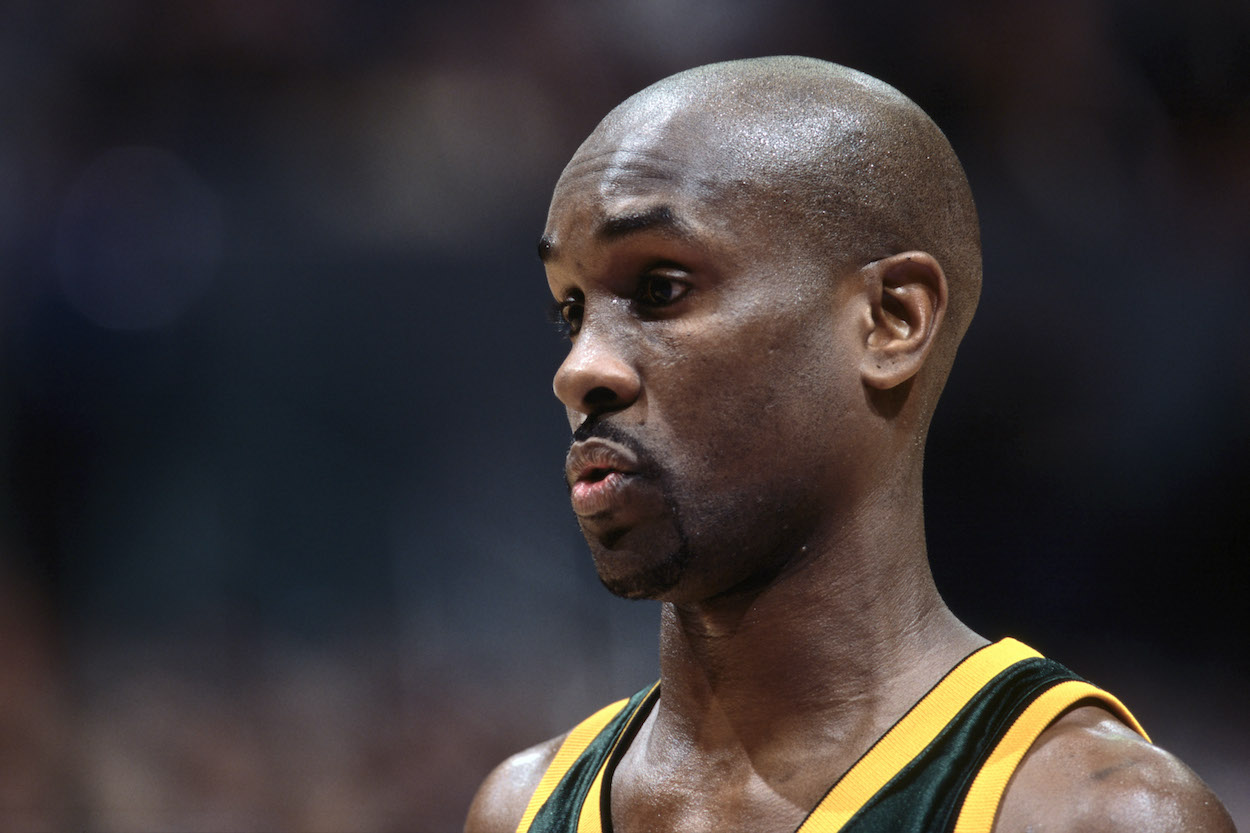 Payton will forever be known best for his pestering defense and his competitive spirit on the basketball court. The longtime Seattle SuperSonic was going to outwork and outhustle you for 48 minutes every night he stepped on the floor, and that killer mindset paid off with nine All-Star appearances, nine All-Defensive Team nods, an NBA title, and a Hall of Fame plaque.
But it wasn't just Payton's play that made him an NBA legend. "The Glove" was one of the cruelest trash talkers the NBA has ever seen. He was never afraid to go right after the biggest stars of the 1990s and 2000s, and that included Michael Jordan.
The only problem was Payton didn't know how to take his foot off the gas when it came to talking trash. George Karl, his head coach on the SuperSonics, admitted in 1996 that Payton often took it too far.
"It's wrong how sometimes he abuses young players," Karl said, per Tom Friend of the New York Times. "He laughs at them, insults them a little bit. To me, that's not necessary. Just the way his body language is. He'll score 15 in a quarter, and every time he scores on them, he'll laugh at them. 'Why you out here? You don't belong in the league. You're a C.B.A. guy.' Trashes them pretty good."
Was it a bit over the top? Sure, but that's the only way Payton knew, and no one was going to change that about him.
Payton humiliated former NBA coach Sidney Lowe by mocking his height
Payton typically directed his on-court trash talk at the opposing players he was guarding. If he could get in their heads with some harsh words, he would have an easier time shutting them down on defense.
But sometimes that trash talk spilled over to the bench.
Sidney Lowe, the point guard on NC State's 1983 championship team and a current assistant coach for the Cleveland Cavaliers, once got on Payton's nerves enough to elicit this ruthless jab out of him during a game.
But the better the Sonics played, the more acerbic Payton became. He finally had statistics to back up his trash talk, and he started to spew on opposing coaches, too. Sit down, you smurf,' he said one day to Sidney Lowe, the former Timberwolves coach.

Tom Friend
"Sit down, you smurf."
So simple, and yet — so, so perfect. He couldn't have been standing much longer after that one.
"The Glove" took his trash talk too far
Payton used his trash talk primarily as a distraction tactic against opponents, but he once took it too far when he threatened to kill his teammate's family.
Yeah, you read that right.
"Three years ago I didn't see the first outbreak, but he and Ricky Pierce got into some kind of a discussion at halftime of the first Denver game, and they were threatening to get guns," Karl told Friend in 1996. "The players told me they had guns in their bags. It was, 'I'll kill your family.' It was crazy. That was Game 1, and we won."
So Payton threatened to pull a gun on his own teammate at halftime of a playoff game, and it actually propelled the Sonics to a win??
"The Glove," ladies and gentlemen.