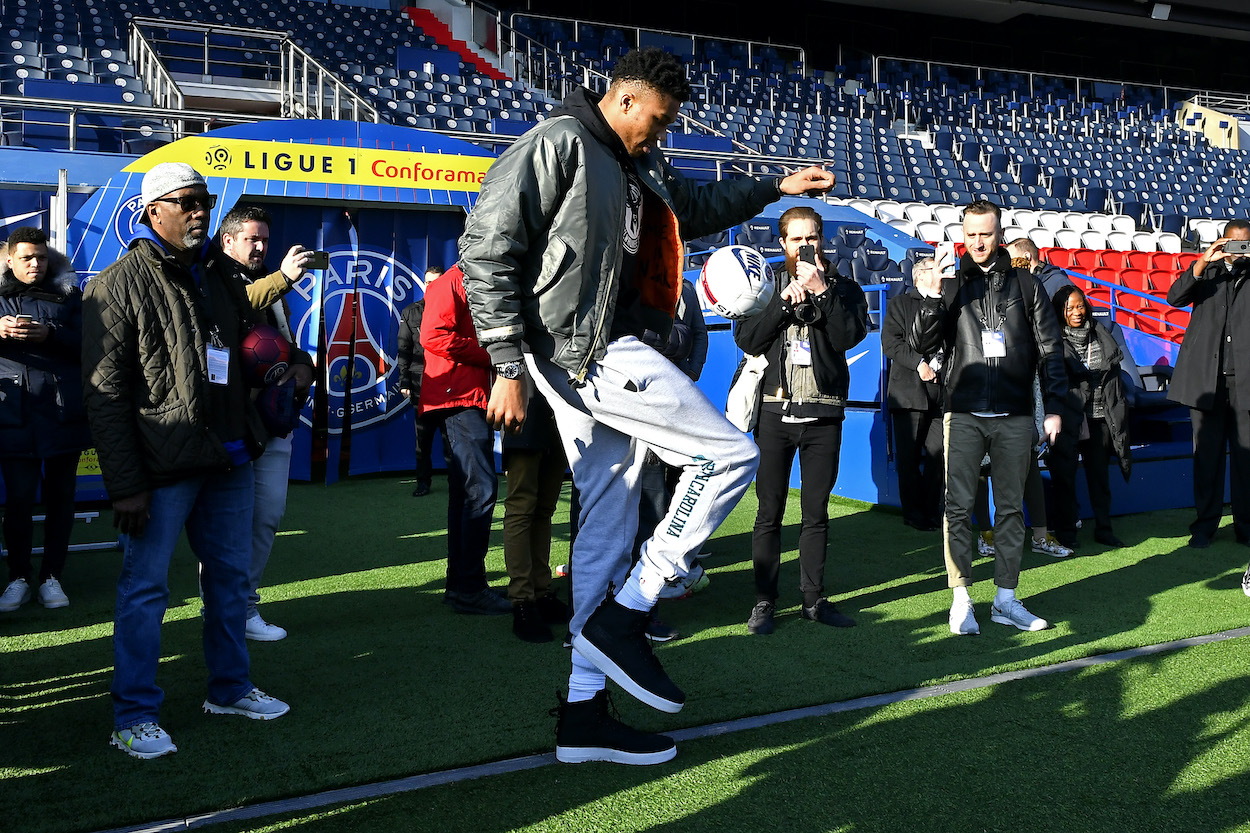 Giannis Antetokounmpo Channels His Inner Lionel Messi and Entertains Milwaukee Bucks Fans During Game 2 Blowout of Miami Heat
Before Giannis Antetokounmpo was an NBA MVP, he was a kid who loved soccer in Greece. In Monday's Game 2 blowout of the Miami Heat, he showed off some impressive ball-juggling skills that would even impress soccer superstar Lionel Messi.
Players get focused and locked in when NBA Playoff games are tight, contentious, and come down to the wire. During blowouts, players do what they can to amuse themselves and fans while waiting for the clock to hit 0:00.
The latter scenario played out in Game 2 of the Milwaukee Bucks/Miami Heat series on Monday night when the Bucks used a 78-point first half to cruise to a 34-point victory. Along the way, Bucks superstar Giannis Antetokounmpo gave the home crowd a look at some serious soccer skills during a tense moment. 
The Milwaukee Bucks destroyed the Miami Heat in Game 2 with a 78-point first half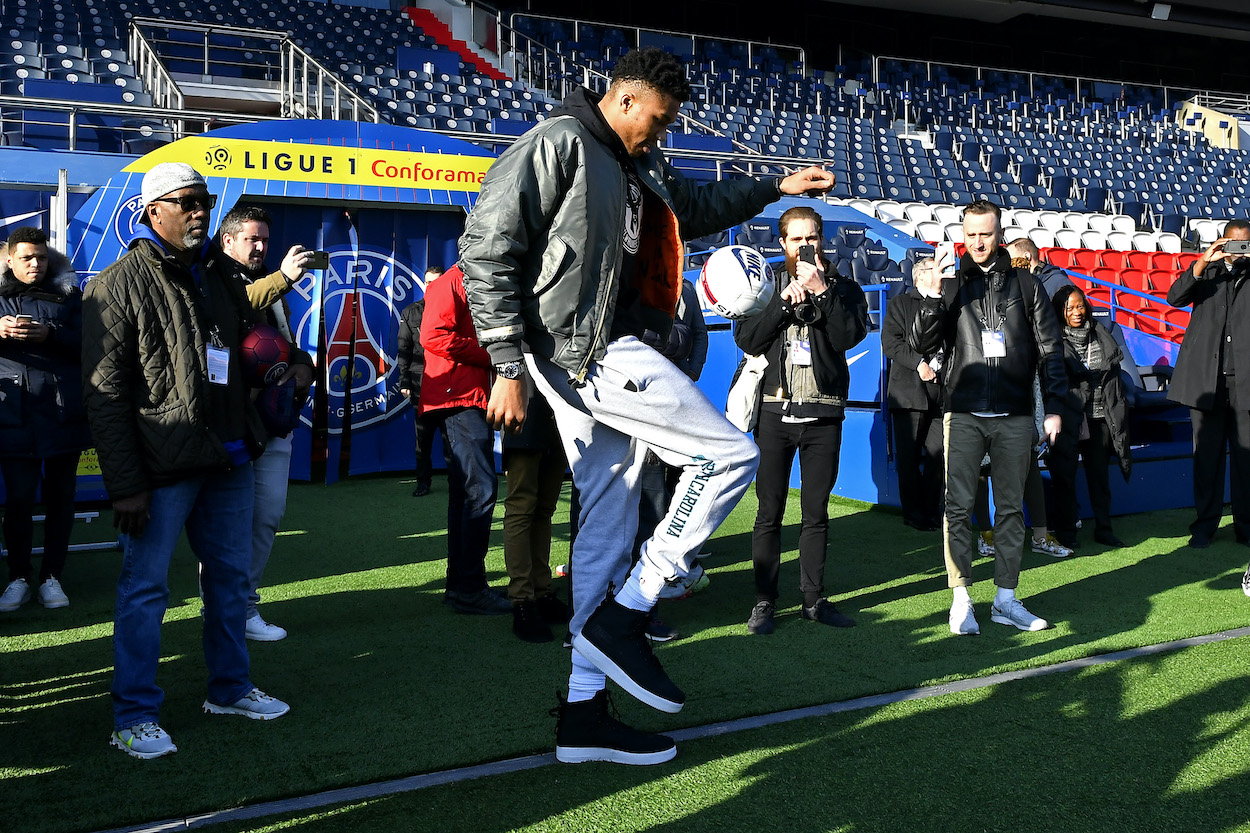 After winning Game 1 on a last-second overtime shot by Khris Middleton, the Bucks could have easily let their guard down in Game 2. The exact opposite happened Monday, though.
Milwaukee came out firing on all cylinders on their home court at Fiserv Forum for the second game of the best-of-seven series. When the dust settled, the Bucks went into halftime up 78-51 on a stunned Heat team.
The home team went 30/53 from the field and 15/29 from behind the arc on their way to a franchise-record amount of points scored in a single playoff game half. They also set another franchise playoff record with 15 3-pointers in a half. Leading first-half scorer, Bryn Forbes, established a playoff career-high of 19 points on his way to a 22-point night.
The second half of the Bucks/Heat blowout got chippy 
As is the case in many blowouts, the team on the losing end let out some frustration in the second half. The Heat, already a physical team to begin with, got a little rough with some Bucks players after the break.
Heat forward Trevor Ariza took down Antetokounmpo hard on a layup attempt early in the third quarter. He then proceeded to do a pushup on the star's chest as he got up. This takedown drew the first flagrant foul 1 of the night for Miami.
Less than two minutes later, play stopped again so that the referees could review another possible flagrant foul, this time on Heat guard Kendrick Nunn. Nunn slid under Middleton while he was landing on a 3-point attempt. Officials deemed the transgression dangerous enough to hit Nunn with a flagrant 1 and give the Bucks three shots.  
Middleton was again at the center of the action later when he knocked over point guard Goran Dragic. As the Bucks' sharpshooter was getting up, Drogic tripped Middleton. The referees hit the Slovenian with a dead ball technical foul.
There were several other hard fouls and light skirmishes during the closing half. One such dust-up led to Antetokounmpo putting on a show for the home fans with his nifty footwork. 
Giannis Antetokounmpo's first sports love was soccer, and he still has some skills
Before Antetokounmpo became an NBA MVP, he was the son of Nigerian immigrants in Athens, Greece, who loved the country's most popular sport: soccer.
After the game, reporters asked about his soccer skills. Antetokounmpo explained that he was a skilled soccer player well before he dominated the hardwood. He told reporters that the nine "keepy uppies" he did on the court were nothing and that he could do "probably like 300 of those."
The "Greek Freak" went on to explain his history with the game and his slick moves:
I used to play soccer when I was younger. My dad used to be a soccer player and loved soccer. I wanted to play soccer, I didn't want to play basketball growing up. So, yes, I always try to have fun, you know?
Most NBA fans, especially Bucks fans, are thrilled that the 6'11" All-NBA forward picked basketball over soccer, even if they did enjoy his impromptu juggling display on Monday.
On the other hand, Heat players and fans probably wish he stuck to The Beautiful Game.
Like Sportscasting on Facebook. Follow us on Twitter @sportscasting19.