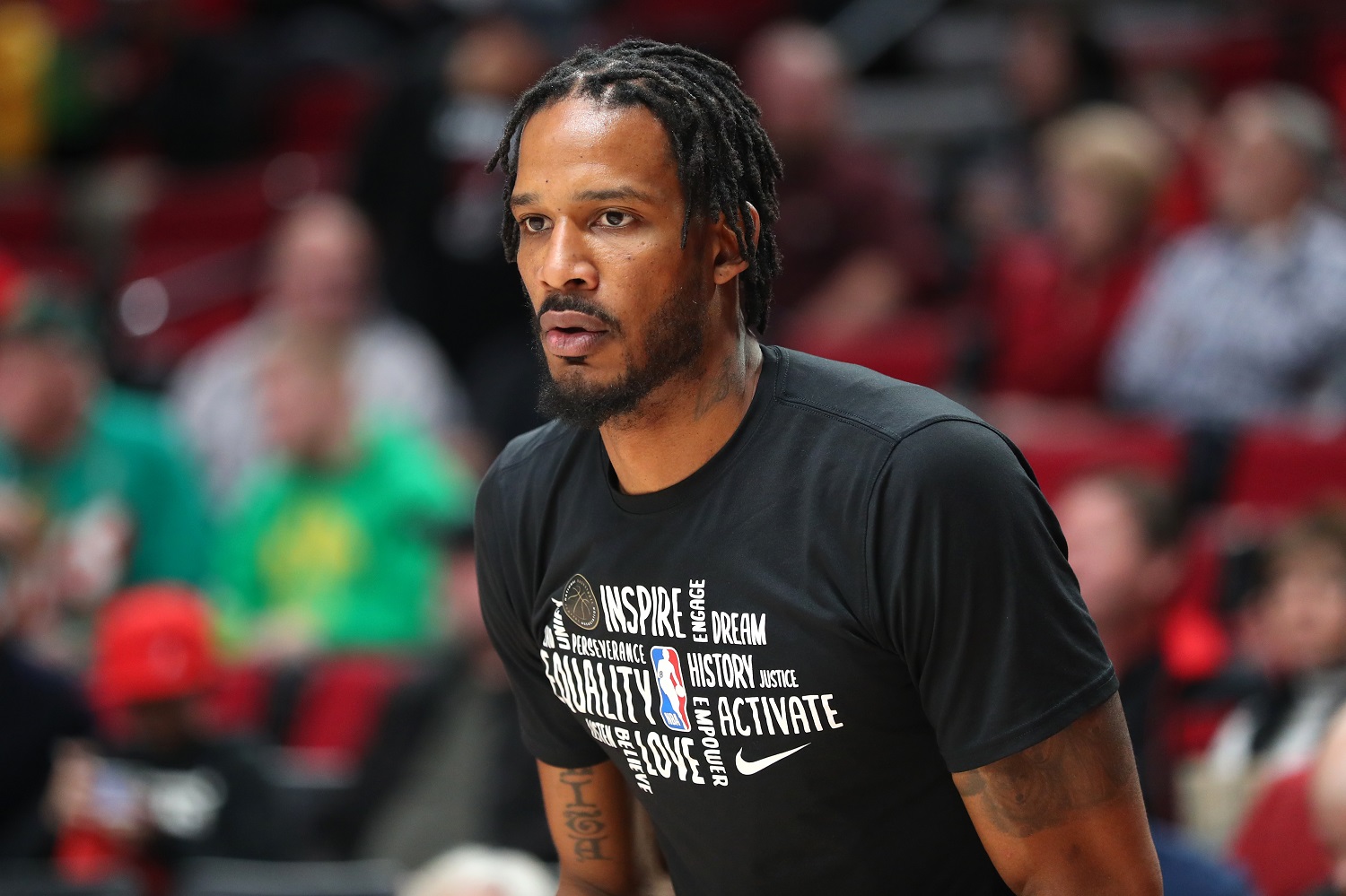 Why Is Trevor Ariza the Most Traded NBA Player Ever?
Trevor Ariza bounces from team to team thanks to his ability on the court and a contract easy for NBA teams to absorb.
There is something about Trevor Ariza's game that appeals to NBA general managers. Whatever that is, however, isn't enough for them to want to keep him around. He has been passed around more than the goatskin flask at an all-day music festival. In fact, Ariza leads all NBA players when it comes to being traded.
Trevor Ariza is in his 17th NBA season
Trevor Ariza was a highly regarded small forward when he arrived at UCLA in the fall of 2003. He averaged 11.6 points and 6.5 rebounds as a freshman and declared for the 2004 NBA draft. The move did not pan out as hoped, and Ariza lasted until the middle of the second round.
Ariza had just turned 19 years old when he made his debut in the NBA. He played 80 games for the New York Knicks as a rookie, averaging 5.9 points in a little more than 17 minutes a game. Ariza's nomadic history began late in his second season when the Knicks bundled him with Anfernee Hardaway in a trade for the Orlando Magic's Steve Francis.
The Portland Trail Blazers became the ninth team he played for when he suited up for 21 games in the 2019-20 season.
Ariza's career high in scoring came when he averaged 14.9 points for the Houston Rockets in 2009-10. He began the 2020-21 season with career averages of 10.5 points, 4.8 rebounds, and 2.2 assists a game behind 42.3% shooting from the field.
He earned a championship ring with the 2009 Los Angeles Lakers.
Why is Trevor Ariza the most traded NBA player ever?
No one lasts more than 1,000 regular-season games in the NBA without being a skilled performer. His size (6-foot-8) and durability make Trevor Ariza an idea guard-forward, especially given his 35.2% accuracy on 3-pointers.  
Still, he seldom lasts anywhere for more than a couple of seasons. When the Oklahoma City Thunder traded Ariza to the Miami Heat on March 17, 2021, for Meyers Leonard and a second-round draft pick in 2027, it was the 11th time that Azira had been dealt, extending his NBA record. Dale Ellis and Chris Gatling had held the previous mark of eight trades.
Azira's mobility can be attributed to a couple of factors.
First, being a reliable two-way wing makes him a useful addition for teams that think they're within a whisker of making some postseason noise and need one more rotation player.
Second, Ariza is a convenient throw-in. He has played most of his career earning somewhere in the range of $3 million to $8.5 million a season. That makes him useful in balancing out trades between teams when the salary cap becomes an issue.
That explains why the Houston Rockets sent him to the New Orleans Hornets in August 2010 as part of a four-team deal involving five players, and it's also why the Washington Wizards traded him back to the Rockets four years later in a three-team, six-player transaction.
He was traded three times in a week
Trevor Ariza knows by now to only send his laundry out to places offering next-day service since he might not be in town any longer than that. Last November was the perfect example.
The Portland Trail Blazers selected University of Washington forward Isaiah Stewart at No. 16 on Nov. 22, 2020, in the annual NBA draft, but immediately bundled the rookie with Ariza and a first-round draft pick next year to acquire Robert Covington from the Houston Rockets.
Ariza's third stay with the Rockets lasted 48 hours. Houston used Ariza, Stewart, and a second-round pick in 2027 to acquire Christian Wood and two draft picks from the Detroit Pistons.
Three days after that, the Pistons moved Ariza to the Oklahoma City Thunder as part of a three-way deal also involving the Dallas Mavericks. Ariza never actually reported to the Thunder. Instead, he cooled his heels until Oklahoma City worked out the recent trade with the Miami Heat.
By taking advantage of the difference in salaries between Ariza and Meyers Leonard, USA Today reports, the Thunder bought themselves a $12.8 million trade exception. They can use it to acquire a player with a larger salary without having to balance out contracts in the trade.
If suitable deals don't materialize, Oklahoma City can help another team get out from under an expensive contract in a deal that brings Oklahoma City even more than the 32 draft picks they own from 2021-27.
All stats courtesy of Basketball Reference.