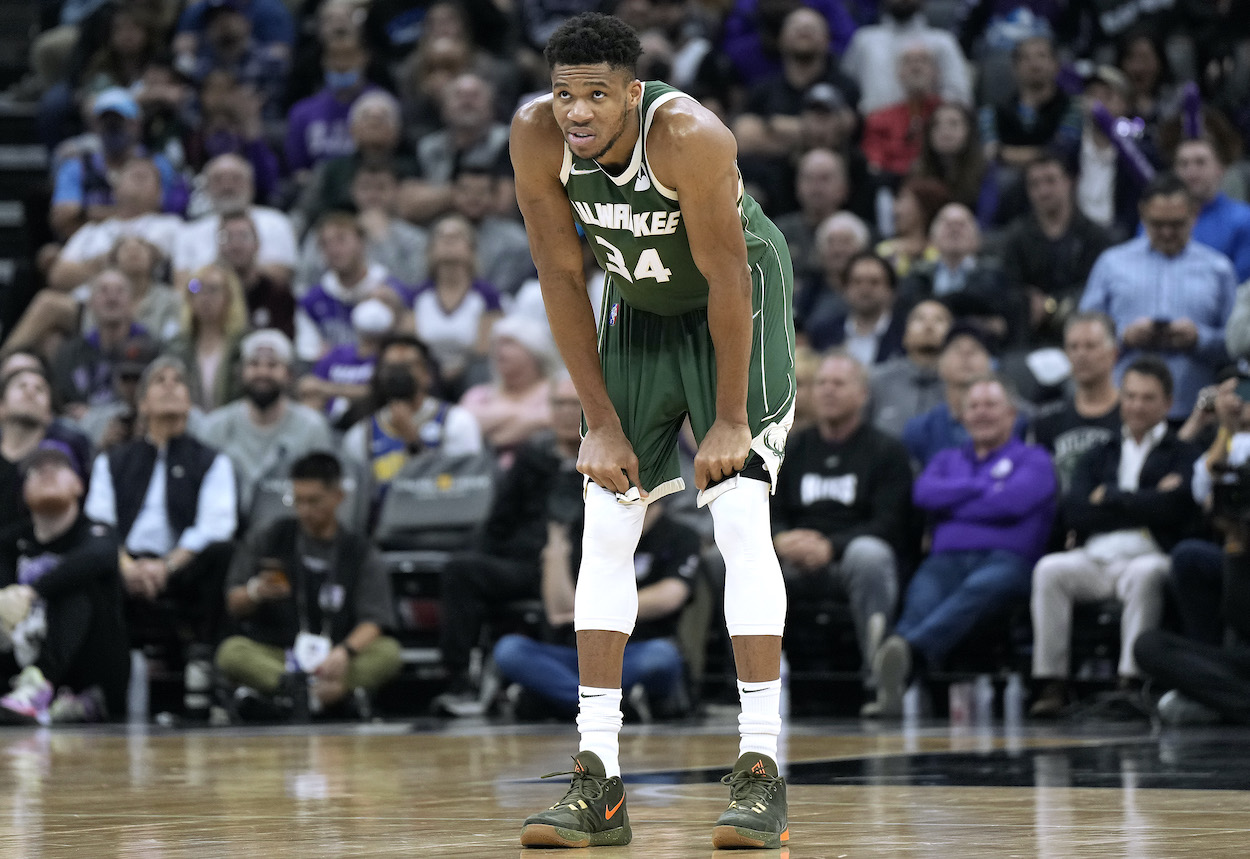 Giannis Antetokounmpo Reveals Shocking Truth Behind the Knee Injury That Should've Knocked Him Out of NBA Finals
Giannis Antetokounmpo was one wrong landing away from missing the 2021 NBA Finals.
When Giannis Antetokounmpo curled up in a ball on the floor of the State Farm Arena holding his left knee in agony after colliding with Clint Capela, Milwaukee Bucks fans figured they were doomed. At that very moment, it didn't seem possible the Greek Freak would be able to return at any point during the playoffs.
Not only was Antetokounmpo back on the court just three games later, but he also treated us to one of the greatest individual NBA Finals performances of all time. And he did it on one leg.
In a recent interview, Antetokounmpo finally opened up about how dangerous playing on his hyperextended knee really was, and his comments will only make you respect him more.
Giannis Antetokounmpo made history on one leg in the 2021 NBA Finals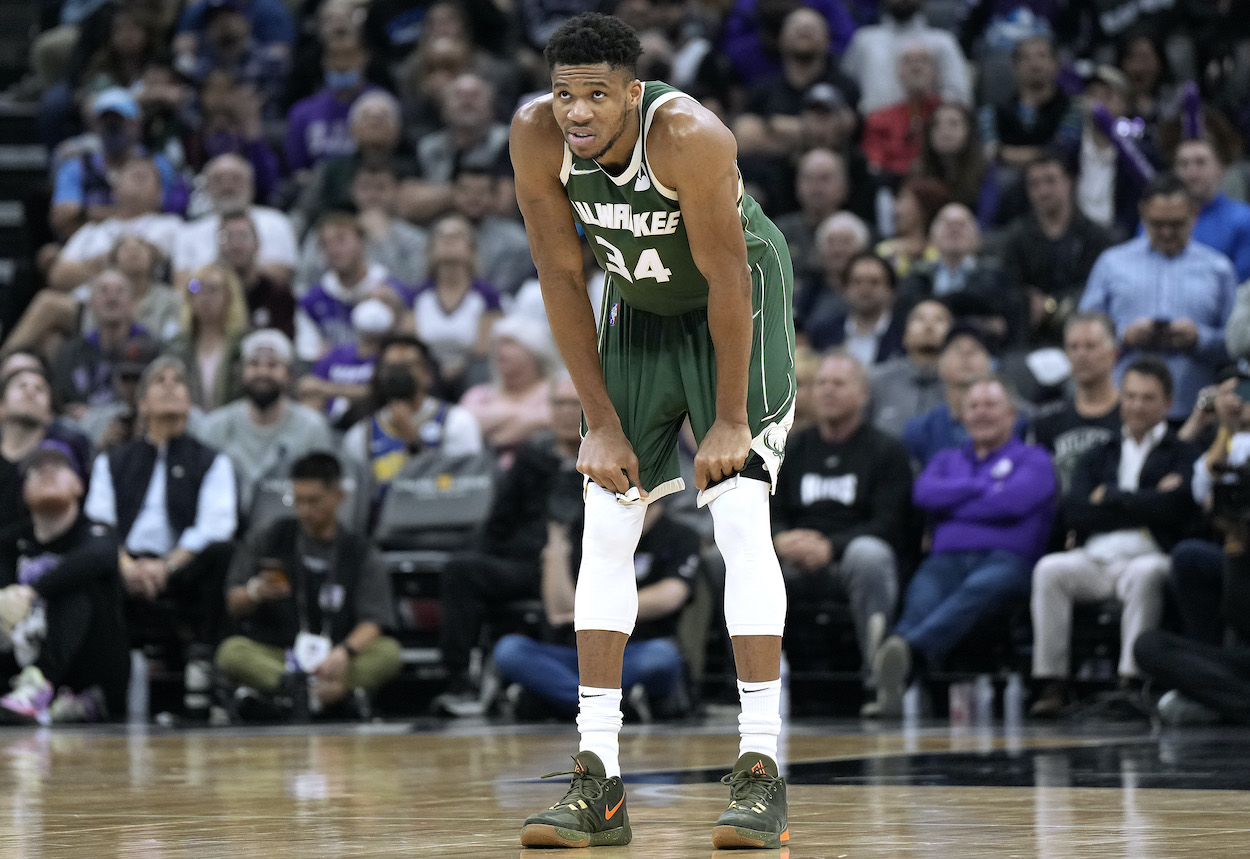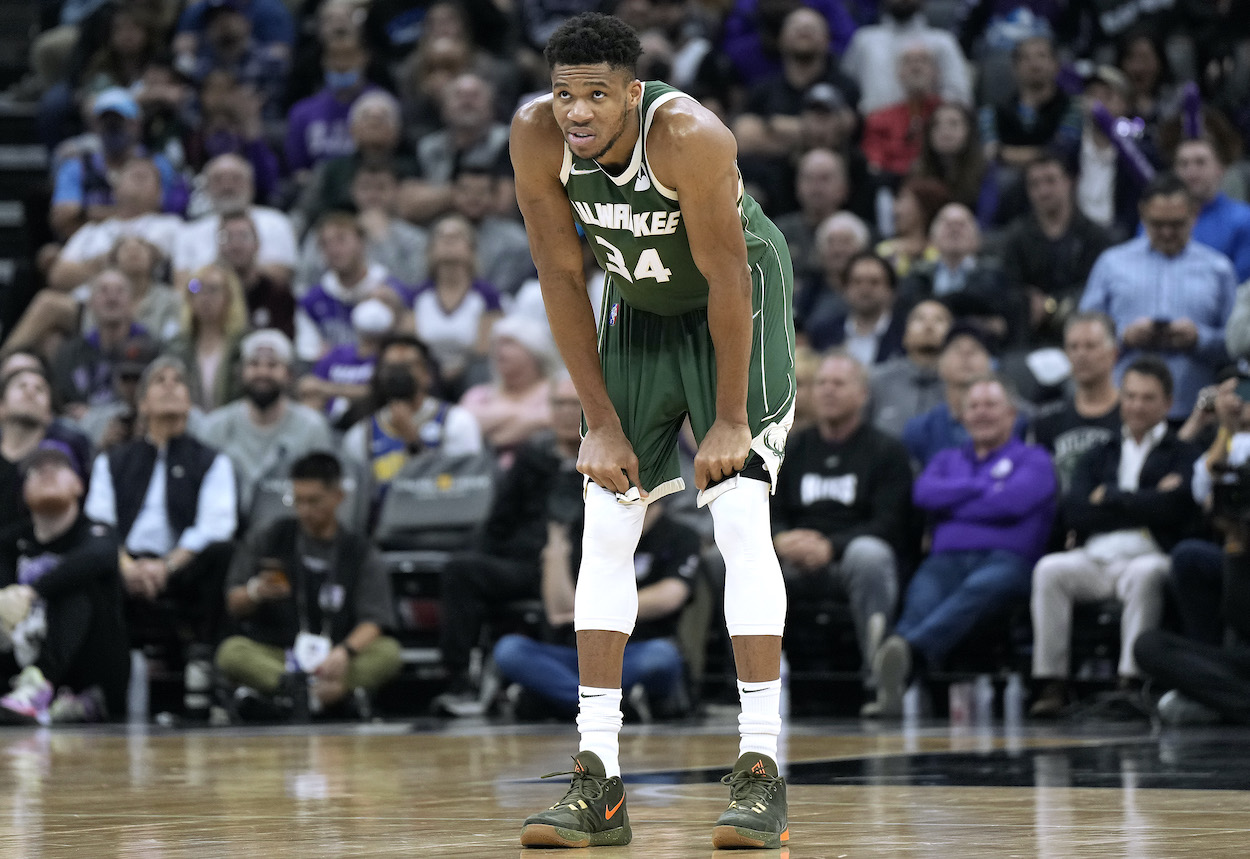 After hyperextending his left knee in Game 4 of the Eastern Conference Finals against the Atlanta Hawks, Antetokounmpo returned about a week later and put up 20 points and 17 rebounds against the Phoenix Suns in the NBA Finals. He followed that up with 42 points and 12 rebounds in Game 2, but Milwaukee found itself in a two-game hole to start the series.
From there, Giannis went nuclear.
Over the next four games, Antetokounmpo averaged 37.3 points, 12.5 rebounds, and 5.5 assists per game to lead the Bucks to four straight wins and their first championship since 1971. He finished off the Suns with one of the most impressive close-out performances in league history — a 50-point, 14-rebound, five-block masterpiece in Game 6 to lock up Finals MVP. It marked the first time in NBA Finals history a player recorded at least 50 points, 10 rebounds, and five blocks in a game.
As it turns out, Antetokounmpo's historic performance came on one functional leg.
Antetokounmpo reveals shocking truth about knee injury
We all knew Antetokounmpo's knee wasn't 100% during the 2021 NBA Finals, but the injury was actually much more problematic than he let on at the time. In a recent interview with Sam Amick of The Athletic, Giannis revealed the shocking truth.
"What basically happened is that if my leg had hyperextended one more time, I was done," Antetokounmpo said.
"There's nothing to cut that was in there. It was torn already. It was out — (the piece that) protected me from an MCL or ACL (tear). There's a thing (in your leg) that protects you when you hyperextend (your knee) that doesn't let you go all the way back. So that thing was torn. So if I had gone all the way back again, that'd be it for me."

Giannis Antetokounmpo
The Bucks tried to push Antetokounmpo to wear a knee brace during the Finals, but he refused.
"Hell. No. I'm not wearing that s***," he recalls saying.
One wrong step could've been devastating not only to Milwaukee's chances of winning a title, but Antetokounmpo's career moving forward. Still, sitting out never even crossed his mind.
Channeling his parents to ignore the pain
Giannis is who he is today because of his parents. Charles and Veronica Antetokounmpo grew up in Nigeria and emigrated to Greece to give their children a better life, and although they didn't have the money to support their family the way they wanted, they did everything in their power to help Giannis realize his NBA dream.
Antetokounmpo always admired how strong his parents were in the face of adversity, and he channeled their strength while dealing with his knee injury.
"I have this mentality like, with my mom and dad, when they were working back home (in Greece), they felt no pain, you know? Like, why? Why would I feel pain, you know?" Antetokoumpo told The Athletic. "They didn't feel pain. They didn't complain. You know, I didn't see my Dad cry when he was here. I didn't see him saying, 'I'm in pain,' I don't see my Mom saying 'I'm in pain' and stuff like that. Why would I say I'm in pain? That's how I'm raised. That's how I'm built."
If you thought it was impossible for Giannis to be more likable than he already was, think again.
Like Sportscasting on Facebook. Follow us on Twitter @sportscasting19.