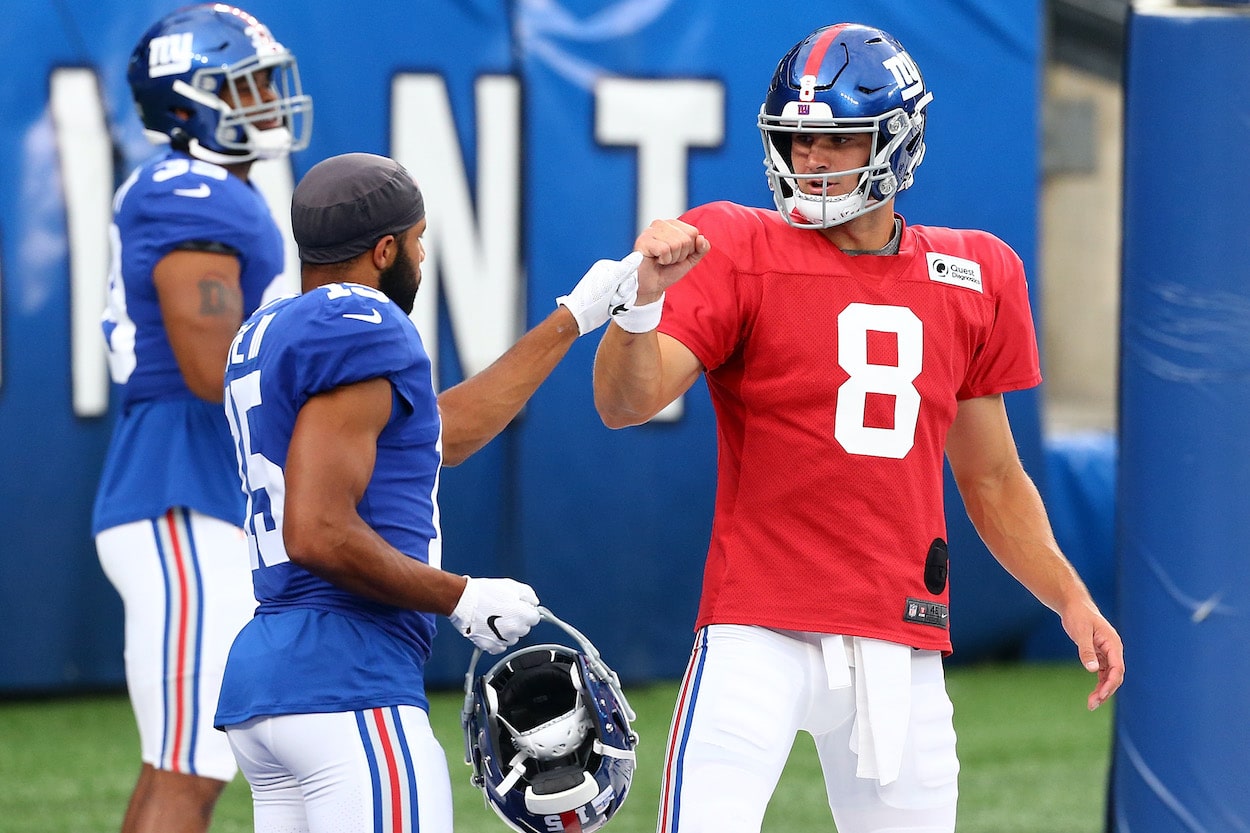 Golden Tate Crushes New York Giants in Defense of Daniel Jones: 'I Honestly Feel Bad for Daniel'
Former NFL WR Golden Tate doesn't think the New York Giants have done right by QB Daniel Jones, especially in terms of the coaching staff.
Wide receiver Golden Tate finished his 11-year career with the New York Giants, working with then-rookie quarterback Daniel Jones. The former NFL player is now (unofficially) retired and playing minor league baseball. Although he's no longer in the NFL, Tate still has some strong opinions about what happens on the gridiron. He recently shared his thoughts about how the Giants have done Jones wrong during his tenure.
Golden Tate thinks Daniel Jones got a raw deal from the New York Giants and its coaching staff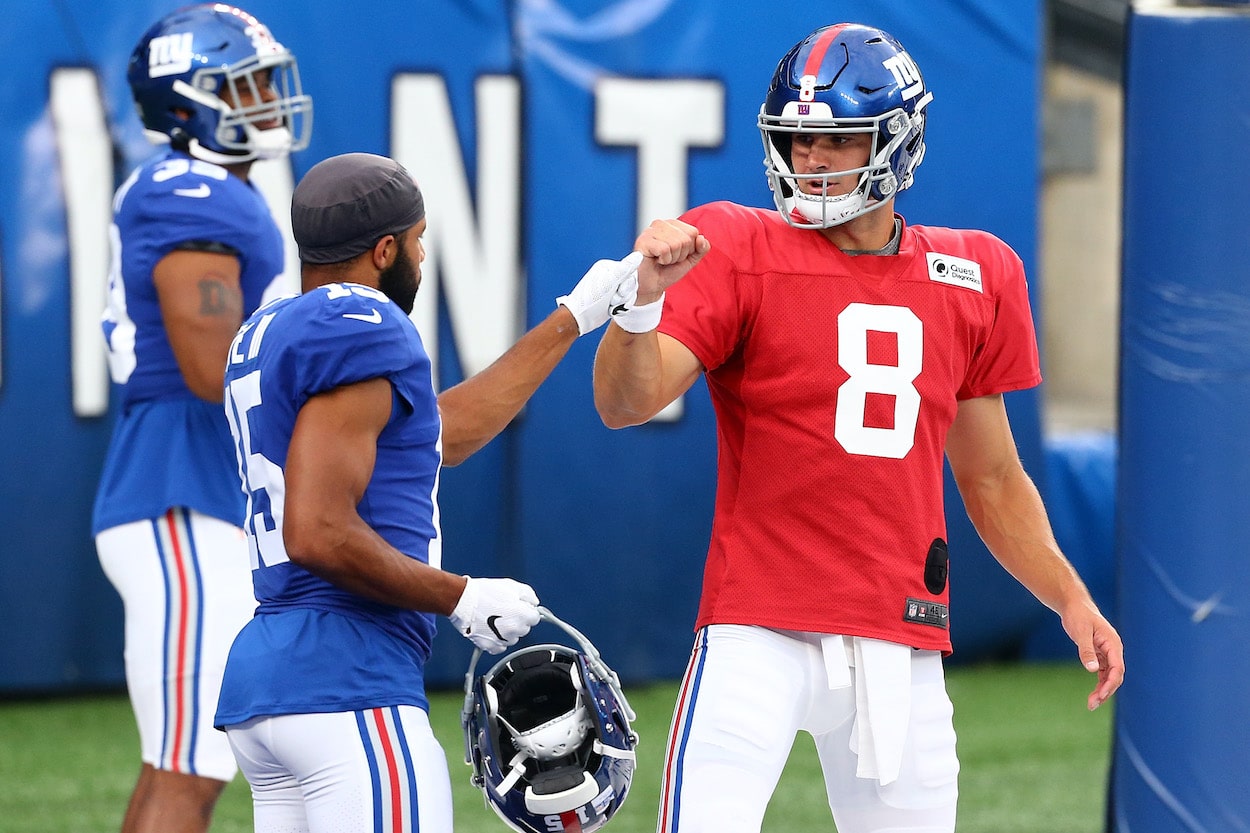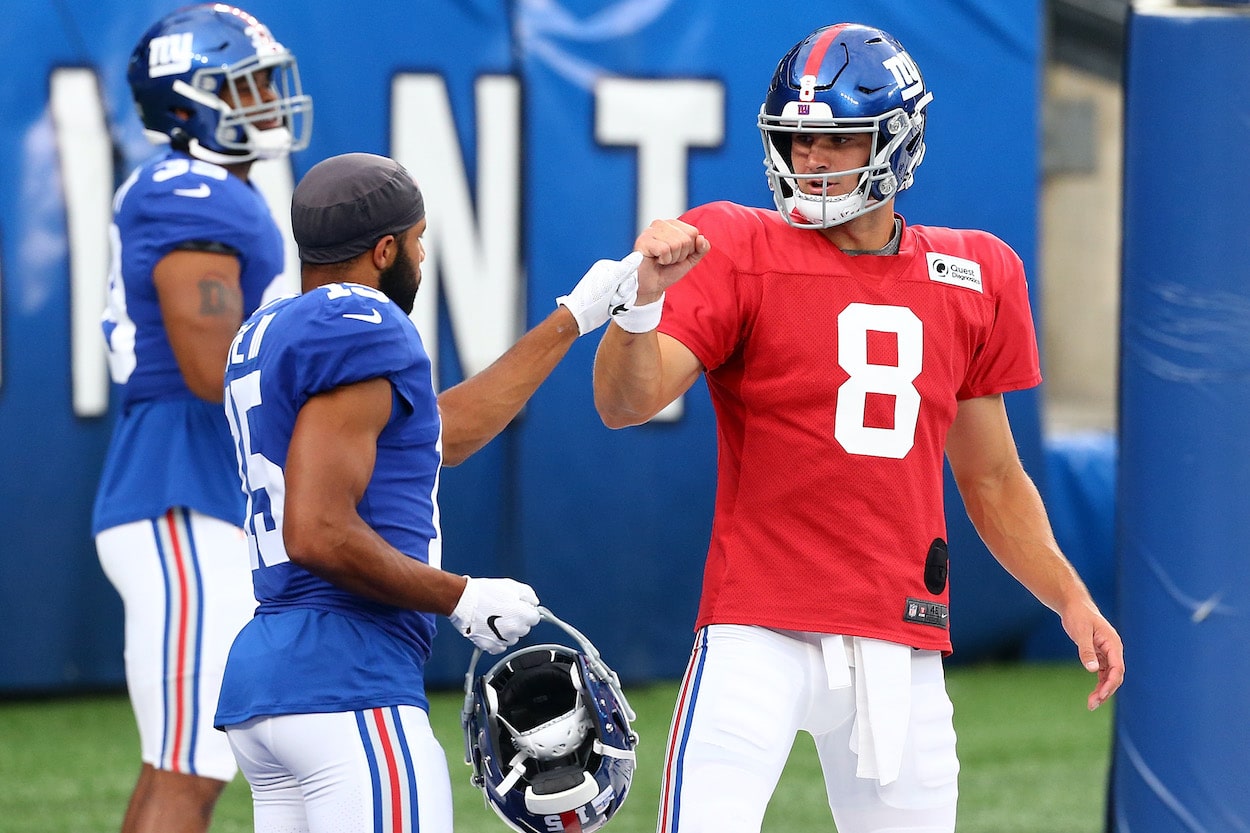 Wide receiver Golden Tate had a solid decade-plus career in the NFL. Playing for four teams, he recorded 695 catches for 8,278 yards and scored 46 touchdowns. He spent four-plus years with the Detroit Lions, so he knows about dysfunctional NFL organizations.
When NJ.com caught up with the aspiring minor league baseball player, though, he didn't have any harsh words for the Lions. He only took shots at the New York Giants.
At a gold event in New Jersey, Tate said of Giants QB Daniel Jones that the signal-caller has "a ton of talent" and is a "smart guy" who makes "good decisions." Tate does admit that injuries (both to Jones and his skill position players) are partially to blame for his lack of success.
However, Tate saved his criticism for the Giants organization and "how they set it up" with the coaching staff:
I honestly feel bad for Daniel. He was drafted into a rebuilding organization for one, had Pat Shurmur for a year, and then got Joe Judge for two years, now another head coach and another rebuild going into his fourth season. He hasn't had Saquon [Barkley], myself, [Kenny] Golladay, Sterling [Shepard] – no one is ever on the field at the same time. And then, on top of that, he had [Jason] Garrett [as his offensive coordinator], and that probably didn't help much.

Golden Tate on the New York Giants and Daniel Jones
Tate obviously isn't a fan of Shurmur, Judge, or Garrett. He does hold out hope for new head coach Brain Daboll and his staff, though. The Notre Dame alum says he's "looking forward to [them] just letting him loose."
The upcoming season is make-or-break for Jones. He is entering the final year of his rookie contract, and although the Giants passed on drafting a quarterback despite having two top 10 picks this year, the QB Class of 2023 could offer up to six first-round signal-callers.
If Jones doesn't perform to the level Tate thinks he can in 2022, one of those QBs will undoubtedly be wearing Giants blue next season.
All stats courtesy of Pro Football Reference