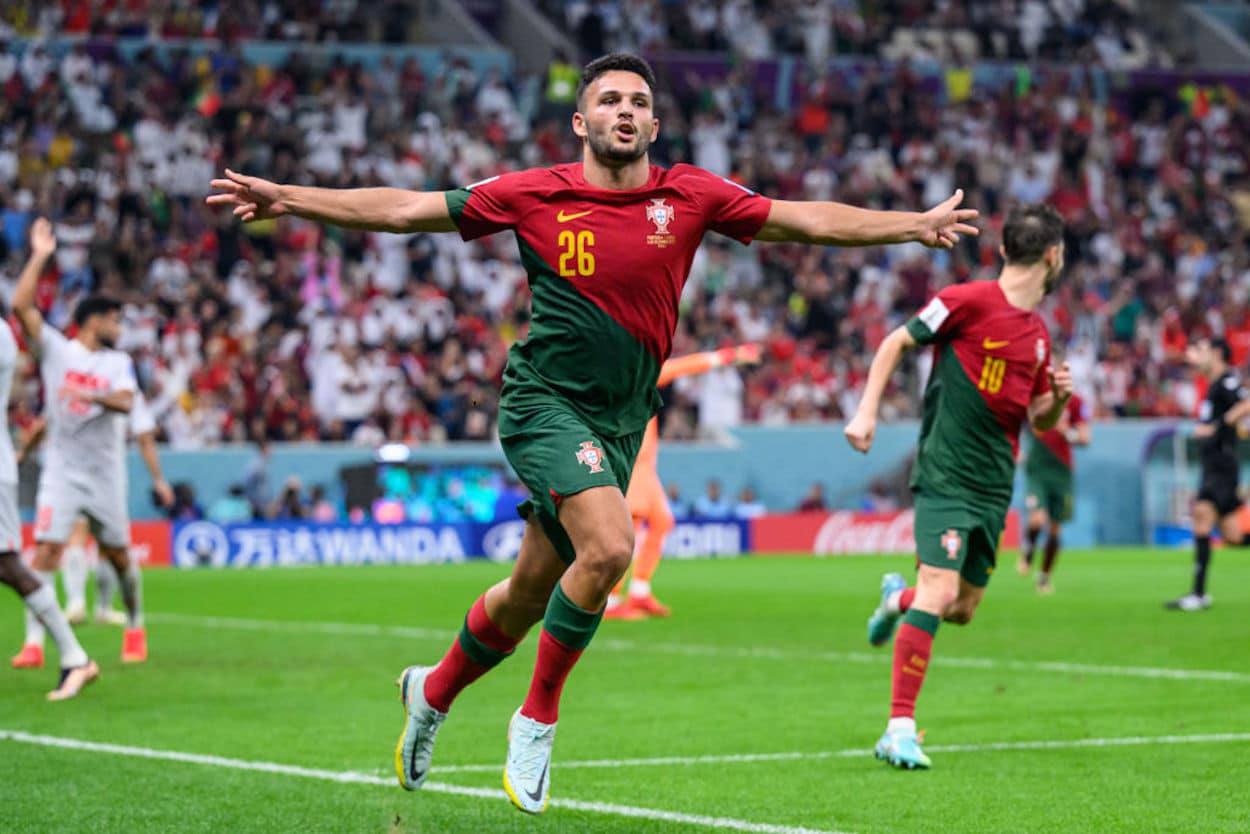 Goncalo Ramos Ended Cristiano Ronaldo's Portugal Career In a Single Outing
Even if it takes some time for him to officially ride off into the sunset, Cristiano Ronaldo's time on the big stage is running out. Goncalo Ramos showed why.
Thanks to his dramatic departure from Manchester United, Cristiano Ronaldo has been at the center of a different sort of World Cup narrative. Rather than focusing on the Portuguese star's all-time greatness and chase for a global title, the conversation has centered on his soccer value. Setting transfer fees and wages aside, is he worth the trouble of slotting into your lineup? On Tuesday, December 6, Goncalo Ramos answered that question.
The young Benfica striker stepped into the starting 11, taking CR7's place, and promptly potted a hat trick. Even if we set the scoring aside, though, the game against Switzerland proves why Ronaldo is falling out of favor for both club and country.
After Cristiano Ronaldo was dropped, Benfica's Goncalo Ramos grabbed the starting job with two hands
For virtually his entire professional career, Cristiano Ronaldo has been undroppable. Earlier this year, however, Manchester United boss Erik ten Hag left him on the bench. Now, Portugal manager Fernando Santos has done the same.
In case you didn't watch Tuesday's match, here's a quick recap of the situation. Ahead of Portugal's Round of 16 date with Switzerland, news broke that Ronaldo wasn't in the starting 11. While some wondered if it was a punishment — the star wasn't happy when he was substituted against South Korea — the man calling the shots insisted that it was a tactical choice.
"We wanted a team that played with a lot of fluidity," Santos explained, according to the Daily Mail. "We played very well. We were a team that was circulating, had ball possession."
In regards to the playing very well part, Portugal certainly did that. The Iberians won 6-1 with Goncalo Ramos, the Benfica striker who started in CR7's place, potting a hat trick.
Even beyond the tournament — that comfortable of a win surely sends a message to the rest of the bracket — that performance has some wide-ranging implications.
How old is Goncalo Ramos?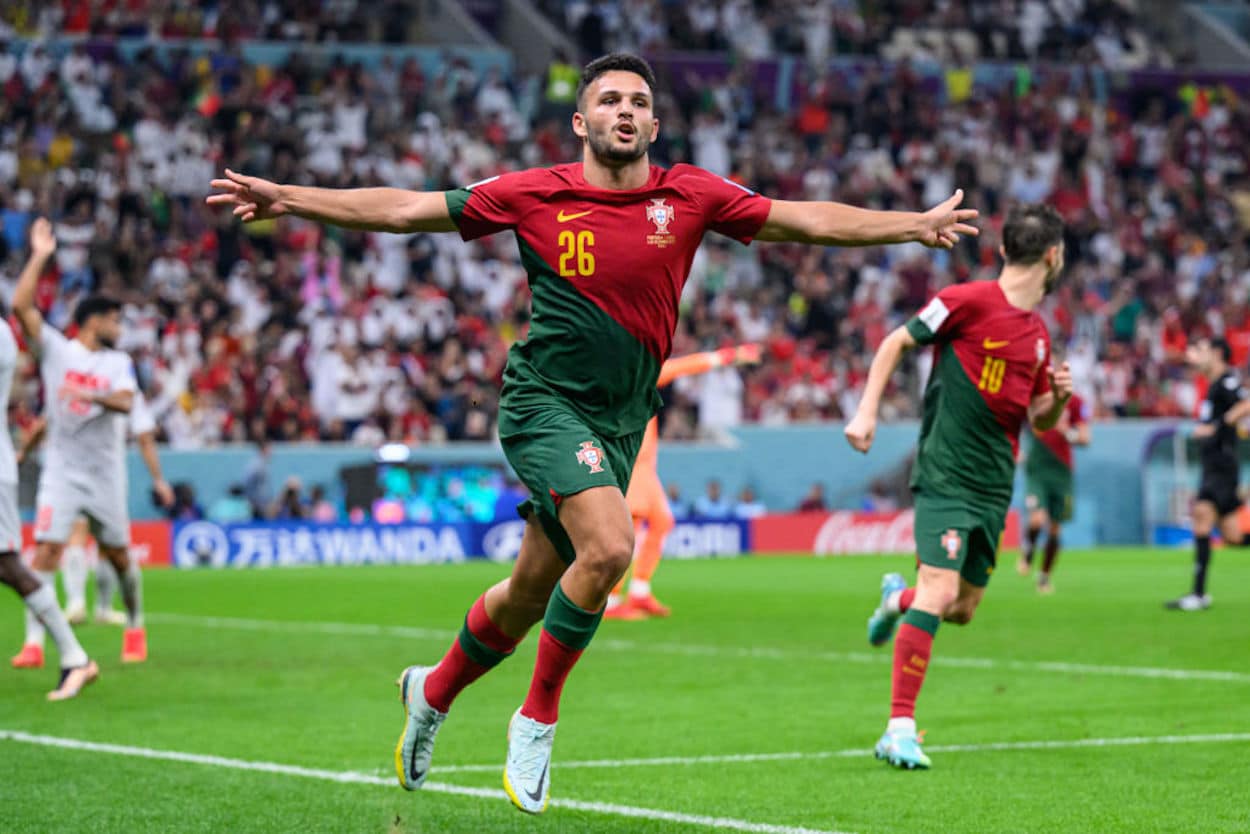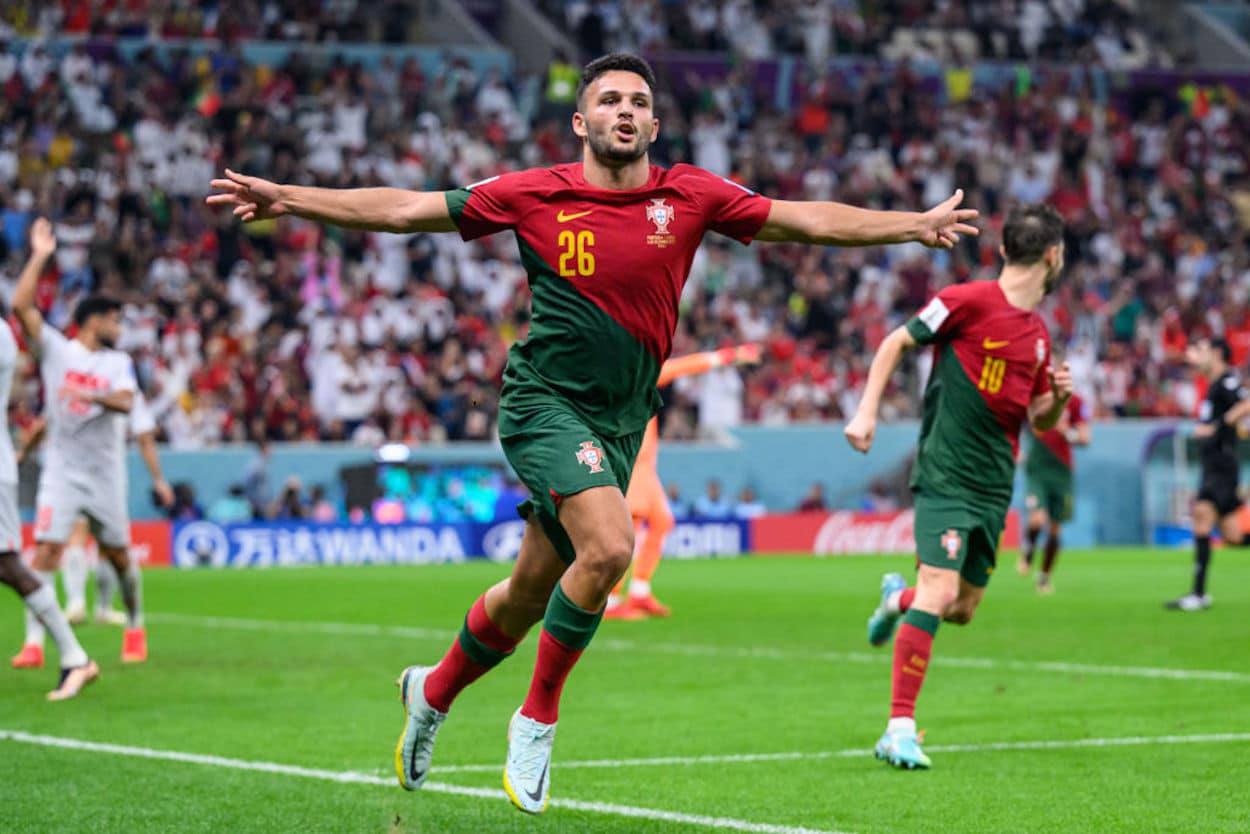 In the world of soccer, it's not unusual to see high-powered stars bursting onto the scene to immediately make an impact. Ramos, it's safe to say, is one of them.
Goncalo Ramos is 21 years old. While that could seem both impressive and benign — it's young, especially to be scoring a World Cup hat trick, it's not like the Benfica striker is 16 and this was his first time on a big stage — it does highlight part of Cristiano Ronaldo's problem.
For all of CR7's talent, he is no longer a young man. Not only does that mean he's lost a step, but it means he's a metaphorical old dog unable to change his game. The striker is going to hang around the box and put the ball in the back of the net. While that's important, modern forwards, especially for the top teams, are going to do more.
So, when you have someone like Goncalo Ramos, who is young, tactically flexible, and talented, it's easy to hand him the start.
The Cristiano Ronaldo problem was encapsulated in a single pregame moment
If you're willing to look beyond the 90 minutes of action, Tuesday's game exposed another strike against Ronaldo at this point in his career: he brings a media circus with him anywhere he goes.
Consider, for example, the scenes before Portugal's match with Switzerland. With news swirling that CR7 had been dropped from the starting 11, seemingly every photographer in Qatar crowded around the bench to snap a photo of him on the sidelines. The pictures, not of the striker but the crowd, spoke 1,000 words.
While it's not surprising for a global star to garner plenty of attention at the World Cup, every organization, whether it's a club or the national team, has to do a cost-benefit analysis. At this point in his career, would you argue that Cristiano Ronaldo's on-field performances are worth the drama and media attention he brings?
Goncalo Ramos did more than just score goals, though
When you see that Cristiano Ronaldo was replaced by Goncalo Ramos and the Benfica striker scored three goals, it's easy to look at that as the end of the story. There was more to the Portuguese performance than the hat trick, though.
Let's return to the quote from manager Fernando Santos that we pulled out earlier.
'We wanted a team that played with a lot of fluidity. We played very well. We were a team that was circulating, had ball possession.

Fernando Santos
On the surface, it seems simple. Every coach, at some point, has talked about moving the ball and keeping possession. In the context of benching Ronaldo for Ramos, however, it speaks volumes.
As laid out in Tifo IRL's Day 17 wrap-up, the 21-year-old played like a complete striker and scored three different types of goals. For the first, he received a pass in the box before burying a lethal finish into the top of the net. His second tally came from a near-post run in the box, and the third goal came in transition, with the striker playing his part in a move before latching onto a through ball for the finish.
Could CR7 have created each of those individual finishes? Sure. But I'd contend that he's not scoring all three in one game, and furthermore, his presence doesn't exactly allow the team to play in a way that facilitates a diverse attack.
Even if we set aside the pressing part of the game, Ronaldo is a relatively static offensive threat. By and large, he'll stay at the front of the attacking formation, making his way toward the opposition's goal. He doesn't really want to drop deep, pull out to a wing, or do any sort of rotations. He is a striker and a goal scorer, and he's the focal point.
That can work, but it does create some other knock-on effects. If you're trying to be fluid and circulate the ball, it's not exactly helpful. Playing with a more flexible striker can also give someone like Bruno Fernandes a bit more room to assert himself, as we've seen for both club and country.
That all combines to highlight why Cristiano Ronaldo is fading out of the spotlight for both club and country
When you clicked into this piece, you probably thought that saying Ronaldo's Portugal career was done because Goncalo Ramos scored a hat trick was a bit hyperbolic. As I've laid out, though, it's about more than just the three goals.
When a player is added to a squad, it's about his net contribution. An elite goal-scorer, for example, can be weak defensively if he's consistently finishing his chances. Someone like Trent Alexander-Arnold can start, despite all of his issues, because he does things that no other right-back will do. At a certain point, though, the negatives start outweighing the positives.
Looking at Cristiano Ronaldo, his remaining positive is the ability to score goals. On the negative side of the ledger, issues are stacking up. He isn't a striker that presses or rotates. He brings a massive media circus wherever he goes. He's potentially a bad presence in the dressing room.
To paraphrase the same Tifo IRL episode, it shouldn't be surprising that a 37-year-old isn't the best player in the world anymore. There's nothing wrong with him ceding the spotlight. It has to happen sooner or later, regardless of who takes the starting job.
And even if the curtain comes down slowly and gradually, Goncalo Ramos helped start the conclusion, at least from a Portuguese perspective.