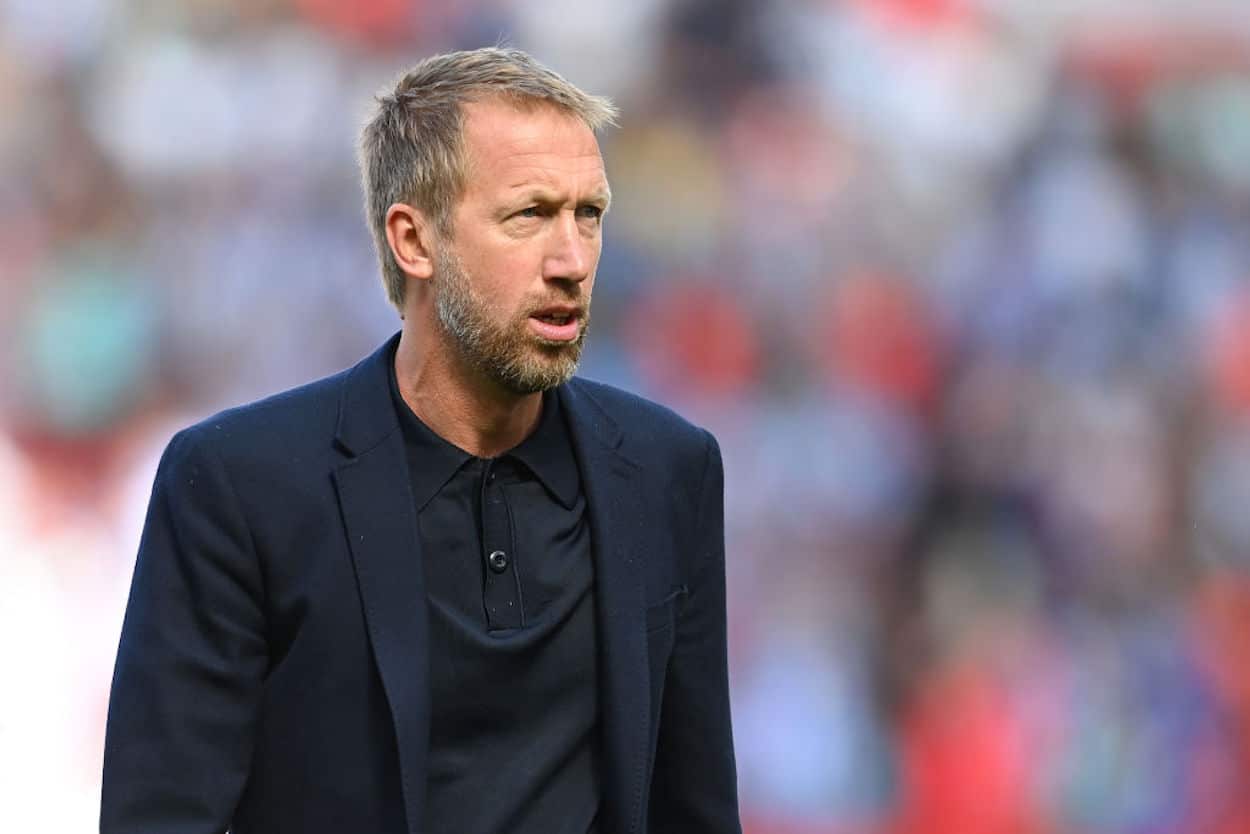 Graham Potter's Move to Chelsea Is Another Sign That the European Super League Already Exists
While money can't buy happiness, it can buy a pretty solid place in the Premier League, no matter how ugly things get. Just ask Chelsea about that.
While the narrative has largely moved on, soccer fans will remember how the birth (and subsequent collapse) of the European Super League shook the game to its collective core. The mass outcry was so swift and immediate that the proposed project crumbled before ever getting off the ground. The league was held up as everything bad about modern football — massive amounts of money, prioritizing business over supporters, etc. — and the fan response was praised as a reminder of how the people in the stands make the game what it is.
But how much has actually changed?
If we look at the summer transfer window and, now, Graham Potter's move to Chelsea, it seems like the European Super League already exists, albeit under a different name.
Money already talks in soccer, and the Premier League has plenty of it
At this point in time, it's a well-established reality that financial spending usually correlates pretty cleanly with on-field success. In recent years, though, the balance has been tipped more and more in the Premier League's favor.
Due to massive TV contracts and COVID-19 decimating matchday earnings across Europe, any team in England's top flight can afford to outspend virtually any other club around the world. Consider the 2022 summer transfer window as an example of that. The Premier League spent approximately as much as the rest of the top five European leagues (those in Germany, France, England, and Italy) combined.
Taking a look at the team-by-team spending confirms that reality. The five biggest spenders are all Premier League clubs, with newly promoted Nottingham Forest filling the fifth spot. While you could argue their ownership allows for that sort of spending, Evangelos Marinakis' Olympiacos never spent this sort of money.
Looking further down the table, some non-English clubs enter the fray, but they're largely giants. The top 10 consists of seven Premier League names, plus Barcelona, PSG, and Bayern Munich. Even lower on the list, some smaller names can be found, like Atalanta and OGC Nice, but they aren't really swimming in the same pond as a club like Chelsea.
In total, 12 of this summer's top 25 spenders came from the Premier League. That reality, like it or not, speaks for itself.
Chelsea have appointed Graham Potter as their new manager, which further shows the power of money
Now, narrowing our focus, let's zoom in on one specific English club: Cheslea.
For context, the club was recently bought by Todd Boehly. The Blues spent the most money in Europe this summer — a shade over $310 million — only to fire manager Thomas Tuchel less than a week after the transfer window closed. They're since paid the release clause in Graham Potter's contract with Brighton and brought him to West London.
While that promotion is well-deserved, especially in light of Potter's recent work in the Premier League, it still shows how the combination of status and money talks. The manager has done great work at Brighton, even as he's seen some of his top players move on to larger clubs. Could some more reinforcements have convinced him to stay? It's theoretically possible but not likely. When a big-six club playing in the Champions League comes calling, you can't really say no.
With Potter and some expensive players (Marc Cucurella and Yves Bissouma) gone, what does the future hold for Brighton? With plenty of cash entering the club coffers, they'll probably solidify a spot somewhere in the middle of the Premier League for the next stretch. Could things go terribly wrong? Again, it's possible, but the collapse probably won't happen overnight.
Although you could argue that isn't too bad of a fate — plenty of clubs lower down the pyramid would dream of a decade-long spell in the top flight — think back to the European Super League. One of the biggest offenses, the narrative went, was the idea that a closed structure where performances didn't really matter ran counter to everything soccer stood for. But, if Brighton's best-case scenario is hanging out in the middle of the table and avoiding relegation, doesn't that speak to a similar lack of competition? For the Seagulls' brass, it probably won't matter if they end the season in 15th or 11th place.
From the converse perspective, consider Chelsea. The club just experienced a change in ownership, spent hundreds of millions of dollars during the transfer window, and is reportedly on the verge of buying out a manager's contract to bring him to London. If those drastic measures steady the ship, great. If not, the club will finish somewhere between sixth and eighth place, spend plenty more money during the summer 2023 transfer window, and bounce back. For major footballing powers, money can usually slow the rot, even if removing it is a longer process; look at Arsenal and Manchester United as examples of that.
To be clear, we're not at the point of having a European Super League proper just yet. The footballing pyramid is theoretically still an open structure. In practice, though, things are a lot more stratified than any of us would like to admit.
Are things competitive on a game-by-game basis? Definitely. Over the course of seasons and years, though, the stratification is pretty striking.
Financial numbers courtesy of Transfermarkt and accurate as of 9/8/2022.