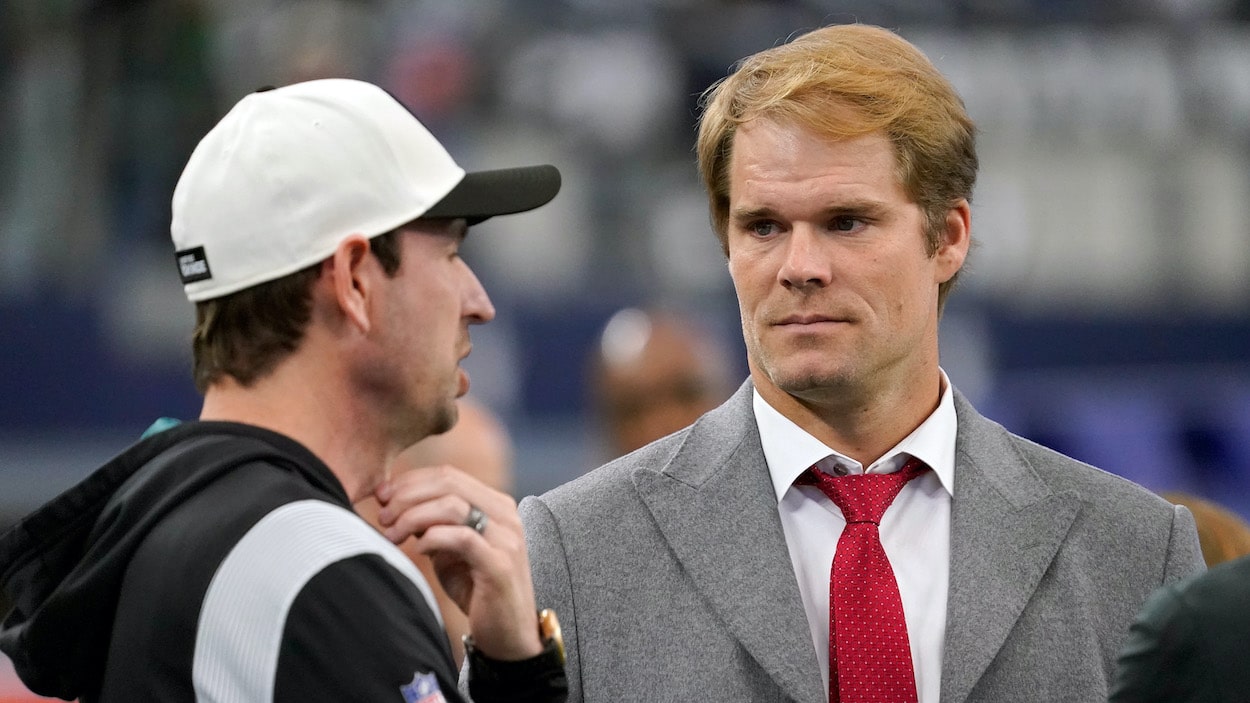 FOX Announcer Greg Olsen Draws Rave Reviews as $375M Tom Brady Deal Looms
FOX NFL analyst Greg Olsen did an incredible job announcing the 2023 NFC Divisional Round game as Tom Brady could be coming for his job.
Social media doesn't usually react en masse to someone in sports media unless that person is doing a bad job. However, after the NFC Divisional Round game between the San Francisco 49ers and Dallas Cowboys, there was nearly universal praise for FOX Sports color analyst Greg Olsen. The former NFL tight end, who is finishing his first season with Kevin Burkhart as FOX's No. 1 play-by-play pairing, did an excellent job explaining the intricacies of the game to the audience. Many NFL fans online noticed this and took to Twitter to both praise Olsen and hope that he'll retain his position next season, even though the network has a $375 million deal in place with Tom Brady for when he retires.
Greg Olsen killed it on the NFC Divisional Round broadcast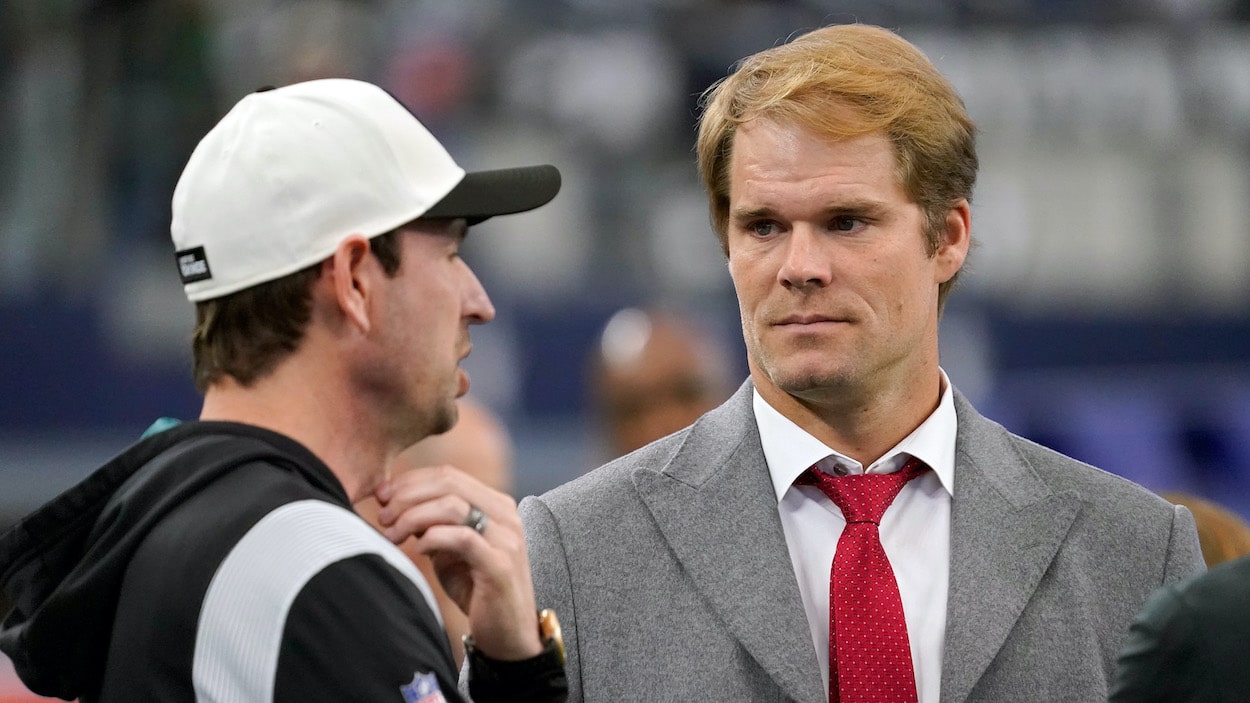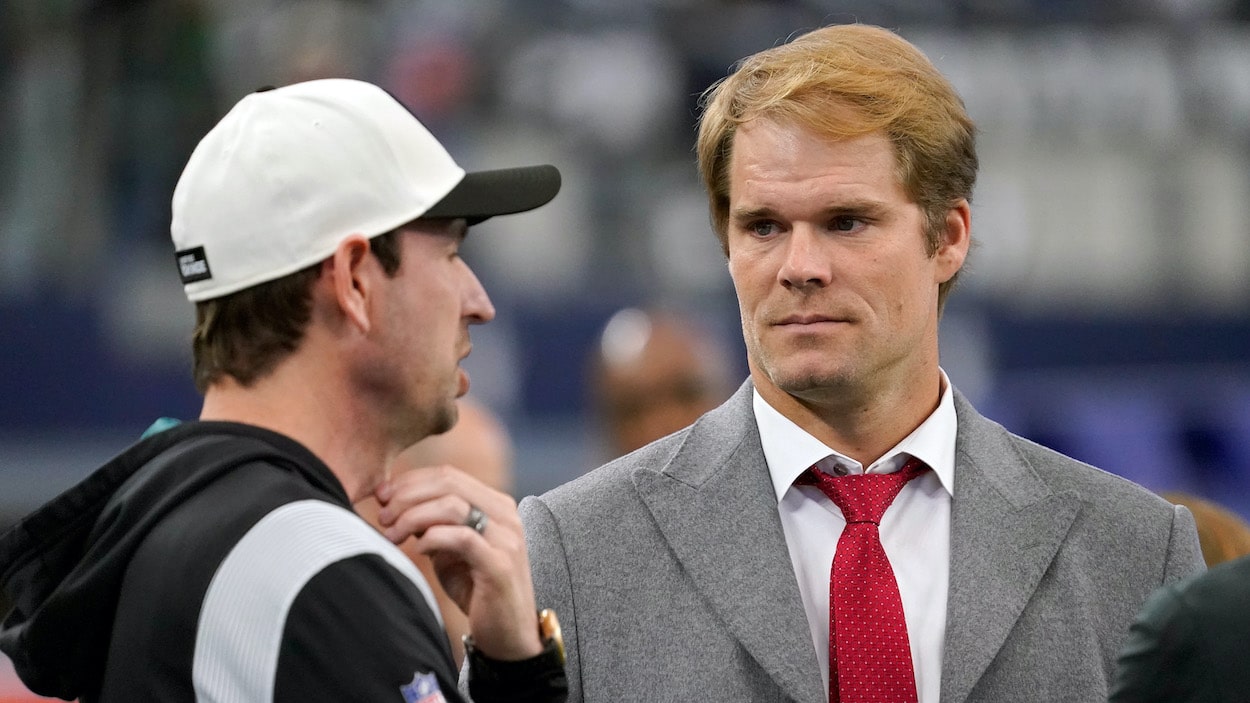 As the clock ran out on the Cowboys comeback against the 49ers, there was a big play where Dallas TE Dalton Schultz looked like he went out of bounds to stop the clock, but the official on the sideline signaled for the clock to keep moving.
Greg Olsen explained that because Schultz wasn't moving forward when he went out, his forward progress was stopped in bounds, meaning the clock kept running.
This was just one example of how the recent ex-player excelled at color commentary in this huge game. He was clear and concise and lent excitement and knowledge to the game — especially down the stretch — that genuinely enhanced the experience for the viewer.
Olsen's performance drew rave reviews from investigative reporter Don Van Natta Jr., college football analyst and former NFL running back Spencer Tillman, NFL analyst and former quarterback Dan Orlovsky, and talk radio host and former NFL lineman Mike Golic Jr. among others:
NFL insider Albert Breer also praised Greg Olsen while bringing up the elephant in the room. When Tom Brady initially retired after last season, FOX Sports gave the GOAT a 10-year, $375 million deal for unspecified services in the future.
Brady went back to the league for another season, but the contract reportedly remains in place for whenever the 45-year-old seven-time Super Bowl champ is done.
Without knowing exactly how FOX Sports plans on using Brady, many are worried that Olsen could get the boot in favor of one of (if not) the most famous football players of all time in Brady.
We won't know how that works out until Brady finally retires. But at least for now, Greg Olsen is the king of color commentary in the NFL world, and social media let him know it on Sunday night.