Hailie Deegan Fans Should Get Out the Panic Button Because Her Actions at Las Vegas Are Cause for Concern
When Hailie Deegan crashed and recorded a DNF in the NASCAR Truck Series season-opening race at Daytona in her first outing with ThorSport Racing, it was understandable to dismiss it as no big deal and nothing of concern considering the track. Superspeedways are often just the luck of the draw.  
This week, when the 21-year-old headed to Las Vegas Motor Speedway, she did so with confidence after finishing 11th on the track in October during her Xfinity Series debut. She backed it up during qualifying, finishing fifth, and earning her career-best starting position on asphalt in the trucks.
Unfortunately, that didn't translate into success during the race but ended in a second DNF in as many races. And if her fans are being honest and looking at the race objectively, what it revealed is alarming and should be cause for concern in 2023.  
Hailie Deegan joins ThorSport Racing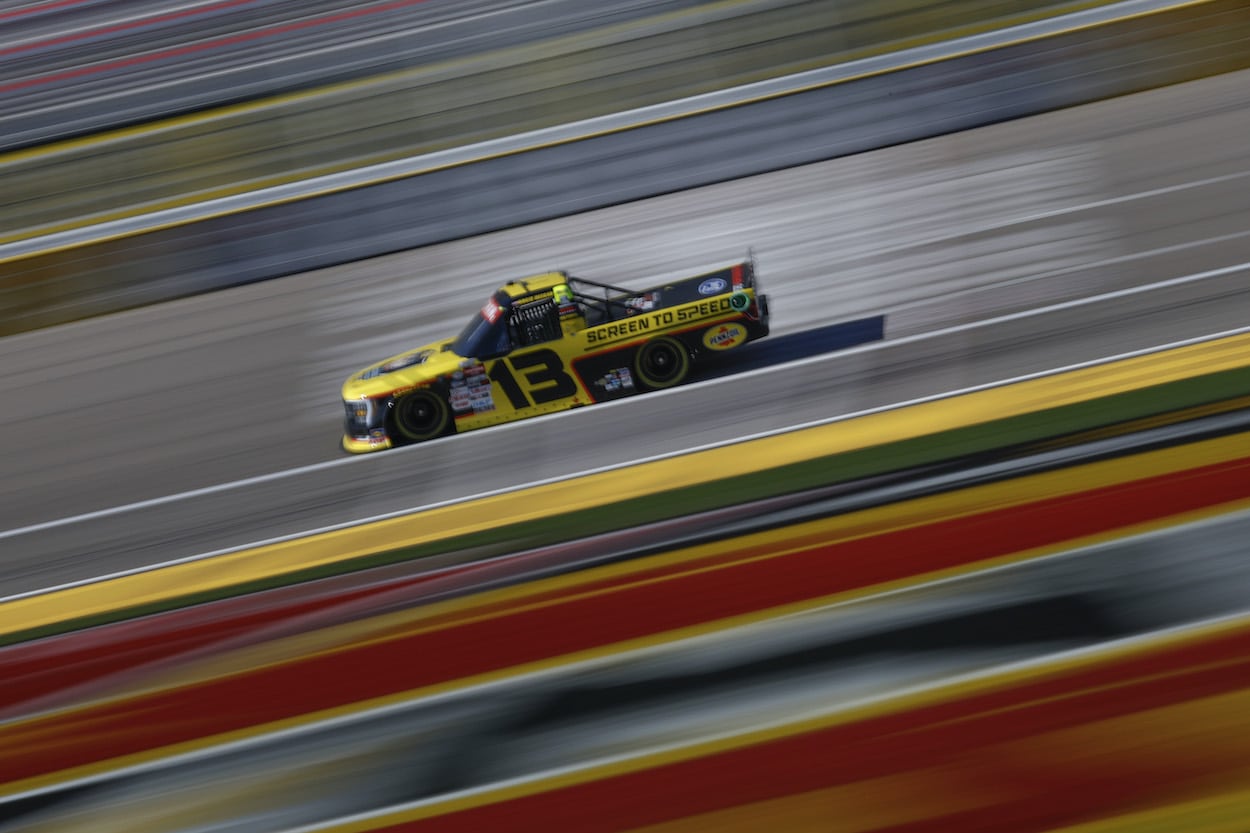 Hailie Deegan has struggled in the Truck Series in her first couple of years, managing just three top-10 finishes in 46 races. However, this season is a fresh start for the driver, moving over to ThorSport Racing and getting the services of crew chief Rich Lushes, who worked with Ben Rhodes the last two years when the driver won the championship in 2021 and finished runner-up last year.
In December, Lushes appeared on SiriusXM NASCAR Radio and talked about expectations for his new driver, including how he wanted her to become more aggressive. 
"Yeah. We touched on that a little bit," Lushes said. "As we get closer to Daytona, we're touching on it some more. I expect her to be aggressive. I expect her to not take anything from anyone. And I think that's how she's going to be and that's the mindset she's in right now. 
"I think she's in a really good place now mentally as far as she knows that she's going to have a really good shot next year to be competitive, and we're going to have a really good team, and hopefully, like I said, we're going to get some top 10s. I don't think it's out of reach at all for us to make the playoffs next year."
Deegan struggles in first two races of 2023
In the season opener at Daytona, Deegan was the victim of circumstance that is superspeedway racing and finished 35th. In race No. 2 at Las Vegas, the weekend got off to a great start with her strong qualifying effort.
Unfortunately, when the green flag waved, her run up front didn't last long and she quickly dropped back in the field. By Lap 3, she had fallen to 12th while Rhodes and three-time champion Matt Crafton had moved ahead of her. When the first yellow came out on Lap 18, Ty Majeski ran third, Rhodes seventh, and Crafton 11th. Deegan had dropped to 15th. 
At the close of the first stage, Majeski finished second, Crafton sixth, and Rhodes seventh. Deegan had dropped to 23rd.
During a caution-filled Stage 2, the No. 13 team talked with the driver a couple of times over the radio about driving more aggressively and having "a sense of urgency." It never happened. 
On a late restart in the stage, she once again dropped back deep into traffic and got squeezed in a four-wide situation between John Hunter Nemechek and Christian Eckes, which got her truck loose and sent her for a spin. Her race was over. Two races. Two DNFs. 
When the race concluded, ThorSport had a good night in Las Vegas with its other three drivers, as Rhodes finished third, Majeski fifth, and Crafton 11th. Deegan finished 32nd. 
Can she turn it around?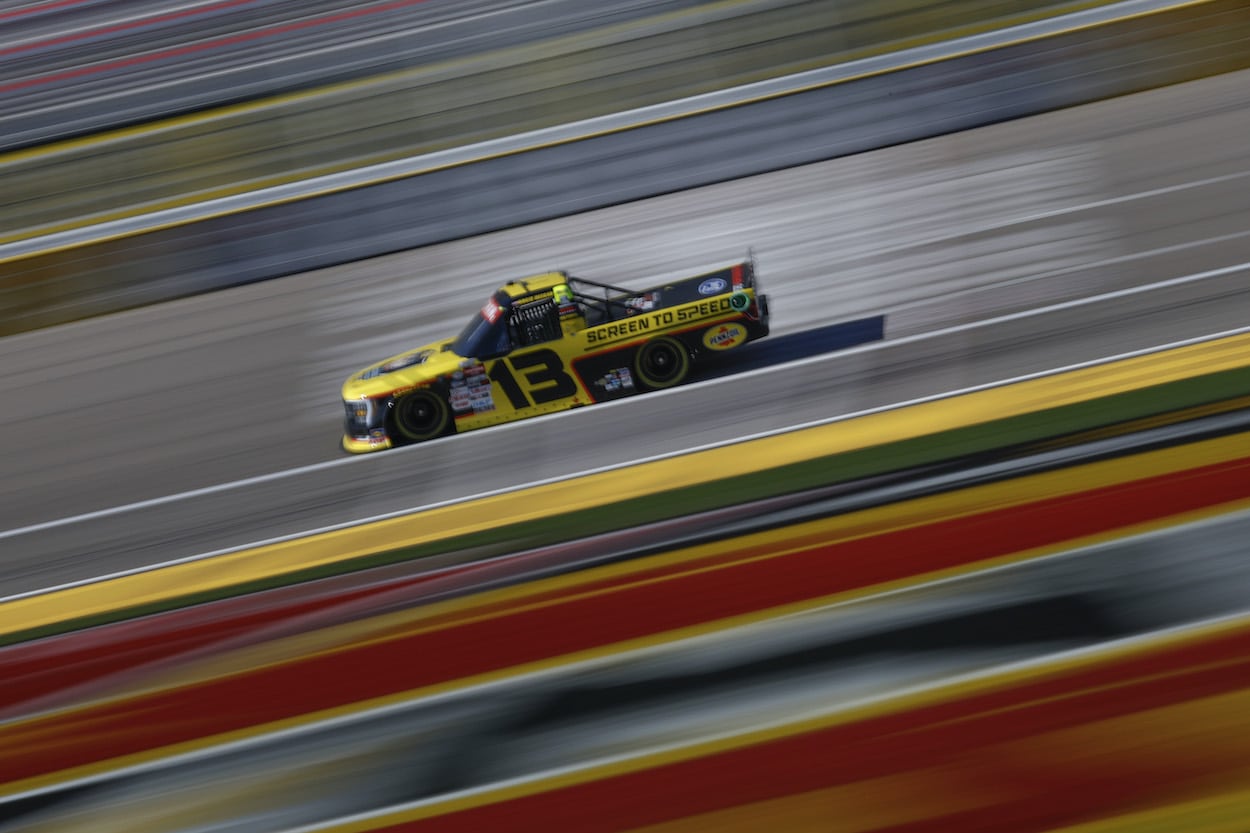 Deegan heard her new crew chief Rich Lushes say in December how he wanted her to be more aggressive in 2023 and predicted that the No. 13 team could make the playoffs. 
He reiterated the importance of being more aggressive in Friday's race in Las Vegas, and when it didn't happen, it cost her by getting stuck in traffic, ultimately leading to a wreck that ended her day.  
If Deegan has any hopes of making the playoffs, she's going to have to improve her finishes on a consistent basis, and/or win a race. And the only way either of those happen is if she dramatically increases her aggression level to stay up near the front and avoid the areas in the field where accidents occur on a consistent basis. 
Will it happen? Time will tell.  
For the latest breaking news and information about NASCAR's three national series, check out @kdsportswriter on Twitter.