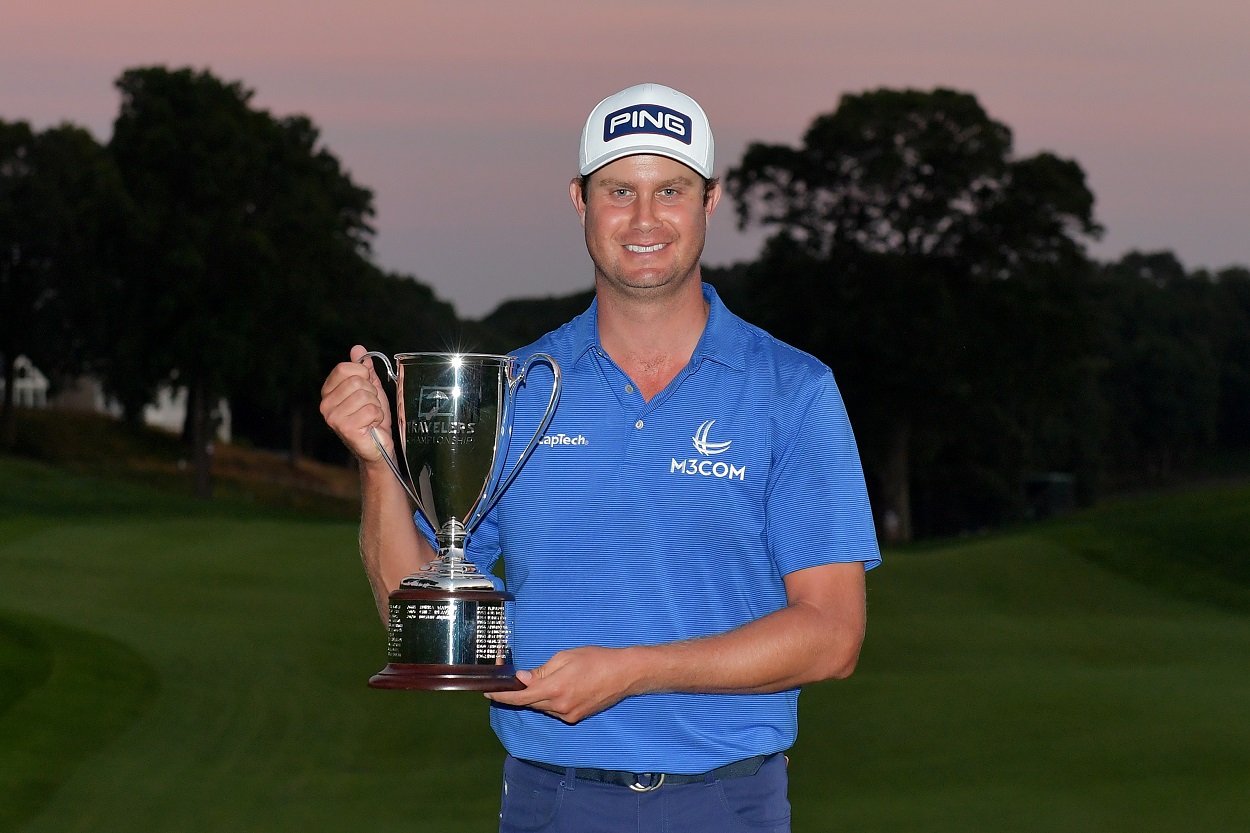 Harris English Won $1.3 Million for Himself and $1.4 Million for a Lucky Bettor With His Marathon Playoff Victory at the Travelers Championship
Harris English won $1.3 million for himself with his eight-hole playoff victory at the Travelers Championship but also $1.4 million for a lucky bettor in London.
It normally doesn't take 80 holes to win a PGA Tour event but that's exactly what Harris English needed to notch his second victory of the 2020-21 season this past Sunday at the Travelers Championship. Tied with Kramer Hickok after 72 holes at TPC River Highlands, English birdied the eighth hole of a sudden-death playoff, one that tied for the second-longest in PGA Tour history, to score the win and a paycheck worth more than $1.3 million.
But English, coming off a third-place finish at the U.S. Open, wasn't the only person to win big as a bettor in London scored a payday worth even more.
Harris English won an eight-hole sudden-death playoff at the Travelers Championship
Climbing up the leaderboard all afternoon on Sunday, English shot a 5-under round of 65, holing a 28-foot birdie putt at the 18th hole to finish at 13-under for the week. But as he was a few groups ahead of the 54-hole leaders, he had to wait around for a bit to see if anyone would match, which Hickok obviously did, making a birdie of his own at the last to force a playoff.
And what an interesting playoff it was.
Again playing the 18th as the playoff got underway, both made par to send things back to the 18th tee yet again. It looked as if things were going to end here as English plugged in the front bunker with his approach while Hickok had a birdie putt to win his first-ever PGA Tour event. And it truly seemed that Hickok was going to hole said birdie putt as it inched toward the hole. But then this happened.
English got up and down for par and the action moved to the par-4 17th. Again, both made par. And that continued to be the theme. While both had their chances to win, it was par after par after par…seven each to be exact through seven extra holes. Again playing the 18th, English finally made birdie while Hickok recorded an eighth straight par.
As mentioned, the eight-hole playoff tied for the second-longest in PGA Tour history behind only the 11-hole affair between Lloyd Mangrum and Cary Middlecoff at the 1949 Motor City Open, who were actually declared co-winners when it became too dark to play any longer.
English won $1.332 million for his victory and moved into fifth on the PGA Tour's 2020-21 money list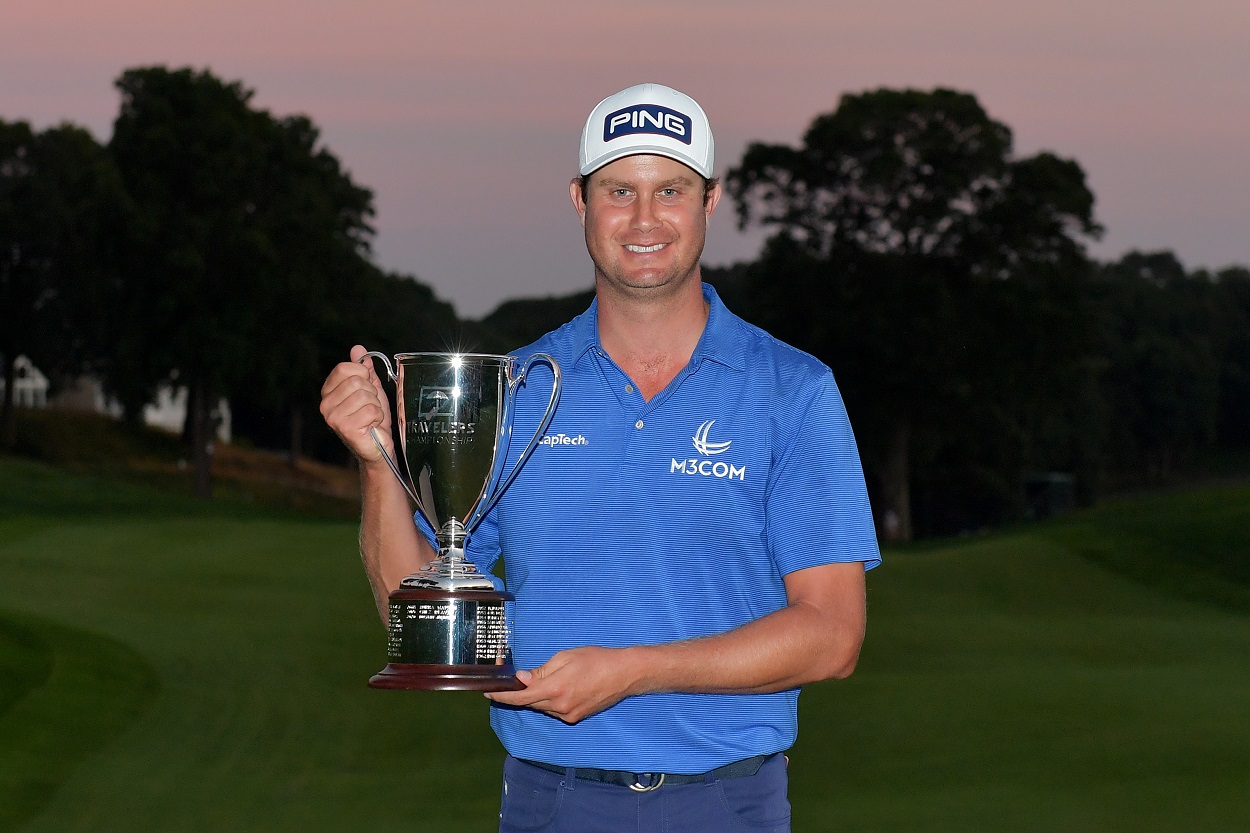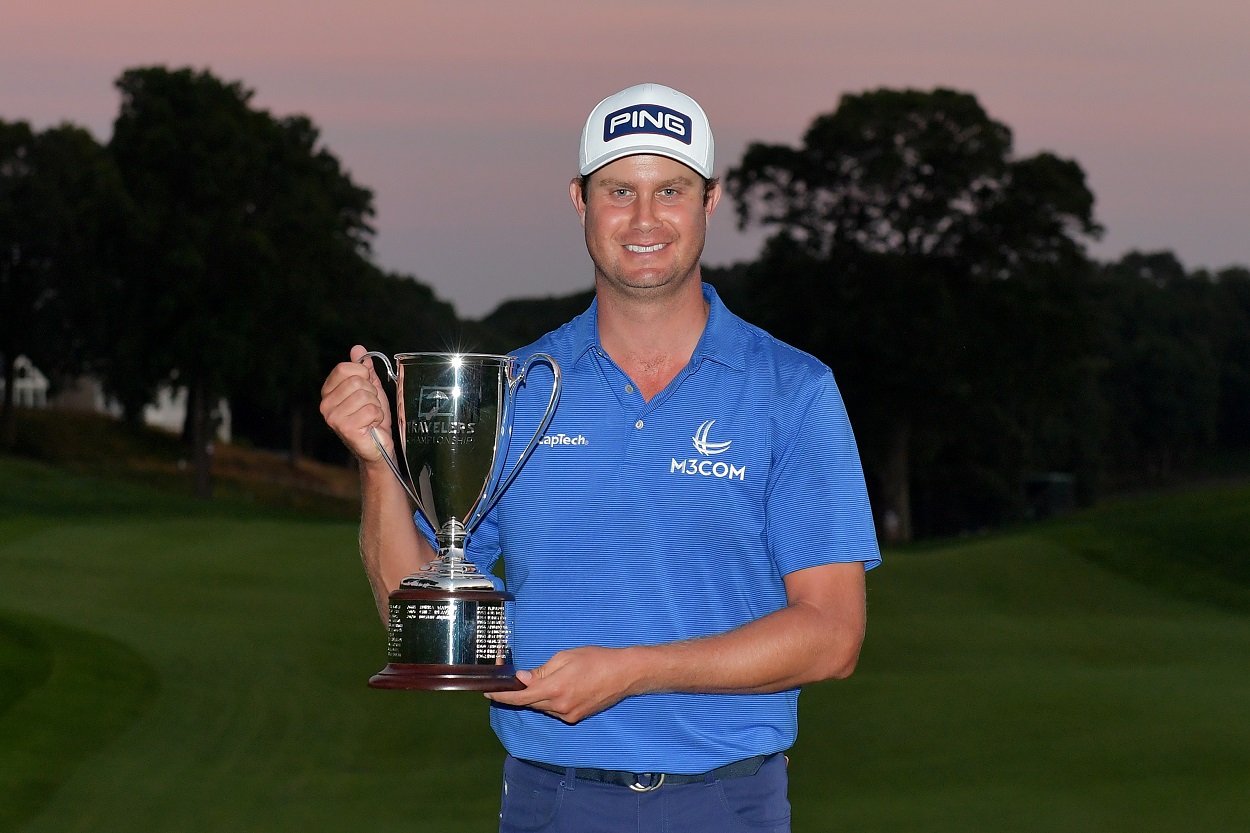 With his win at the Travelers, his second of the season after taking the Sentry Tournament of Champions back in January, also in a playoff, English collected a cool $1.332 million, moving him into the No. 5 spot on the season money list at $5,529,727.
English also jumped into second place in the FedEx Cup standings and is now just 125 points behind leader Patrick Cantlay. He also vaulted from 19th to 12th in the Official World Golf Ranking, the highest ranking of his career. One year ago at this time, English was ranked 139th so it's quite clear to see what a great season he's had thus far.
But, as mentioned in the intro, he wasn't the only one to benefit from his victory.
A bettor in the United Kingdom won $1.4 million when the marathon playoff ended
As English was in the midst of his marathon playoff at the Travelers, one bettor in London was staying up late hoping for a big payday of his own.
This particular individual had placed a six-leg parlay with Betfair, an online gambling company with offices located in London and Dublin. The bettor saw the first two legs hit as Croatia defeated Scotland and England defeated the Czech Republic in Euro 2020 group play.
The next four legs were all golf-related and the bettor watched as the first three of the four hit as well, those being Viktor Hovland's win at the BMW International Open on the European Tour, Nelly Korda's victory at the KPMG Women's PGA Championship, and U.S. Ryder Cup captain Steve Stricker's triumph at the Bridgestone Senior Players Championship.
With five of the six legs secured, the bettor had to wait out the Travelers, which didn't end until after 1:00 a.m. in London, as he'd taken English to win, which, of course, he did. The bettor's initial wager was £11.50, or around $15, and with 90,396/1 odds, that turned into just over £1.039 million, or approximately $1.43 million, about $100,00 more than what English collected for winning the tournament.
Stats and earnings courtesy of PGATour.com