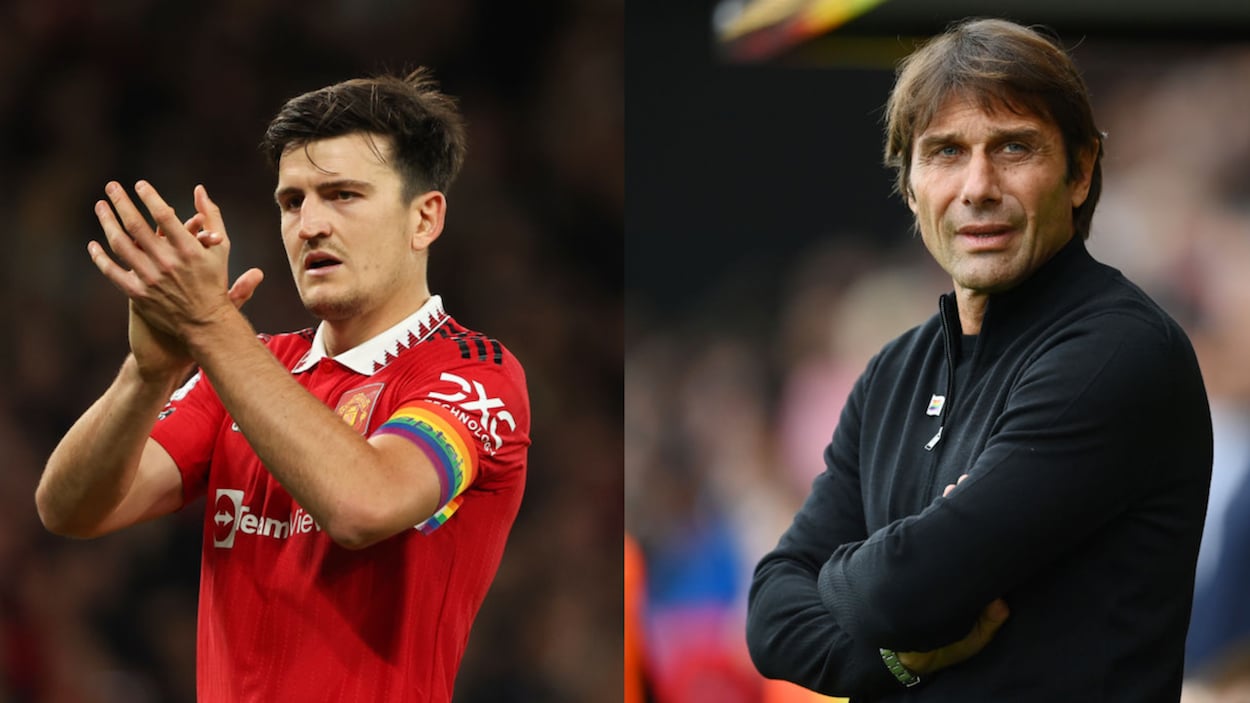 Harry Maguire, Antonio Conte, and the Biggest Winner and Losers of Premier League Matchday 14
While we're running out of Premier League action before the World Cup, we still saw plenty of action during Matchday 14.
While the 2022 World Cup (and the accompanying break) are rapidly approaching, we still have some domestic business to take care of. There will still be two matchdays' worth of Premier League soccer before everything comes to a screeching halt, meaning there's plenty of time for players, clubs, and managers to make a statement.
For better or worse, we got plenty of those during Matchday 14. Let's look at those statements and assess the biggest winners and losers of the weekend.
Winner: Arsenal
After drawing away to Southampton and losing at PSV, manager Mikel Arteta urged his team to reset ahead of the Sunday match against Nottingham Forest. It's safe to say his players answered the bell. Gabriel Martinelli gave the Gunners the lead after roughly five minutes, and while the scoreline remained close for the rest of the first half, Arsenal eventually pulled away. They ended the day with a 5-0 victory, returning to the top of the table.
While you could argue that the opponent does matter — despite beating Liverpool, Forest didn't exactly go down swinging — the manner in which Arsenal played is what really matters. For the past few weeks, the squad has looked fatigued and unable to truly put an opponent to the sword. They did just that on Sunday, though, earning a bit of in-game rest — no one was really busting a gut after the 70th minute — and padding their goal differential. Who knows, that fifth tally could make all the difference come May.
An injury to Bukayo Saka could have ruined the afternoon, but Arteta seemed to suggest that the winger was just feeling the effects of a kick. Look for him to keep his feet up on Thursday against Zurich and hopefully be ready for Chelsea next weekend.
Loser: Liverpool
If Arsenal answered the bell and bounced back during Matchday 14, Liverpool showed exactly why they're struggling. After losing to Forest last weekend and winning 3-0 in the Champions League during the week, Jurgen Klopp's squad hosted Leeds. The match could have been a chance to show some resolve and get three points on the board, but things didn't go according to plan. Crysencio Summerville scored a winner in the dying moments, handing Liverpool another defeat.
While there are plenty of stats to trot out, like Virgil van Dijk losing his first Premier League match at Anfield, I'd like to focus on something much more relevant: the table. Liverpool have played 12 matches, and only won four of them. They have 16 points in their pocket and sit in ninth place. There's a 15-point gap between Klopp's men and Arsenal; the Reds are even eight points adrift from a Champions League place.
Although recent history would suggest that it's risky to bet against Liverpool, it's clear that this team isn't the same one we've been watching over the past few years. Something's clearly gone stale, and while there's room to debate exactly what that is, the impact is becoming clearer with each passing week: The club is going to be fighting to secure Champions League football next year rather than chasing down trophies.
Winner: Manchester United's Marcus Rashford, David de Gea, and Harry Maguire
While I don't think I've ever split a win between three players, it was hard for me to pick one name out from the Manchester United roster. Sunday's win wasn't an instant classic, but it did include some strong performances from some names who had a point to prove.
Marcus Rashford scored the game's only goal with a great header and actually looked like someone capable of holding down the left-wing job going forward. Beyond his club standing, though, Rashford will also be making a late push to earn a place on England's World Cup roster. It might be too little, too late, but the forward's performance and postmatch quotes suggest that he could be turning a little bit of a corner. Watch this space in the coming weeks.
David de Gea hasn't always been the perfect goalkeeper, especially when the ball's at his feet, but he shone on Sunday. The Spaniard made some key saves in the second half, securing all three points for United. That performance also came against the backdrop of the club assessing his future. De Gea's contract expires at the end of the campaign, but there is a club option to add another 12 months to the deal. It would be naive to suggest that one match can earn him a new deal, but if the goaltender keeps playing like he did against West Ham, he could reap the rewards.
Harry Maguire returned to the lineup and, barring one close (foul) call, didn't really do anything wrong. While West Ham's style of play suits the English defender's game, it was still a positive for him to make it through the contest without any calamitous errors. Like it or not, Maguire is a part of United's squad, at least for Europa League matches and emergency situations, and will presumably be starting for England at the World Cup. Through that lens, this performance can be a valuable confidence boost.
Add three points to that equation, and it's a pretty good day for the Red Devils.
Loser: Graham Potter
Although a 4-1 scoreline looks bad, I'm not too concerned with Chelsea dropping points. We've seen virtually every team with European commitments struggle this year, and the Blues are no exception. Instead, I want to draw some comparisons between Graham Potter's new club and his old club.
While the manager may have nearly unlimited resources and superior players at Chelsea, the personnel doesn't seem perfectly suited to the way he wants to play. At Brighton, Potter was all about rotation and fluidity. Think of how Marc Cucurella was something of a wing-back/center-back hybrid, capable of showing up virtually anywhere on the left-hand side.
Chelsea's talent may be superior, but they're not natural's in the role. Is Raheem Sterling technically a better player than someone like Pascal Groß or Solly March? Yes, but the England international probably doesn't want to be playing something akin to left-wingback.
Is the current reality due to Potter arriving during the season and being unable to purchase the players who perfectly fit his vision? Or is he realizing that the elite players are a bit less willing to change what they do/buy into a new system than someone (with all due respect) joining Brighton from a lower level?
At this point, it's tough to know, but at least on Saturday, the grass wasn't greener for Potter.
Winner: Antonio Conte
In the world of sports, a coach/manager can't afford to lose the dressing room. While we don't know what's happening behind closed doors, it seems safe to say that Antonio Conte still has Tottenham's players on his side.
After a tough run of results, Spurs found themselves down 2-0 to Bournemouth in the second half. And while you could argue that the Cherries' defense provided some gifts, Tottenham still managed to claw back and secure a 3-2 victory in stoppage time.
Was it an awe-inspiring performance worthy of being commemorated on DVD? No. But in this unprecedented season, every point secured could be invaluable after the World Cup break. A win, no matter how ugly, could also help get Spurs up and running as they try to advance from their Champions League group and end this first half of the season on a positive note.
And, on a further positive note, rumors continue to swirl that Conte and Tottenham are in talks regarding a contract extension. While that will only provide limited security — a deal isn't going to stop the Italian manager from leaving when he decides he's done — it should provide a nice payday until that day arrives.
Loser: Antonio Conte
I try to avoid using the same name as both a winner and a loser, but Conte seemed impossible to overlook. As I noted above, the Italian did secure three points with a big comeback win at Bournemouth. At the same time, though, those heroics shouldn't have been necessary.
At this point, everyone knows how Conte wants his teams to play. Whether you like it or not, he's going to set up defensively and try to score off some direct and devastating counterattacks. This year, though, things have seemed slightly off at Spurs. As Harry Kane suggested earlier in the year, there's a difference between defending and handing the opposition control of the game.
Take Saturday's match as an example. While Bournemouth have been better since firing Scott Parker, the Cherries are hardly world-beaters. Even Spurs don't want to go into the match guns-blazing, there is a difference between controlling the game and doing nothing for the first 45 minutes. Whether it's by choice or not, Tottenham can't seem to get that balance right.
Some will suggest that Spurs are simply biding their time. The club is in third place, and in theory, things haven't fully clicked on the pitch. While that's possible, it does suggest some more troubling alternatives. Maybe this is Tottenham's true level? Or maybe there's something about Antonio Conte's system that's making them put in these performances.
It all comes down to what the club's brass expect from this season. Is finishing in a Champions League place and making runs in the domestic cups a good return on investment? If that's the case, grinding out results will work just fine. If Spurs want to break their trophy drought, though, it's fair to wonder if their recent habit of failing to play a full 90 minutes, especially against the other big clubs, will come back to bite them.
Have thoughts on this topic? Keep the conversation rolling in our comments section below.