Heat Rookie Tyler Herro Received Death Threats as a High Schooler Before Starring at the University of Kentucky
There have been plenty of interesting storylines to come from the NBA bubble during the playoffs. Yes, playing games in a bubble is a storyline in itself, but one player has become an absolute star. That player is Tyler Herro, the Miami Heat rookie. 
Prior to entering the NBA, Herro had one incredible season at the University of Kentucky. He ultimately meant a lot to John Calipari's team too, as he helped lead the Wildcats to the Elite Eight. Herro proved his mental toughness way before his NBA and college careers, though. He proved his toughness in high school when he received death threats just because of his college decision.
Tyler Herro was a star in high school
During his high school basketball career at Whitnall in Wisconsin, Herro was a four-star recruit on 247Sports. He was sort of underrated, though, as he wasn't even a McDonald's All-American.
However, Herro's senior season was incredible. He averaged 32.9 points per game, 7.4 rebounds, 3.6 assists, and 3.3 steals, according to his Kentucky bio. He shot over 50% from the field too, and 43.5% from 3-point range.
Herro's play in high school led to him verbally committing to Wisconsin, as he had plans to stay close to home. However, on Oct. 17, 2017, Herro decommited from Wisconsin, according to USA Today.
He received death threats after his decommitment
After he decommitted from Wisconsin, Herro later committed to Kentucky. He actually went from being a Wisconsin commit to signing a letter of intent with Kentucky within 28 days, USA Today reported.
Herro's choice to not go to Wisconsin angered Badgers fans. According to Bleacher Report, some fans spray-painted "F*** BBN! GO WISCONSIN," in his yard. Handwritten letters also got delivered to Herro's high school for him. His coach ultimately went through them, and some were just too bad for Herro to even read. One said that the person hoped Herro injured his leg the way Celtics star Gordon Hayward did.
This wasn't all he had to deal with, either. Herro received death threats. Of course, some came on Twitter. However, some even happened in person. While Herro was pumping gas once, a man got in his face and said, "Walk across that street. I hope you get hit by a truck," according to Bleacher Report.
Additionally, at his high school games, some fans brought stuffed-animal snakes and posters with Herro's face on a snake's body.
"People can call me whatever they want, call me a snake, say I turned my back on the home state, but they don't see what I'm putting in," Herro said, according to USA Today. "I'm going to the gym three times a day, so when I'm out there I don't care what people say. Basketball is pretty much what I breathe and eat."
Tyler Herro had a great college season at Kentucky
Herro only played at Kentucky for one season in 2018-19, but that season was spectacular. He averaged 14 points per game and 4.5 rebounds, and he shot 35.5% from 3-point range. Herro ultimately earned All-SEC and SEC All-Freshman honors that year.
Kentucky was an excellent team too, as the Wildcats went 30-7 and reached the Elite Eight. Herro also ended up having an excellent game during the Sweet 16. He ultimately scored 19 points and shot 53.8% in a win over Houston.
Herro's play in college then led to him going to the Miami Heat with the No. 13 overall pick in the 2019 NBA draft.
He has been one of the best rookies in the NBA for the Miami Heat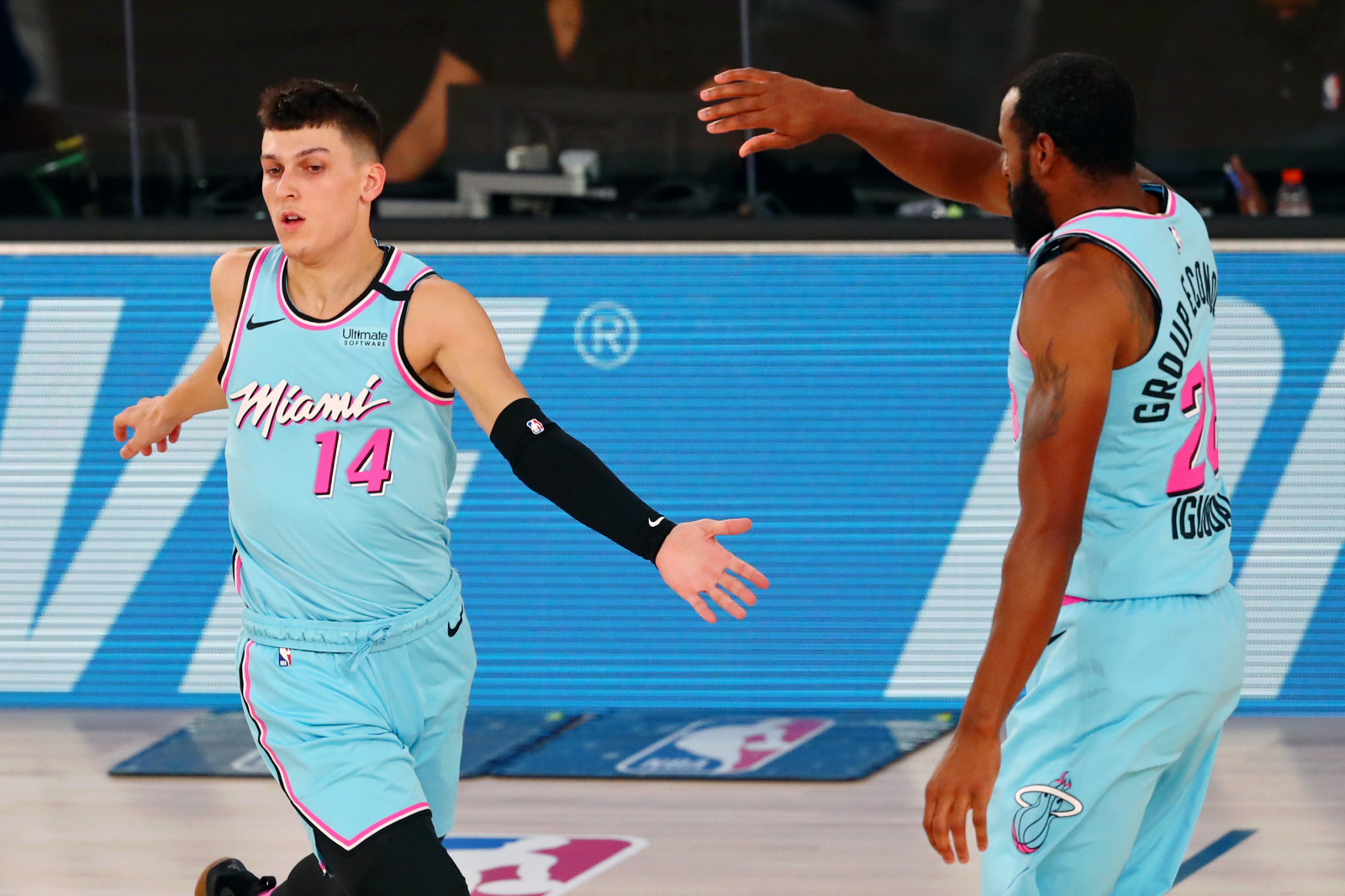 It has been a weird NBA season this year due to COVID-19 messing things up. However, Herro has been excellent for the Heat. In the regular season, he averaged 13.5 points per game and 4.1 rebounds. 
Herro has been even better in the playoffs too. During Miami's run to the Eastern Conference Finals, Herro averaged 14.7 points per game, 4.9 rebounds, and 3.3 assists through the Heat's first nine games. They went 8-1 in those games too. 
While Herro scored 20 points in a win over the Indiana Pacers in the First Round, he had an excellent overall game in the Heat's series-clinching win over the Milwaukee Bucks in the Eastern Conference Semifinals. He recorded 14 points, eight rebounds, six assists, and he shot three-of-seven from 3-point range. His play has ultimately become crucial to the Heat's success.
Tyler Herro is proving that he has what it takes to be a great NBA player. He first proved his toughness back in high school, though, as he overcame death threats to become an absolute star.
Stats courtesy of Sports Reference and Basketball Reference