How Close Is LeBron James to Kareem Abdul-Jabbar's All-Time NBA Scoring Record Following the Lakers' Win Over the Knicks?
After sitting out the Los Angeles Lakers' loss to the Brooklyn Nets on Monday night, LeBron James returned to the lineup on Tuesday at Madison Square Garden against the New York Knicks and helped the Purple and Gold to a 129-123 overtime win.
James notched his first triple-double of the season in the victory, leading the Lakers in all three major categories with 28 points, 11 assists, and 10 rebounds.
Two of those assists helped LeBron move into fourth place on the all-time list as he first passed Mark Jackson with dime number eight on the night and then passed Steve Nash with number nine. He now has 10,338 for his career, trailing only John Stockton, Jason Kidd, and Chris Paul.
Anthony Davis, who also sat out Monday's loss to the Nets, was strong in his return as well, with 27 points and nine rebounds. Thomas Bryant added 19 points and nine boards, while Russell Westbrook chipped in 17 points, eight assists, six rebounds, and three steals in 36 minutes off the bench.
Jalen Brunson led the way for the Knicks with a game-high 37 points, while former Laker Julius Randle added 23 points, 12 rebounds, and five assists.
How close is LeBron James to Kareem Abdul-Jabbar's scoring record after the Lakers' win over the Knicks?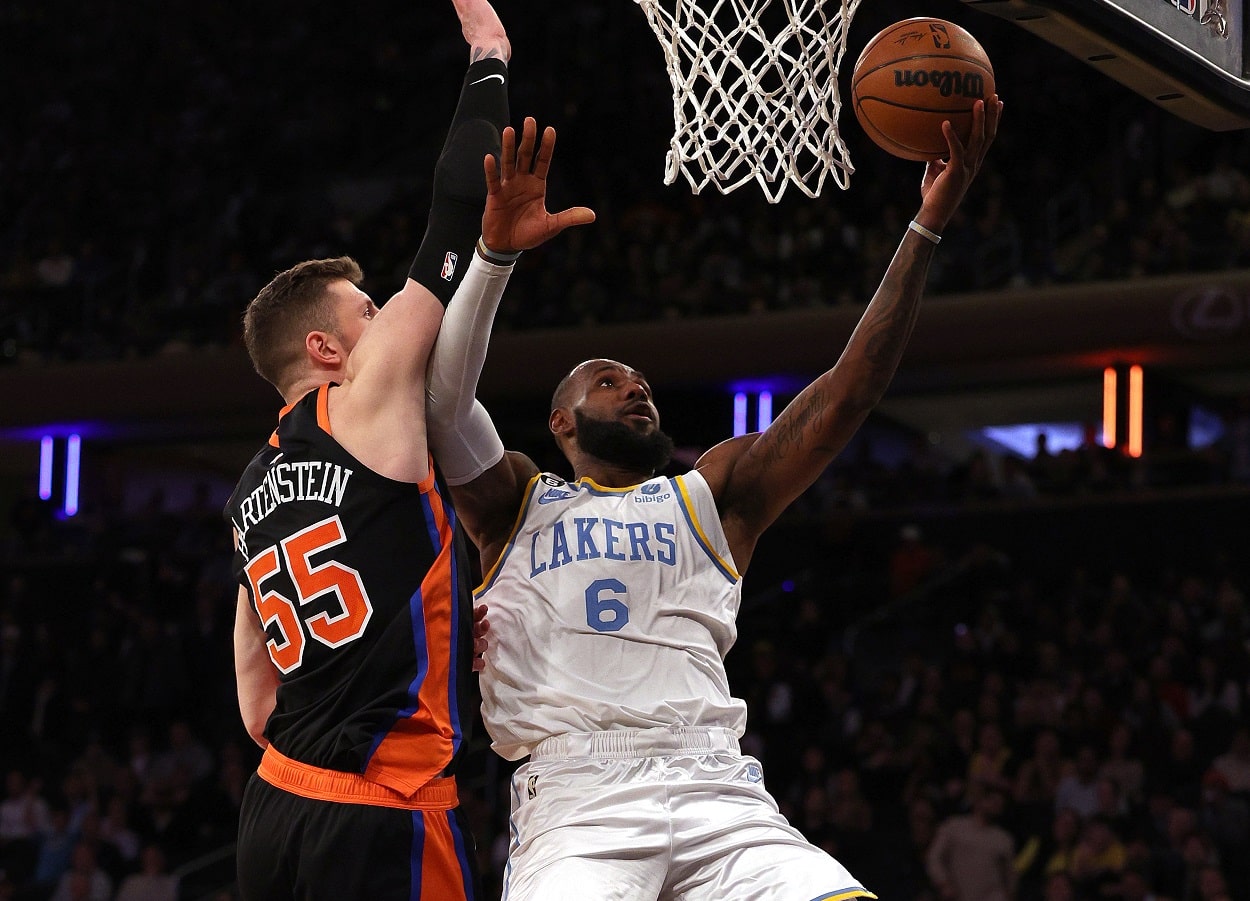 With his 28-point effort against the Knicks on Tuesday night, LeBron James now has 38,299 regular-season points for his career, putting him a mere 88 behind Kareem Abdul-Jabbar's all-time NBA record of 38,387.
Assuming LeBron stays healthy and maintains his season scoring average of 30.2 points per game moving forward, he'll pass Kareem next Tuesday, February 7, when the Lakers host the New Orleans Pelicans.
If he hits his career scoring average of 27.2 points per game, James will break the record one game later on Thursday, February 9, when LA hosts the Milwaukee Bucks, which would actually be much more fitting.