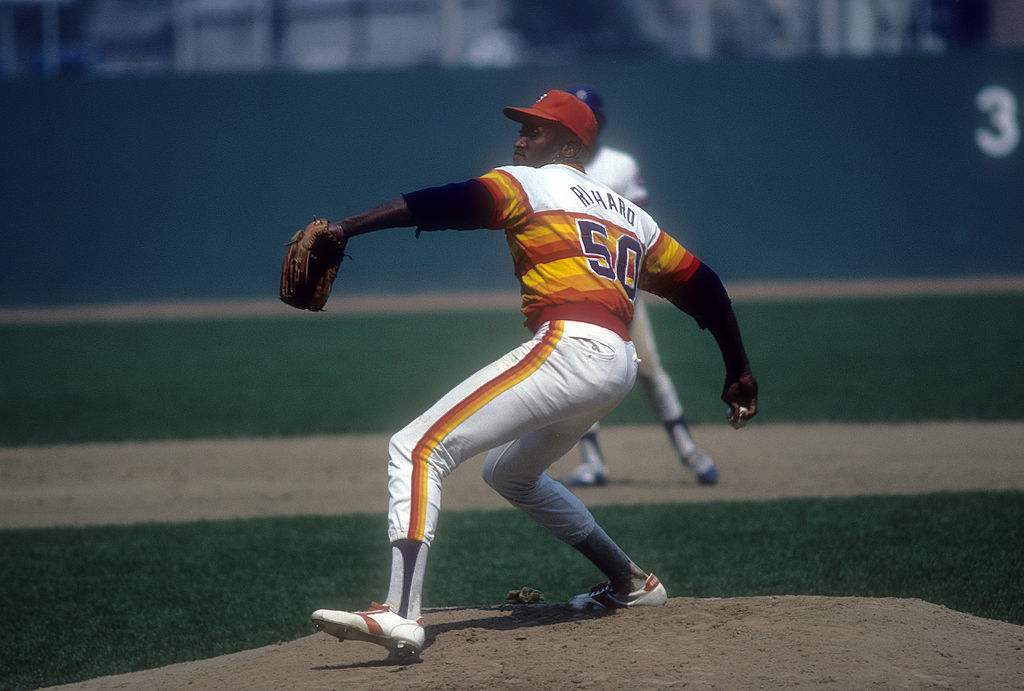 How Former Astros Pitcher J.R. Richard Went From Unhittable to Homeless
J.R. Richard was a dominant pitcher until a stroke cut his career short in 1980. Since retiring, he lost it all, lived under a bridge, and recovered back in the city where he made his name.
In the late 1970s, there was no more feared pitcher in baseball than J.R. Richard. The 6-foot-8-inch right-hander not only intimidated batters with his size, but with a blazing fastball that neared 100 miles per hour, and no one ever knew where it was going, not even Richard.
Richard's career was tragically cut short in 1980 when he suffered a massive stroke during pre-game warmup of an Astros game. Since that time, Richard has endured more than most, including a time where he lost all his money and was homeless living under a bridge in Houston. Where is J.R. Richard today?
J.R. Richard was one of baseball's most-feared pitchers
When J.R. Richard made his MLB debut in 1971, he made a good first impression with some of the game's greats. Facing the San Francisco Giants and future Hall of Famers Willie Mays and Willie McCovey, the hard-throwing 20-year-old struck out Mays three times. It was just a preview of things to come.
After bouncing up and down between the minor leagues and the Astros, Richard had his first full season in 1975, where he made 33 appearances and led the league in two less-than-impressive categories, walks (138) and wild pitches (20). While his lack of control didn't look good on the stat sheets, it proved to be an effective deterrent for hitters who might be digging in on a Richard's fastball. 
Over the next four seasons, J.R. Richard used his somewhat-controlled wildness to his advantage and in 1978 led the league with 303 strikeouts. He followed up in 1979 leading the league in strikeouts a second consecutive year at 313. More impressively, he had a league-leading 2.71 ERA.
In 1980, Richard was having the best year of his career. He made his first All-Star team, had a 10-4 record, and a 1.90 ERA at the midway point of the season. Then, tragedy struck.  
The tragic stroke that ended his career
During the All-Star Game on July 8, J.R. Richard threw two innings but later complained of back and shoulder problems. In his next start on July 14, Richard was cruising in the game when all of a sudden he began to have blurred vision and trouble seeing the catcher's signs. He also began to struggle with basic arm movements. When the fourth inning arrived, he experienced numbness in his fingers and had to leave the ballgame.
Soon after, the Astros placed him on the DL, and he underwent a series of tests at a local hospital. The tests found an obstruction in some of the arteries in his right arm. On July 25, a different test on the arteries in his neck determined everything was normal and surgery was not recommended.
On July 30, 1980, after a visit earlier in the day to his chiropractor, Richard was working through his standard pre-game warmup routine in the outfield when he suddenly collapsed.
Houston medical staff rushed him to the hospital, where doctors determined he had suffered a major stroke. They also discovered a massive blockage in his right carotid artery and performed emergency surgery that evening. Richard survived, even attempted a comeback, but never pitched in another MLB game again. 
J.R. Richard living under a Houston bridge
After his retirement, life was a daily struggle. Bad investments plus a pair of divorces sent Richard into a tailspin. In 1993, he lost it all and the one-time All-Star found himself living under a bridge on a Houston highway. 
Richard remained homeless for months. Some of his homeless neighbors recognized him as the former MLB pitcher but no one approached. He wanted it that way and kept to himself.
Tired of his situation, Richard finally sought help from a local church. He then found a job working with an asphalt company and eventually became a minister. In that role he got involved with the Houston community, working with the homeless, helping the local youth, and raising money to establish youth baseball leagues around the city.
In July 2019, the city of Houston honored Richard with a proclamation recognizing his career as a pitcher for the Houston Astros. J.R. Richard will always be known as the hard-throwing Astros pitcher whose career was cut short by a stroke. The stroke and his time being homeless don't define him. Instead, they reveal a man whose inner strength matches his 6-foot-8-inch frame and his ability to overcome any struggle and inspire others in the process.