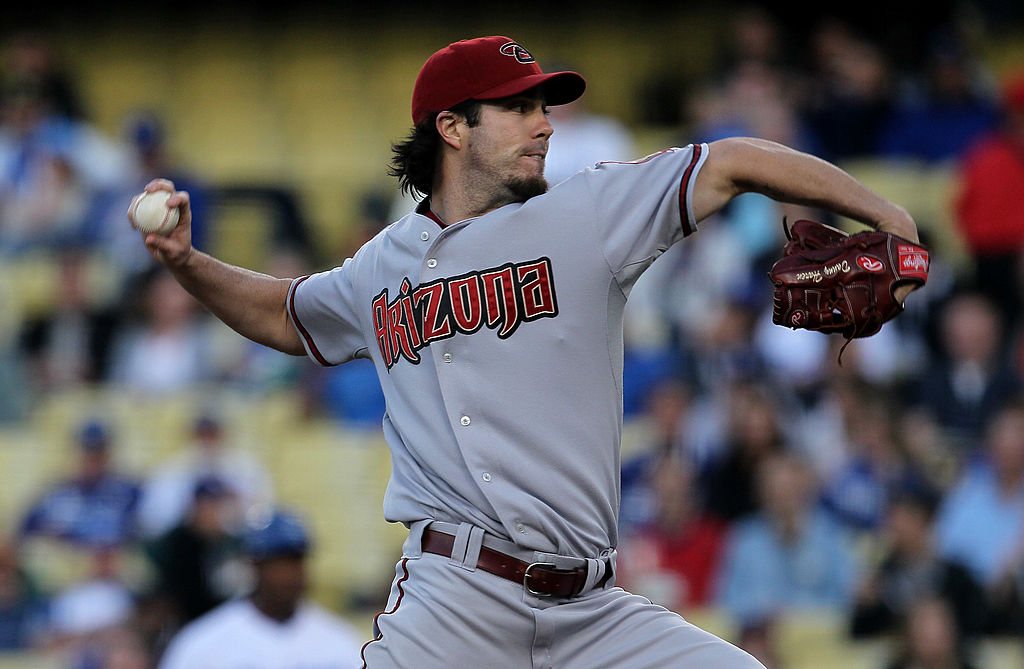 How Former MLB Pitcher Dan Haren Is Using Bobbleheads to Fight the Coronavirus Pandemic
Former All-Star pitcher Dan Haren is finding a unique way to help families affected by the coronavirus shutdown: bobbleheads.
Dan Haren has already donated a large sum of money to help those affected by the coronavirus, but he decided to take it a step further Wednesday. Haren announced via his Twitter account that he would be auctioning off his entire collection of 300 baseball bobbleheads, with all the proceeds going to families in need. Fans bid over $2,200 in the first hour of the live eBay auction. The idea was so popular that the link crashed shortly after Haren started selling his collection. The auction has since resumed Thursday.
Dan Haren's MLB pitching career
Dan Haren played 13 seasons in the big leagues with the Cardinals, Athletics, Diamondbacks, Angels, Nationals, Dodgers, Marlins, and Cubs. The journeyman had the most success in Arizona, where he made two All-Star games and finished fifth in the NL Cy Young race in 2009.
Haren made three straight All-Star games from 2007-2009. He compiled a 45-27 record over that three-year stretch with the Athletics and Diamondbacks. In his 2009 season, Haren notched career-best marks in strikeouts (223) and WHIP (1.003).
In 2015, Haren decided to call it quits at age 34. He won a total of 153 games as a starting pitcher in the MLB. Haren finished with a winning record in eight of his 13 seasons in the majors.
Haren's longtime success in the league is especially impressive given his simple pitching arsenal. Haren threw four pitches in the pros, and three of them were variations of fastballs. He mixed his regular fastball with a split-finger fastball, a cut fastball, and a curveball. The splitter was his most effective strikeout pitch.
Heren's baseball career after his playing days
After hanging up the cleats, Haren was hired by his former team, the Diamondbacks, to be their pitching strategist in 2016.
"We're excited to have a person of Dan's experience and expertise in our front office," Executive Vice President and GM Mike Hazen said after the hire. "His understanding of both analytics and implementation will be a great asset to our organization and we are looking forward to him making an impact in the next phase of his career."
Haren still works with the D-Backs organization today. He draws up scouting reports of opposing hitters for Arizona's pitchers to study pregame. Haren is a driving force behind which pitches get thrown to which batters during a game.
His position is more behind the scenes, but Haren deserves a ton of credit for Arizona's pitching success in recent seasons. The Diamondbacks were third in the MLB in team ERA in 2017 and fourth in 2018.
Haren's bobblehead auction is already blowing up
Since Haren announced he would be selling his massive bobblehead collection, the internet couldn't get enough. Fans flooded eBay so quickly that the link to the auction crashed. As of Thursday morning, however, the site is back up and running.
Haren is making the auction even more unique by adding a handwritten note with each bobblehead purchase. Each note includes a quirky fact about the player at the top and a Haren signature at the bottom.
With unemployment in the U.S. soaring due to the coronavirus pandemic, Haren is doing all he can to help those affected by the shutdown. Haren is donating the proceeds to charities supporting communities in the Phoenix and Los Angeles areas.
You can get in on the bobblehead auction using this link. From Hank Aaron to Albert Pujols and almost any baseball great imaginable, there's an option for everyone. More importantly, you'll be helping families in need.