How Good Was David Thompson, the Prolific Scorer for the Denver Nuggets?
David Thompson could score with the best of them. After leading North Carolina State to a national championship in 1974, he showed off his scoring prowess in the ABA and the NBA with the Denver Nuggets. The 6-foot-4 guard with incredible leaping ability quickly became one of the most prolific scorers in the game.
Thompson's career was derailed by an injury and then substance-abuse issues. He played nine professional seasons, but how good was the man known as "Skywalker?" Better yet, how good could he have been?
David Thompson put up 73 points in a game against the Detroit Pistons in 1978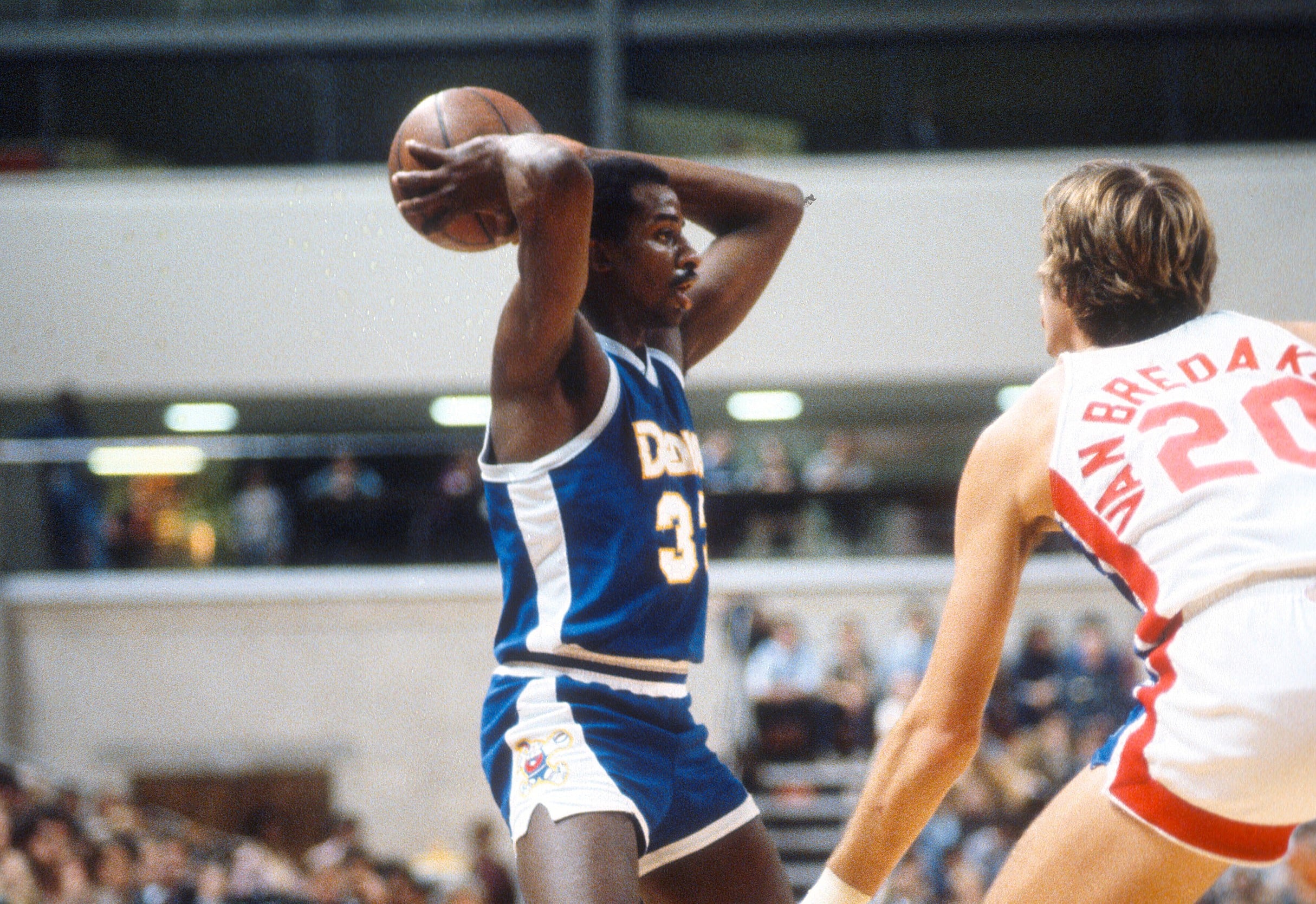 April 8, 1978, was the regular-season finale for Thompson and the Nuggets. They faced the Detroit Pistons but were already playoff bound. Thompson was in a personal battle with the legendary George Gervin for the scoring title. According to NBA.com, Denver coach Larry Brown asked Thompson if he "wanted to go for it," but Thompson shrugged it off and played within the flow of the game.
Thompson, however, couldn't miss. He made his first eight shots from the floor en route to a 32-point quarter. He added 21 more in the second quarter, giving him 53 points at halftime.
After a six-point third quarter, Thompson closed out the game with 14 points as the Pistons outlasted the Nuggets 139-137. His stats were off the charts. Thompson made 28 of 38 shots from the floor and went 17-for-20 from the free-throw line. Gervin, however, beat him by percentage points for the scoring title after he scored 63 points in his game.
Thompson finished that season with a 27.2 points-per-game average, a career-high. He also was named an NBA All-Star for the second straight year.
Thompson was one of the best scorers in the NBA
Thompson was loaded with athletic ability, and he proved he was an all-time great in the scoring department. He played his first professional season in the ABA with the Nuggets. He was an All-Star that year after putting up 26.0 points and 6.3 rebounds. The ABA and NBA merged the following year, and he continued on with the Nuggets, where he played six more seasons.
After the 1977-78 season, Thompson signed a record-setting deal that paid him $800,000 for each of the next five years. In the first year of his new deal, he maintained his All-Star status, averaging 24.0 points in 76 games. The following year, Thompson's world collapsed. He suffered a foot injury that limited him to 39 games. He also turned to drugs when he felt lonely and unable to contribute to his team.
"Everybody thinks it (drug use) started when I got the contract," Thompson said in August 1983, per United Press International. "But I didn't start doing a lot of drugs — it didn't become a problem — until about 1980.
"I had a lot of free time with nothing to do. It wasn't a good feeling not to be able to play and contribute. Most of my friends were team members, and it's always been that way. The team was out traveling, and even when I went to practice, I didn't feel like I was part of the team. You feel a lot of loneliness and isolation."
The Nuggets traded Thompson to the Seattle SuperSonics in 1982. In his first season in Seattle, he became an All-Star again, even though his scoring average dipped to 15.9 points. He missed most of the next season — his last — due to drug rehabilitation.
"When I went to Seattle, I had in mind I was going to stop drugs completely," Thompson said, per UPI. "Most of last summer and the first part of the season, I had stopped using it. When I started back doing it, I wasn't able to stop."
Despite the injuries and drug addiction that affected his career, Thompson was inducted into the Naismith Memorial Basketball Hall of Fame in 1996.