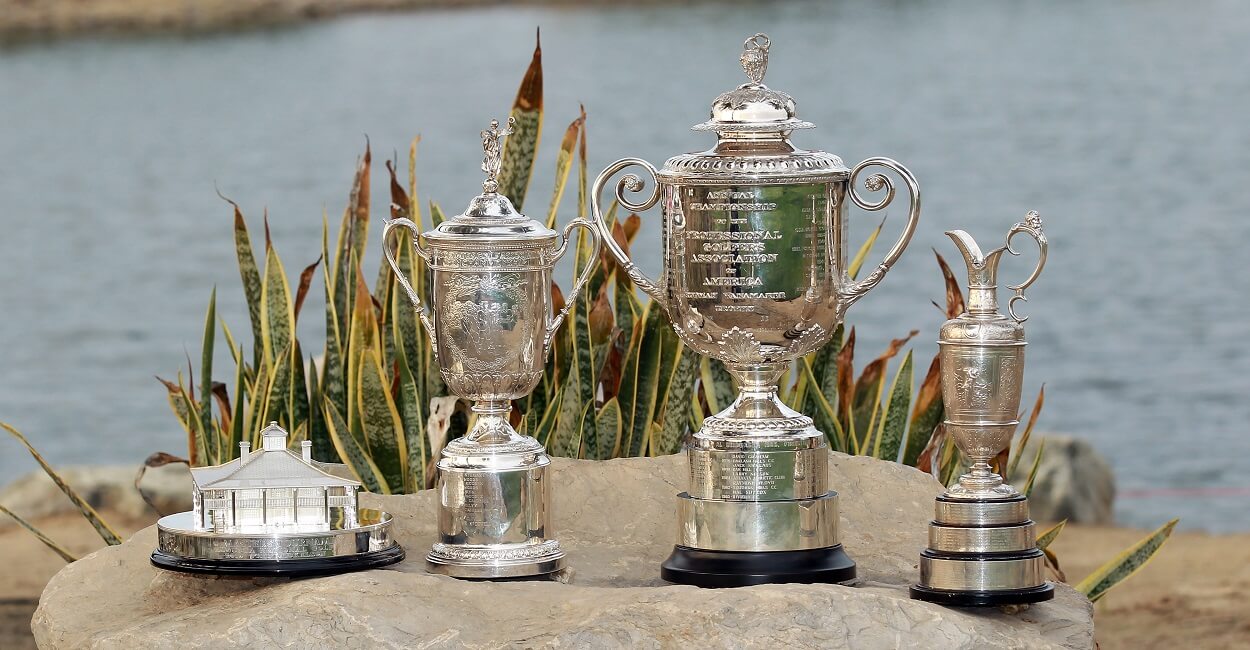 How Many Golfers Have Won 5 Major Championships?
A look at the golfers who've won at least five major championships.
In the long and storied history of men's major championship golf, a lineage that dates back to the inaugural edition of The Open Championship in 1860, a total of 231 different players have won at least one of the four professional majors.
Along with The Open Championship, of course, the other three are the Masters, the PGA Championship, and the U.S. Open. The British Amateur and the U.S. Amateur were once considered major championships, which is how Bobby Jones accomplished his "Grand Slam" in 1930. But for the purposes of this piece, we're sticking with the four modern majors.
Of the 231 players who've won at least one major, 86 have won at least two. Of those 86, 46 have won three or more. And of those 46, the number to win at least four dwindles to 29.
As for those who've won five or more major championships, that specific club currently has 20 members, the latest being Brooks Koepka, who captured No. 5 at the 2023 PGA Championship at Oak Hill.
20 golfers have won at least five men's major championships
Here's a list of the 20 golfers who've won five or more major championships.
| Player | Masters | PGA | U.S. Open | The Open | Total |
| --- | --- | --- | --- | --- | --- |
| Jack Nicklaus | 6 | 5 | 4 | 3 | 18 |
| Tiger Woods | 5 | 4 | 3 | 3 | 15 |
| Walter Hagen | 0 | 5 | 2 | 4 | 11 |
| Ben Hogan | 2 | 2 | 4 | 1 | 9 |
| Gary Player | 3 | 2 | 1 | 3 | 9 |
| Tom Watson | 2 | 0 | 1 | 5 | 8 |
| Harry Vardon | 0 | 0 | 1 | 6 | 7 |
| Bobby Jones | 0 | 0 | 4 | 3 | 7 |
| Gene Sarazen | 1 | 3 | 2 | 1 | 7 |
| Sam Snead | 3 | 3 | 0 | 1 | 7 |
| Arnold Palmer | 4 | 0 | 1 | 2 | 7 |
| Lee Trevino | 0 | 2 | 2 | 2 | 6 |
| Nick Faldo | 3 | 0 | 0 | 3 | 6 |
| Phil Mickelson | 3 | 2 | 1 | 0 | 6 |
| James Braid | 0 | 0 | 0 | 5 | 5 |
| John Henry Taylor | 0 | 0 | 0 | 5 | 5 |
| Byron Nelson | 2 | 2 | 1 | 0 | 5 |
| Peter Thomson | 0 | 0 | 0 | 5 | 5 |
| Seve Ballesteros | 2 | 0 | 0 | 3 | 5 |
| Brooks Koepka | 0 | 3 | 2 | 0 | 5 |