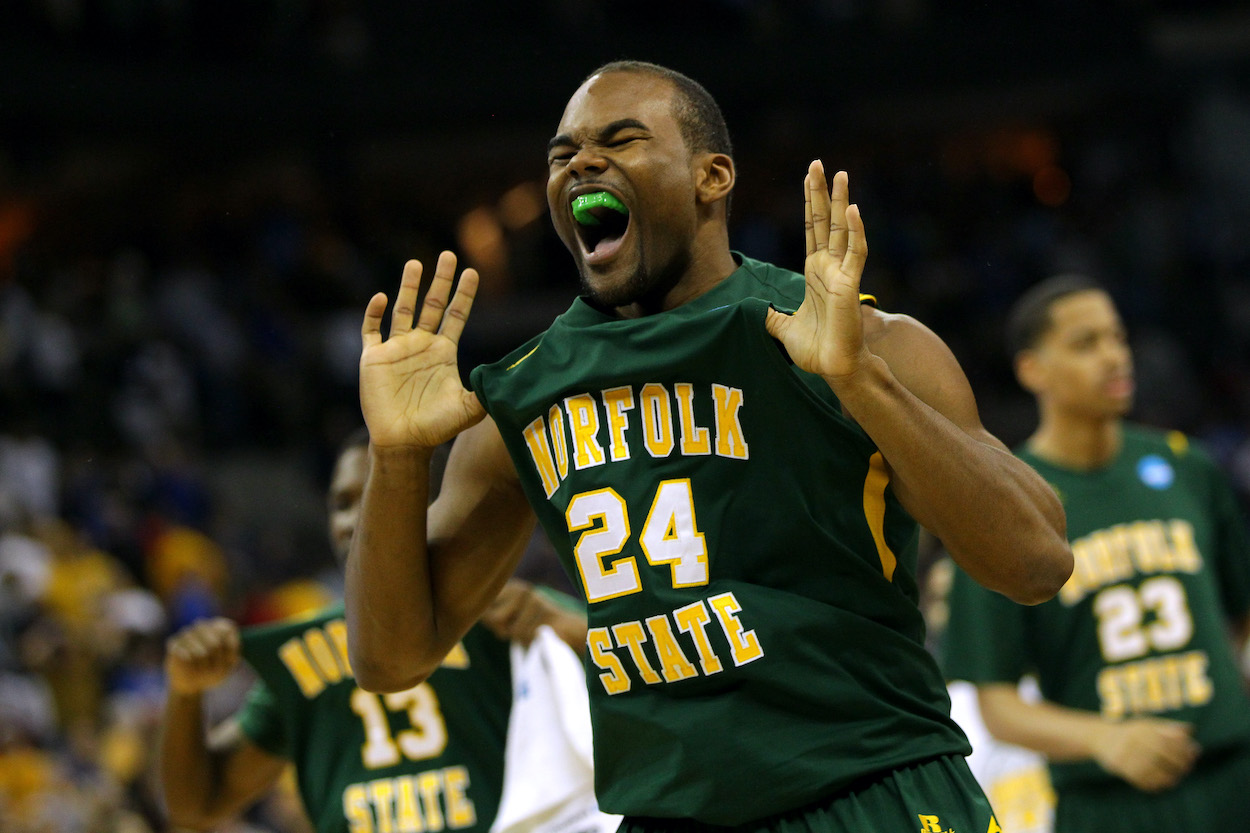 How Many Times Has a 15 Seed Upset a 2 Seed in the NCAA Tournament?
We know only one 1 seed has ever lost to a 16 seed, but how many 2 seeds have lost to 15 seeds in NCAA Tournament history?
Ah, March Madness. Where stats can be thrown out the window and the impossible becomes possible. There's nothing better than a huge upset in the NCAA Tournament, but we haven't seen many 15 seeds triumph over 2 seeds. Since the tournament field expanded to 64 teams in 1985, only eight 15 seeds have scored upsets against 2 seeds. Let's take a look at the lucky few who have made NCAA Tournament history.
1991: 15 Richmond def. 2 Syracuse
In 1991, Richmond made history by becoming the first 15 seed to upset a 2 seed in the NCAA Tournament since the field expanded to 64 teams. The Spiders beat the Orange, 73-69, behind 18 points from Curtis Blair.
Jim Boeheim went on to have a legendary coaching career at Syracuse, but he'll always remember being the first head coach to fall to a 15 seed in March Madness.
1993: 15 Santa Clara def. 2 Arizona
Santa Clara might have one of the best mascot names in college basketball (Banana Slugs), but they'll also be in the NCAA record books forever for what they accomplished in 1993. Two years after Richmond broke the 15-seed barrier, Santa Clara stunned No. 2 Arizona, 64-61.
Steve Nash came off the bench to score 10 points for the Banana Slugs in 30 minutes. Hey, he went on to have a decent NBA career, right?
1997: 15 Coppin State def. 2 South Carolina
The first two times a 15 seed triumphed over a 2 seed, they both escaped by only a few points. But Coppin State changed that trend in 1997.
The Eagles squared off against South Carolina and dominated the second half en route to a 78-65 victory. Danny Singletary came off the bench to lead Coppin State in scoring with 22 points in the win.
2001: 15 Hampton def. 2 Iowa State
Hampton didn't just supply us with one of the biggest upsets in college basketball history, but they also gave us one of the most memorable celebrations in the NCAA Tournament.
After Iowa State missed a layup to win the game in the closing seconds, Hampton forward David Johnson ran over and lifted head coach Steve Merfeld in the air as he kicked his legs in the air in excitement. The image of Merfeld screaming in jubilation in the arms of his big man will live on in March Madness lure forever.
2012: 15 Lehigh def. 2 Duke
Now this was a fun one. C.J. McCollum, who's one of the most lethal scorers in the NBA today, put Lehigh on his back in 2012 to stun Duke in the first round of the NCAA Tournament. McCollum led the Mountain Hawks with 30 points, six rebounds, and six assists in the masterful performance.
Duke, led by Austin Rivers, Seth Curry, Quinn Cook, and Mason and Miles Plumlee, was one of the most popular picks to win it all in 2012. Lehigh didn't care about anyone's brackets.
2012: 15 Norfolk State def. 2 Missouri
Two in one year! That's right, the 2012 NCAA Tournament saw two 15 seeds upset a 2 seed in the first round. This time it was Norfolk State over a guard-heavy Missouri team that had national championship hopes.
Kyle O'Quinn, who went on to have a decent NBA career as a journeyman, led the Spartans with 26 points and 14 rebounds in the game.
2013: 15 Florida Gulf Coast def. 2 Georgetown
Everyone remembers Dunk City. Florida Gulf Coast dunked their way to an upset win over 2 seed Georgetown, 78-68, in 2013, but they weren't done there.
The team captivated America and made NCAA Tournament history by defeating San Diego State, 71-61, to advance to the Sweet 16. By doing so, the Eagles became the first 15 seed to win two games in the NCAA Tournament, and they remain the only team to accomplish the feat.
2016: 15 Middle Tennessee State def. 2 Michigan State
Surely, no one saw this one coming. Tom Izzo is one of the most successful head coaches in March Madness history. He holds a 52-21 NCAA Tournament record at Michigan State, has eight Final Four appearances, and won a national title in 2000.
But in 2016, he suffered the biggest upset of his coaching career when Michigan State fell to Middle Tennessee State, 90-81, as a 2 seed.
No 15 seed has accomplished the feat since 2016. Maybe 2021 will be the year.