How Many Times Have the San Francisco 49ers Played in the Super Bowl?
The San Francisco 49ers are easily one of the most successful franchises in NFL history. While the franchise barely cracks the top 10 in all-time regular-season wins, the Niners are currently tied for second in victories in the NFL Playoffs.
And while it took the franchise some time to make its first Super Bowl appearance, the 49ers have won the Lombardi Trophy five times, tied with the Dallas Cowboys for the second-most all-time. Only the New England Patriots and Pittsburgh Steelers have won more with six.
As for overall appearances in the title game, only four franchises have made more than San Francisco.
How many times have the San Francisco 49ers been to the Super Bowl?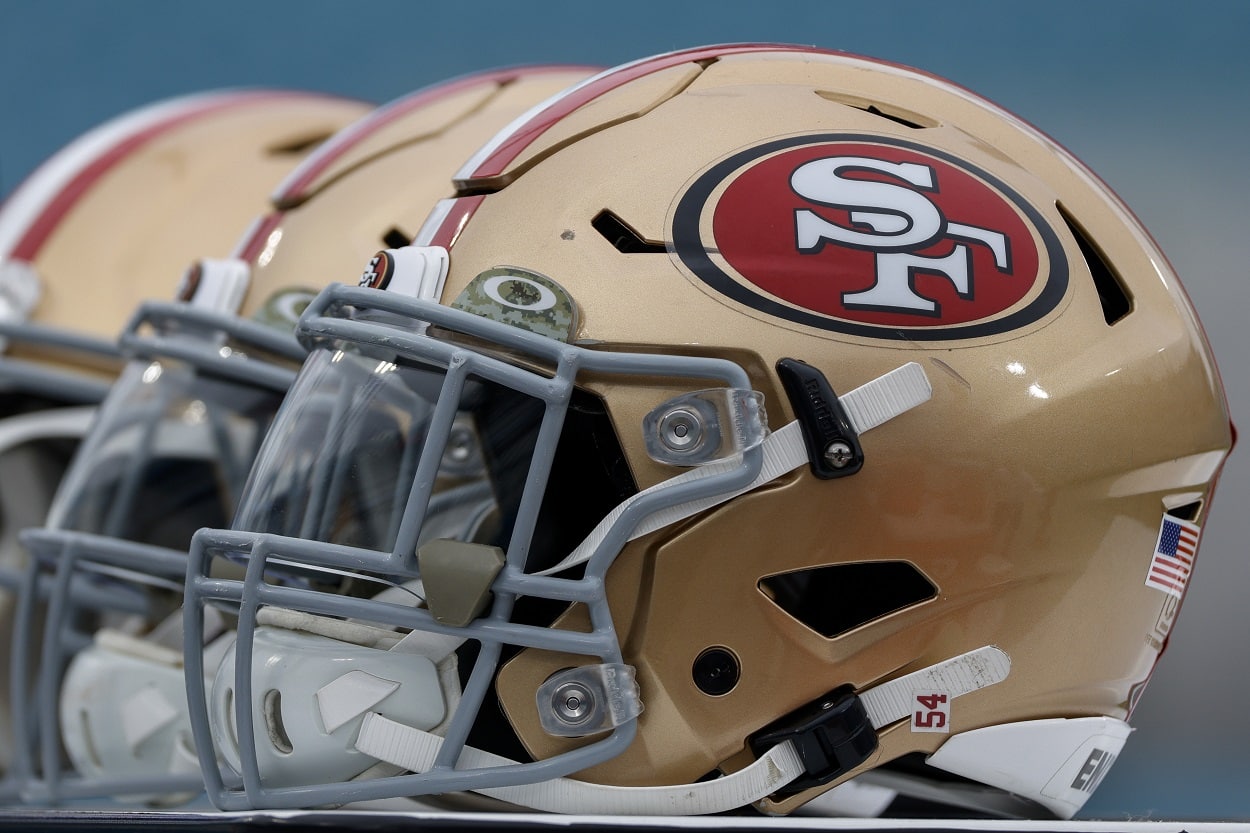 The San Francisco 49ers have appeared in the Super Bowl seven times. Only the New England Patriots (11), Pittsburgh Steelers (eight), Dallas Cowboys (eight), and Denver Broncos (eight) have appeared in more.
The Niners made their first Super Bowl appearance following the 1981 NFL season, taking a 26-21 victory over the Cincinnati Bengals behind a strong performance from Joe Montana, who won MVP honors. Montana would lead the 49ers to three more Super Bowl appearances over the next decade, all of which resulted in victories.
The dynasty was capped off with a 55-10 win over the Denver Broncos following the 1989 season, which remains the largest margin of victory in Super Bowl history.
San Francisco made its next appearance in the title game following the 1994 season and became the first franchise to win five Super Bowls with a 49-26 win over the San Diego Chargers behind a record six touchdown passes from Steve Young.
The 49ers made their sixth appearance following the 2012 season and took their first Super Bowl loss in a 34-31 defeat at the hands of the Baltimore Ravens. They were also defeated in appearance number seven, taking a 31-20 loss to the Kansas City Chiefs following the 2019 campaign.
| | | |
| --- | --- | --- |
| Date | Game | Result |
| 1/24/82 | Super Bowl 16 | 49ers-26, Bengals-21 |
| 1/20/85 | Super Bowl 19 | 49ers-38, Dolphins-16 |
| 1/22/89 | Super Bowl 23 | 49ers-20, Bengals-16 |
| 1/28/90 | Super Bowl 24 | 49ers-55, Broncos-10 |
| 1/29/95 | Super Bowl 29 | 49ers-49, Chargers-26 |
| 2/3/13 | Super Bowl 47 | Ravens-34, 49ers-31 |
| 2/2/20 | Super Bowl 54 | Chiefs-31, 49ers-20 |