How Much Does It Cost to Play Torrey Pines Golf Course?
First opened in 1957, Torrey Pines Golf Course, which is owned and operated by the city of San Diego, has been an annual stop on the PGA Tour since 1968. And that annual stop has seen many of golf's all-time greats walk away with a trophy, including Jack Nicklaus, Arnold Palmer, Gary Player, Tom Watson, Phil Mickelson, and, of course, Tiger Woods.
The event currently known as the Farmers Insurance Open utilizes both the North Course and the South Course of the 36-hole facility in La Jolla, both of which were originally designed by William Francis Bell. The North Course, the shorter of the two tracks but also a touch more scenic, was redesigned in 2016 by Tom Weiskopf and can play as long as 7,258 yards.
The South Course, which hosts the final two rounds of the Farmers and was the lone course used both times Torrey Pines hosted the U.S. Open, was redesigned by Rees Jones in 2001 and can play as long as 7,804 yards.
And the most beautiful thing about Torrey Pines — well, outside of the breathtaking coastal views anyway — is that anyone can play it.
How much does it cost to play Torrey Pines?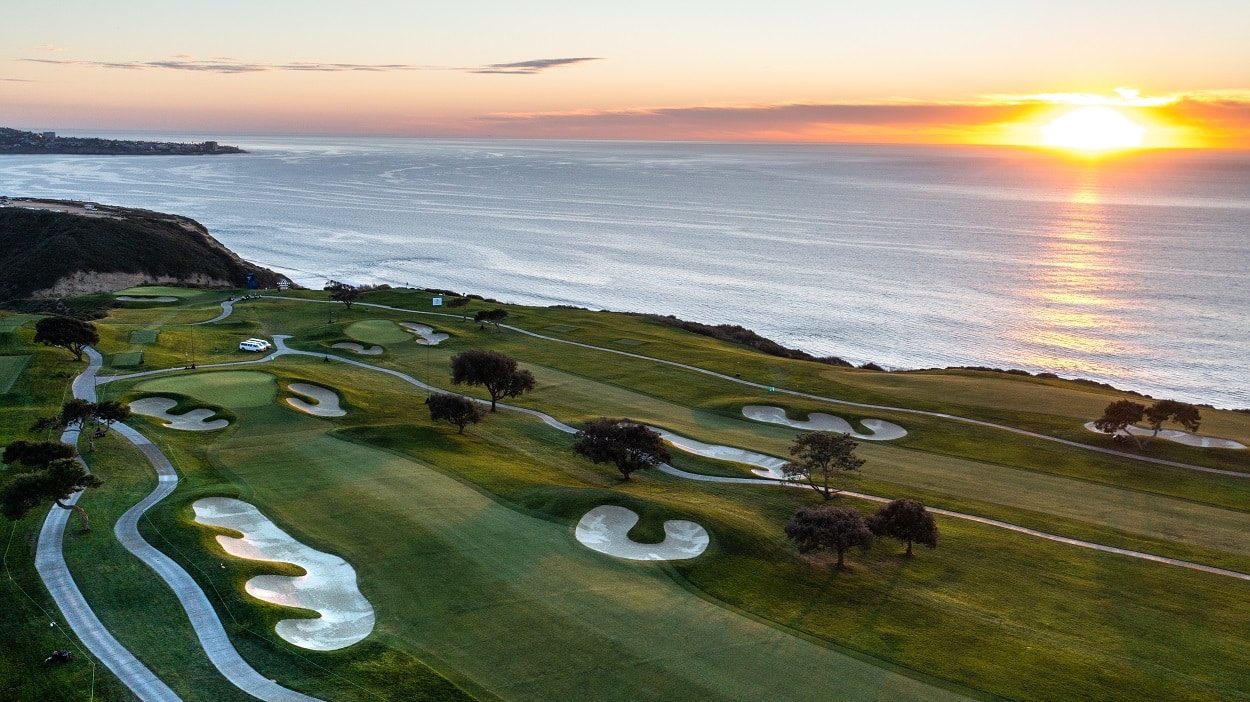 As you can imagine, both courses at Torrey Pines are consistently voted as two of the best public courses in the United States. And given the history of the venue, especially the South Course, it's not easy to get a tee time.
What's nice is that unlike several other famous courses, such as Pebble Beach, Torrey Pines isn't ridiculously expensive, at least not for a PGA Tour-caliber track. And if you're a San Diego resident, the rates are absolutely phenomenal.
Per the Torrey Pines website, resident greens fees for the North Course are $47 for Monday thru Thursday and $62 for Friday thru Sunday and holidays. The cart fee is a bit higher than your normal muni, however, at $45. For the South Course, residents can expect to pay $67 Monday thru Thursday and $83 Friday thru Sunday and holidays.
The non-resident fees are certainly much higher. But, again, they're not completely out of control. For Monday thru Thursday, out-of-towners will pay $141 for the North Course and $223 for the South Course, plus the $45 cart fee, of course.
On weekends and holidays, the rates bump up to $176 for the North Course and $278 for the South Course.
Reserving a tee time far in advance brings in an extra fee, but it does at least ensure you a spot. It's not uncommon for golfers looking to grab one of the highly-coveted "walk-on" slots early in the morning to show up the night before and sleep in the parking lot.