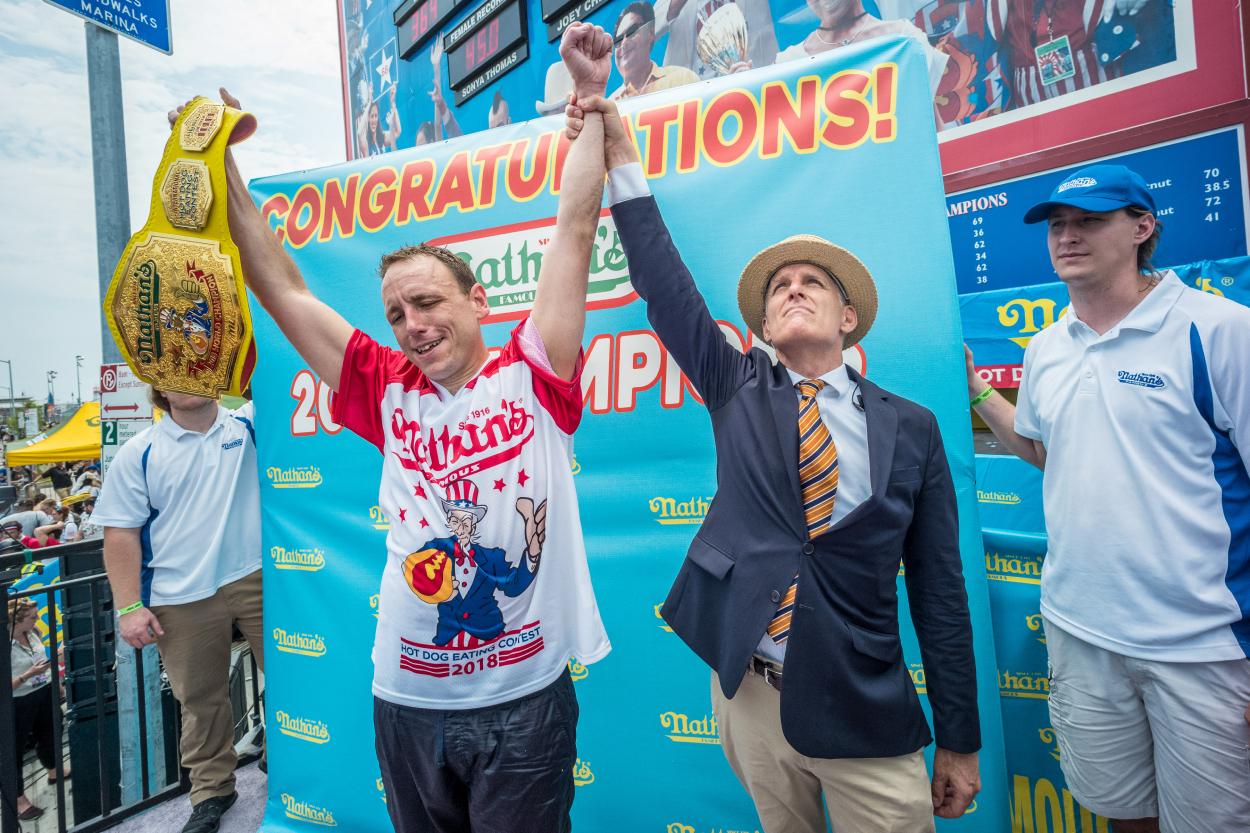 How Much Money Do Nathan's Hot Dog Eating Contest Winners Receive?
The Nathan's Hot Dog Eating Contest has become a beloved American tradition on the Fourth of July. We have watched the likes of Joey Chestnut dominate in the men's contest and Miki Sudo crush her competitors in the women's competition for years. So, how much money do winners receive at the event?
Just like fireworks and cookouts, the Nathan's Hot Dog Eating Contest is an American tradition on the Fourth of July. For years, we have watched competitive eaters go at it and quickly scarf down as many hot dogs as they can within 10 minutes. So, how much money do these legendary eaters (and yes, sports icons) make for winning the annual contest?
Here's your answer.
The Nathan's Hot Dog Eating Contest winners receive thousands of dollars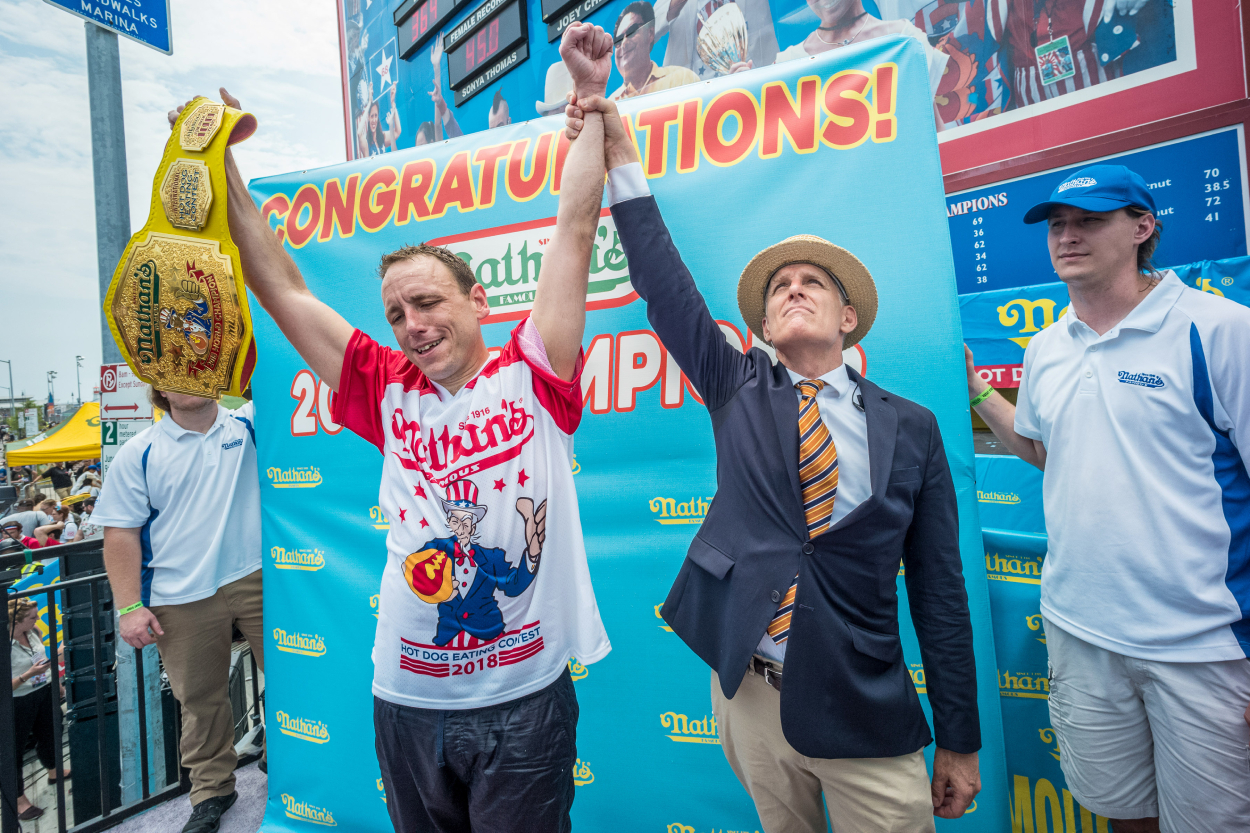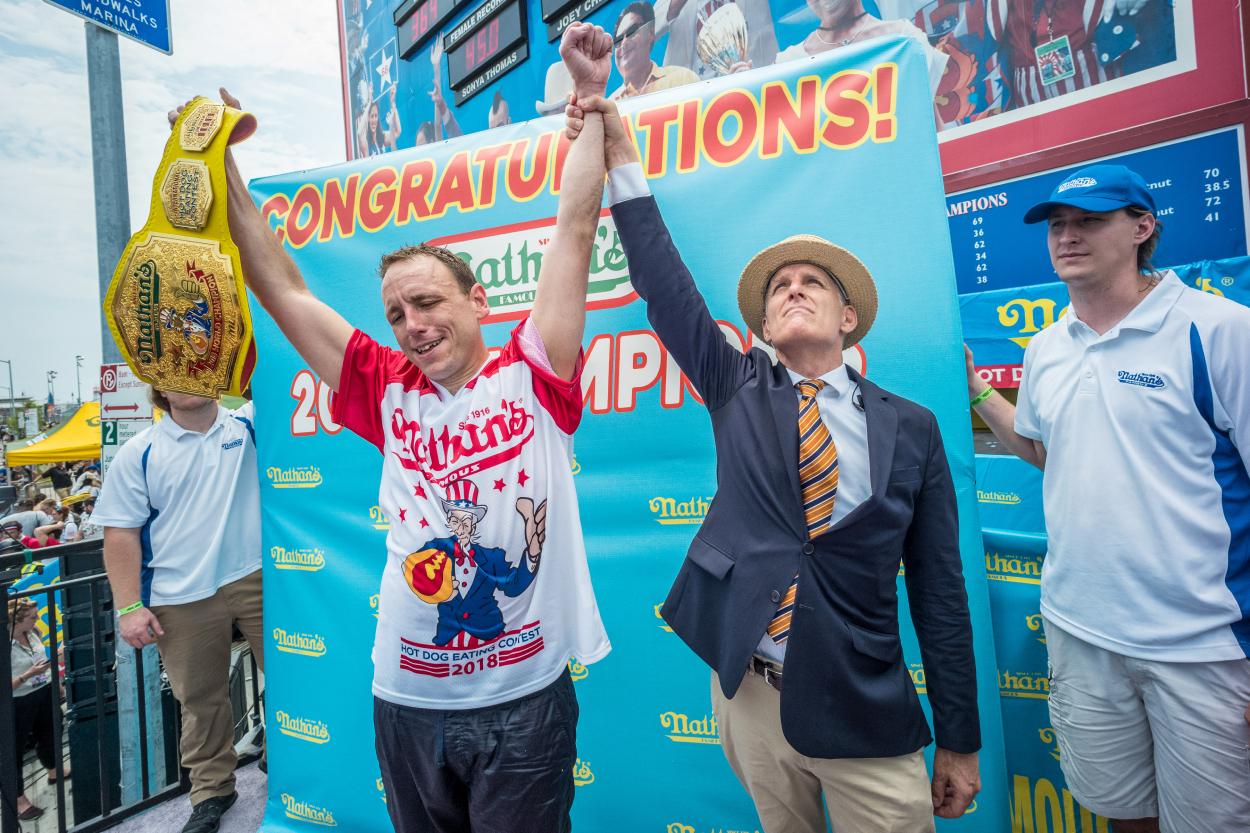 According to Sporting News, as of the 2020 Nathan's Hot Dog Eating Contest, the competition has a $40,000 purse. 
Each winner of the men's and women's contests receive $10,000. The second-place finishers both win $5,000, third place receives $2,500, fourth wins $1,500, and fifth gets $1,000.
While that may not seem like a whole lot of cash, especially when considering how much food the winners put into their bodies, it's one of the larger prizes out of all the Major League Eating (MLE) contests, per the MLE official site. The Hooters World Wing Eating Championship is another one with a considerable purse that sits at $10,000.
No matter how much the contestants can win, though, the two grand prizes have consistently gone to the same contestants in recent years.
Miki Sudo has dominated the women's competition
The first women's Nathan's Hot Dog Eating Contest took place in 2011, and it has been dominated by Miki Sudo almost ever since.
After seeing Sonya Thomas win it from 2011 through 2013, Sudo has won it every year since 2014. She ate 34 hot dogs during her first win before eating 38 in 2015 and 2016, and 41 in 2017. Sudo then scarfed down 37 and 31 hot dogs in 2018 and 2019. She set the women's world record in 2020, though, with 48.5 hot dogs.
Sudo also holds world-eating records for ice cream, short-form (16.5 pints in six minutes), kimchi (8.5 pounds in six minutes), and wild rice hotdish (14 pounds in eight minutes).
However, according to Sporting News, Sudo's Nathan's hot dog title will be up for grabs in 2021, as she is expecting a child.
Joey Chestnut is the king of the Nathan's Hot Dog Eating Contest
The past decade-plus in sports has been dominated by Tom Brady, LeBron James — and Joey Chestnut.
He won his first Nathan's Hot Dog Eating Contest in 2007 and ultimately won seven more consecutively after that. Matthew Stonie upset the king in 2015, but Chestnut has won every contest again since then. He has won the title 13 times in total, and, in 2020, he set a new world record with 75 hot dogs in 10 minutes.
Chestnut is not just great at eating hot dogs, though; he holds more than 50 other world eating records.
His career as a competitive eater has not just led to him winning the $10,000 prize year after year, either. Chestnut's other competition wins, as well as his business endeavors that include owning collections of his own sauces, have led to the pro eater racking up an estimated $2 million net worth, according to Celebrity Net Worth.
2021 Nathan's Hot Dog Eating Contest info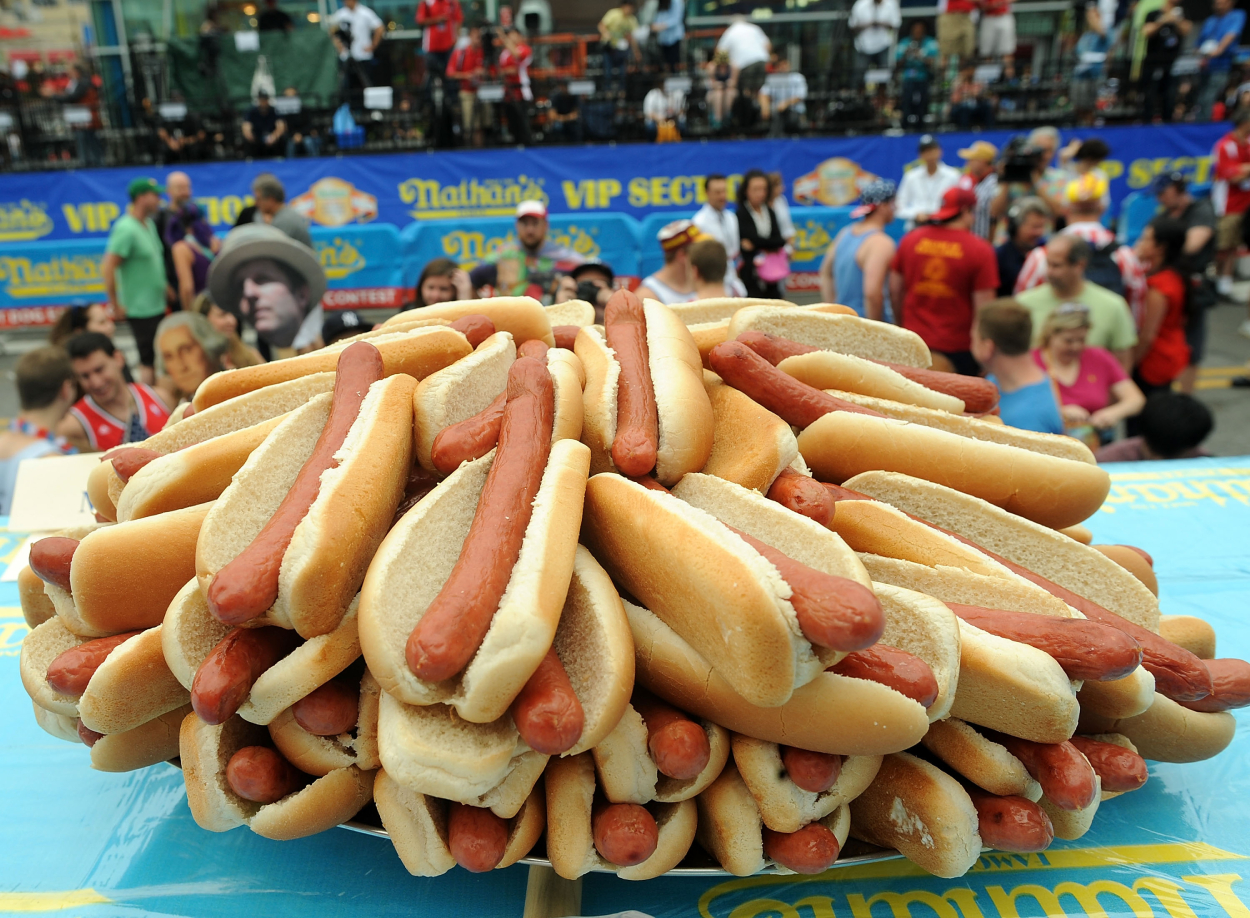 After a year away due to COVID-19, the Nathan's Hot Dog Eating Contest will return to Coney Island on July 4 with fans in attendance. The event was held at a private location and only in front of media members in 2020.
Coverage for the women's contest starts at 11:30 a.m. Eastern Time on ESPN3. Chestnut will then look for his 14th Nathan's Hot Dog Eating Contest title when the men's competition kicks off at noon on ESPN.
Get your popcorn (or hot dogs) ready, it's almost time to see Chestnut claim that $10,000 prize again. Or maybe we will see someone else steal his crown.
Past contest results courtesy of Nathan's Famous; World records and 2021 event info courtesy of Major League Eating