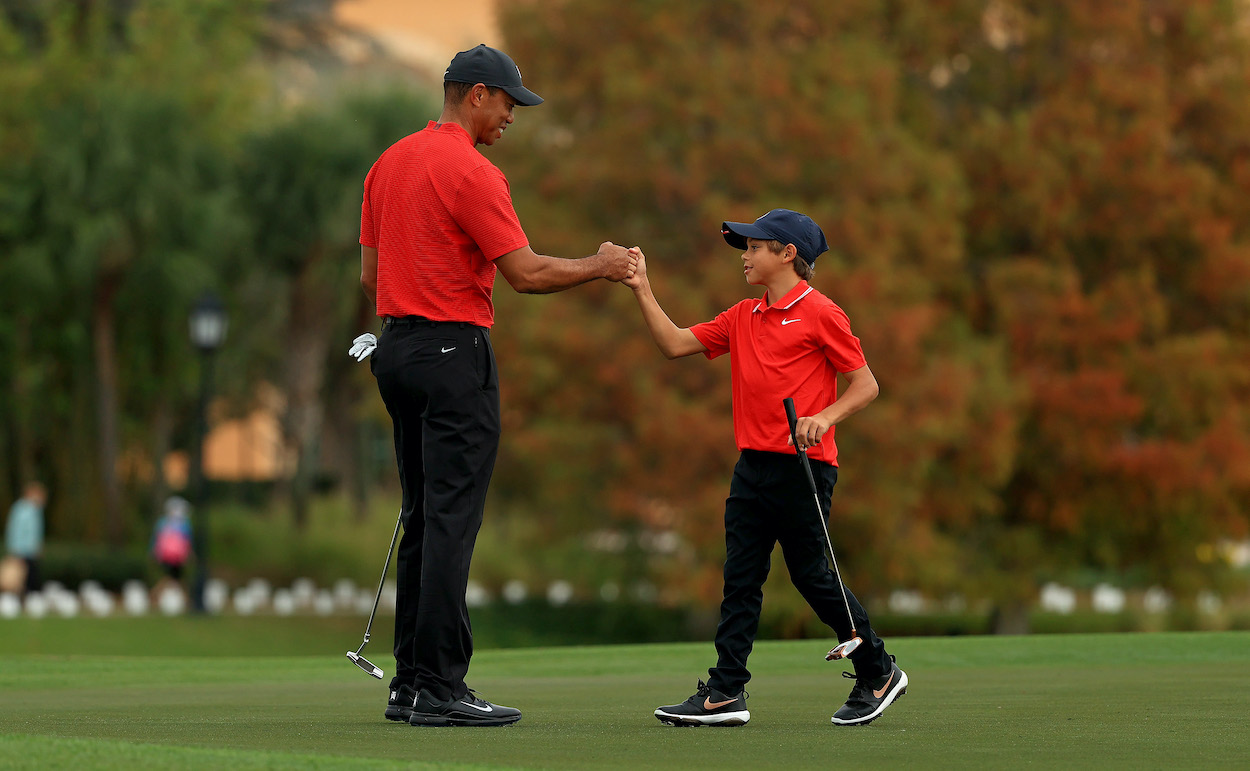 How to Watch Tiger Woods and His Son Charlie Compete in the PNC Championship
Here's how you can watch and follow along with Tiger Woods' highly anticipated return to the golf course at this weekend's PNC Championship.
Tiger Woods is back, baby.
After nine months of grueling rehab, Woods is set to return to professional golf this weekend at the PNC Championship at the Ritz-Carlton Golf Course in Orlando, Florida. He will team up with his son, Charlie, for the second straight year to compete in the family golf event.
So, how can you watch Woods' triumphant return to the course, and what should we expect from the golf legend?
Tiger Woods to compete alongside son Charlie in PNC Championship
After Woods suffered multiple leg fractures in a terrifying car accident back in February, his future in professional golf looked bleak. Woods is now 45 years old and has undergone a handful of back surgeries in addition to the injuries he sustained in the accident earlier this year.
Many fans wondered whether we would ever see Tiger on the course again.
But just nine months after having a rod inserted into his right tibia, Woods is set to make his highly anticipated return to professional golf at this weekend's PNC Championship. Woods will team up with his son, Charlie, for the second year in a row at the event.
Golf fans, rejoice.
How to watch Tiger Woods' return to golf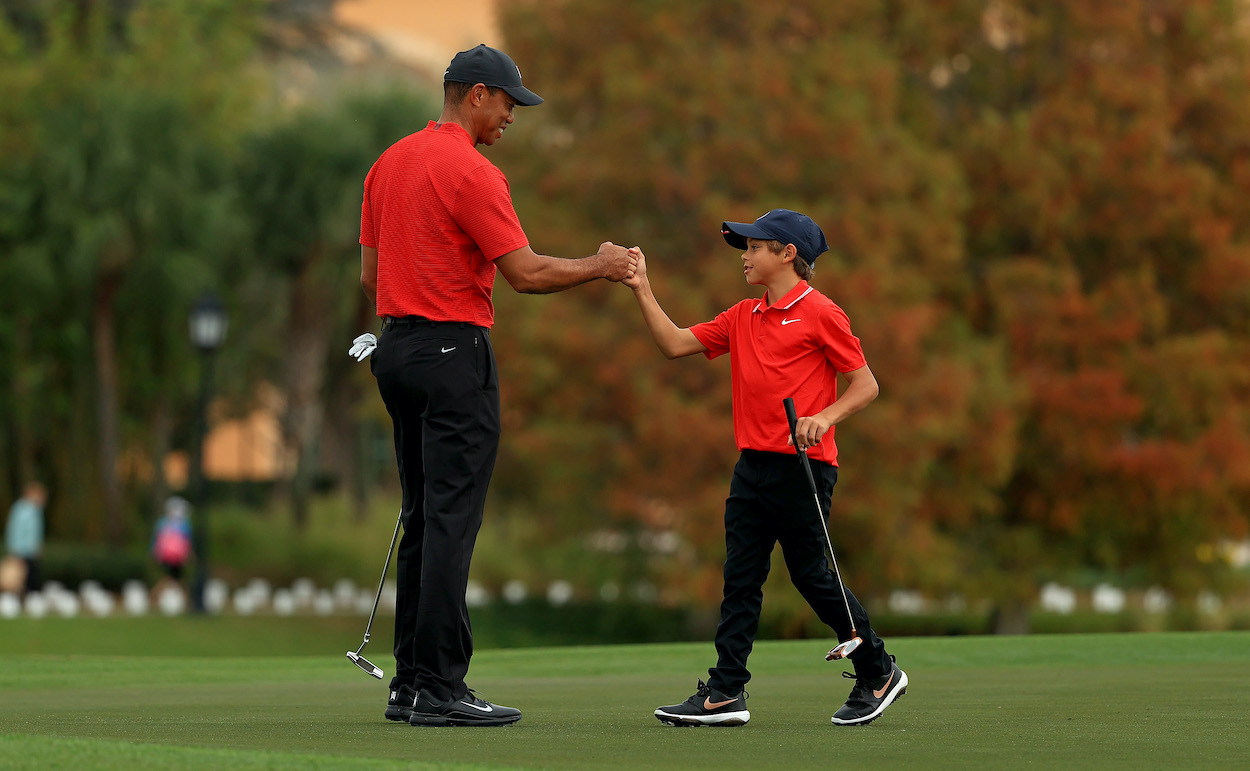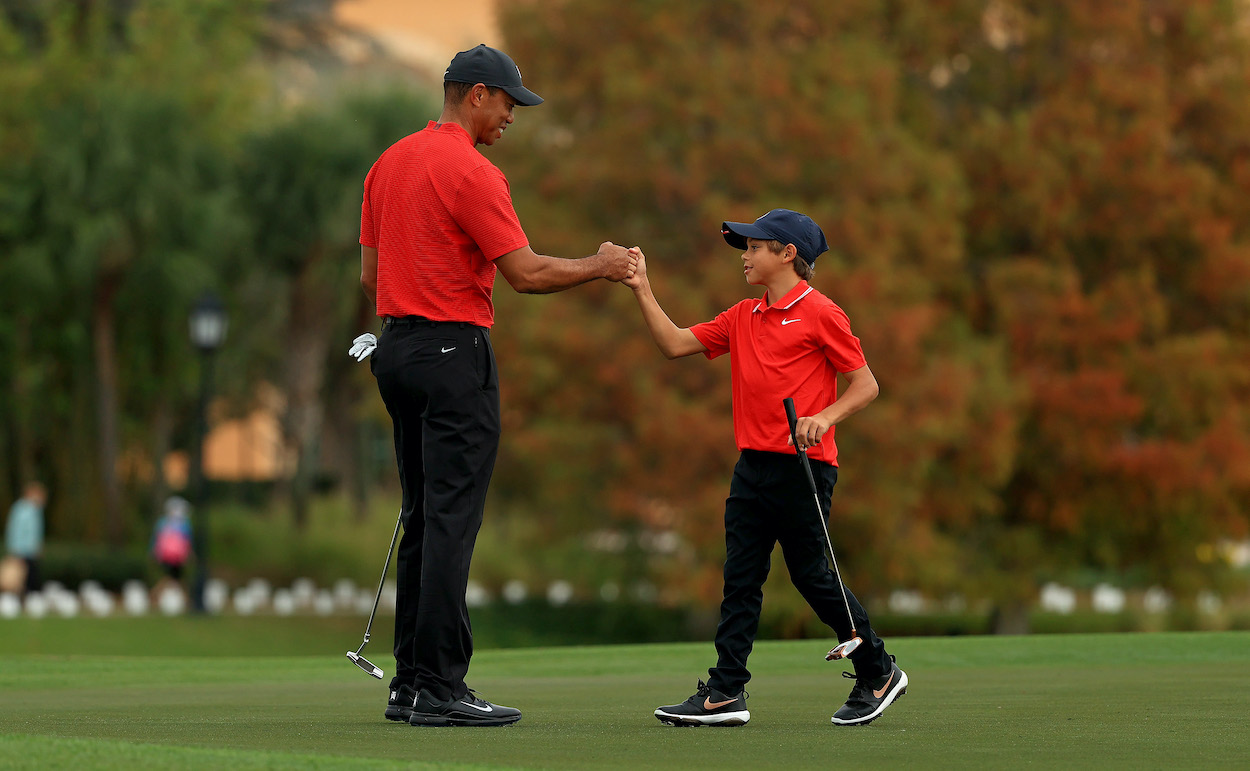 The PNC Championship is only a 36-hole tournament over the course of two days. Players will compete with their partners in a scramble format for one round on Saturday and one round on Sunday.
Here's how you can watch Tiger's triumphant return this weekend:
Saturday, December 18
Golf Channel: 11 a.m. – 12 p.m. ET
NBC: 3 – 6 p.m.
Peacock: 12:30-1:30 p.m.
Golf Channel (re-air): 6:30 – 10:30 p.m.
Sunday, December 19
Golf Channel: 12:30 – 1 p.m. ET
NBC: 1 – 4:30 p.m.
Peacock: 11 a.m. – 12 p.m.
Golf Channel (re-air): 5 – 9 p.m.
Team Woods will tee off with Justin Thomas and his father, Mike, at 12:18 p.m. ET on Saturday. Sunday tee times will be decided the night before.
What to expect from Team Woods
Woods hasn't played a professional round of golf in a year, and considering what he's been through since then, it makes sense for expectations to be relatively low. But he might shock some people with how well he's playing right now.
"It's crazy how good he's hitting it and how far he's hitting, for what he's been through," Mike Thomas said this week.
"We all know him well enough to know that he's never going to admit to being close to where he'd like to be. More importantly, where he would normally be compared to now. More importantly is his shot, whatever he has right now. … He's still got some speed. He's got some length. Hits a lot of really, really flush shots. I mean, I was surprised."
Don't be surprised if we get a vintage Tiger performance this weekend.
Like Sportscasting on Facebook. Follow us on Twitter @sportscasting19.