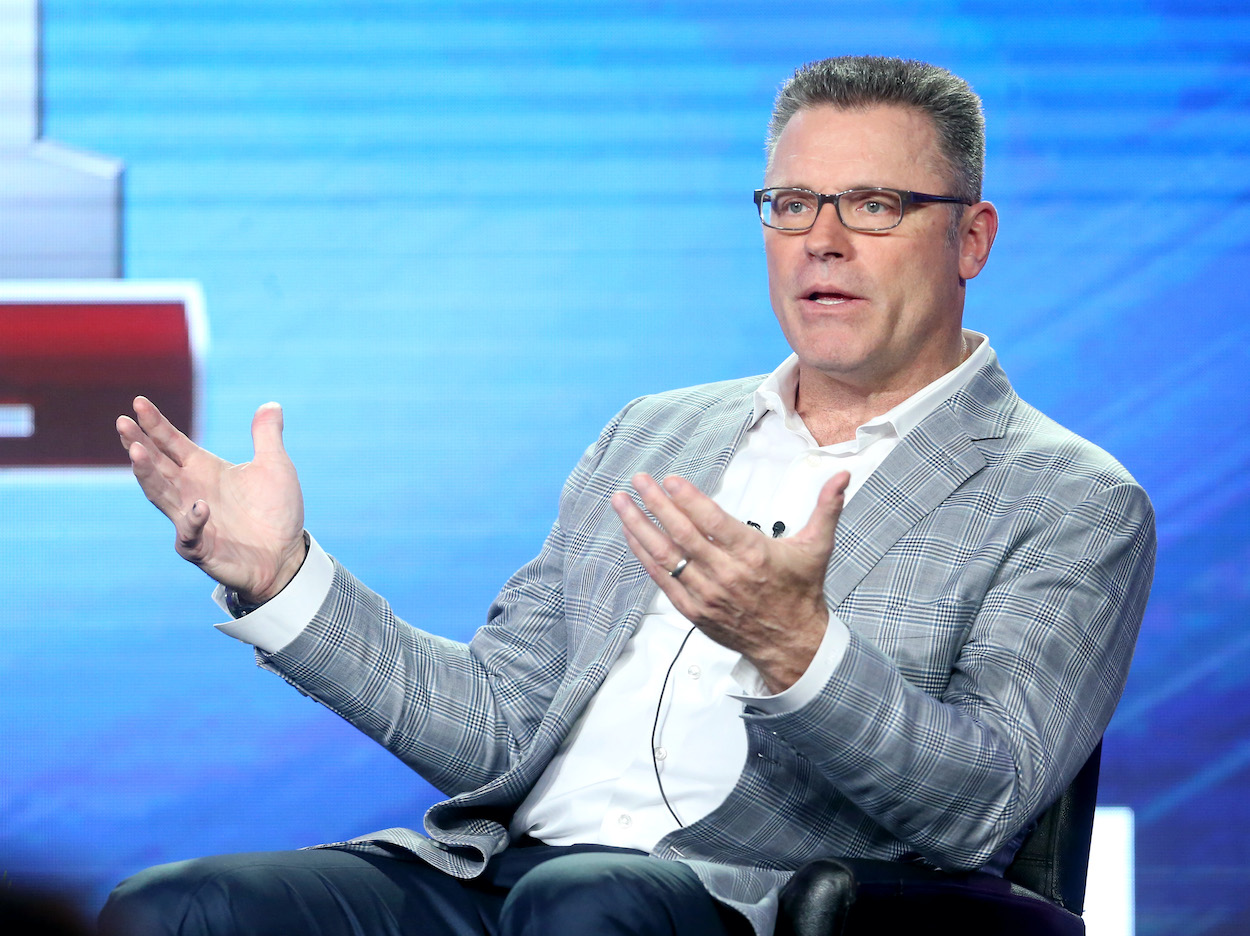 Howie Long Freezes in Odd Moment of Confusion on Fox NFL Pregame Show and Jimmy Johnson Lets Him Hear About It
Howie Long got confused and froze during the Fox NFL Sunday pregame show and Jimmy Johnson called him out for it.
Since retiring from the game after the 1993 season, Howie Long has been a mainstay with Fox Sports as an analyst for the network's NFL pregame coverage. He typically provides straight news but, on occasion, jumps into the mix with Terry Bradshaw and his antics. 
Outside of that silliness, Bradshaw has had his share of senior moments during the broadcast when he gets confused. Just a few weeks ago, it was Long who called out Bradshaw for his age. On Sunday, the tables were reversed when Long had his own moment of confusion. And Jimmy Johnson let him hear about it. 
Howie Long gets confused during Fox NFL pregame show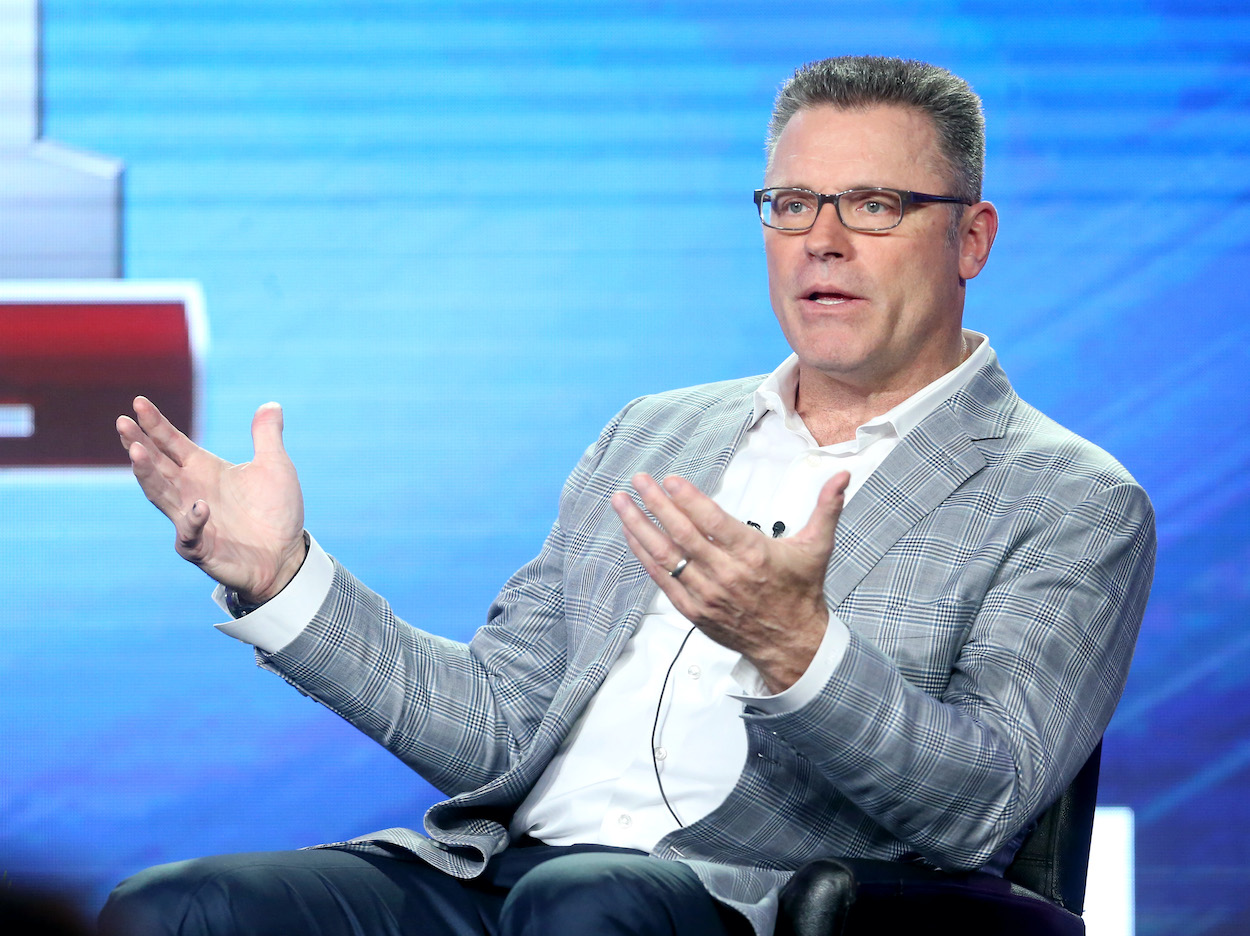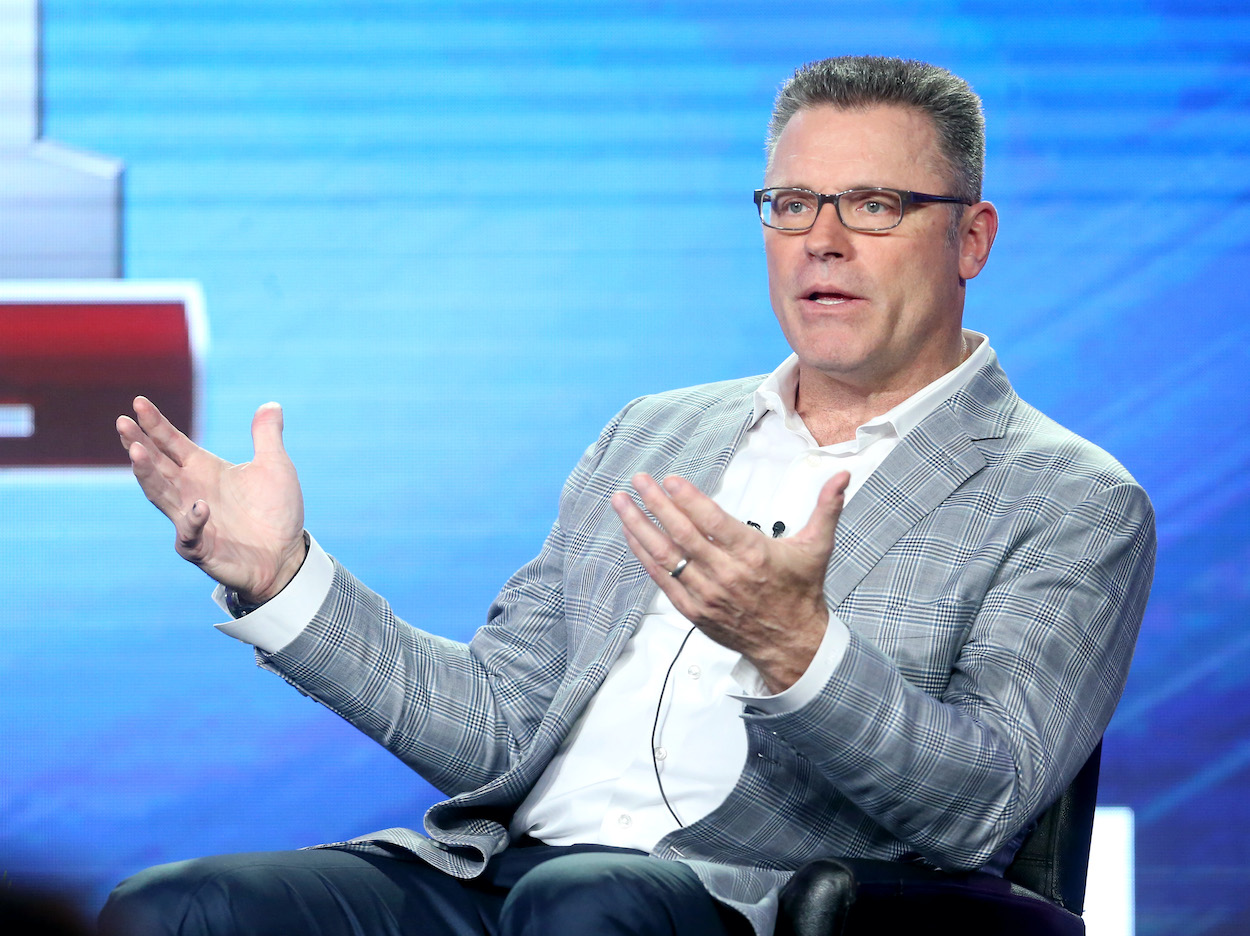 At the beginning of the Fox NFL Sunday pregame show, host Curt Menefee talked about the Monday night matchup with the Las Vegas Raiders visiting the LA Chargers. After Michael Strahan talked about the Chargers not receiving a lot of credit because the Rams get most of the attention, Long talked about the Raiders and their early-season success. 
"Great divisional game, the Raiders go back to LA where they won a Super Bowl," Long said. "They feel like they have a built-in fan base. The Raiders are 3-0. They beat three teams that won 10 games last year. Two of those games were in overtime. Gus Bradley's impact on that defense is tangible. They have multiple weapons on offense. 
"But I think the real story to me is, when we have a conversation about elite quarterbacks, we rarely, and I'm as guilty of this as anyone, not talk about David Carr," Long said, before quickly correcting himself. "Derek Carr has put up big numbers in the past. This year it's dynamic. They're No. 1 in yards per game at 471. No. 1 at 379 in passing yards per game. And I think he's an extension of Jon Gruden. He's made big throws both in the game and in post. In post," Long stammered. "Post. Uh. Uh. Overtime." Long found the word he was looking for, but the expression on his face admitted his confusion. Strahan and Bradshaw both busted out in laughter. 
"That was good," Long said twice. "I tell you what."
Strahan started talking about how the teams split the series last season and moved on from the moment. 
However, a few minutes later, when talking about the Giants and Jets and their combined 0-6 record, Jimmy Johnson, who was working from his home in Florida and was on video, wasn't so forgiving.  
"Curt, you look at these two teams, doing some Terry Bradshaw research on these two teams, they're as screwed up as Howie's post overtime," which drew a big laugh from all the crew, including Long, back in the LA studio. "There's not a lot of positives about these teams."   
Terry Bradshaw confused a week before 
Just last week, during the pregame show, Bradshaw experienced a confusing moment of his own while talking about the crop of young NFL quarterbacks. After Johnson detailed why he thought Justin Fields should be starting over Andy Dalton, Bradshaw was tasked with talking about Jets rookie quarterback Zach Wilson. 
"Robert Saleh, the head coach of the Jets, is going to do a great job with this kid," Bradshaw said. "He has everything he wants in a starting quarterback, a franchise quarterback. If you just look at when they got rid of the other quarterback, Darnoldson down to Carolina. 98 sacks."
"Who?" someone said off-camera.
"You add the son onto Darnold," Strahan chimed in. "Darnoldson?"
"On your list it says Darnold," Jay Glazer said, grabbing Bradshaw's arm and pointing to a piece of paper in his hand. 
"You're doing great," Long casually leaned in and smiled. 
Howie Long mocks Bradshaw's age earlier in season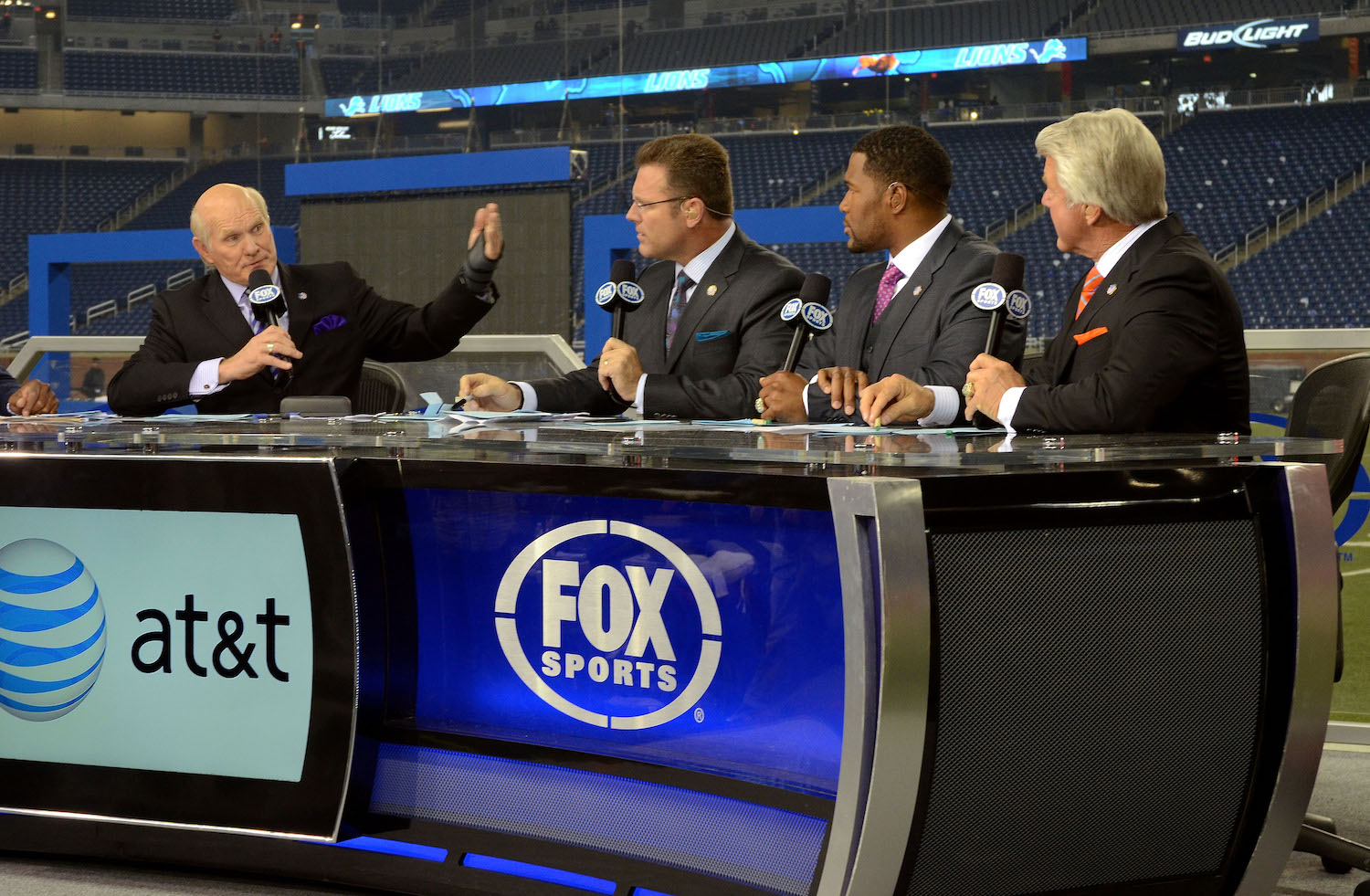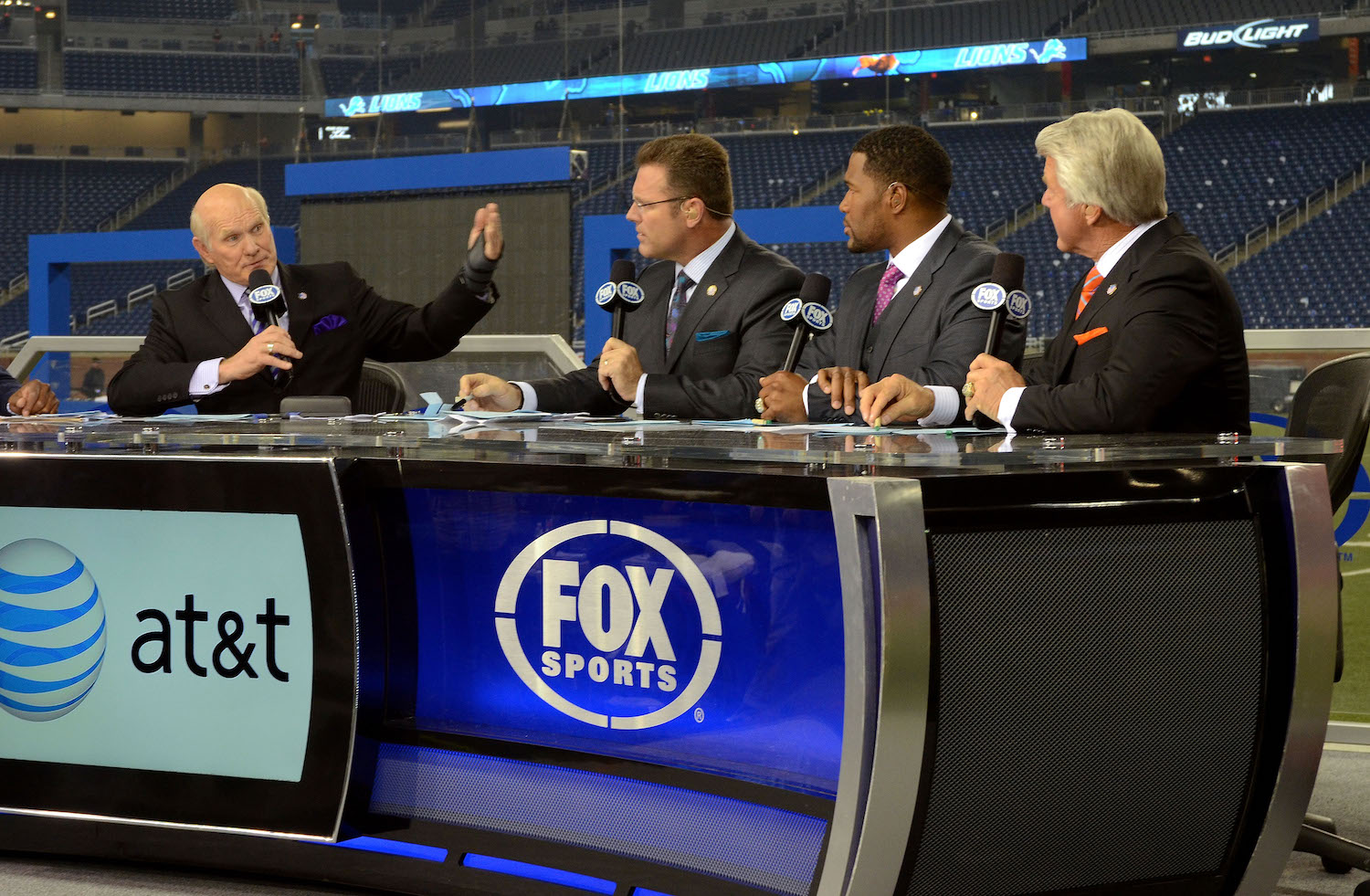 Ironically, Long made fun of the former Steelers quarterback's age during the broadcast just a couple of weeks earlier. In a segment talking about the Raiders-Steelers matchup called "Sin City vs. Steel City," the Hall of Famers were each given a question and then asked to present a case on behalf of their former team. 
When asked which team had a better chance of making a playoff run, Bradshaw walked over and got in Long's face. "Pittsburgh!" he said before backing up. 
"What's that, you walking up on me?" Long asked as he stepped forward toward the smaller former quarterback.
"Don't come over here," Bradshaw countered. "Hey, I ain't no easy way, boy."
"Old man's fight," Strahan announced.  
"I'd say you're going to walk over here and limp back, but you limped over here," Long said, taunting Bradshaw, which produced laughter from everyone on the set. 
"That's funny. Nobody wrote that for you. Folks, he did that on his own," Bradshaw said laughing. "I'm so proud of you." 
Long had a Bradshaw moment of his own on Sunday. The moment itself was odd for the 61-year-old former defensive star, but the reaction of those around him was quite entertaining.
Like Sportscasting on Facebook. Follow us on Twitter @sportscasting19.