Las Vegas Raiders Get Crucial Injury News After Thrilling Week 1 Win That Will Put Even More Pressure on Derek Carr and Darren Waller
The Las Vegas Raiders opened Allegiant Stadium with a bang, winning a thrilling overtime game against the Baltimore Ravens 33-27. It was a great start to 2021 for Jon Gruden and his squad, but it gets tougher from here. The Silver and Black travel east this week to the home of the Black and Yellow: Pittsburgh, Pennsylvania. The Raiders will take on the Pittsburgh Steelers in a big AFC matchup, but now they'll have to do it without one of their most dangerous offensive weapons.
Josh Jacobs is out with an injury for the Las Vegas Raiders Week 2 game against the Pittsburgh Steelers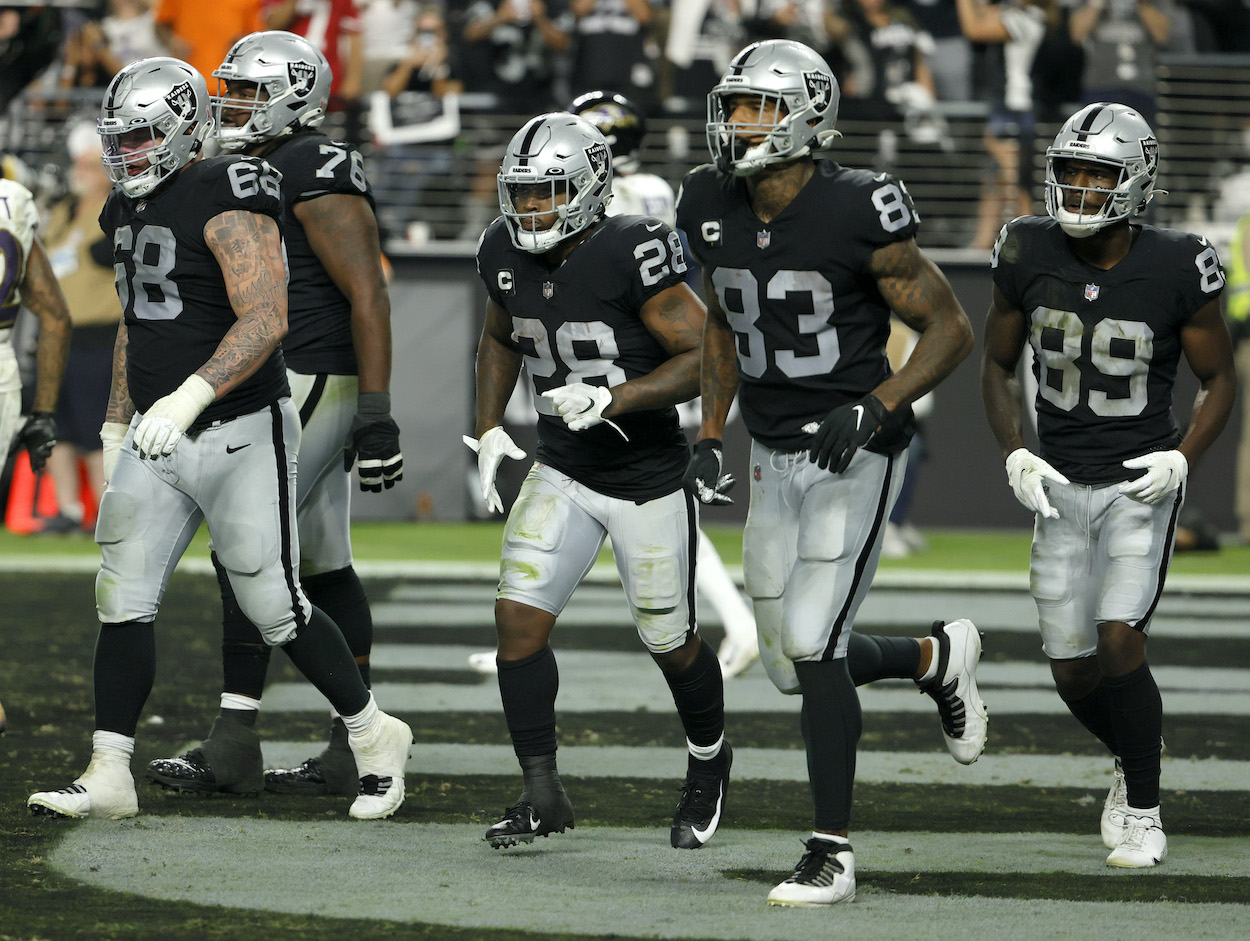 Josh Jacobs, the Las Vegas Raiders third-year running back out of Alabama, was a key to victory for the team on Monday night.  
The Oklahoma native ran for just 34 yards on 10 carries and had one catch for six yards. However, those raw numbers don't tell the full story. Jacobs had a two-yard touchdown plunge in the second quarter and a 15-yard scoring scramble t open the wild fourth quarter.
The advanced stats also show how well Jacobs played, despite the fact that he was battling the toe and ankle injuries that are keeping him out in Week 2. According to PFF, Jacobs came out of the Ravens game with a 75.0 Rushing Grade, which is fifth among RBs with 10+ carries. He also created 0.44 missed tackles per attempt, which ties him for fourth place among RBs with 5+ carries in Week 1.
Even hobbled, Jacobs was a huge part of the Raiders offensive attack. To fill his shoes, several players will have to step up. This includes his immediate backup as well as a Raiders duo who may not be able to do any more than they did on Monday.
Kenyan Drake will have to step up in Jacob's absence
The next man up on the Raiders depth chart behind is offseason free-agent signing Kenyan Drake. The running back, also from Alabama, is a six-year veteran who's played for the Miami Dolphins and Arizona Cardinals.
This offseason, Drake signed a two-year, $11 million deal with Las Vegas to be the team's primary backup and third-down and receiving back.
In the opener against Baltimore, Drake spelled Jacobs nicely and put up decent numbers. He finished the game catching five out of five targets for 59 yards. Rushing-wise, he didn't fare as well, though, gaining just 11 yards on six carries.
Stepping into the backup and likely lead short-yardage rusher role is Peyton Barber. The Washington Football Team cut the running back during camp, and the Raiders picked him up. He did not play in Week 1's Monday Night Football contest.
No matter how the Raiders divvy up the RB workload, it might be tough sledding this weekend. The Steeler defense is tough, limiting the high-powered Buffalo Bills in Week 1 to just 371 yards in total offense.
The Raiders will also have to get their patched-together offensive line ready to go. The team lost guard Denzelle Good for the year to a knee injury last game, and the other starting guard, Richie Incognito, is still out with a calf injury.   
Derek Carr and Darren Waller carried the Raiders offense to a win over the Baltimore Ravens on 'Monday Night Football'
If the running game slows down in Jacobs' absence and issues on the offensive line, that will put even more pressure on the Raiders' offense's biggest threat: Derek Carr to Darren Waller.
The Raider QB was 34-of-56 for 435 yards on Monday, and 19 of those targets, 10 of the catches, and 105 of the yards went to his tight end, Waller. No other Raiders pass-catcher came close to that kind of workload. After Waller, Hunter Renfrow had nine targets, and Drake, Bryan Edwards, and Henry Ruggs III were all tied at five each.
The Carr to Waller combo was not just the leading hookup in the game. It was the most active quarterback to receiver combo in the league. Only the Dallas Cowboys' Dak Prescott to Amari Cooper connection came close with 17 targets.
In order to beat Pittsburgh, Carr and Waller will have to have another big game together. Without Jacobs, though, Drake and the talented, young Las Vegas WR trio will have to come to play as well.  
It will be a tough contest but one that the Las Vegas Raiders can win if they are truly the playoff team that they, and many of their fans, think they are this season.
All stats courtesy of Pro Football Reference