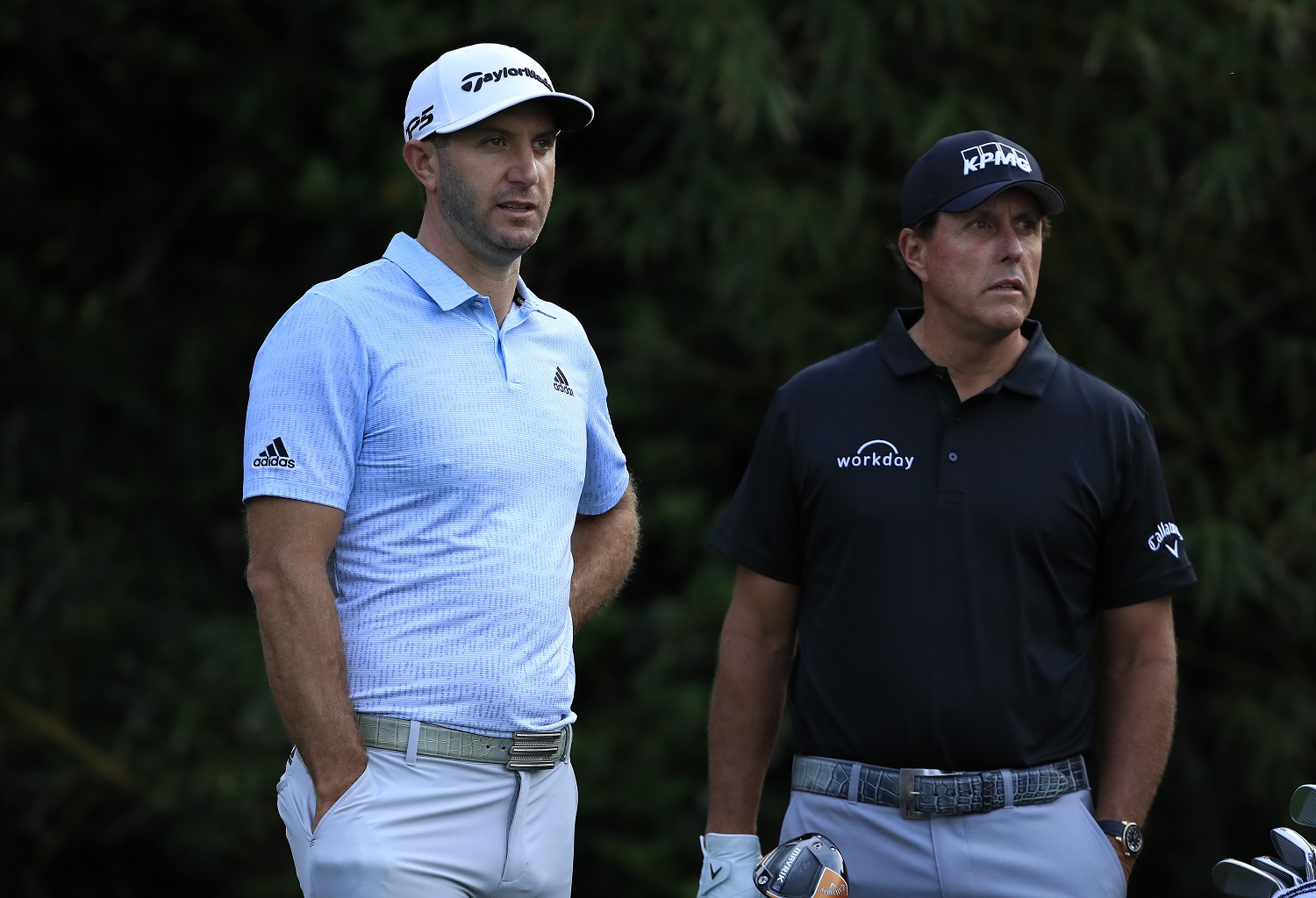 Ian Poulter Is the PGA Tour's Latest $30 Million Reason to Panic Over Dustin Johnson and Phil Mickelson
Greg Norman's upstart Super Golf League reportedly is throwing stupid money at players like Dustin Johnson to lure them away from the U.S. and European tours.
How much is Ian Poulter worth to a prospective employer given that he owns one victory on the PGA or European tours in the past eight years and has scored just one top-10 finish in major events alongside the world's best golfers in that time?
Greg Norman thinks the 46-year-old Englishman is worth $30 million. Naturally, that shoots the value of Dustin Johnson and Jon Rahm into the stratosphere, so sports fans might want to dial back their griping about Tobias Harris' five-year, $180 million contract with the Philadelphia 76ers.
Yes, golf is exactly that messed up these days. The PGA Tour as we know it might change radically in the coming months.
Greg Norman is throwing money around like Mardi Gras beads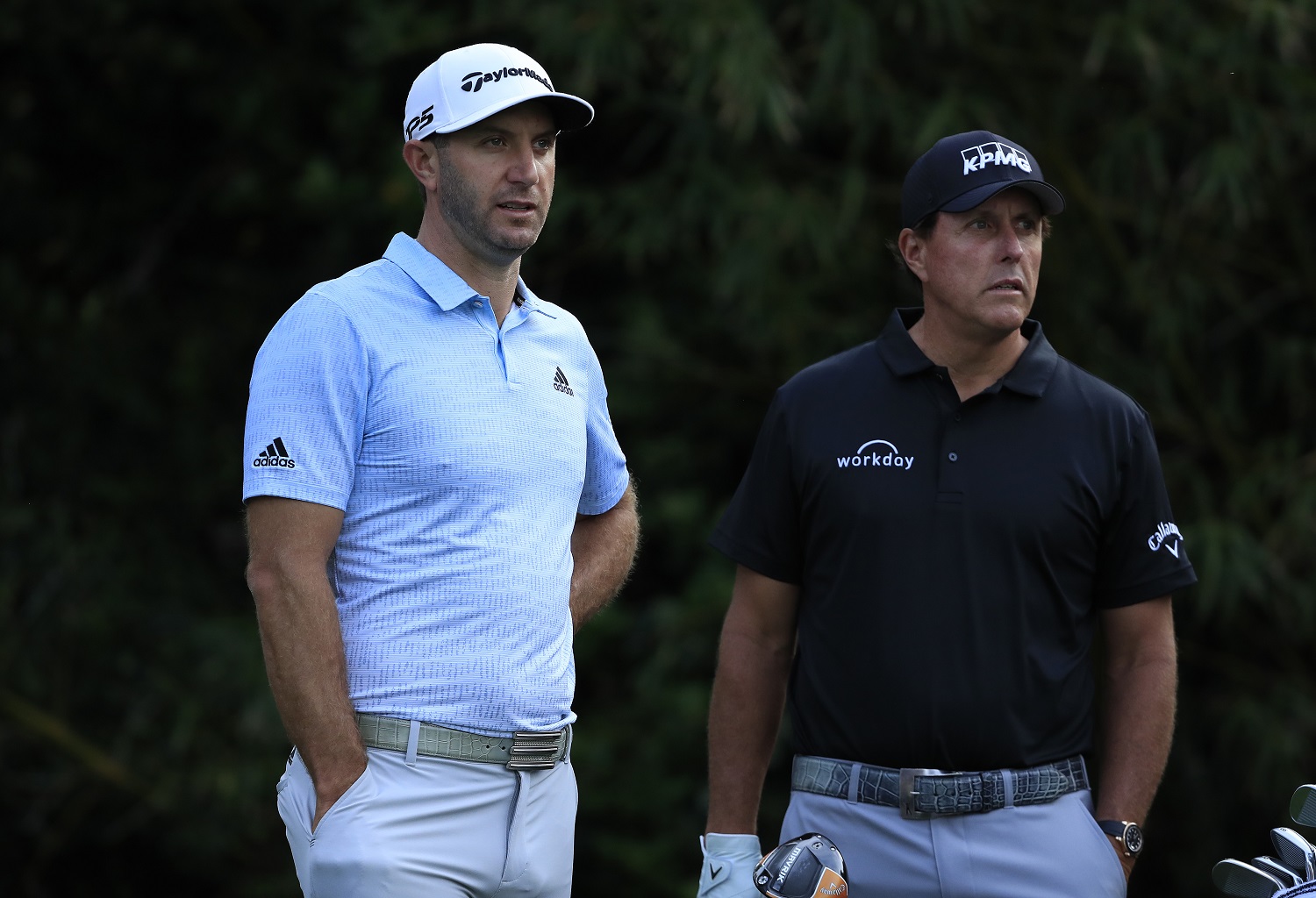 Former PGA Tour great Greg Norman failed to launch a previous golf series to challenge the PGA Tour by offering bigger prize purses to the world's best players. He's now more than two years into his second attempt, and the enormous financial backing poses a serious challenge to the status quo.
Norman is spearheading the effort of LIV Golf Investments, a firm operating with the promise of $300 million from Saudi Arabia's Public Investment Fund, according to Sports Pro Media. LIV Golf has affiliated with the Asian Golf Tour and projects a 10-event international schedule beginning in March. The format calls for teams and individual components for 48-player fields.
This weekend's tournament isn't an official part of the Super Golf League schedule, but it goes head-to-head with the PGA stop at Pebble Beach as somewhat of a dry run. Dustin Johnson, Phil Mickelson, Bryson DeChambeau, and Xander Schauffele are among those playing in the Saudi Invitational, which offers $5 million in prize money to a small field.
The PGA Tour began fighting off the upstart last year with a $40 million Player Impact Program to complement prize money. It didn't disclose the 10 players paid from that fund, which grows to $50 million this year, but many of the big-name stars Norman covets undoubtedly made the list.
Ian Poulter is the PGA Tour's latest $30 million reason to panic
Greg Norman apparently has not convinced any American or European stars to commit to the renegade golf tour yet, though British media reported recently that there are non-disclosure agreements limiting news. Dustin Johnson, for example, said he is not allowed to comment on whether he has an offer. If the lure of shorter schedules with bigger purses isn't a sufficient tradeoff for the likelihood of a lifetime ban from existing golf tours, then maybe signing bonuses will do the trick.
The Daily Telegraph previously reported that Henrik Stenson is evaluating an offer for $30 million to flip his loyalties. Now, that publication reports Ian Poulter is sitting on the same $30 million offer. That would constitute huge money for any PGA player, but Poulter and Stenson, ranked 59th and 198th, respectively, in the latest Official World Golf Rankings, are marginal names at best in 2022.
So, what's Norman's motive? Stenson and Poulter, both scheduled to play in Saudi Arabia this weekend, are candidates to replace Padraig Harrington as captain of the European team at the 2023 Ryder Cup in Rome. Landing one or both would be a symbolic strike against the golf world as we know it.
It presumably also preemptively knocks the existing American and European tours out of the bidding to hang on to their stars. It's one thing for the PGA Tour to fund a $50 million Player Impact Program and an entirely different matter to put nearly $1.5 billion on the table to lock up 48 players.
There are political and social justice implications to the fight
The Super Golf League organized by Greg Norman kicks off its 10-tournament schedule March 3-6 in Thailand. Events in England, Korea, China, Hong Kong, Indonesia, Vietnam, and the Middle East (the venues are unspecified) are also on the schedule.
"Middle East" is a catch-all that can encompass Saudi Arabia, Abu Dhabi, and Qatar. Those counties, as well as China, have been singled out by critics as engaging in "sportswashing," in which governments under fire over human rights concerns enhance the country's image through the positive attention generated by sporting events.
With the Olympics in China and the World Cup in Qatar this year, the criticism is likely to become more vocal, and golf tournaments can be vulnerable to it. Given the money involved, golfers like Dustin Johnson and Phil Mickelson could become targets of critics. If the issue gains traction, some of their lucrative purses and appearance fees will come at the expense of losing endorsement deals with image-conscious manufacturers and service companies.
Already, the tournament in Saudi Arabia has switched sanctioning to the Asian Tour after the DP World Tour (formerly the European Tour) walked away. That won't hurt the upstart tour nearly as much as would top golfers turning down invitations to join.
Like Sportscasting on Facebook. Follow us on Twitter @sportscasting19.