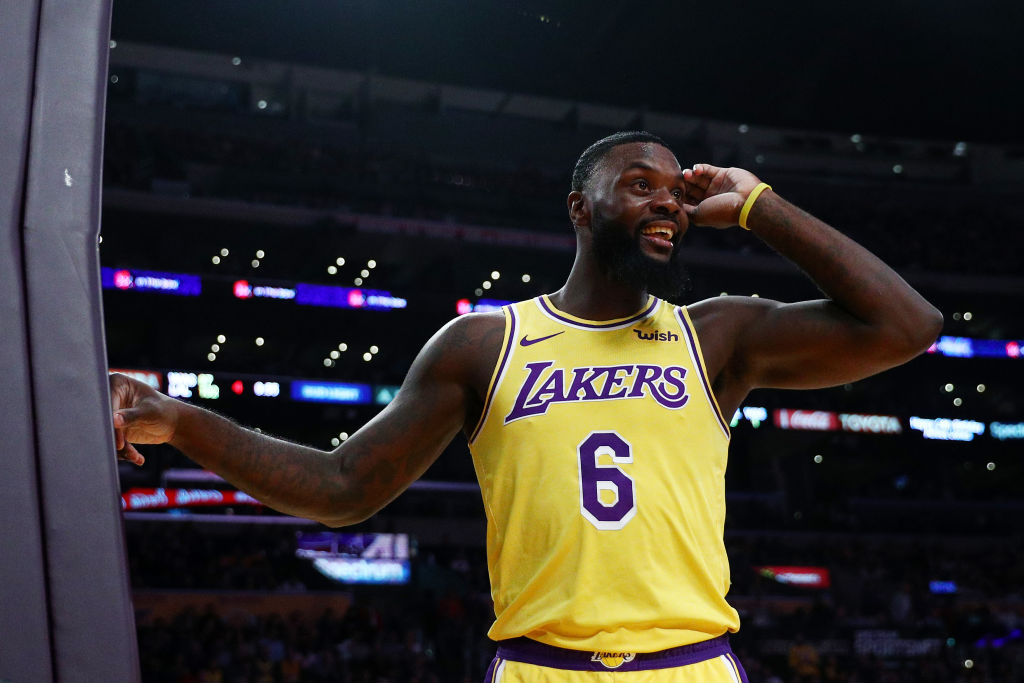 If Lance Stephenson Makes an NBA Comeback, the Los Angeles Lakers Could Be the Perfect Landing Spot
After a season in China, Lance Stephenson is considering an NBA comeback. Could he rejoin the Los Angeles Lakers?
In New York City, Lincoln High School has a history of producing professional basketball players. Stephon Marbury started the trend; he was followed by Sebastian Telfair, Lance Stephenson, and, eventually, Isiah Whitehead. Despite their talent, though, each of those men experienced plenty of ups and downs in their careers. Stephenson, however, is trying to work his way back to the top.
After spending last season in China, Stephenson is apparently eyeing an NBA comeback. If he wants to return to the Association, the Los Angeles Lakers might be the perfect landing spot.
Lance Stephenson's basketball career
Like Stephon Marbury and Sebastian Telfair before him, Lance Stephenson burst onto the basketball scene at Brooklyn's Lincoln High School. He dominated the competition, rewriting the record books and earning McDonald's All-American honors.
After a long recruiting saga, Stephenson headed to the University of Cincinnati. While he didn't spend a great deal of time with the Bearcats, the guard made an impact; he averaged 12.3 points, 5.4 rebounds, and 2.5 assists during his one NCAA seasons, and was named the Big East Rookie of the Year.
Stephenson then entered the 2010 NBA draft; the Indiana Pacers selected him with the 40th overall pick. Although it took him a few seasons to find his feet, the guard eventually grew into his role. With Danny Granger on the shelf, the guard started 72 games and averaged almost nine points per evening; those numbers would only increase the following season.
After that, though, Stephenson's career failed to take off. He opted to hit free agency rather than remaining with the Pacers and started bouncing between teams; eventually, injuries started taking their toll on the guard, too. In the summer of 2019, however, he decided to try something different.
Lance Stephenson heads to China
During the 2018-19 NBA season, Lance Stephenson only started three games, averaging 16.5 minutes of playing time a night. During the offseason, though, he headed to China in an effort to show what he could still do on the court.
From a purely statistical perspective, the move seemed to work out. During the guard's campaign with the Liaoning Flying Leopards, Stephenson averaged 26.7 points, 7.4 rebounds, and 3.8 assists per outing. He helped his team win the East Asia Super League Terrific 12 championship, earning tournament MVP honors in the process.
The guard apparently believes that performance is enough to earn him an NBA job; according to Chris Haynes, Stephenson is looking to return to North America and willing to work out for teams to prove his readiness.
The Los Angeles Lakers could be a perfect fit
While Lance Stephenson would probably be happy joining any team that offered him a decent role, one team seems like it would be a perfect fit: the Los Angeles Lakers.
The club was recently looking to bring in veteran guard Darren Collison, and Stephenson could theoretically fill a similar role. Frank Vogel and LeBron James both have experience working with the guard, and the Lakers should be able to get the best out of him. Since the team has plenty of offensive weapons, Stephenson could theoretically take advantage of easy opportunities without having too much pressure to produce on his own.
The Lakers, however, might have other plans. The club is reportedly planning to release DeMarcus Cousins in order to claim Markieff Morris off the waiver wire. If that move goes according to plan, it's unlikely that Los Angeles will free up another roster spot for Lance Stephenson.
Whether he rejoins the Lakers or not, Lance Stephenson should get another crack at the NBA. At that point, it will be up to the guard to make sure another comeback isn't required.