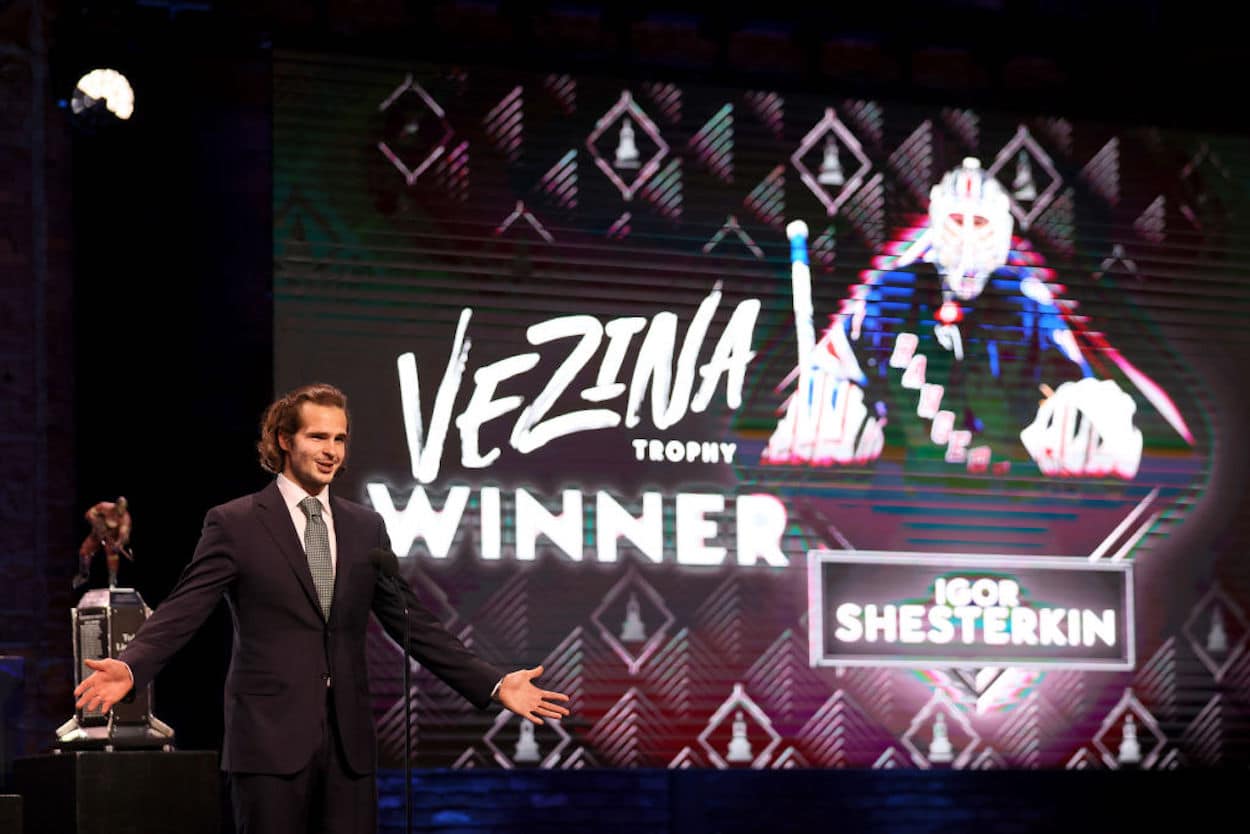 Igor Shesterkin Owes His Vezina Trophy Win to a Single Supportive Rangers Fan
Igor Shesterkin possesses plenty of talent, but he might not have won his Vezina Trophy without the support of a young fan.
For better or worse, playing goalie means being isolated. You literally stand alone, protecting the net and working under intense scrutiny. A single mistake can ruin a game, series, or even an entire season.
The silver lining to that reality, however, is that a successful goalie receives plenty of individual credit. On Tuesday night, New York Rangers netminder Igor Shesterkin was front and center at the NHL Awards, where he received the Vezina Trophy as hockey's top goaltender.
While the Russian obviously possesses plenty of talent, he did receive a boost along the way. When the 2021 preseason began, a young fan at Madison Square Garden gave the goalie an important assist.
Igor Shesterkin believed he could win the Vezina after seeing a child's sign in the stands
It goes without saying that professional athletes need to be supremely confident in their own abilities. Sometimes, though, even the top talents need a little support. Just ask Igor Shesterkin about that.
On Tuesday night, the goalie claimed a well-deserved Vezina Trophy on the back of a 36-13-4 record with a 2.07 goals-against average and .935 save percentage. While that stat line speaks to his talent — the goaltender kept the Rangers afloat on many nights — he also had an assist along the way.
"It means a lot for me," the netminder said, according to ESPN's Greg Wyshynski. "I didn't think about it when I first came to the NHL. But sometimes you think that maybe I have a chance. In the first preseason game against the Islanders, I didn't play. One small child [fan] showed me a picture of myself, and it said 'future Vezina winner.' And I think, 'Why not?'"
Beyond the heart-warming nature of that anecdote, there are two things that are worth pulling out.
First, it's easy to think of professional athletes as soulless mercenaries who bounce between teams following the biggest paycheck and the best chance to win a championship, but Shesterkin shows us a more human side. If we take him at his word, he was genuinely touched and inspired by a young fan and their sign.
Secondly, it's worth noting that the Rangers' goalie showed some genuine personality and emotion in that quote. Hockey culture generally trains players to give the most boring, cliched answer possible to avoid rocking the boat. Shesterkin, however, spoke genuinely and shared a story that resonated with fans. If the NHL wants to become a legitimate power player on the North American landscape, it will need more players willing to open up.
When all was said and done, Tuesday was a pretty good evening for Igor Shesterkin. If nothing else, it was a fitting conclusion to his brilliant year.
Like Sportscasting on Facebook. Follow us on Twitter @sportscasting19 and subscribe to our YouTube channel.