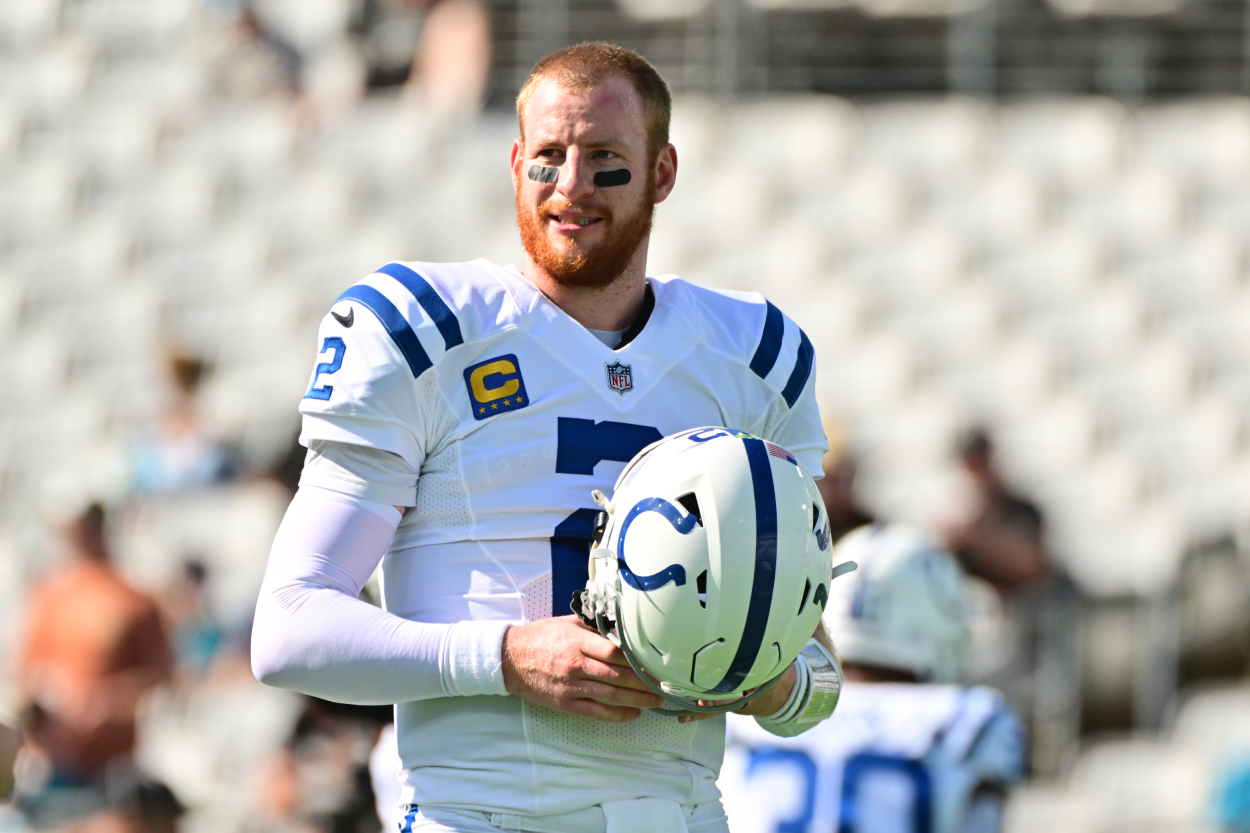 Indianapolis Colts: Carson Wentz Should Be Sick to His Stomach After Indy's Stellar NFL Draft
The Indianapolis Colts didn't have many weapons for Carson Wentz last season, so their 2022 NFL Draft should make their former quarterback sick to his stomach.
Carson Wentz doesn't have many valid arguments to defend his all-time horrific collapse with the Indianapolis Colts in 2021. He couldn't hit the broad side of a barn the last few weeks of the season and became a liability instead of a leader. His performances played a significant role in Indianapolis trading him to the Washington Commanders this offseason and eventually acquiring Matt Ryan from the Atlanta Falcons.
However, if Wentz had one justified bone to pick with Indy, it was the fact that it lacked weapons in the passing game last season. So, the quarterback is likely sick to his stomach after the Colts' stellar 2022 NFL Draft.
The Colts added weapons in the 2022 NFL Draft
The Colts lacked wide receiver depth for Carson Wentz in 2021.
Michael Pittman Jr. had 88 catches for 1,082 yards and six touchdowns, but no one else even gained 390 receiving yards. Zach Pascal was the team's second-leading receiver with 384.
Perhaps that played a role in Wentz's poor play at the end of the year. In the team's final five contests, he threw for just 154.6 yards per game, six touchdowns, and two interceptions, and he completed only 61.02% of his passes.
However, Indianapolis is making sure new quarterback Matt Ryan has more weapons in addition to Pittman. It drafted former Cincinnati Bearcats wide receiver Alec Pierce in the second round of the 2022 NFL Draft. Pierce is big, standing at 6 feet, 3 inches and weighing 213 pounds. And his quickness (4.41 40-yard dash) helped him catch 52 passes for 884 yards and eight touchdowns with Cincy in 2021.
The Colts then selected former Virginia tight end Jelani Woods in the third round. Woods previously played quarterback but had 44 catches for 598 yards and eight touchdowns last season. He's also a freak athlete, measuring at 6 feet, 7 inches, and weighing 275 pounds.
Wentz could have used that athleticism last season, but Indy chose not to address the wide receiver position in the 2021 draft (other than a seventh-round pick). The team focused on defense, but none of the players have broken out yet.
So, why are the Colts putting in more of an effort to build around Ryan than they did Wentz? It's unclear, but the latter probably isn't too thrilled.
Carson Wentz is also to blame for Indy's poor receiving numbers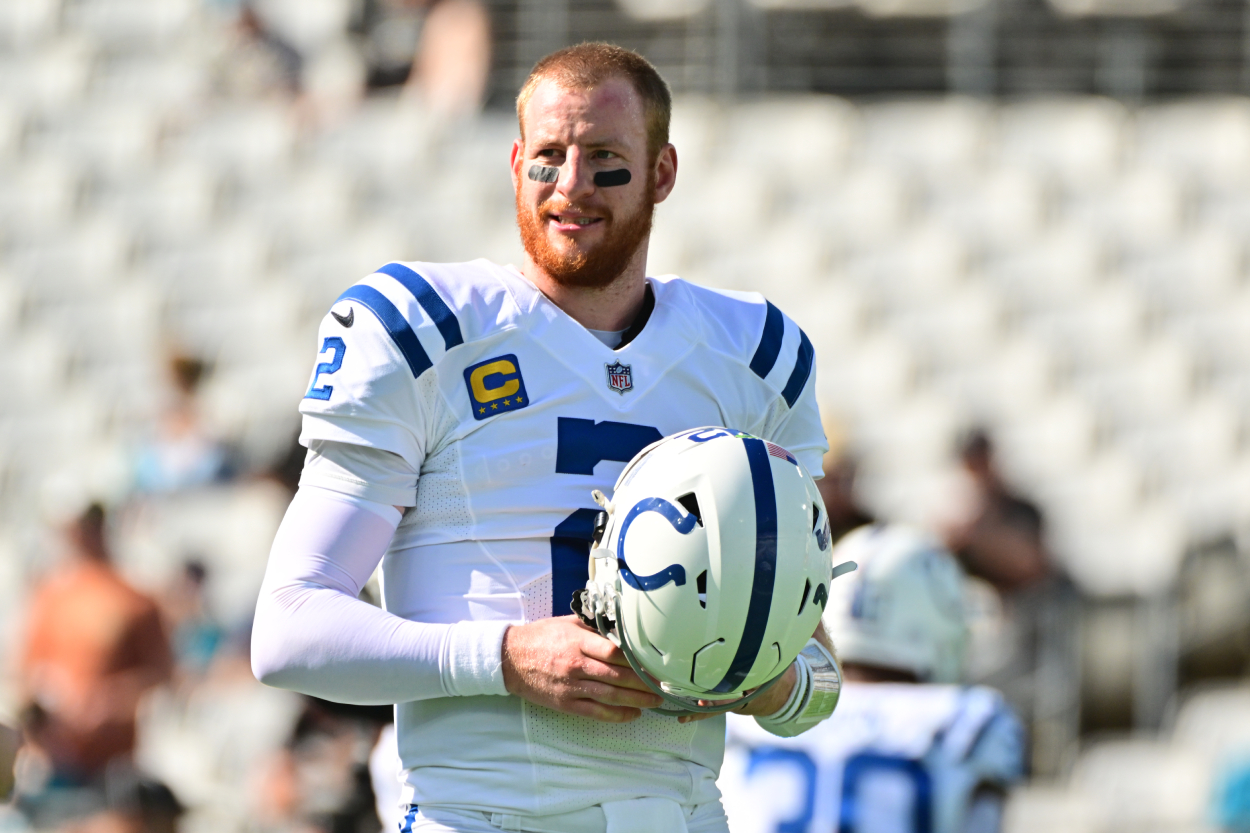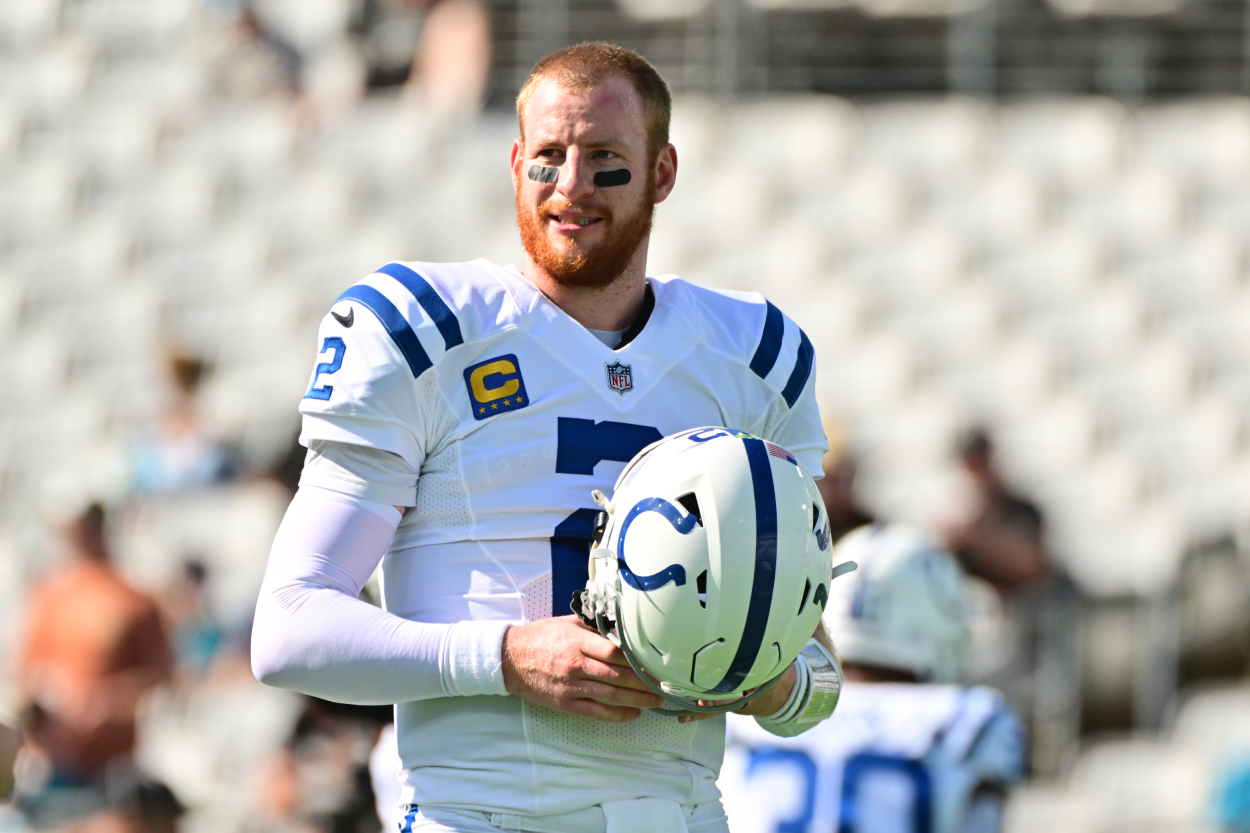 Although Matt Ryan will have better weapons than Carson Wentz, last year's players don't deserve all the blame for their lack of production.
Michael Pittman Jr. and Jonathan Taylor were the only guys who had better numbers with Wentz than they did the year before with Philip Rivers (not counting Parris Campbell who only played in two games in 2020 due to injury). But that likely had to do with both Pittman's and Taylor's usage rates and the fact they were rookies with Rivers.
Take a look at some of the other players' stats from the last two years.
2020
2021
T.Y. Hilton
56 catches, 762 yards, 5 TDs,
50.8 yards/game
23 catches, 331 yards, 3 TDs,
33.1 yards/game
Zach Pascal
44 catches, 629 yards, 5 TDs,
39.3 yards/game
38 catches, 384 yards, 3 TDs,
24.0 yards/game
Nyheim Hines
63 catches, 482 yards, 4 TDs,
30.1 yards/game
40 catches, 310 yards, 1 TD,
18.2 yards/game
Mo Alie-Cox
31 catches, 394 yards, 2 TDs,
26.3 yards/game
24 catches, 316 yards, 4 TDs,
18.6 yards/game
Jack Doyle
23 catches, 251 yards, 3 TDs,
17.9 yards/game
29 catches, 302 yards, 3 TDs,
17.8 yards/game
Even if Wentz was still with the Colts and had their current weapons, who's to say he would flourish? He missed a lot of throws last season and rarely looked for the check-down receivers (that's why Nyheim Hines, essentially a poor man's Deebo Samuel, saw his production take a hit).
Sure, Matt Ryan will have more weapons for the Colts in 2022. But he's the right man to be throwing them passes. Carson Wentz didn't utilize his guys to the best of their abilities last season.
Stats courtesy of Pro Football Reference