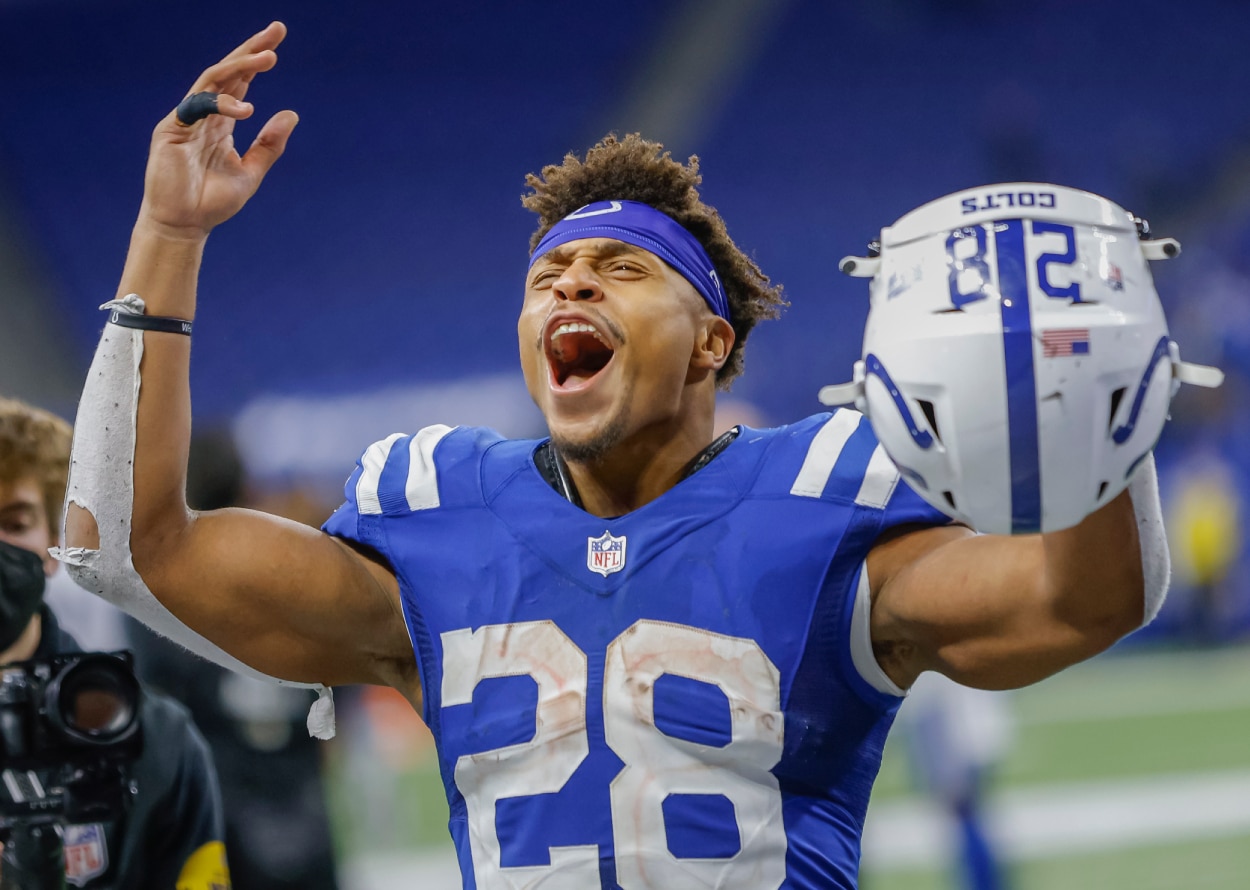 Indianapolis Colts: Nyheim Hines Admits Indy Let Jonathan Taylor Down in 2021
Jonathan Taylor had a tremendous season for the Indianapolis Colts in 2021, but his teammate, running back Nyheim Hines, believes Indy let him down last season.
For several weeks throughout the 2021 NFL season, fans wondered if Indianapolis Colts running back Jonathan Taylor deserved MVP. He was having monster games every week and had been carrying his squad on his back. However, those hopes went out the window once his team missed the playoffs due to a Week 18 collapse against the Jacksonville Jaguars, aka the worst team in football.
But Taylor still had a tremendous year.
While recently discussing his thoughts on this upcoming season, Colts running back Nyheim Hines admitted that Indy let Taylor down. He deserved a chance to play in the postseason.
Nyheim Hines believes the Colts let Jonathan Taylor down in 2021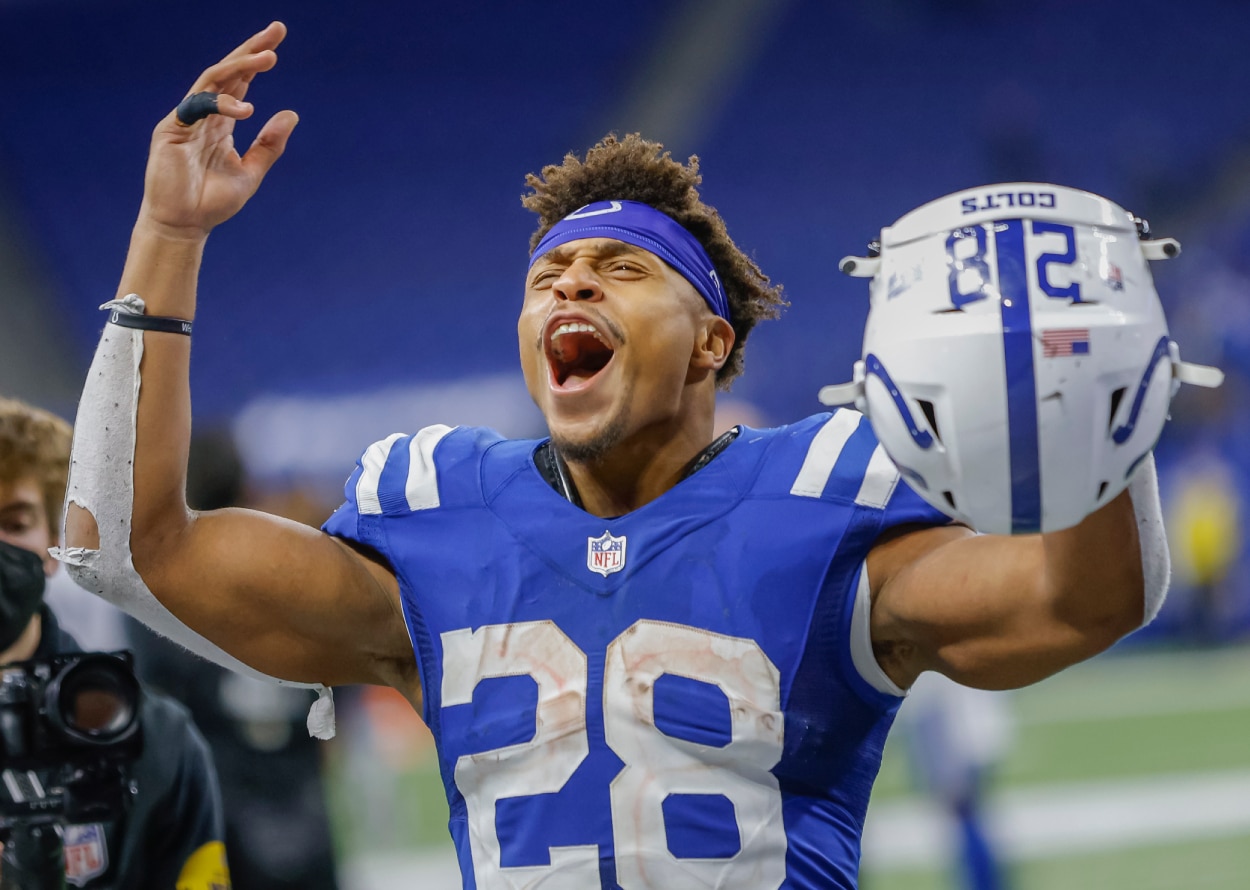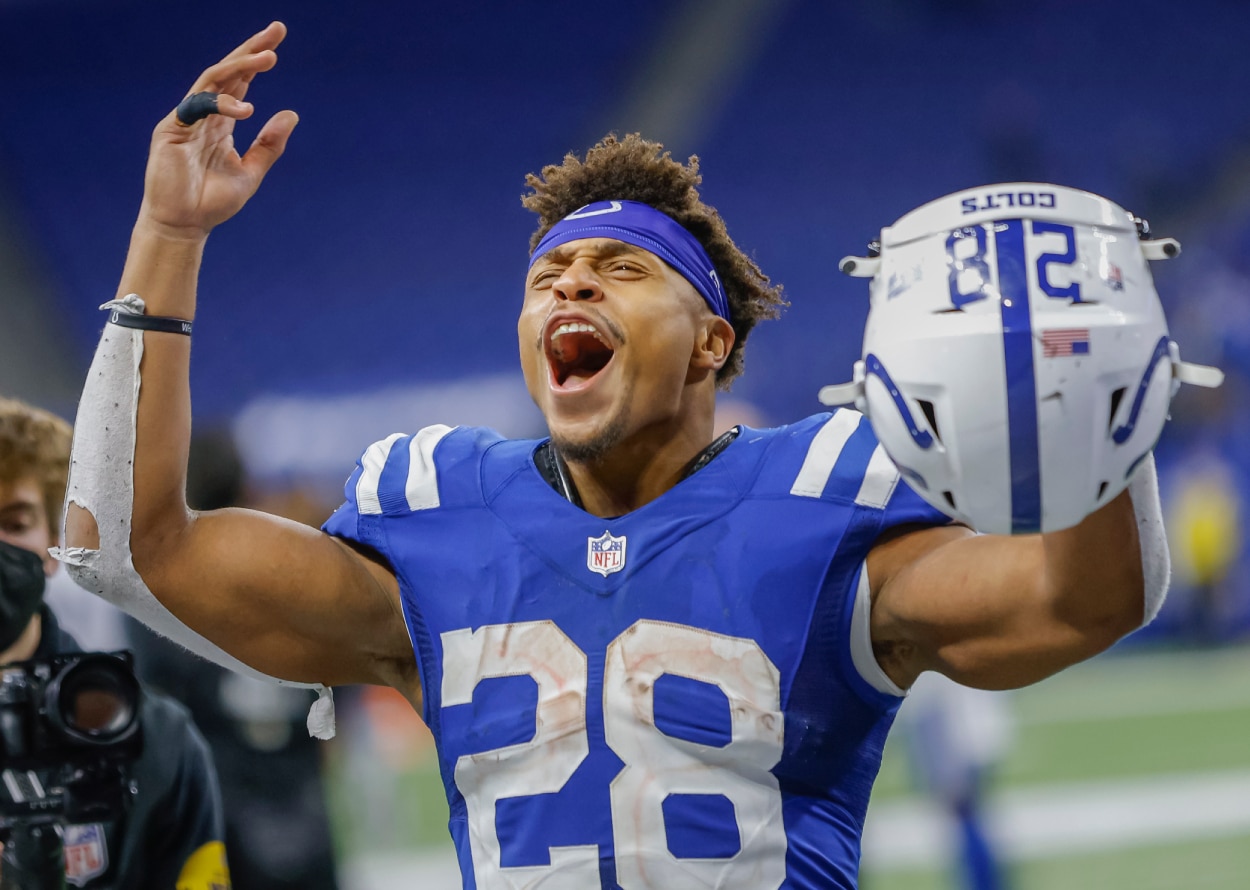 Jonathan Taylor had an unreal sophomore season. After running for 1,169 yards and 11 touchdowns as a rookie, Taylor led the NFL in rushing yards in 2021 with 1,811, and he was No. 1 in rushing touchdowns with 18. Despite the heavy workload (he ran it 332 times), Taylor averaged 5.5 yards per carry. His 360 receiving yards also helped him lead the league in total yards from scrimmage with 2,171.
The Colts looked like one of the most dangerous teams in football during the middle of last year, but losses to the Las Vegas Raiders in Week 17 and the Jaguars in Week 18 led to them missing the playoffs.
Taylor didn't deserve that, according to Nyheim Hines.
"The most important thing that JT wants (for 2022) is for us to go to the playoffs," Hines said to USA Today. "And we all want to go to the playoffs and hopefully win a conference championship and win a Super Bowl. Even last year; I say that all the time: JT had a great year, and we let him down. The world needs to see what he can do in primetime. So, as a player, selfishly for myself, I wanted to see that. As a team, we want to see him get to that level and do what he's really good at."
Hines is correct. The Colts did let Taylor down. He could have solidified an MVP-type season with a terrific performance in the playoffs, but their struggles in all areas during their Week 18 loss to the Jags resulted in one of the biggest choke jobs in NFL history.
Hopefully, they have ensured that won't happen again this upcoming season.
The Indianapolis Colts have drastically improved their roster
One of the Colts' most glaring issues during the last stretch of the 2021 season was their inconsistency in the passing game. Carson Wentz couldn't make the easy throws during the final few weeks and became a liability for a strong Indy team.
But Indianapolis has fixed that problem, trading Wentz to the Washington Commanders and acquiring 2016 NFL MVP Matt Ryan from the Atlanta Falcons. The team has also improved in other areas, drafting a talented young receiver in Alec Pierce, and trading for a pass rusher Yannick Ngakoue. It also signed the 2019 NFL Defensive Player of the Year, cornerback Stephon Gilmore.
The Colts had the most Pro Bowlers in the NFL last season, and their roster got even more talented throughout the past several months.
Perhaps it's now good enough to not let Jonathan Taylor down for the second year in a row. Maybe, he will get to put on a show in primetime.
Stats courtesy of Pro Football Reference