IndyCar's Most Popular Driver Walked Away From What May Have Been the Scariest Formula 1 Wreck of the Century
Romain Grosjean, voted the most popular IndyCar driver, ended his Formula 1 career in 2020 with a fiery crash in Bahrain.
Everything you need to know about the popularity and influence of Formula 1 on the rest of the motorsports world can probably be summed up at the moment in two words: Romain Grosjean.
The native of Geneva, Switzerland, has a single season of racing in North America under his belt, yet he has picked up an interesting bit of recognition that demonstrates the reach of F1 across the globe.
Romain Grosjean is IndyCar's most popular driver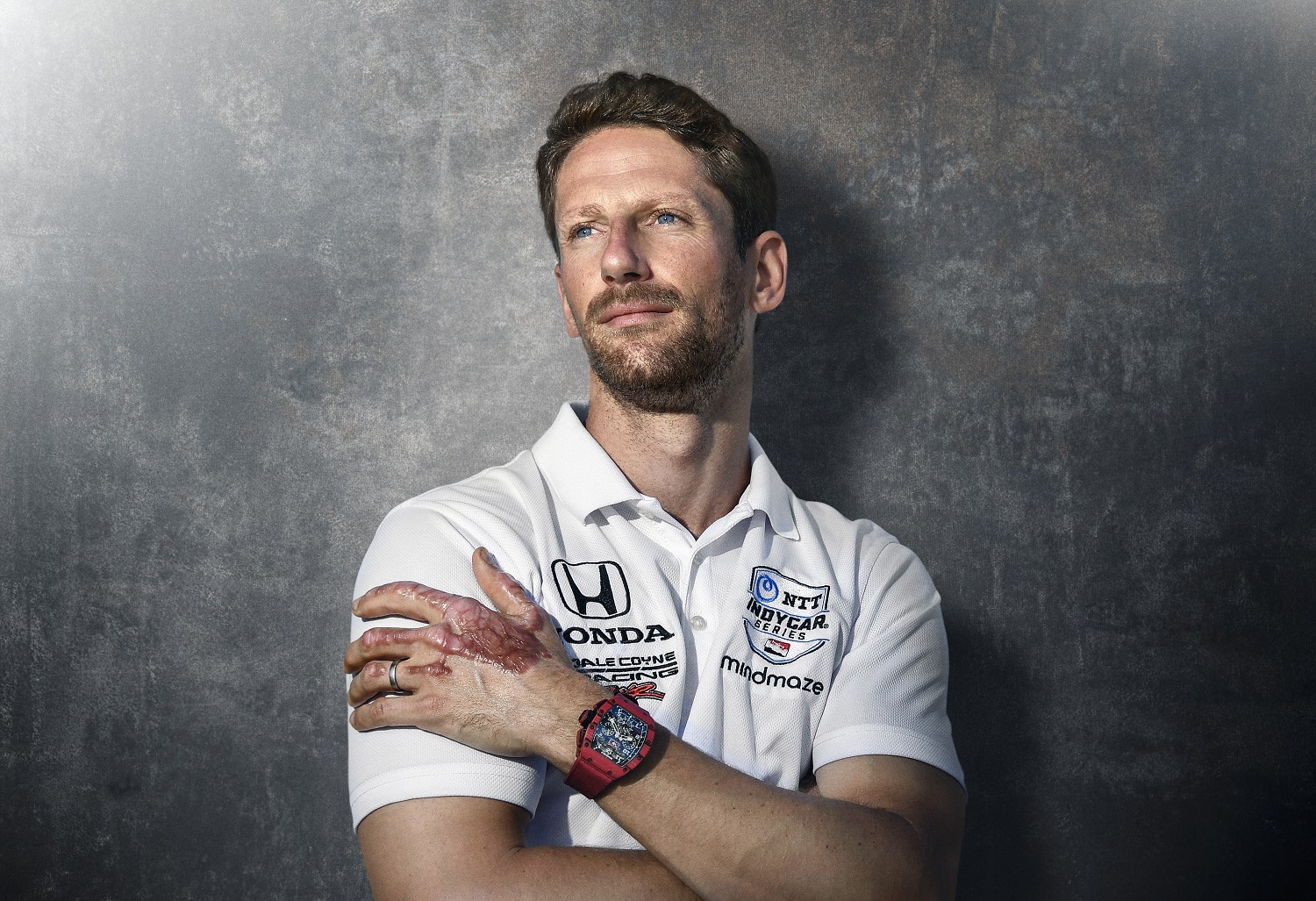 IndyCar has released a fan survey that identifies Romain Grosjean as the series' most popular driver. Grosjean, who arrived from Formula 1 at the start of last season, made the top three on 32% of 53,579 fan ballots submitted in January from around the world.
Undoubtedly, Grosjean's numbers benefitted from being part of Drive to Survive, the Netflix docuseries about F1's drivers and teams. The survey went out in 11 languages and reached 147 countries, but 56% of the ballots were from the United States and 23% from Europe.
Following Grosjean in the survey results were Pato O'Ward, four-time Indianapolis 500 winner Helio Castroneves, Scott Dixon, and Alexander Rossi.
His popularity isn't a reflection of success on the track. Though he scored three podium finishes a year ago, the 35-year-old driver did not win a race.
Romain Grosjean walked away from a fiery crash in his final Formula 1 race
Romain Grosjean began his Formula 1 career in 2009 with Renault, then moved to Lotus in 2012 and Haas in 2016. He totaled 179 starts, and six of his 10 podium finishes came in 2013 as Kimi Raikkonen's wingman. His seventh-place finish in points that year was the best of his career.
Grosjean's last outing in F1 ended in spectacular fashion, but not in a good way. On Nov. 29, 2020, in Bahrain, the 20-car field had negotiated two turns and was roaring toward maximum speeds when Grosjean, starting 19th on the grid, lost control of his vehicle.
Accelerating through a straightaway, he steered sharply right to avoid debris and appeared to clip Daniil Kvyat as he approached an abutment and the barrier near a stanchion supporting an overhead sign. Grosjean hit the barrier, splitting the car in half.
A large piece of the car went through the barrier and triggered a fireball. Fortunately, a medical team just beyond the barrier was able to assist almost immediately. Three men rushed toward the fiery wreck as Grosjean somehow had the presence of mind to unstrap himself from the safety devices. With a hand from marshals, Grosjean moved away from further harm under his own power.
Grosjean suffered broken ribs and minor burns on his lower arms and ankles, leaving him unable to drive in the final two races of the season.
More results from the IndyCar survey
According to the IndyCar survey put into the field in January, Team Penske is fans' favorite team. Not surprisingly, the Indianapolis 500 is the best race on the schedule.
Team Penske was the favorite of 19.4% of fans, followed by Andretti Autosport and Arrow McLaren SP at 17% apiece. As for the race list, the Indianapolis 500 scored 30% of the votes, followed by Long Beach, Road America, Laguna Seca, and St. Petersburg.
The 2022 season opened Sunday in St. Petersburg, where Scott McLaughlin scored his first IndyCar victory. Fan favorite Romain Grosjean placed seventh.
All stats courtesy of Racing Reference.