Is Alabama Forward Noah Gurley Related to Former NFL Star Todd Gurley?
Alabama is the No. 1 college basketball team heading into the 2023 NCAA Tournament. Freshman sensations Brandon Miller and Noah Clowney lead the Crimson Tide into March Madness, but the squad is stacked. Fifth-year senior Noah Gurley is a key cog off the bench and a big part of the team that went 29-5 this season. If the name sounds familiar, that might be due to sharing a last name with retired star NFL running back Todd Gurley. So, the question is, is Noah Gurley related to Todd Gurley?
Is Noah Gurley related to Todd Gurley?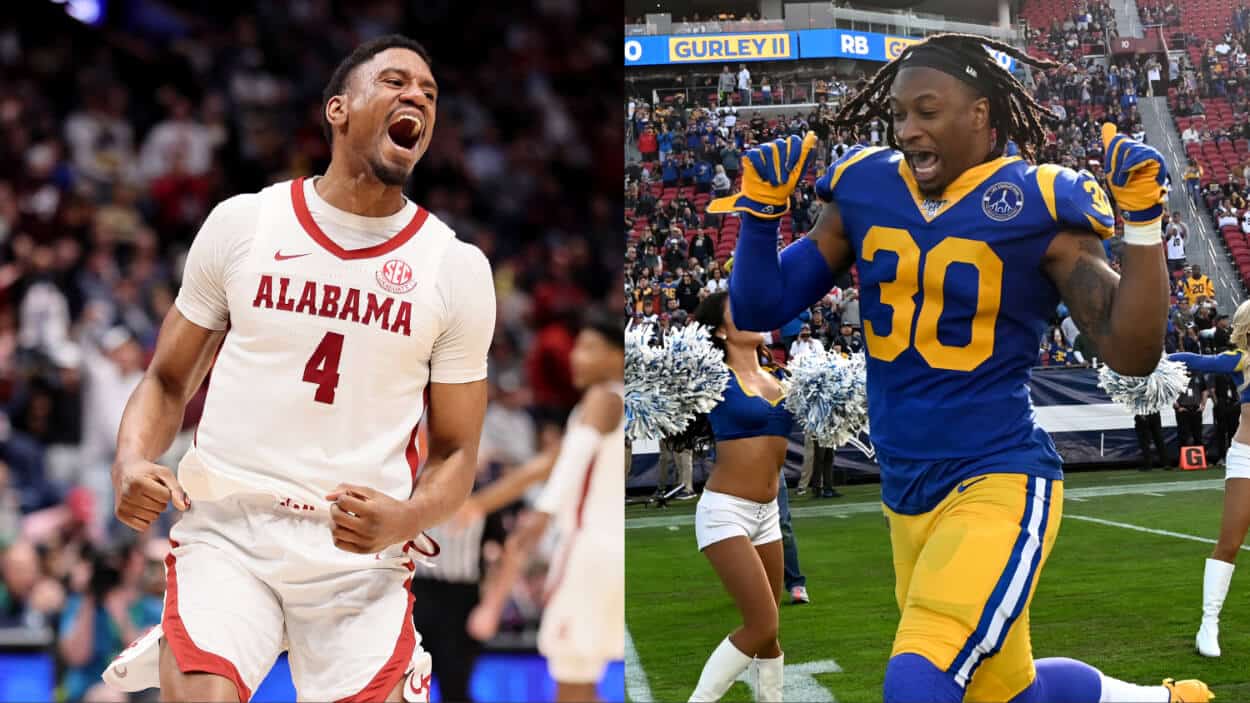 The answer to the question "is Noah Gurley related to Todd Gurley?" is no.
Todd Gurley was born in Baltimore, Maryland, and grew up in Tarboro, North Carolina, before playing high school football at Georgia. Noah Gurley grew up in Fayetteville, Georgia, not far from where Todd played his college football, but the two are not related.
Believe it or not, though, the two sports stars are actually relatively close in age.
Noah Gurley has played five years of college basketball and, as such, is now 23 years old. Todd Gurley played six seasons in the NFL, winning Rookie of the Year, Offensive Player of the Year, and making three Pro Bowls and two All-Pro teams.
Despite this laundry list of accomplishments, Todd's physical decline in pro football was rapid. He hasn't played in the NFL since 2020 but is still only 28 years old.
In retirement, Todd Gurley has kept himself busy with various business and philanthropic efforts. One of which is an ownership stake in the FCF Beasts, a professional indoor football team. His partners in the venture include fellow retired NFL RB Marshawn Lynch, NFL player Marcus Peters, AEW professional wrestler Miro, and former WNBA star and Atlanta Dream part-owner Renee Montgomery.
Noah Gurley is now entering his final college basketball season, and he may be part of a fascinating storyline during this NCAA Tournament.
Noah Gurley could face his former team in the NCAA Tournament
Before transferring to Alabama for the last two seasons, Noah Gurley spent his first three years in college playing for the Furman Paladins. At the Greenville, South Carolina-based school, Gurley started 83 of the 88 games he played and racked up 1,118 points and 405 rebounds.
After three seasons at Furman, Gurley entered the transfer portal and chose Alabama over schools like Auburn, Duke, Florida, Marquette, Miami, San Diego State, and Tennessee, according to RollTide.com.
As a member of the Crimson Tide this past season, Gurley played in 31 games and averaged 15.4 minutes, 4.9 points, and 3.2 rebounds.
The NCAA Tournament committee made an interesting decision in this year's March Madness and put Furman in the same bracket as Alabama. If both teams reach the Sweet Sixteen, Gurley could end up playing his former team.
The Crimson Tide will have to beat Texas A&M-Corpus Christi and either Maryland or West Virginia to get to that point. But the No. 1 overall seed in the tournament will be massive favorites in those games.
The Paladins have a more difficult road. As a No. 13 seed, they will have to take down No. 4 seed Virginia, then either the No. 5 seed San Diego State or the No. 12 seed College of Charleston.
For his part, Noah Gurley relishes a potential matchup with his old teammates.
"I hope we play them," Gurley said, per Tide Illustrated. "I want to see them win. They're my brothers over there. I love them."