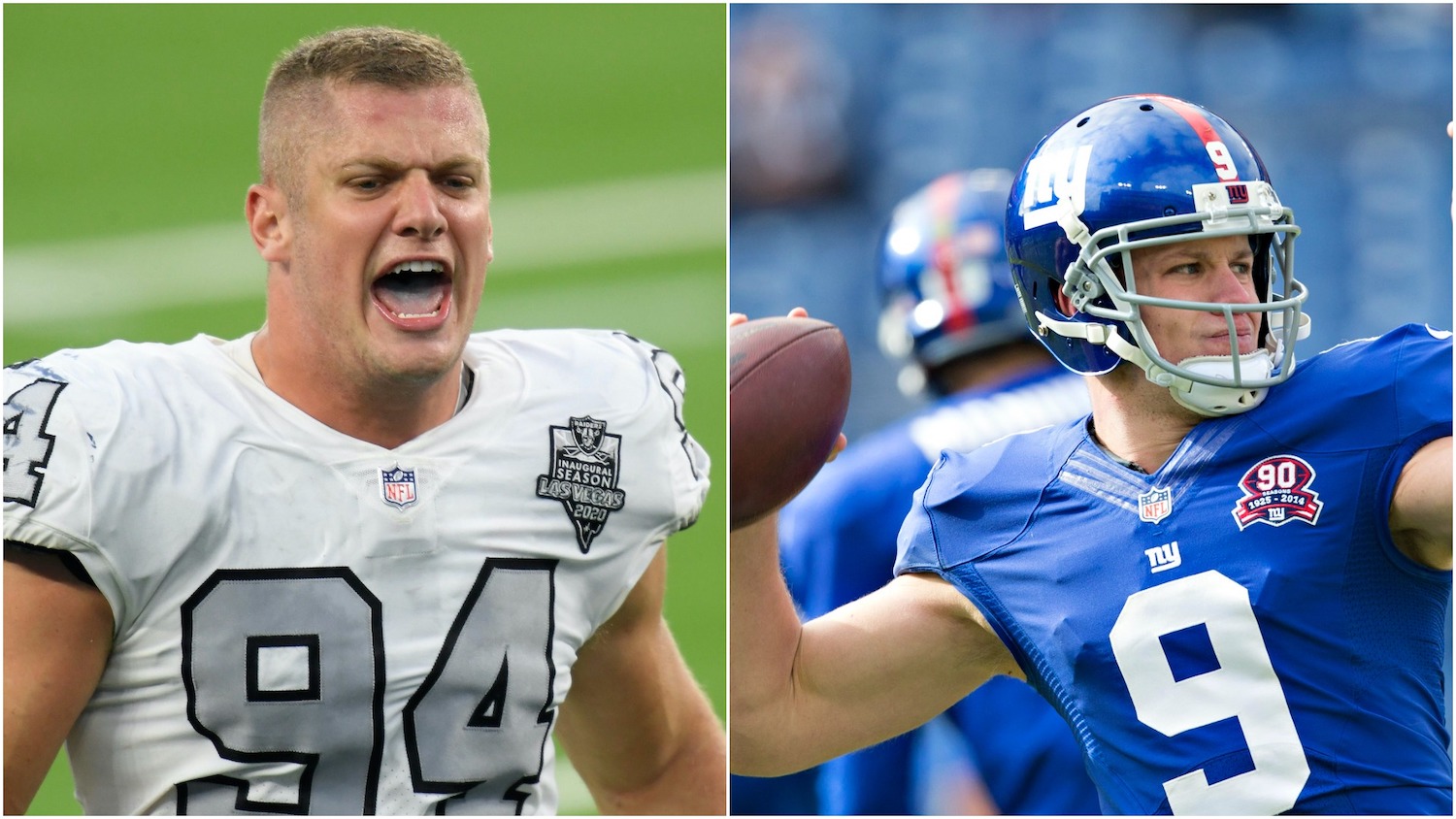 Is Carl Nassib Related to Former NFL Quarterback Ryan Nassib?
After hearing the news of Carl Nassib's historic announcement, NFL fans may be remembering another player with that same last name.
Prior to June 2021, Las Vegas Raiders defensive end Carl Nassib probably wasn't a household name. As far as professional athletes go, he was simply an anonymous face in the crowd. Moving forward, though, those who don't even follow football will know his name. In a June 21 Instagram post, Nassib came out as gay, making him the first active NFL player ever to do so.
For longtime football fans, Nassib's last name will probably ring a bell. Before the Raiders' end made it to the pros, his brother, Ryan Nassib, broke into the NFL ranks as a backup quarterback.
Carl Nassib went from college walk-on to $25 million NFL player
Before even getting to his historic announcement, Carl Nassib seemed like quite the NFL success story. Despite some setbacks at the professional level, the defensive end managed to find both job security and a nice salary with the Raiders.
Nassib played his college football at Penn State, where he started as a walk-on. That status didn't mean he was destined to be a bit-part player, though. With each passing season, the Pennsylvania native made more and more of an impact. By the time senior year rolled around, he was a starter, an All-American, and one of the Big Ten's top defensive players.
In the pros, immediate success wasn't quite on the cards. Nassib joined the Cleveland Browns during the 2016 NFL draft as a third-round pick and spent two decent seasons with the club before being waived in 2018. He then joined the Tampa Bay Buccaneers and spent two seasons in Florida, posted even better numbers, only to hit free agency after the 2019 campaign and find himself looking for a job once again.
That timing, however, proved to be fortuitous. On the back of his solid play in Tampa, Nassib inked a three-year, $25 million deal with the Raiders. While that contract may seem tiny compared to the NFL's biggest stars, it's nothing to sneeze at for someone who started out as a Penn State walk-on.
Ryan Nassib made it to the NFL a few years before his brother
If you've watched football for a while, the Nassib name probably rings a bell. That's due to Carl's older brother, Ryan Nassib.
Ryan showed plenty of talent in high school and earned a scholarship to Syracuse University. While it took him some time to claim the starting job — he redshirted in 2008 then, in 2009, was beaten to the top spot by Greg Paulus, a transfer from Duke's basketball program — the quarterback eventually took charge of the Orange offense and found success. By the time he left campus, Nassib had thrown for 9,190 yards and 70 touchdowns.
The quarterback then entered into the 2013 NFL draft and joined the New York Giants in the fourth round. Despite being briefly hailed by the New York media as Eli Manning's successor, Nassib wasn't anything more than a backup. He only appeared in five games during his entire tenure with Big Blue, and his career came to an end after failing to land a full-time job in 2017.
Carl Nassib has ensured that every football fan will know the Nassib name
With all due respect to Ryan Nassib, his name won't exactly loom large in NFL history. Carl, on the other hand, has ensured that no one will ever forget the Nassib name.
As mentioned above, the younger Nassib brother took to Instagram to announce he was gay, making him the first active player in NFL history to do so.
"What's up, people?" Nassib said, according to ESPN. "I'm at my house here in West Chester, Pennsylvania. I just want to take a quick moment to say that I'm gay. I've been meaning to do this for a while now, but I finally feel comfortable enough to get it off my chest. I really have the best life, I've got the best family, friends, and job a guy could ask for."
While that may sound like a simple statement, it sent ripples through the sports world and earned Carl Nassib a place in NFL lore.
Stats courtesy of Pro-Football-Reference and Sports-Reference