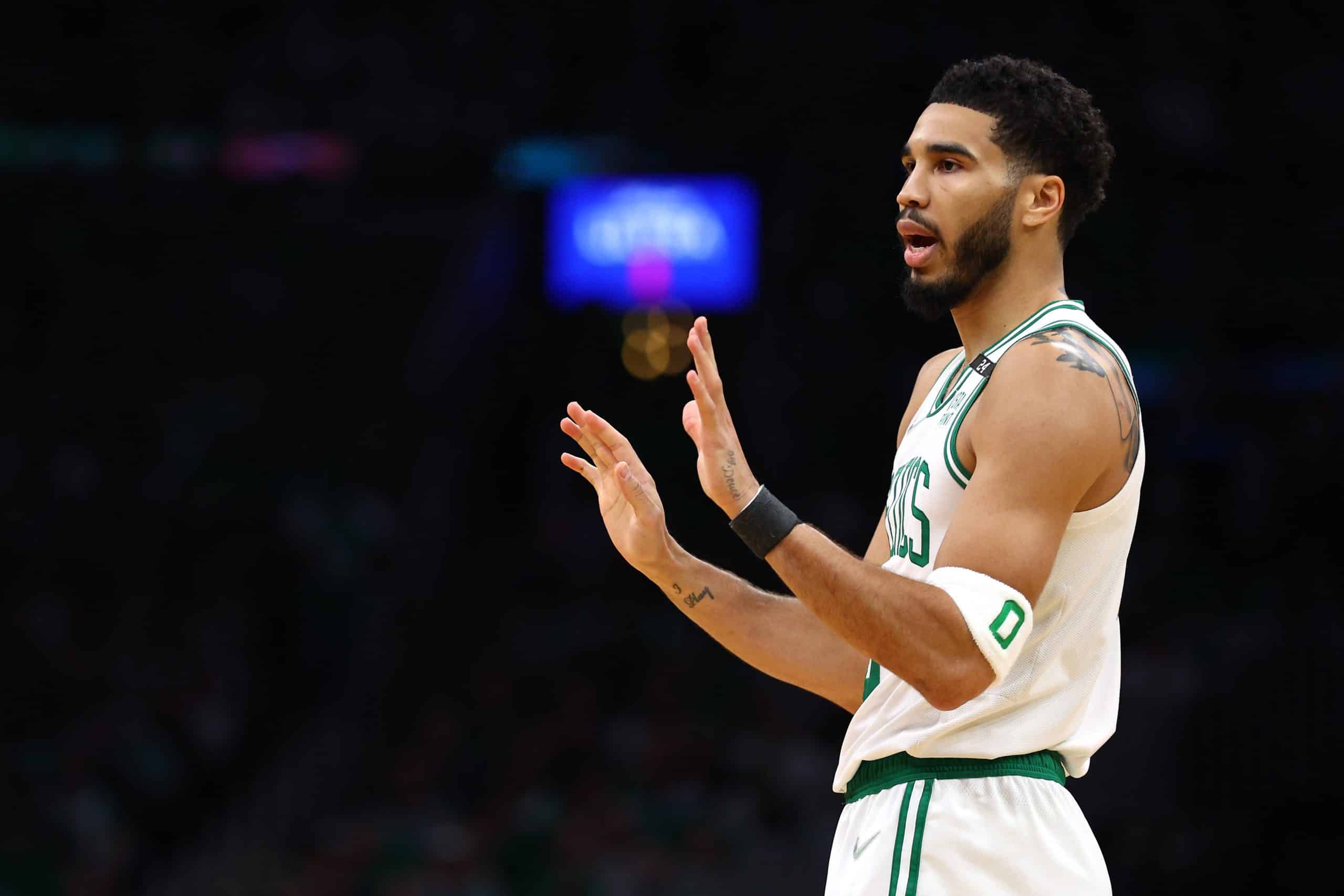 Is Jayson Tatum Overrated?
Where do you rank Boston Celtics star Jayson Tatum among today's NBA players?
Will the real Jayson Tatum please stand up? The Boston Celtics star has been erratic during the postseason. As he goes, the Celtics go. The team follows the lead of their star, and right now the Celtics are just as unpredictable as their three-time All-Star.
Clear favorites heading into their Eastern Conference Finals series against the Miami Heat, the Celtics find themselves trailing 2-1 heading into Monday night's Game 4. For the most part, the Celtics have outplayed the Heat, but two quarters have doomed them, and Tatum was awful in both.
Tatum is a rising star in the NBA. Former Celtics center Kendrick Perkins said Tatum was a top-three player. Many have labeled him top five. Is Tatum overrated? If you have him in the top five, he most certainly is.
Boston Celtics star Jayson Tatum working his way up the elite ladder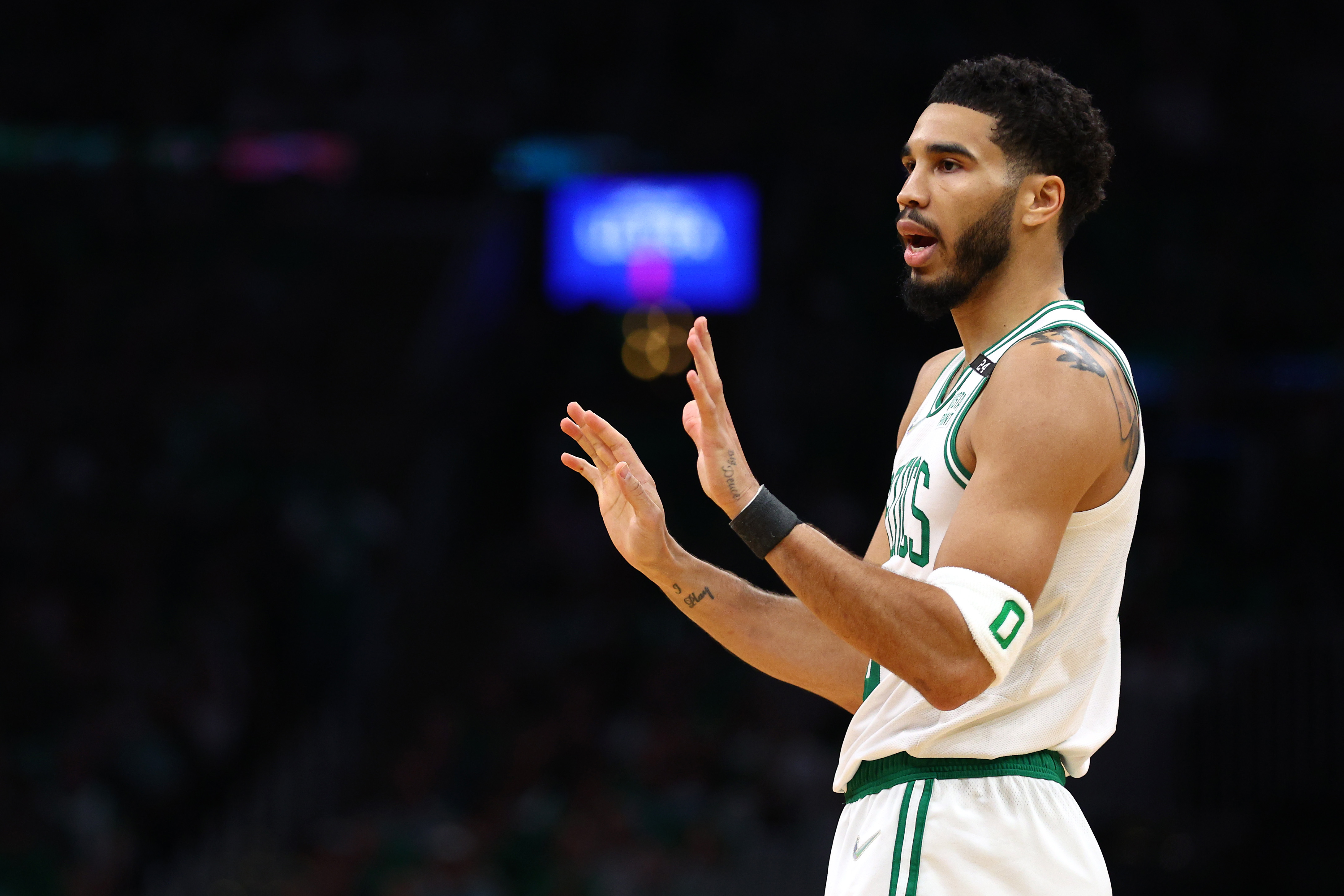 From a physical standpoint, Tatum has all the tools to be the best. His skills and athleticism rank right up near the top of the NBA list. He's only 24 and hasn't even hit his prime yet. In his five professional seasons, he's reached the Eastern Conference Finals three times.
Each year, his numbers get better. He's a scoring machine. As a rookie during the 2017-18 season, Tatum averaged 13.9 points. This season, he put up a career-high 26.9 in addition to his career-best rebounding (8.0) and assists (4.4) totals. He's also a strong two-way player who has improved his defensive game.
There's no question Tatum is a star, but some have gotten carried away with their assessment of the five-year veteran.
Perkins is one of those who may be going overboard with his praise of Tatum. Perkins, who now works as a basketball analyst, said Tatum is the best two-way player in the NBA right now. He also said he ranks among the league's top three players.
"Jayson Tatum, right now, is the best two-way player in the game," Perkins said during an April episode of First Take. "Jayson Tatum is a top-three player in the NBA. This mean version of Jayson Tatum, nobody wants to see."
It's tough to put Tatum ahead of players like Giannis Antetokounmpo, Nikola Jokic, Stephen Curry, LeBron James, and Joel Embiid, to name a few. Just because the Celtics swept the Brooklyn Nets doesn't automatically vault him past Kevin Durant, either.
Top three is absurd. Top five is a reach. That doesn't mean he can't get there. He's just not there yet.
Is Tatum overrated?
It's hard to put Tatum in the top five. Where does he stand? Is he overrated? Underrated?
If Tatum is on your list of top five NBA players right now, he's overrated. He's just too inconsistent to put him there. The top-five Tatum would play more like he did in a must-win Game 6 against the Milwaukee Bucks in the conference semifinals. Tatum shined from start to finish, putting up 46 points as the Celtics stayed alive.
Tatum, however, has had more dreadful games than outstanding ones in the last two series. Game 3 was a problem for him in both the Bucks and Heat series.
Against Milwaukee, Tatum went 4-for-19 from the floor and 0-for-6 from three-point range. He finished with 10 points in Boston's 103-101 Game 3 loss. Against Miami, he had another 10-point effort. He went 3-for-14 while committing six turnovers. That's two games where if he has a decent performance, the Celtics win.
"Six turnovers, and no field goals in the second half – that is unacceptable," Tatum said after the loss to Miami on Saturday, per ESPN. "Honestly, I've got to play better. I feel like I left the guys hanging tonight. That's on me."
Being an elite, top-five player is more than just scoring points. It's being able to carry your team, especially when the stakes are this high. Antetokounmpo showed it every game against the Celtics. Tatum hasn't come close to doing that.
Tatum has the perfect opportunity to join the elite. Getting his team over the hump and carrying them to the NBA Finals would be a start. That all begins with him becoming a more consistent player.