Is Olympic Sprinter Oscar Pistorius Still in Prison for Killing His Girlfriend?
Oscar Pistorius' story is one of amazing triumph and unspeakable tragedy. He overcame having both feet amputated at 11 months old due to a congenital defect to becoming a world-class sprinter and a South African Olympian in the 2012 Olympics.
Just months after reaching the pinnacle of sports, Pistorius made world headlines when he fatally shot his girlfriend, model Reeva Steenkamp. Found guilty of culpable homicide, he received a 13-year prison sentence. So, is Oscar Pistorius still in jail? Where is the disgraced sprinter now?  
Oscar Pistorius and his amazing rise to fame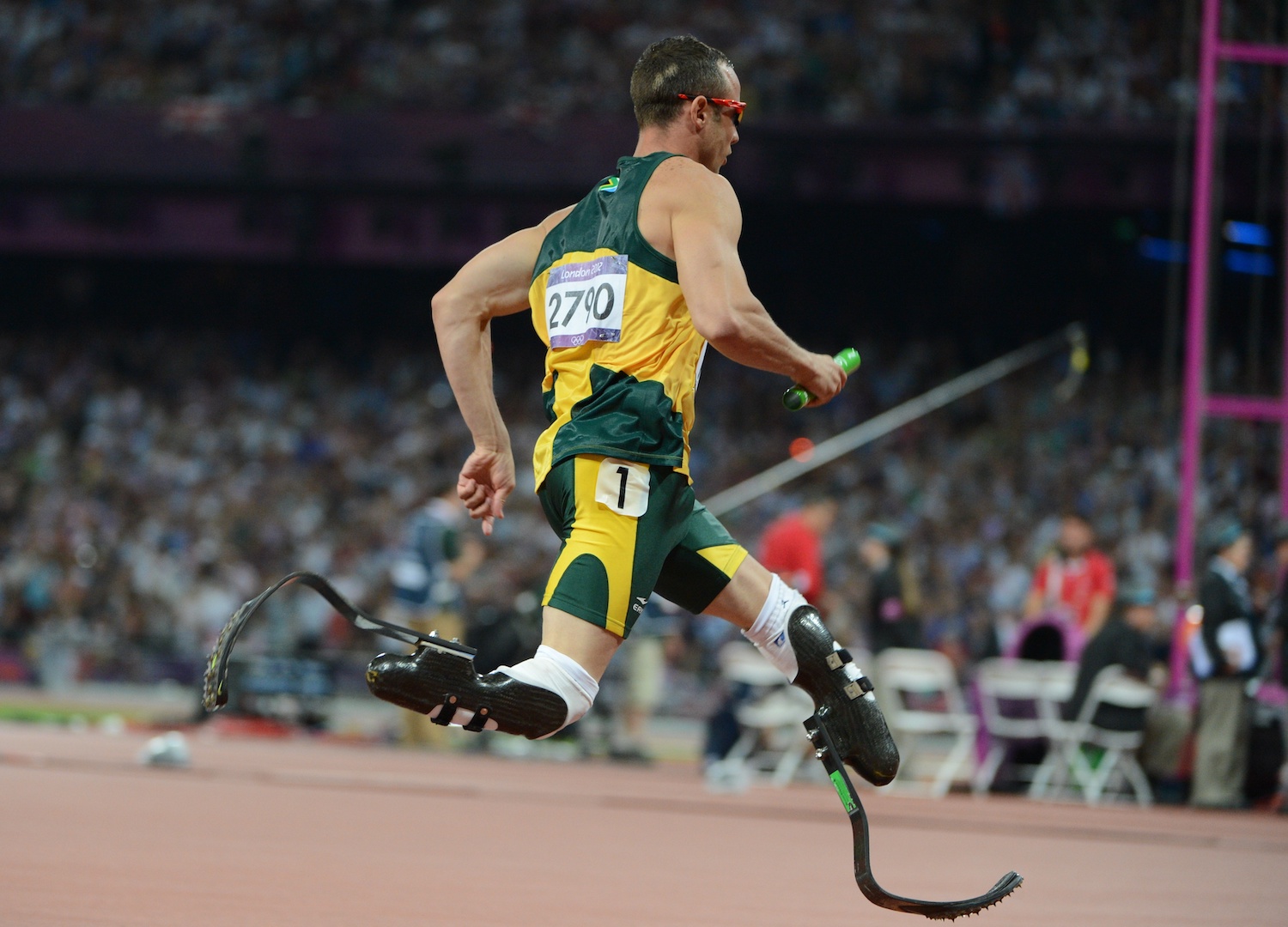 Pistorius made his international debut at the 2004 Summer Paralympic Games. While he's classified as a T43 or double below-knee amputee, he competed in the T44 division designated for single below-knee amputees. It didn't matter.
Pistorius finished third and earned a bronze in the 100 meters. He proceeded to set a world record in the 200 meters with an astonishing time of 21.97 seconds. The South African earned the gold medal, defeating a pair of single-amputee American athletes. Pistorius dominated the next two Paralympics, winning multiple medals in the 100-, 200-, and 400-meter events.
Pistorius became a worldwide sensation in 2012 when he qualified for the Summer Olympics in both the 400-meter race and the 4×400-meter race for South Africa. In the 400, Pistorius finished second in his qualifying heat and then placed eighth in the second semi-final. He had better success in the relay. The team made it to the finals and finished eighth.
While he didn't win any medals, Pistorius made history as the first amputee runner to compete at the Olympics. Six months after carrying the South African flag in the closing ceremony, Pistorius shot and killed Steenkamp, in what he called an intruder incident. The story shocked the world. 
Pistorius kills his girlfriend
Pistorius went to trial in March 2014, reports The Guardian. After one delay, in which his defense team claimed he had generalized anxiety disorder and might not be criminally responsible for the shooting, the trial resumed in July. A couple of months later, Pistorius was found guilty of culpable homicide and one firearm-related charge of reckless endangerment.  
The former sprinter received a prison sentence with a maximum of five years for culpable homicide. He also received a concurrent three-year suspended prison sentence for the separate reckless endangerment conviction. One month after his conviction, prosecutors appealed the verdict. They described the sentence as "shockingly light, inappropriate, and would not have been imposed by any reasonable court."
In November 2015, the Supreme Court of Appeal agreed and overturned the lower court's decision of culpable homicide and found him guilty of murder in his girlfriend's death. In July 2016, the same judge who initially sentenced Pistorius to five years, amended his sentence and added an extra year.
The decision also did not sit well with prosecutors, who said they would take their appeal back to the Supreme Court of Appeal and request a lengthier sentence. After months of hearings, the higher court made a ruling in November 2017. Pistorius' jail sentence increased to 13 years and five months after time served, according to CBS News.
Where is Oscar Pistorius now?
In December 2017, Pistorius filed papers to appeal the increased sentence and have his previous six-year sentence reinstated. Pistorius' appeal was denied in March 2018. Steenkamp's parents were under the impression that he would not be eligible for parole until at least 2023. However, Pistorius became eligible for parole in late 2021 after serving half of his sentence due to South African law, according to CBS News.
The now-35-year-old had a scheduled parole meeting. However, it was canceled partly because a "full report of his time in prison" wasn't ready. Additionally, a meeting with Steenkamp's parents hadn't been arranged. Per South African policy, the couple has a right to meet with their daughter's offender in order to receive closure. The Steenkamps can also give feedback to the parole board.
When Reeva's parents found out that Pistorius was eligible for parole, they were surprised. The Steenkamps' lawyer said, "[It] opens a lot of wounds." The former sprinter's lawyer said that Pistorius "has been a model prisoner." When the parole hearing does occur, Pistorious could be released with certain conditions, such as only being able to go to work and church, for example.