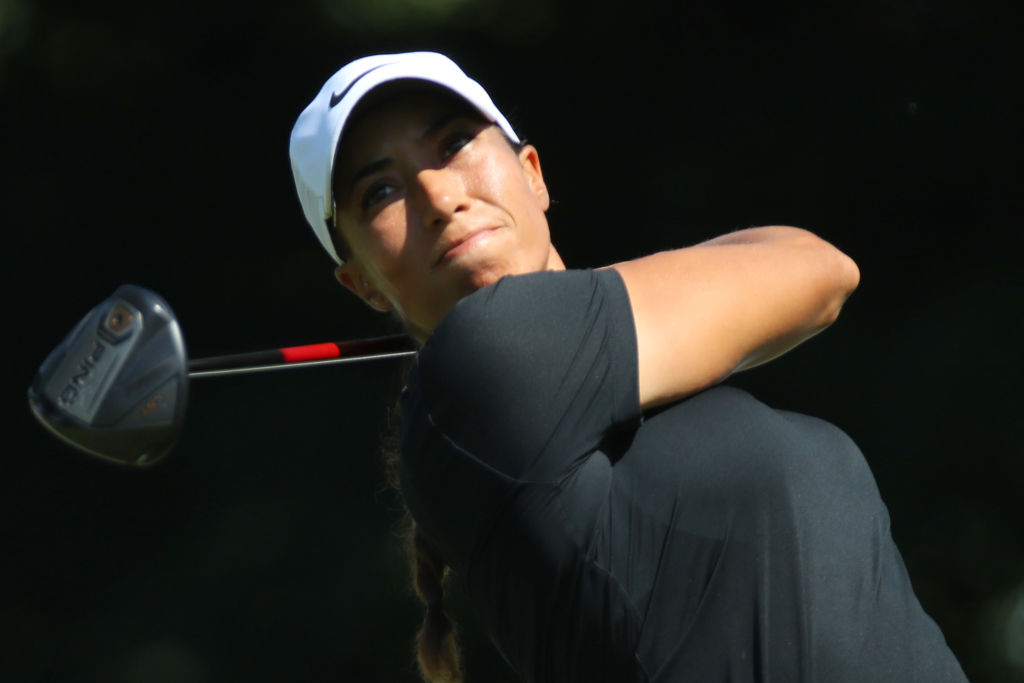 Is Tiger Woods' Niece Still Playing Professional Golf?
Cheyenne Woods' pro golf career has been on the decline but Tiger Woods' niece is still hopeful of a full-time return to the LPGA.
Barry Bonds, Ken Griffey Jr., and Peyton Manning are among the athletes who had to answer questions on their way up through the ranks regarding their famous fathers. But they at least didn't have to follow in the footsteps of arguably the greatest player ever in the sport.
Cheyenne Woods gets no such break in women's golf because she'll always face the unrealistic comparisons to her uncle, Tiger Woods.
Tiger Woods' niece is still playing
Cheyenne Woods was entering her eighth season as a professional golfer when the coronavirus pandemic forced the LPGA to lead the way for most other sports organizations by suspending operations.
The 29-year-old niece of PGA Tour star Tiger Woods began the season by entering two Australian tournaments last month on the LPGA schedule but missed the cut in both before coronavirus concerns caused tour officials to cancel the rest of the swing through Asia.
That was a discouraging start to the year for Woods after concluding the 2019 season on an upbeat note by cashing a check for $13,407 by tying for 31st place as a September tournament in Indianapolis and then doing well overseas. Overall, Woods missed the cut in 10 of the 13 LPGA events she entered and finished the season with just $23,648 in official earnings.
Woods' reputation is that of a player who is reliable off the tee and gets to the green in good shape only to be let down by her putting. She has never finished better than 107th for putting average since joining the LPGA in 2015.
Time is running short for Cheyenne Woods to break through
Cheyenne Woods' LPGA career seemed headed in the right direction when she made the cut in 10 of 21 tournaments in 2016, finishing as high as a tie for sixth, and earned $106,005. She followed up with a pair of top-15 results and $90,392 winnings the following season but slipped to just $62,700 — tip money for uncle Tiger Woods — in purse money in 2018.
Her meager 2019 earnings would have already limited Woods' ability to play LPGA tournaments this season. The coronavirus pandemic is likely to make that worse when the season resumes as exempt players try to make up for lost time and money by entering more events and creating full fields.
That leaves her with two primary options: the second-tier Symetra Tour in the United States and the Ladies European Tour, on which she scored a victory in 2014. Woods made four of five Ladies European Tour cuts last season, including a tie for seventh in Spain and a fourth-place showing in Kenya.
In an interview on the LPGA website this winter, Woods expressed a preference for staying stateside to concentrate on Symetra Tour events. But she noted that there are enough gaps in the schedule to also play some of the LET tournaments.
Woods had a sparkling resume before turning pro
Cheyenne Woods is the daughter of Earl Woods Jr., who is Tiger Woods' half-brother. Grandfather Earl Woods was her first golf coach. She was raised in Arizona, where she won state championships in 2006 and 2007.
Woods was recruited to play at Wake Forest University, where she won the 2011 Atlantic Coast Conference championship and started down a path that has included more than 30 amateur tournament championships.
She turned professional in 2012, making her debut at the 2012 LPGA Championship, and won her first event later that year while competing in the SunCoast Ladies Series, a Florida mini-tour.