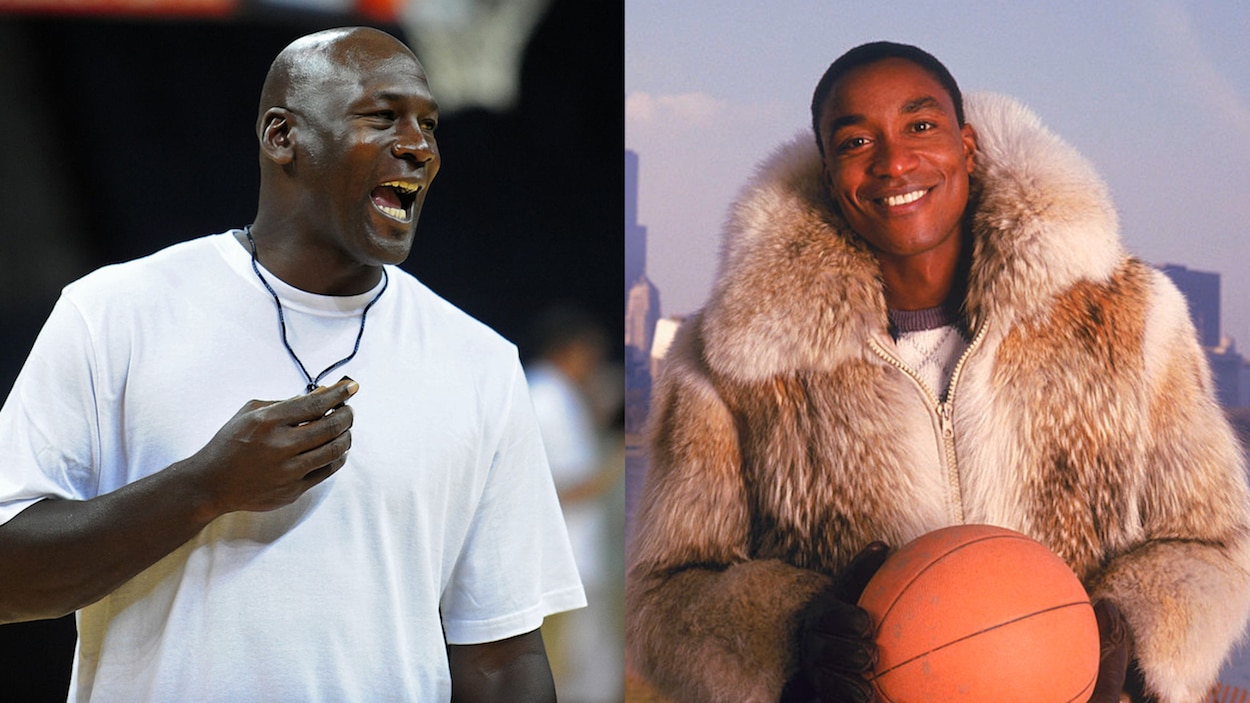 Isiah Thomas Calls Out Michael Jordan for 'Lying' After a Misunderstood Tweet
Isiah Thomas recently called out Michael Jordan for lying about their past, but there's one problem. The quotes in question weren't anything new.
While Michael Jordan is generally considered a basketball deity, not everyone loves His Airness. Isiah Thomas, for example, had his fair share of battles with the living legend and, in retirement, has continued to needle his old foe on social media.
On July 7, the former Detroit Piston threw another jab at MJ. Thomas quote-tweeted an article about the pair's beef and added his own commentary calling Jordan a liar. There was a catch, though.
Isiah, it seems, didn't do his diligence when reading the article.
Isiah Thomas blasts Michael Jordan on Twitter, but he seems to have missed a key part of the story
At this point in time, just about everyone knows that Isiah Thomas and Michael Jordan don't exactly see eye-to-eye. On Thursday, June 7, we saw another chapter of that feud unfold in real-time.
Thomas, it seems, noticed an article tweeted out by The Inquisitr headlined "Michael Jordan Reveals The Origins Of His Beef With Isiah Thomas." The former Detroit Piston quote-tweeted the original social media post, adding his own commentary.
"Stop lying this story is not factual or accurate, tell the truth man," Isiah wrote. "Dr.J, Moses Malone, Larry Bird, Sidney Moncrief and I did not freeze you out. If memory serves me correct I was injured most of the second half and Bird had a broken nose. Magic and Sampson dominated the game."
While we can debate whether a freeze-out did or did not happen — Sam Smith, for example, suggested in an ESPN post that there wasn't a coordinated effort, but Jordan still felt like he was being targeted by the veterans — Thomas missed a key part of the equation. The article didn't feature any new quotes from MJ.
In the Inquisitr piece, Jordan's quote about the alleged freeze-out is attributed to a 1992 Playboy interview. Even if Isiah feels that's an inaccurate depiction of what happened, His Airness isn't telling any fresh lies about the situation.
At this point, Thomas and Jordan seem to be firmly entrenched in their rivalry
As the old cliche says, "time heals all wounds." Michael Jordan and Isiah Thomas may be the exception to the rule.
During their respective playing careers, the pair had their share of battles on the court. The Pistons, of course, were an early roadblock in Jordan's career. When the Bulls finally overcame their rivals, Detroit infamously walked off the court without shaking hands.
That incident came back to light during The Last Dance when Thomas tried to explain what had happened on that fateful night. While he explained that he would have done things differently now, he said that walking off the court was simply "how it was passed" at the time.
Jordan, however, wasn't buying it.
"I know it's all bulls***," MJ said (h/t CBS Sports' Brad Botkin). "Whatever [Isiah] says now, you know it wasn't his true actions then. [He's had] time enough to think about it, or the reaction of the public that's changed his perspective. … You can show me anything you want. There's no way you can convince me he wasn't an asshole."
Isiah has also said that he doesn't consider MJ the GOAT on a handful of occasions and, more recently, has placed LeBron James ahead of Jordan in his all-time power rankings.
To break out another cliche, old habits apparently die hard.
Like Sportscasting on Facebook. Follow us on Twitter @sportscasting19 and subscribe to our YouTube channel.